lancexfang emailed me about an issue this afternoon that seems to be new today with Delta. (He also pointed me to the Flyertalk thread he started.)
Delta international awards have allowed one stopover and one open jaw.
In other words, you could fly Atlanta – Paris (stop for several day) – Prague (destination) and then return home to Atlanta. That's an example of a stopover.
You could also return from, say, Warsaw or from Paris. Then you would have a stopover as before and an open jaw, returning from a city other than the one you arrive into.
Today Delta seems to be still allowing open jaws — but pricing stopovers at an extra mileage cost.
Delta's price for North America – Europe in business class is 125,000 miles.

Here's a sample itinerary where all flights have saver business class award space available. It's got a stopover in Paris on the way to Prague.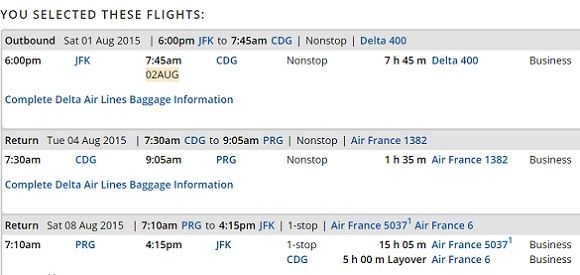 It costs 175,000 miles — which is an an extra 50,000 miles. Coincidentally, 50,000 points is what Delta charges for a business class roundtrip within Europe.
Delta doesn't offer one-way awards (they won't start pricing one-ways at half the cost of roundtrip until January 1). So they appear to be pricing this as US – Europe roundtrip plus a Europe one-way in business class for the stopover.
If we remove the stopover, and just leave it as an open jaw.. into Paris, back from Prague, so we're just removing Paris-Prague from the itinerary, it prices properly at 125,000 miles.

Delta doesn't appear to be pricing US-Europe awards correctly, stopovers are costing extra. It's either an unannounced devaluation (no more stopovers on these awards permitted), or an IT glitch — the pricing engine just isn't working properly.
At this point we don't know which it is. I certainly find 'problem with the pricing engine' a plausible scenario because Delta's pricing engine hasn't worked properly, and has been full of errors, for years. This would just be a new error.
Developing… but as I review this two thoughts come to mind.
Why do these errors always work against our favor (at least with Delta)? They've known for years that their systems are charging members extra miles, but don't do anything about it and certainly don't refund those miles. I've not had great luck for instance including saver domestic award space in conjunction with Air Tahiti Nui awards, Delta usually wants extra miles for what should be included free.

Looking at the Delta award chart for travel from Europe, I'm reminded that we still don't know Delta's award charts for most of the world will look like next year. When Delta was shamed into releasing their 2015 award charts earlier this year, they did so only for travel to and from the US. Europe and other regions have simply said this over the past 7+ months:

Updated charts will be published here later this year for Award Tickets booked on or after January 1, 2015.

Of course it took them years to ever publish worldwide award charts before, so secret award charts are nothing new in the Skymiles programs.
Update: One Mile at a Time writes about this as well and doesn't think it's an IT issue.
---