Most non-U.S. frequent flyer program add fuel surcharges to award tickets, and some US programs add them to some redemptions. That means your 'free' ticket can wind up costing several hundred dollars — or more. Here's an American AAdvantage award with a surcharge of over $1000. And that's for one person traveling.
Sometimes fuel surcharges can be worth it: think of them as a discount coach ticket that earns no miles and guaranteed frequent flyer upgrade. And indeed some non-US programs charge so few miles the way to think about it is as a cash and points award.
For instance, Korean Air SkyPass charges 80,000 miles roundtrip for business class between the US and Europe on its SkyTeam partners like Delta, Air France and KLM (which all usually charge 125,000 miles for the same award at the saver level — and Air France KLM adds fuel surcharges, too).
Still all things equal you want to minimize fuel surcharges when you can!
Why Fuel Surcharges?
At the beginning these were ostensibly to offset the high price of fuel, but fuel is now cheap. On the whole airlines have stopped referring to junk fees in the hundreds of dollars as 'fuel surcharges' and now simply refer to them as 'carrier-imposed surcharges' — which they always were, that describes who charges them, but it doesn't say that they are for anything. They weren't ever, really, and now the airlines admit it.
Airlines use fuel surcharges to easily raise or lower all prices in a market without having to re-file all of their fares.
For paid tickets purchased by retail consumers fuel surcharges don't much matter, since they're quoted as part of the full price of a ticket.
For some corporate buyers with percentage-off fare deals fuel surcharges may not be discounted. So this allows an airline to raise (or lower) price fully on those customers.
It's largely a burden, though, on frequent flyers — for those loyalty programs that impose these costs on their members when booking an award ticket for some or all available airline redemptions.
Who Adds Them?
US airlines add fuel surcharges to fewer redemptions than foreign ones do.
United does not add fuel surcharges to any awards.

American adds full fuel surcharges to British Airways awards, and very modest surcharges to Iberia awards (the same low amount Iberia charges its own members)

Delta adds fuel surcharges to tickets on some partners (like China Eastern, China Southern, and Air Tahiti Nui) and to tickets where travel originates in Europe
Fuel surcharges aren't common or are deminimus in some markets. You won't generally see fuel surcharges on domestic US flights, domestic Australian flights, or South America flights. Hong Kong is a low fuel surcharge market. Japan now is as well.
Qantas eliminated fuel surcharges on paid tickets departing Australia. However they still add those fees to award tickets.
It's the only example I know of where fuel surcharges on an award ticket doesn't simply mirror what is charged on a paid ticket but is actually higher.
And it underscores just how much of a scam the fees are meant to extract revenue from customers who are trapped with a proprietary currency.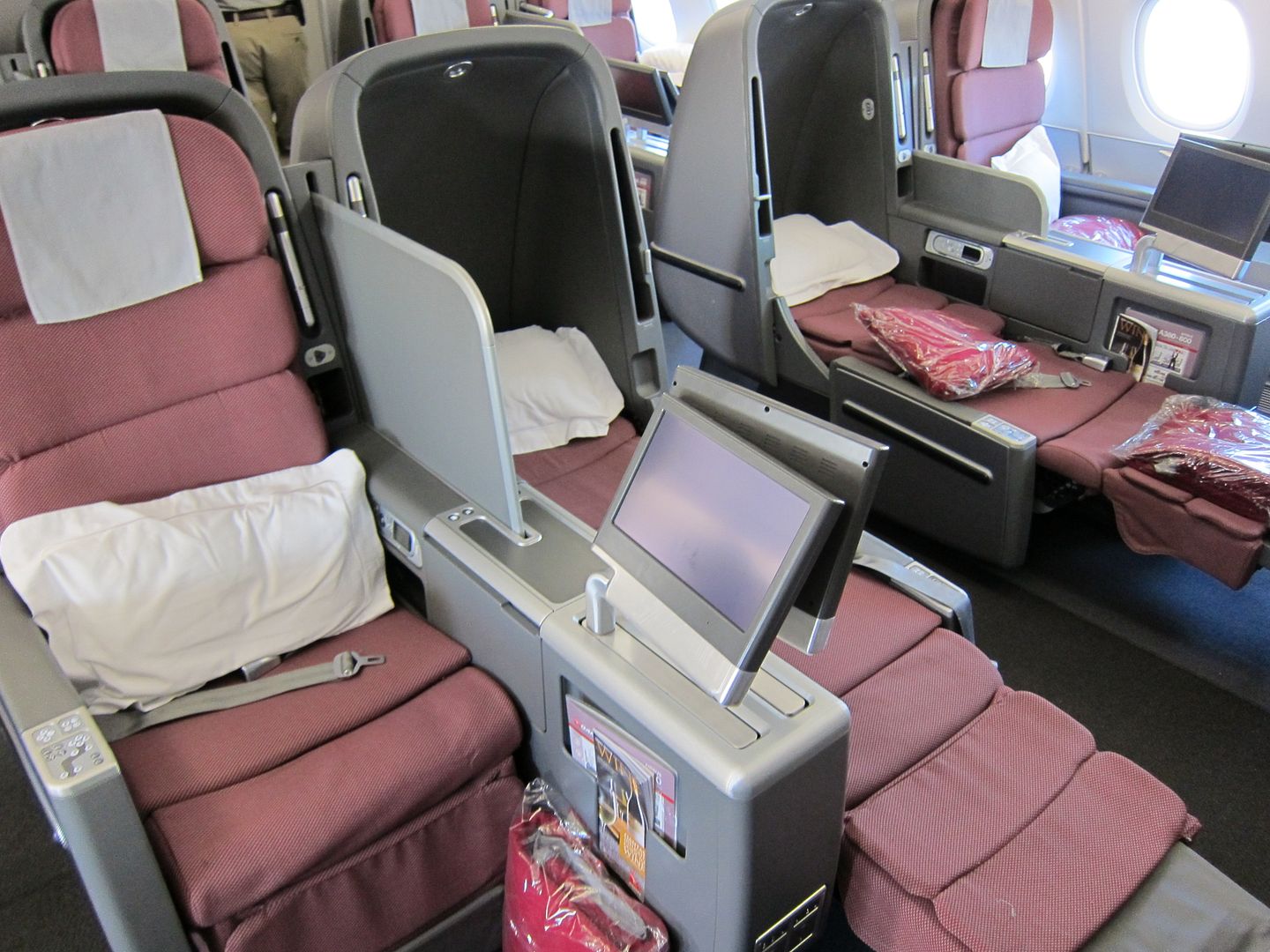 Qantas Airbus A380 Business Class
If you have transferrable points from Chase, Citi, or American Express you may find yourself wanting to use a program that imposes fuel surcharges such as Korean Air SkyPass, Air France KLM Flying Blue, or British Airways Executive Club. Knowing about these charges and how to minimize them is an important skill in award redemption.
Strategy: Pick The Airline You're Flying Carefully as Well as the Destination
Airline frequent flyer programs which add fuel surcharges can still be really convenient and desirable to use. For instance Air Canada's Aeroplan is a Star Alliance program. American Express Membership Rewards transfer instantly to Aeroplan, and Aeroplan's website is really functional for booking award tickets. There's no wait, very little risk of losing seats, and you can grab your flights right away. So you want to use them, you just want to limit your cost.
Many Aeroplan partner airlines do not incur fuel surcharges so you'll want to focus your redemptions on those when possible.
You're not going to pay any surcharges on Air New Zealand, Air China, Brussels Airlines, EgyptAir, EVA Air, Scandinavian, Singapore Airlines, Swiss, Turkish Airlines, or United when redeeming with Aeroplan. LOT Polish surcharges are low. So you want to avoid travel on Lufthansa or Austrian across the Pond, for instance, when you can.
You may want to fly to Hong Kong where fuel surcharges are cheap when you're redeeming a premium cabin award especially, and then book a separate ticket to other destinations in Asia like Bangkok. The cost of Hong Kong – Bangkok may be lower than the fuel surcharge you'd pay on an award all the way to Bangkok.

New York – Bangkok Fuel Surcharge
Some people will even avoid destinations entirely where the fuel surcharges are high. If awards to a low or no fuel surcharge destination are going to be nearly $1000 less expensive for two passengers, that destination may be more desirable.
Strategy: Booking One-Ways Instead of Roundtrips
Fuel surcharges
are different flying US to Europe than they are Europe to US
. Strangely, if you book a roundtrip departing the US they'll usually be double the higher US to Europe price. As a result you can save money by booking two one-way award tickets — often a couple hundred dollars per ticket.
One exception to this approach is booking awards using Delta SkyMiles. They do not add fuel surcharges at all to flights on most of their partner airlines if you originate in the US. But they do add fuel surcharges to flights when the itinaries start in Europe. So if you book a roundtrip starting in the US on Delta, Air France or KLM you pay no fuel surcharges. But if you book two one-ways you pay none US to Europe but you do pay fuel surcharges Europe to US.
Strategy: Throwaway Ticketing
Since fuel surcharges on an award ticket are usually the same as what would be charged on a paid ticket, and those vary by destination, sometimes it can make sense to book a ticket to a destination beyond your final city (to a low fuel surcharge destination) and throw away the final segment.
As I mention, Bangkok fuel surcharges are usually higher than surcharges on tickets to Hong Kong. Just make sure you know what you're doing.

Cathay Pacific Has No Fuel Surcharge New York – Hong Kong