Lots of folks have been successfully using the SkyGuide Executive Privilege Club for deeply discounted lounge access. A $20 membership buys 12 lounge day passes per year.
And since the 'per year' limit has been per calendar year, and the membership is for 12 months, folks have even been able to get 24 (12 at the end of one year, 12 at the beginning of the next) lounge passes for their $20.
Further, since a lounge day pass often costs $50, that's as much as $1200 in (mileage-earning, credit card signup bonus-qualifying) spending that's reimbursed.
A great deal all around if you're willing to fill out and mail in the reimbursement form.
This continues to be a good deal, but of course it is too good a deal. So not at all surprising that they're tweaking the terms and conditions of the program to make it a bit more difficult to get outsized value from the program.
The major changes is that effective January 1 you'll only be able to request reimbursement of one lounge pass per month. So the maximum benefit per membership year is 12, not 24.
You also aren't supposed to be able to take reimbursement until you've completed your lounge visit, and reimbursement must be requested within 30 days of use.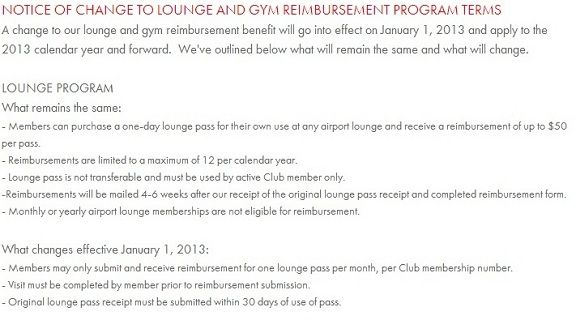 For passes purchased online it's not clear how they'll know when you've actually made your visit. So one could possibly make an online purchase, reimburse that purchase, and use it later.
But strictly speaking under the new program rules most people would only be able to make one lounge visit per trip, which (depending on the airline whose day passes are being used) may not help with connecting flights and which certainly doesn't help with round trips during the same calendar month.
The same changes apply to the gym day pass reimbursement benefit under the program.
One could presumably ask for a refund in membership fees based on the change in terms and conditions if one so desired.
(HT: Parag)