Whose Miles Can You Use Now for TAM First Class Awards to South America?
TAM was a Star Alliance airline until yesterday, and you could book award seats with United or US Airways miles.
They were also a partner of American Airlines and you could use American miles for the space.
Today they've transitioned to oneworld. And they're bookable using US Airways miles (which also transitioned to oneworld today), American miles, and British Airways points (as well as other oneworld airline points).
How Do You Search for Space, and How Much Space is Out There?
Up until yesterday you could search for space on the ANA or Aeroplan websites.
Today you can search for space on the British Airways website.
Last week I showed just how good the award space in first class on TAM is between New York JFK and Sao Paulo: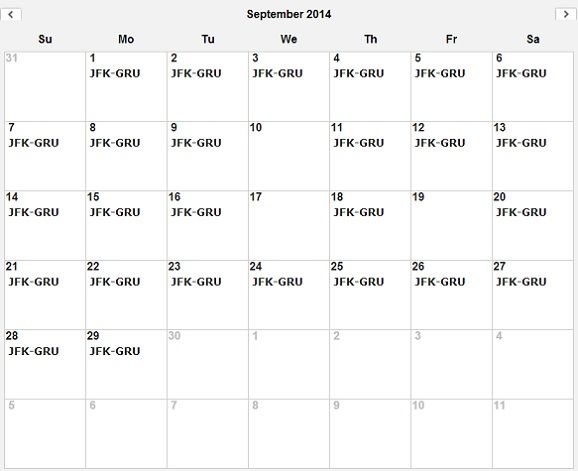 I genuinely cannot explain why first class award availability has gotten so good. It used to be essentially non-existent.
I've speculated that it had something to do with their transition to oneworld and how they were managing booking classes, but then also suggested that how early this started and how long it lasted made that a long shot — and now the fact that TAM is in oneworld and the situation persists makes the explanation even less likely. That really leaves me shaking my head (and it's not a question I really want to reach out to TAM for an explanation on).
Which Miles Are Working Best?
I used US Airways miles to book my own tickets, but some readers had reported difficulty with US Airways miles and American miles.
The award space is still very much there in amazing quantities, some flights as many as 4 seats available up front (remember there are only 4 seats in the entire cabin!).
And I've verified with a few flights this morning, American seems to be having no trouble seeing the space now.
British Airways is showing the space as well. Remember that you will not pay fuel surcharges redeeming BA points for travel to South America, but they charge additional points for each segment beyond just that non-stop to Sao Paulo.
US Airways, on the other hand, I've seen comments that there's still difficulty seeing the space. I haven't verified this myself, telephone hold times with US Airways are awful and I'm even getting hung up on (told to try back later) as a non-status member of Dividend Miles.
If you do want to get through to US Airways today, I'd suggest using Skype or similar low cost solution and ringing up one of their European numbers.
(HT: Ben)
---