Nearly all of my hotel stays are with a major chain. I have status, I earn and burn points. It's rare that I stay outside 'the system'. That also means I don't usually experience the very very best luxury properties, most of which also exist outside of the traditional mainstream system. Although they frequently have affiliations, whether Leading Small Hotels of the World, Tablet Hotels, or just participation in American Express Fine Hotels and Resorts or Virtuoso.
But this weekend I needed to be in Richmond, and everything downtown was priced extraordinarily due to the Marathon. I could have stayed on a cheap rate at the Westin, but that was 6 miles from where I needed to be. And with the race traffic was going to be a nightmare.
The Jefferson, though, was priced pretty reasonably at $239. That was odd, considering the Doubletree a couple blocks away was priced for as much with a two-night minimum stay – and I needed just a night.
A quick call to American Express Travel and I had a Fine Hotels and Resorts Booking. Their price was $279, but it came with breakfast, lunch, late checkout, and an upgrade – all of which I'd be taking advantage of.
The hotel is incredibly grand, the staircase is probably its most famous attribute. It's a beautiful old property, though a little big for my tastes and generally impersonal.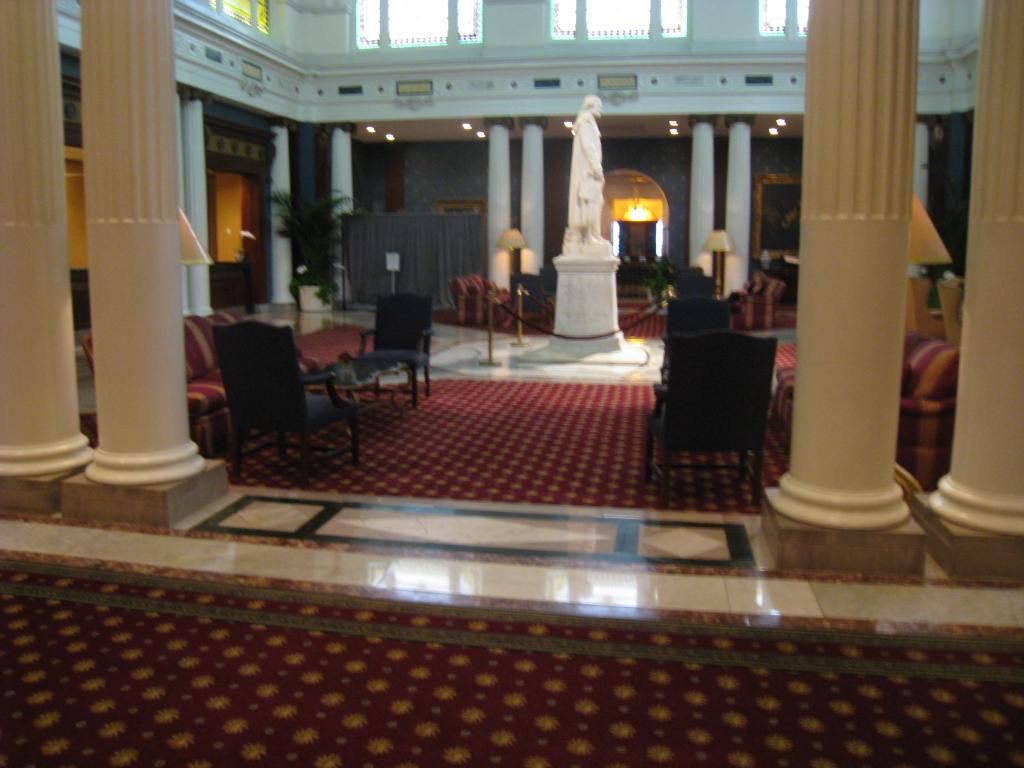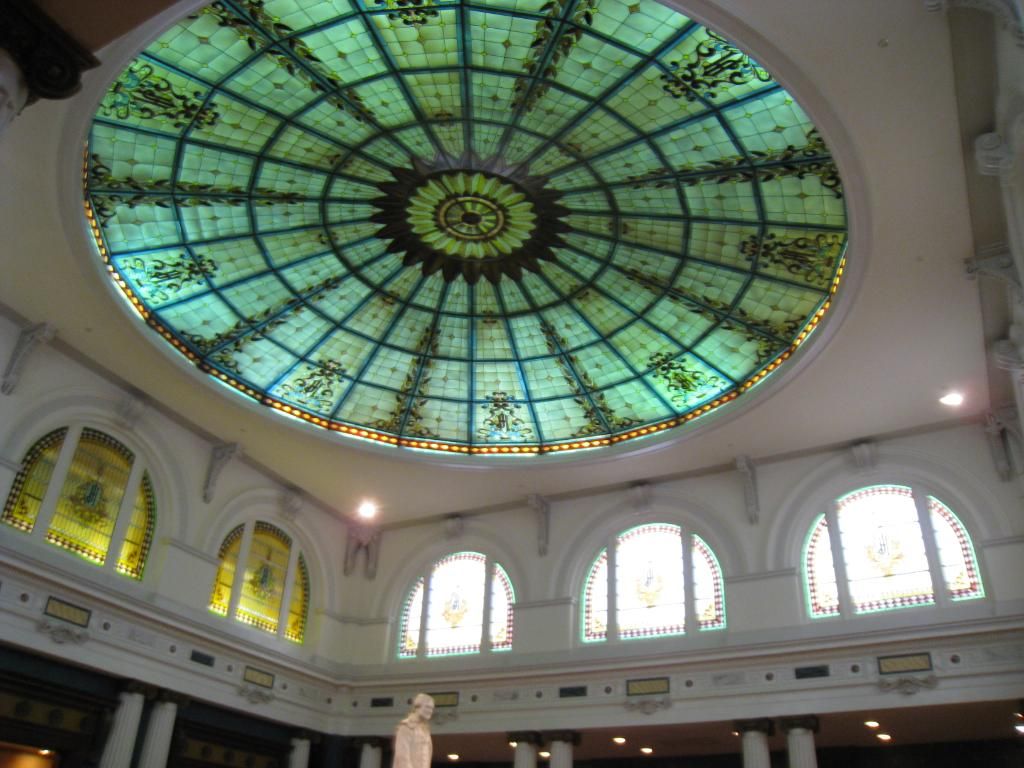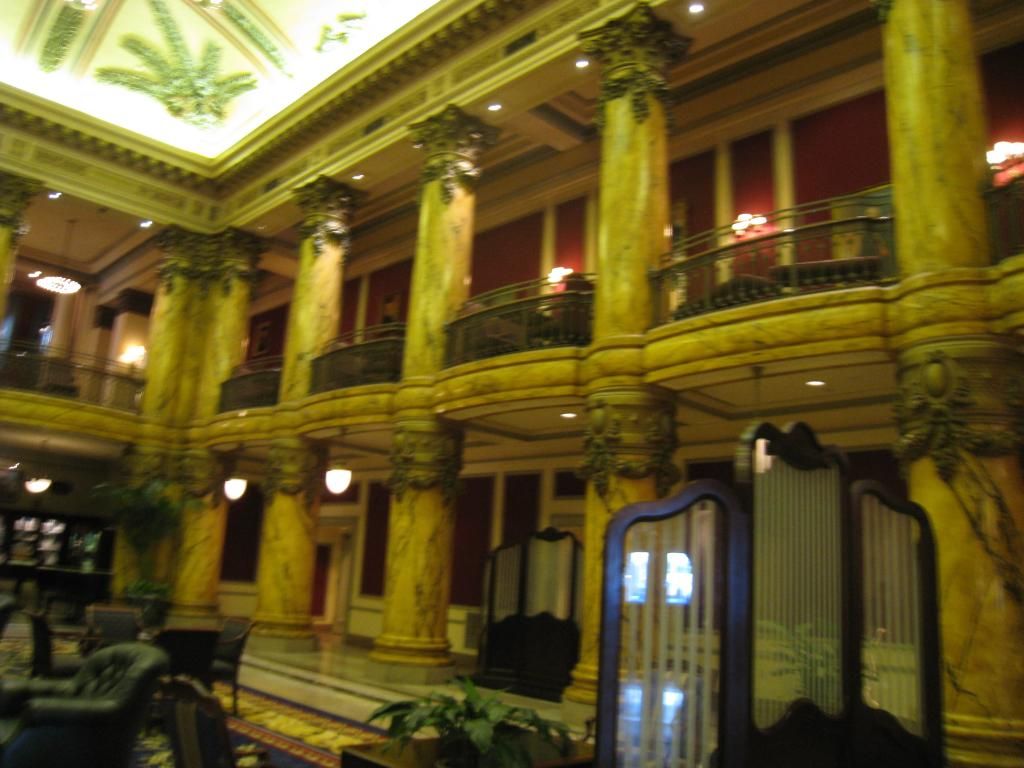 At check-in I was given an executive suite on the third floor. The room was a nice size, separate living room with fireplace, a desk, couch, and flat screen television. The bedroom had another fireplace and flat screen TV. But the best part of the room was the bathroom – separate toilet room, dual sinks, flat screen TV above the tub, and a double-sized shower room with three shower heads (one on each of two opposite walls and one overhead). Toileteries were Molton Brown and they had two complimentary bottles of water in the room.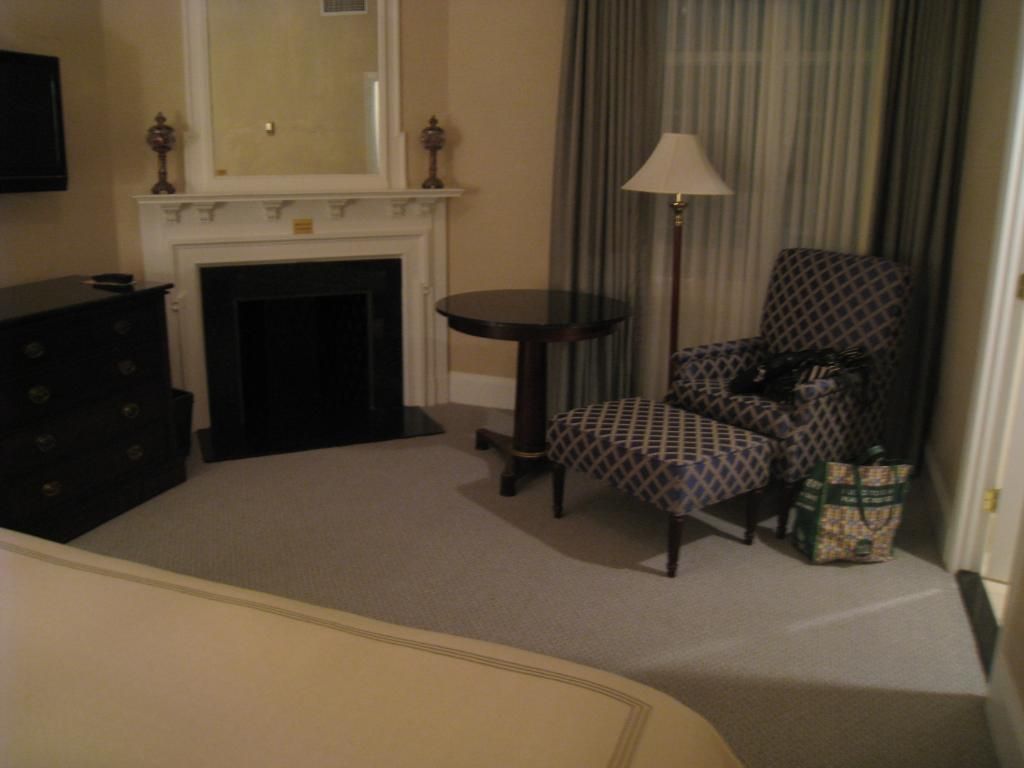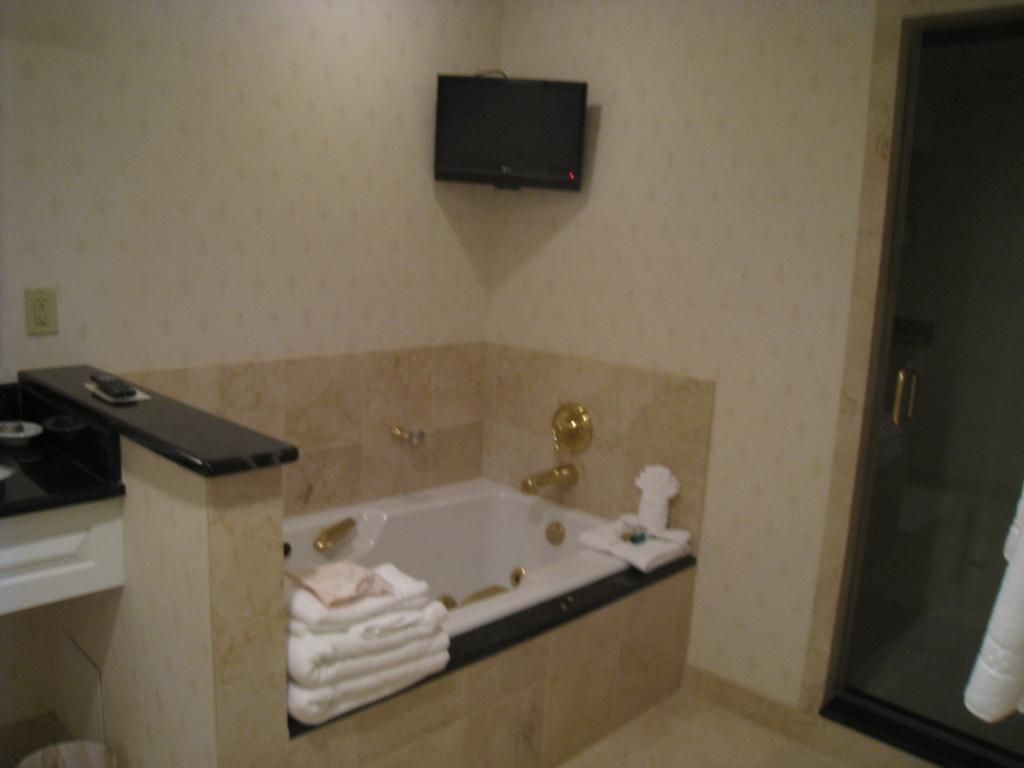 So far, so good. But started to relax in the room, and I could hear my upstairs neighbors banging around. The ceiling didn't provide much soundproofing from their foodsteps, and even conversations could be heard on occasion. They weren't all that loud, but it was anything but peaceful.
Next morning I went downstairs at 6am to bring back coffee to the room. They have a coffee station downstairs in the lobby, and it wasn't bad. Later I had my complimentary breakfast in TJ's restaurant. It wasn't great, wasn't terrible, but the service was exceptionally slow. My coffee went empty and it was a struggle to get anyone's attention to refill.
Car came back from valet parking with a ding in the door. I found the nearest manager who called for a security manager, who came down and took the report. To their credit they immediately recognized that the ding appeared to be from a car door opening into mine, was fresh, and they took responsibility. He gave me his card and told me just to send him the bill for repairs and he'd have a check sent. I was geared up for an argument, I fully expected them to claim that they couldn't possibly have done it or that it might have existed beforehand. But they didn't, they took it in stride. It's probably a couple hundred dollars in damage (not that I'm an expert), so not a huge liability for them. Taking immediate ownership truly defused the situation.
Then it was back to TJ's restaurant for lunch. They serve lunch until 2pm, and I showed up at 1:20pm. They said there would be a 15 minute wait. More than 20 passed, and a manager from elsewhere in the hotel sat us. And we waited, and waited, and waited – for 25 minutes at the table before I flagged down a waitress who was serving adjacent tables, as no one had come by to offer us drinks or anything else since we had been there.
Again there in fairness the waitress was hugely apologetic, and perfectly pleasant throughout our meal. Even then, service was slow and the kitchen sent out my order wrong. I didn't say anything for fear of waiting longer. When we were finally through the waitress brought us the manager's card, offered us dessert on the house and a complimentary meal in the future – neither of which we took them up on.
Back to the room to freshen up before leaving the property, and the room key didn't work. Though we had 4pm checkout, the keys were deactivated. So back down to the desk. While they were replacing my keys I asked whether a 4:30 checkout might be possible, as with the long lunch much of our remaining time had been eaten up and I would prefer not to rush on the way out. They didn't know what to say, and had to find a manager – who didn't look up from whatever else he was doing but acknowledged that it would be fine.
All in all this was an almost nice hotel. Most people tried hard, but didn't execute well. The room itself was lovely, the bathroom phenomenal, but the noise from our neighbors put a damper on that.
The hotel is quite good at service recovery, but I had to experience that part of their service far too often during a simple one-night stay.
In the end, I suspect I might return if I needed to be in Richmond. There just aren't a ton of other nice downtown properties. But I didn't walk away feeling as though it came close to warranting its five stars and five diamonds.