Tocqueville asked me yesterday about fuel dumping award tickets and I thought it only fair to share my answer with y'all.
Airlines that add fuel surcharges onto award tickets generally will charge the same amount that would apply on an identical paid reservation.
He was specifically asking about reducing fuel surcharges using points with Air Canada's Aeroplan. Now, here's how to avoid fuel surcharges entirely when booking with Aeroplan.
But if you must use one of their partner airlines where fuel surcharges apply, there are times where you can make the fuel surcharge less expensive. Much less expensive.

He wanted to book those rare first class awards showing as available in advance on Lufthansa. That means fuel surcharges when using Aeroplan, or most Star Alliance frequent flyer programs.
The key thing to know is that fuel surcharges vary by market. In general, for instance, fuel surcharges between the US and Europe are lower than between Canada and Europe. So if a Canadian were to fly Canada – Europe, and then Europe – Canada – US, they can save some money on fuel surcharges (and just not take the flight between Canada and the US).
Let's take an itinerary Toronto – Frankfurt non-stop.
The fuel surcharges on this business class itinerary are a whopping $776.
If we add a connection at Washington Dulles you can reduce the fuel surcharge. In other words, fly to Toronto and then just have a Toronto – DC segment at the end which you don't take.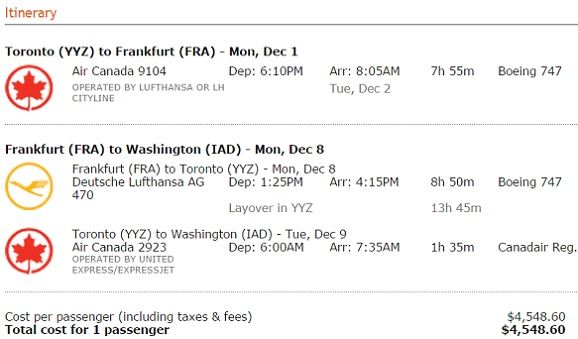 The fuel surcharge drops to $623 ($153 savings on the 'YQ').
For Asia, Hong Kong is a low fuel surcharge market.
Take a one-way award US – Tokyo – Hong Kong and the fuel surcharges will be lower than US – Tokyo. US – Bangkok – Hong Kong will be lower than US – Bangkok. Again, drop the final segment on the one-way and you save cash.
Here's Washington Dulles – Tokyo non-stop.
The fuel surcharge is $259.
Let's take a look at Washington Dulles – Tokyo – Hong Kong.
The fuel surcharge for US – Tokyo – Hong Kong is just $104 ($155 savings on the one-way).
Of course any checked bags will usually be checked through to your final destination which on the ticket is Hong Kong. So this doesn't work nearly as well with checked bags as it does with only carry on bags.
And remember that you can only skip the last flight segment on an itinerary, or you risk having all the rest of your flights cancelled.
Throwaway ticketing can be a great technique to save on paid tickets. And fuel dumps are an underground trick to reduce the price of international tickets. It turns out, where fuel surcharges apply, you can use the two techniques together to save money on award travel.
---