Wall & Main is a new venture capital business that is crowdfunding itself, looking for initial investors that they're going to reward with large numbers of miles.
The project launches today, and there's a news conference set for early afternoon Eastern time that I won't be able to call into because of some pre-existing obligations.
But Milepoint broke news of their deal a bit early in their e-mail newsletter, since the best deals are available only today.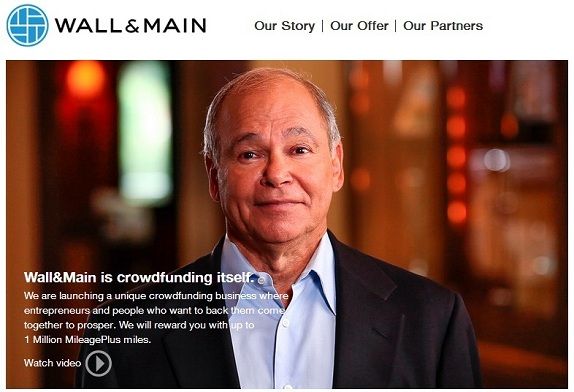 The offer page lists several benefits packages, but not including today's additional premiums. In addition to a number of smaller value items, they show:
1 million United miles at the $30,000 level

500,000 United miles at the $15,000 level

250,000 United miles at the $7500 level

150,000 United miles at the $4500 level
That's a bit below what United sells miles for normally, it's 3 cents a mile all-in, but it's a lot of cash and not worth it just for buying miles alone and without any interest in what Wall & Main is doing.
But as reported in the Milepoint newsletter, the first 300 packages sold by 10pm Pacific today July 16th also come with United elite status.
The $30,000 / 1 million mile level also comes with Platinum status for the 2014 program year.

The $15,000 / 500,000 mile level also comes with Gold status for the 2014 program year.

The $7500 and $4500 levels also come with Silver status for the 2014 program year.
Packages purchased by 10pm Pacific today also receive Bose QC-15 noise canceling headphones.
It's a lot of money so it's a big decision, but the miles can be worth a large portion of the purchase price. Being able to straight-up buy Platinum status or even Gold can be really valuable as well. This is obviously only a deal/option for folks who have significant liquidity available, but it's a quick boost to a mileage balance and for folks who might otherwise buy premium cabin award tickets likely worthwhile (even redeeming at the 'standard' award level).
Wall & Main is likely of interest to a narrow subset of readers, but to them of great interest.
---
You can join the 30,000+ people who see these deals and analysis every day — sign up to receive posts by email (just one e-mail per day) or subscribe to the RSS feed. It's free. Don't miss out!