Golden Triangle Thailand Tour: I pinged a few tour providers in the Chiang Rai area and they were all quoting prices close to what the Le Meridien was asking for the tours arranged through the hotel. I decided to go with the hotel booking for convenience (of course they are contracting with a local tour operator, but do handle everything and ensure the guide and driver are there for us on time, provide their waters and cold cloths, etc)..
I did feel a little bit trite in requesting their "tour #7" Doi Mae Salong / Golden Triangle full day tour. But after emailing the hotel and having them send me a list of the tours they offer (a one-page .pdf sheet of each, which is also duplicated in a book in the room) I decided that it actually mirrored what we were looking for, except that they usually begin at 8am and I preferred 9, thinking that would be perfect for a leisurely breakfast before being on our way.
We drove up to three Chinese villages, they're relatively remote and with varying degrees of (quite modest) prosperity. The very North of Thailand's Chinese population ultimately settled in the area as refugees from Mao. They've historically been quite removed from Thai society, though there are development efforts to incorporate them. This includes building roads connecting the villages to main arteries, though the roads aren't of especially high quality and one in particular felt quite treacherous on the side of a mountain with plenty of bumps and no guard rails
We wandered the villages as our guide explained their history, in each place most of the people went about their business ignoring us but there were a couple of folks selling tourist items of little interest to us. In all cases we were approached by small children selling crafts, and I'm always a bit torn as to how to react. On the one hand it certainly tugs at the heartstrings, but on the other hand these are items I have no interest in. If I buy them, I encourage more of these crafts that I'm uninterested in and will be swarmed by more of these kids. Fortunately (for me and for them) we were preceded by a group tour, so they were the richer target.
Village life is a stark contrast to modern city life in Thailand, and Chiang Rai generally is a contrast to the touristy beach towns let alone Bangkok. While there are pockets of prosperity, one understands the uneven distribution of development.
In one of the Chinese villages I spotted a resident's shack that was stamped as having come from USAID. It announced that it was a gift from the American people. In English. Somehow the American aid agency expected local villagers to appreciate the dilapidated shack as a result of this message, when many speak Chinese and not Thai… let alone English.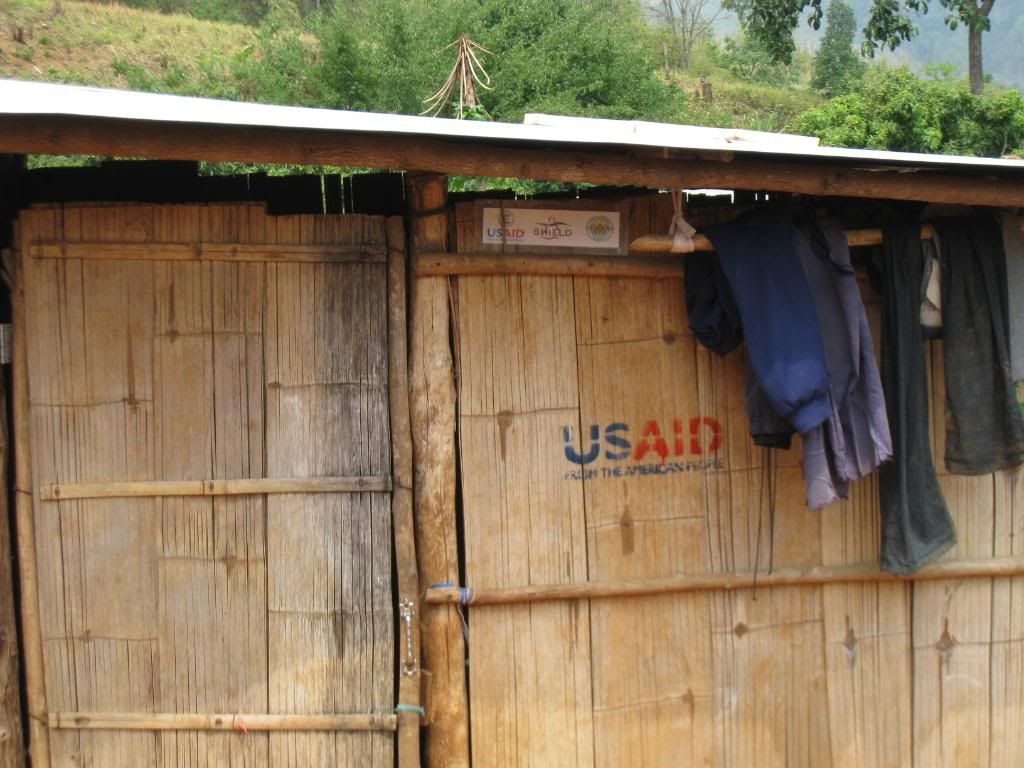 Following the villages it was up Doi Mae Salong, we stopped at a tea shop and tasted locally grown teas much of which are exported to China. It's supposed to be representative of the crop substitution efforts, with government subsidies attempting to push out heroine cultivation.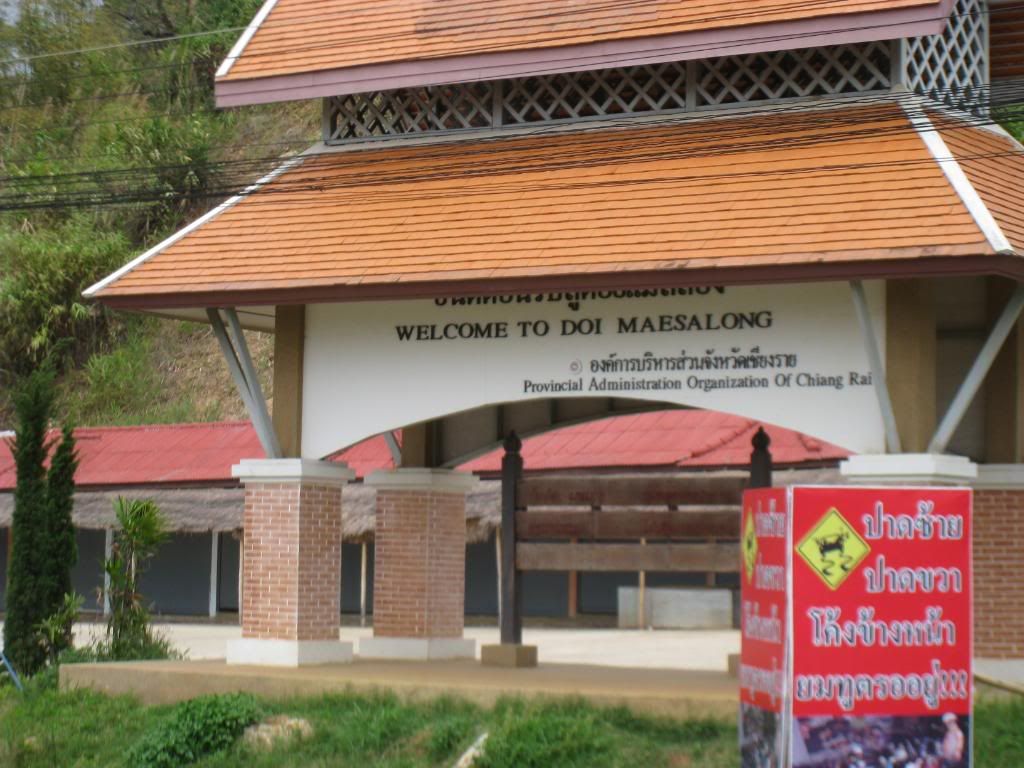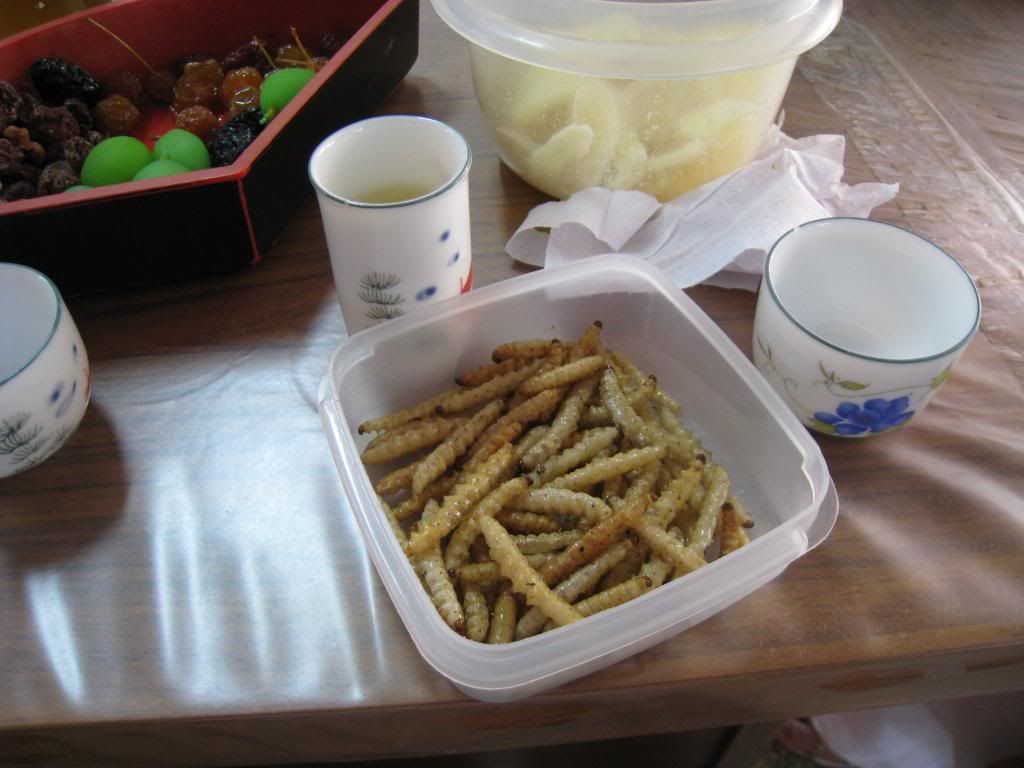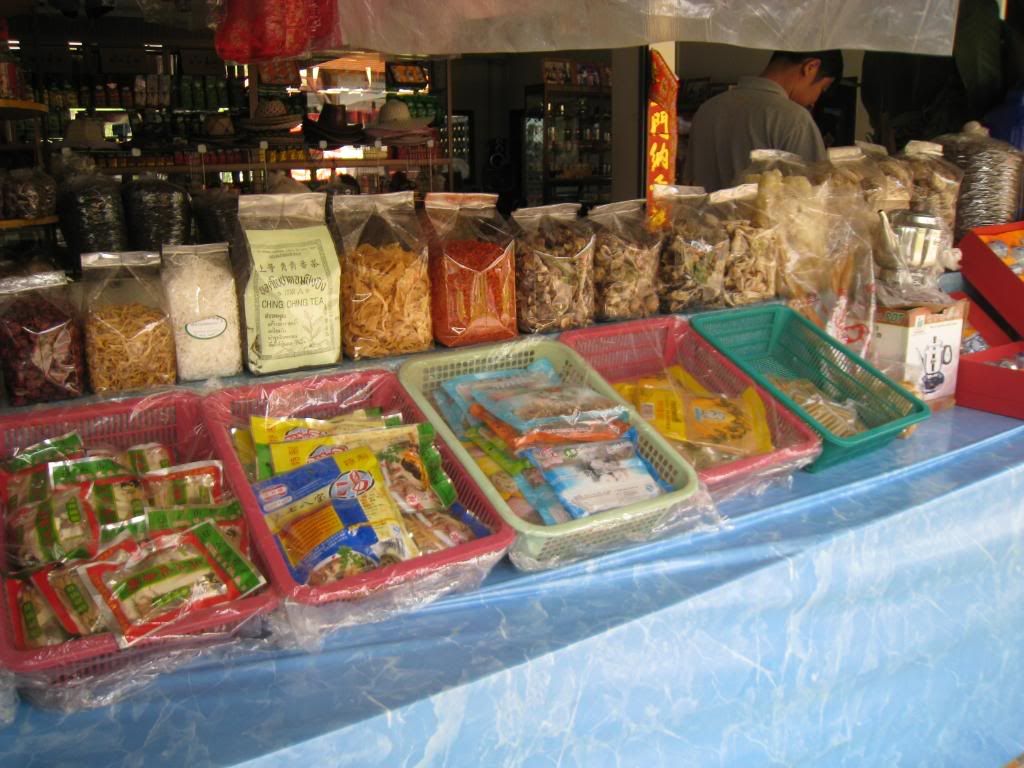 A very touristy Chinese restaurant for lunch (it wasn't bad by any means, but was hardly frequented by the locals)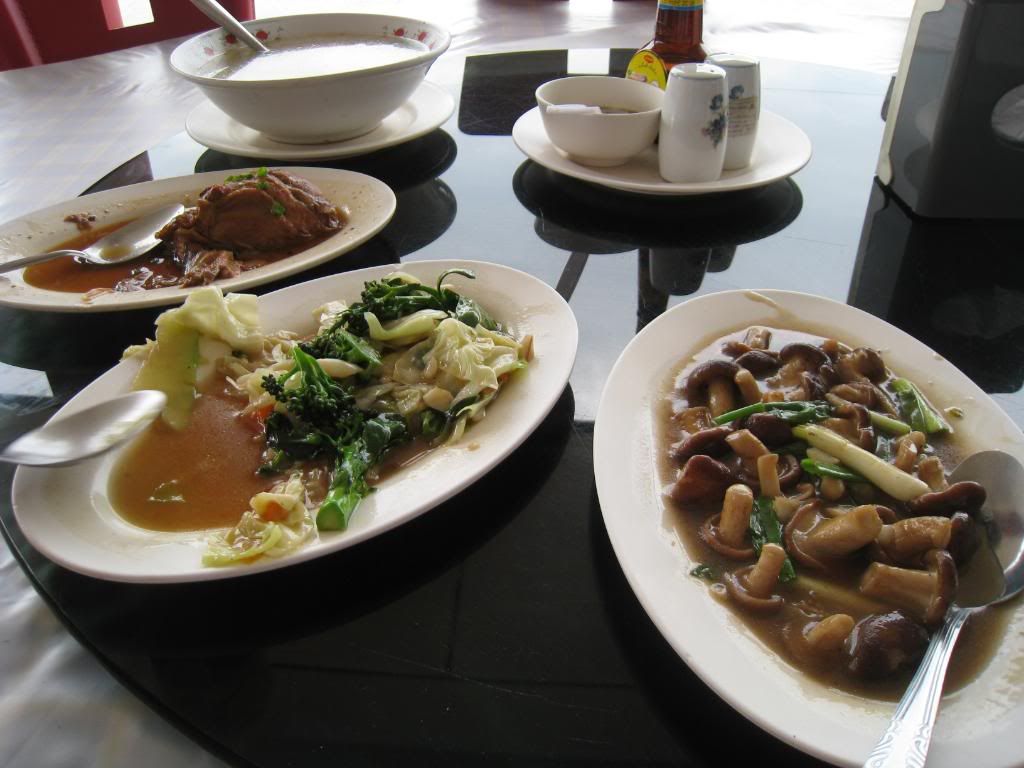 We visited the Hall of Opium (it's frequently mentioned as an attraction, I wasn't all that impressed).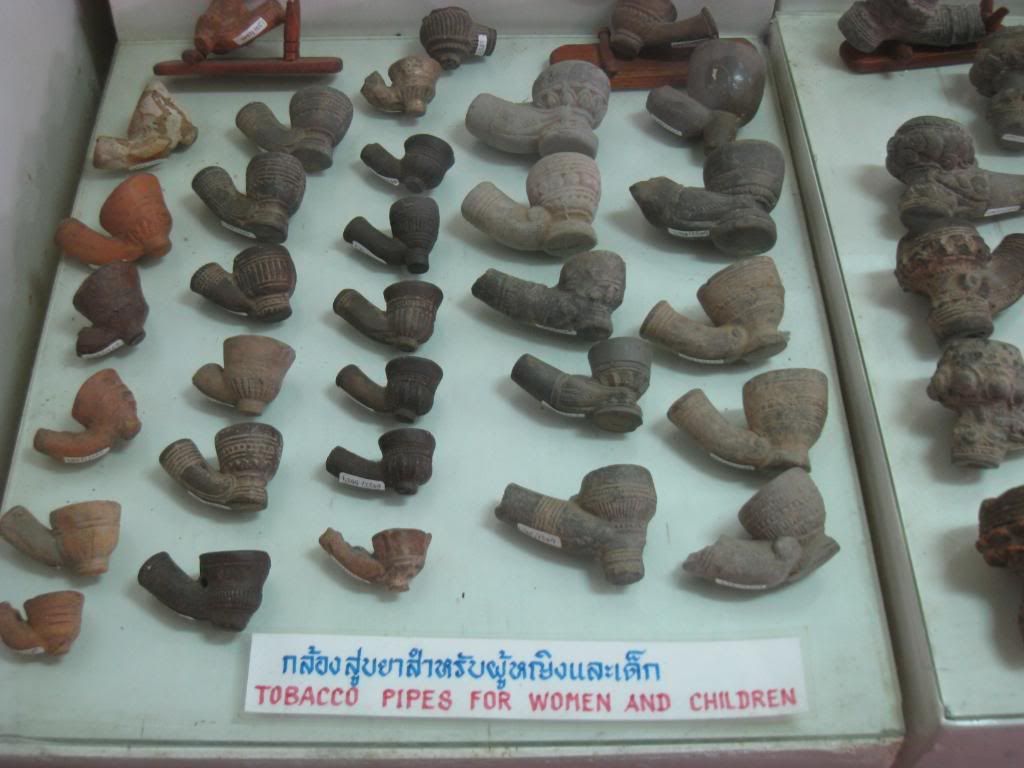 But the Golden Triangle was worth seeing, if only for a short while. It's just beautiful and tranquil, seen from afar and on high on the Thai side.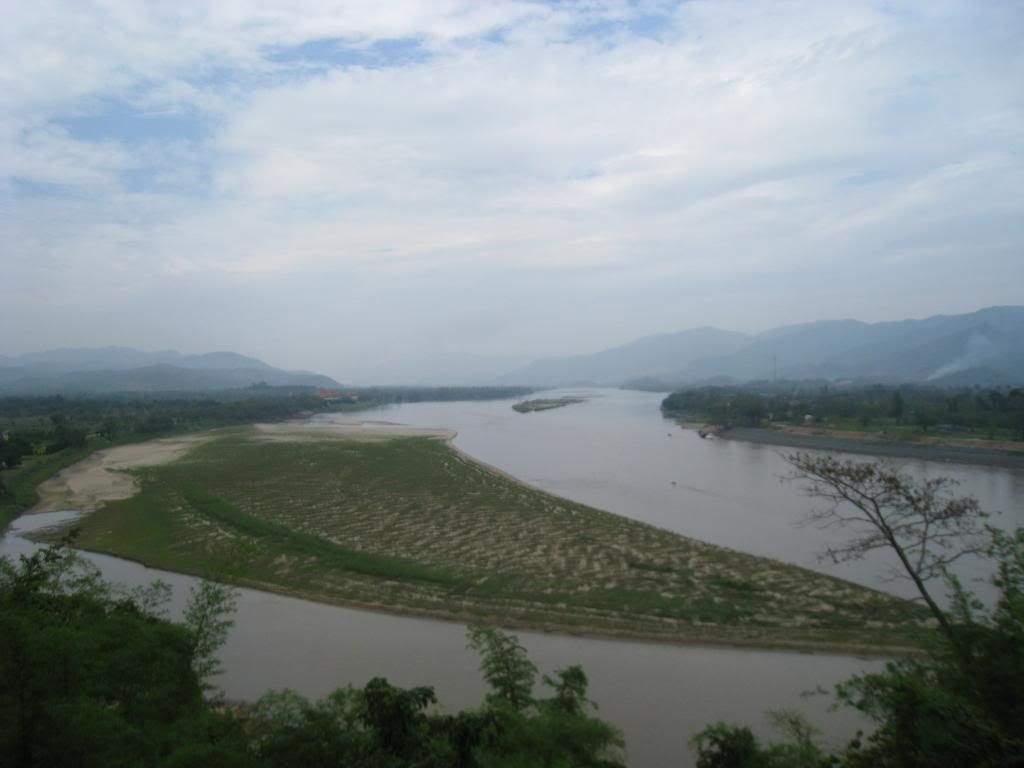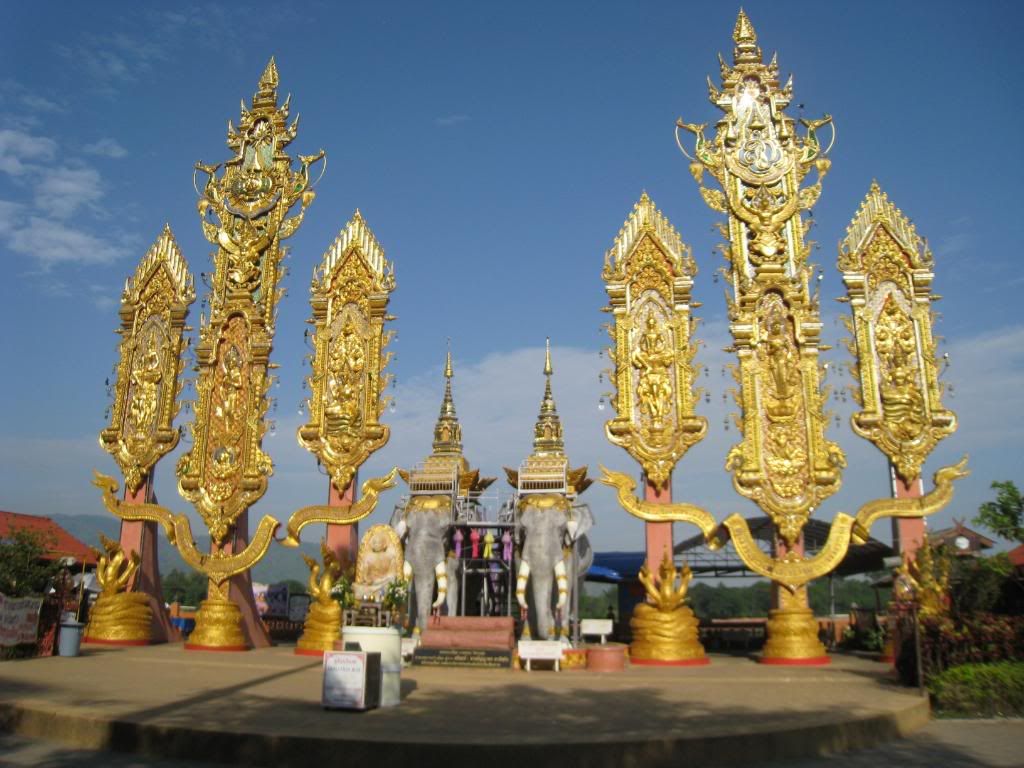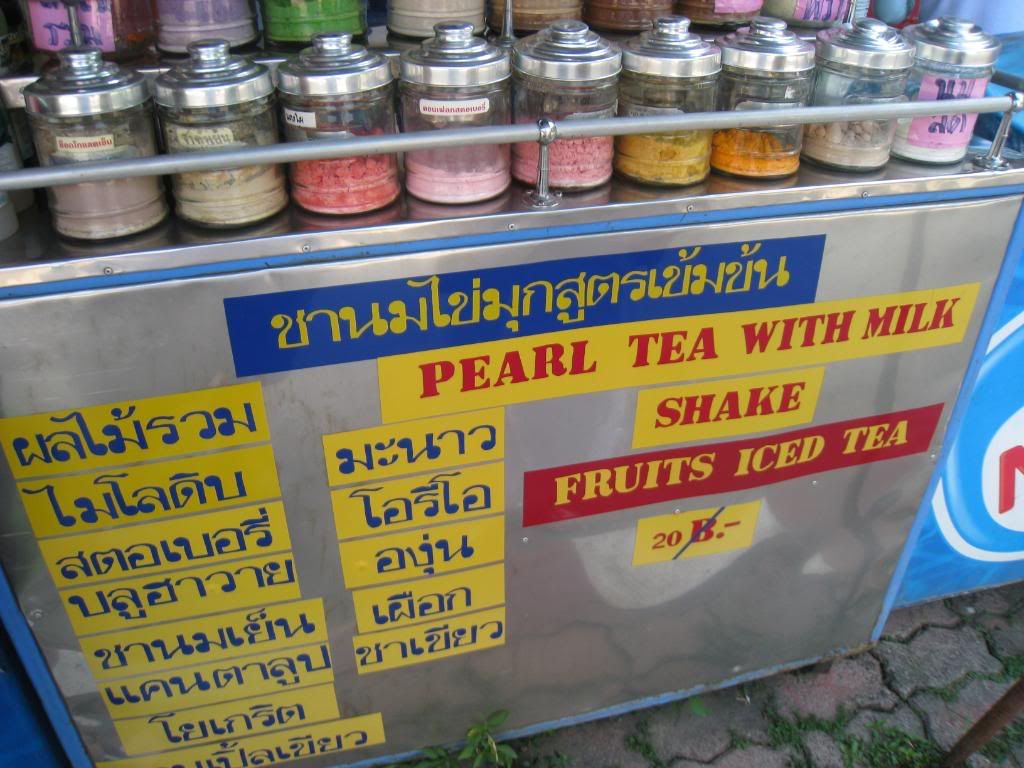 Then we took a boat, crossing into the Myanmar side, and back out – we didn't get off there. And we briefly stopped on a Laotian island which features all sorts of shops selling tax-free items like liquor. Very touristy, presumably, though we were the only non-Asians there.