Back in July Singapore Airlines made tons of first class awards available to their partners. Given Singapore's history, and even though they've been making plenty more first class awards on their Boeing 77W aircraft available to their own members, this was pretty clearly at the time not intentional. And it was short-lived.
I booked a whole bunch of tickets, not knowing which ones I would have use for or when I would be able to actually take the trips. Fortunately I had a fairly hefty United mileage balance which allowed me to do that (and a hefty Chase Ultimate Rewards balance I could have made instant transfers from in order to supplement that balance had I needed it).
While I made about a million miles worth of bookings, in the end I will only use a couple of the first class awards. As my schedule firms, I'm able to cancel those awards and get miles back.
A week ago I cancelled two first class awards booked by United.
Just as United no longer issues award tickets instantly, they also no longer redeposits miles immediately.

But just like in Casablanca, while the fortunate ones may receive their miles back quickly in order to book new award tickets with their miles (perhaps "to scurry to Lisbon; and from Lisbon, to the New World.") While the rest of us "wait… and wait… and wait… and wait."
Having waited a week I filled out the MileagePlus Service Center contact form asking for my miles back. A few hours later I had a form e-mail response, and the miles back in my account.

I find it interesting that miles now credit back with the same activity date that they were deducted, another subtle difference from the old United system.
The overall point here isn't at all a complaint about United. I'd have rather that the miles were credited back instantly, especially if I needed them to book a new award. And I don't know how long it would have taken on its own, I suspect that United would have done it in a sweep or at least eventually caught that they hadn't. But I certainly am not willing to trust that this is the case when 280,000 miles are at stake.
There's a broader point, not just about United miles, but about all miles and points generally. Sometimes they post, sometimes they do not.
It's rarely the case that miles from flying a given airline, when crediting those miles to that airline's frequent flyer program, will have difficulty posting. That's why I don't worry about using airline mobile apps, when I fly American I credit to my American AAdvantage account, so the lack of a phyiscal boarding pass to use later if I have to fight for miles isn't a stressor. (And paper boarding passes are frequently no longer required when crediting flights to an airline's own program, and depending on the airline even when crediting to a partner program.)
But not all partners credit so seamlessly. And when there's real mileage at stake, it's worth tracking and following up on.
When my miles didn't credit back to United for the cancelled award ticket, I added those miles o my simple tracking spreadsheet.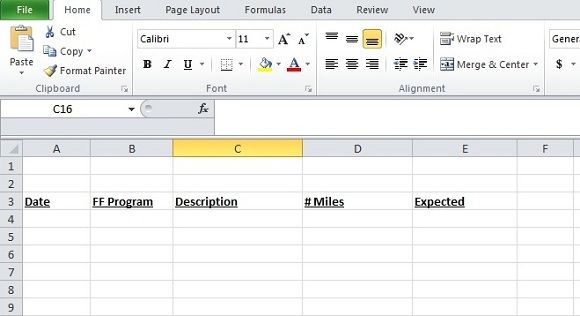 I record the date of a transaction, which frequent flyer program it is, how many miles I'm owed, and a description of what what supposed to generate the miles. And I record when I expect to receive the miles, this is the proverbial "miles will credit 8-10 weeks after the end of the promotion" so that I know when miles are late.
I track my miles each morning with a single click over at Award Wallet. That shows me all of my balance changes, and anything that credits which was on my spreadsheet I will delete from the missing miles sheet.
Of course that's no help with American, Southwest, and Delta since those airlines don't allow Award Wallet to track their accounts. I don't participate in Southwest Rapid Rewards, so that's not a great loss. And I'm less inclined to credit miles to American or Delta, all other things equal, because my routine won't work easily with those programs. I fly American and those miles credit without difficulty. But if a shopping purchase or car rental will earn just as many miles in another frequent flyer program, I'd chose that other program.
Then I review the spreadsheet regularly. I scan down to see what miles are past their 'expected by' date and I can follow up on those.
I have a folder in my email box where I keep online purchases, I can search those for the transactions I'll need to follow up on. And I keep plenty of screen shots as well, screen shots used to be one of my bigger uses of hard drive space but now I keep most of those in the cloud.
This simple system allows me to keep up with the miles that are owed to me, and to be relentless in my followup. I won't usually contact a program until the 'expected by' date I've set. But I will keep contacting the program or the merchant until the miles post. And since this is all electronic, it takes only moments to do.
What sort of system do you use to track your miles, and make sure that they post? I'd love to know any better ideas out there.