Founding member of the Black Eyed Peas Will.i.am a.k.a William Adams can't seem to get a handle on the myriad rules imposed by his carrier of choice, United Airlines, with whom he has a clear love-hate relationship.
Back in the spring he was kicked out of a Global First lounge, because he was flying domestically. He's a member of the United Club, and internalized their not allowing him in and telling him he was ineligible as being a result of his membership card being fake.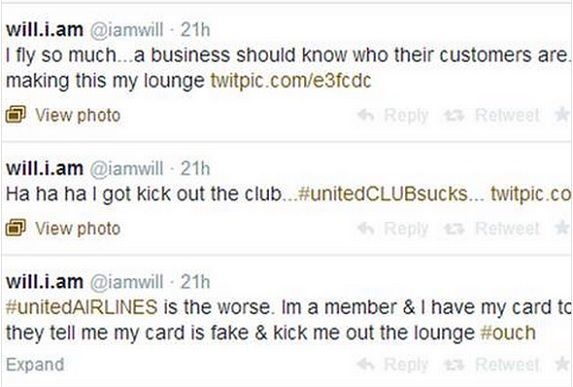 Now this past week he was denied boarding for an international flight (I'm assuming Los Angeles – Shanghai) because he arrived within 45 minutes of departure. United requires check-in 60 minutes in advantage for international travel.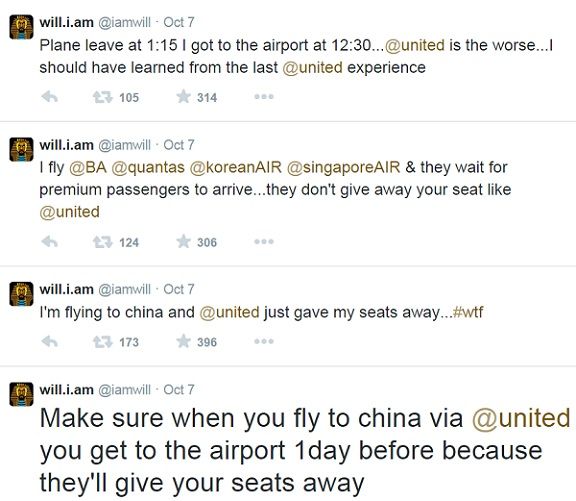 Contra Will.i.am's close tracking of United's schedules, UA198 to Shanghai is a 1:05pm departure.
Or he may have just internalized that UA198 tends to run consistently late.
I've certainly cut it close on some flights, factoring in a belief about not departing on time anyway. So maybe Will.i.am is just a better traveler than he's given credit for. in which case the knock on him isn't going to be arriving at the airport late (if you've never missed a flight you probably spend too much time in airports) but blaming United for it. You spin the wheel, take your chances, and when things don't work out in situations like this it's your own fault. Taking to twitter with a message of personal responsibility: now that would be novel!
---