The best uses of British Airways Avios are for short haul non-stop flights, because their distance based chart is very cheap for short distances — starting at 4500 points each way — but gets astronomically expensive for business (2x) and first class (3x) as distances get longer.
And it's even better when you can fly on airlines or routes with no or low fuel surcharges, since British Airways passes along those costs when booking an award ticket whenever they would be part of a paid ticket.
The classic ways to avoid fuel surcharges are:

Fly Air Berlin (no fuel surcharges) or Aer Lingus (low fuel surcharges) transatlantic

Transfer BA Avios into an active Iberia Avios account, and redeem those points for Iberia flights (low fuel surcharges)

Redeem for US domestic flights and trips to South America (no fuel surcharges)
Those aren't the only options, of course. Fuel surcharges on Australia domestic routes are very low, too, e.g. ~ $2 between Sydney and Melbourne in economy.
Here's another one .. and with taxes so low, the British Airways website errors out when you try to buy it. But there's a trick to force it through.
While I'm fairly certain I knew this I also think I may have forgotten, but Japanese domestic flights also have no fuel surcharges.
Head for Points makes an interesting point about these flights. Some of them even have no taxes.
British Airways cancellation fees are generally capped at the amount you pay in taxes (just cancel online), so those tickets are effectively free to cancel and redeposit points.
I had also been under the impression that Japanese domestic flights are usually only available for redemption close-in, but while that may be a rule for redemptions in the JAL program BA can actually redeem much further out.
Here's the rub, though. You have to make it through the payment page to book an award even when there is no payment due!
Before 9/11 US domestic award tickets really were free. With the advent of the 'security tax' US frequent flyer programs began adding the $2.50 segment charge even onto award tickets (in some sense, an early example of nickel and diming).
But now paying some taxes is common. BA's systems aren't built to process an award where you pay nothing!
You could call to get things ticketed but then you'll likely be charged the telephone booking fee. Although you may succeed in arguing your way out of it. Fortunately, there's a trick.
Here's availability for a coach award between Fukuoka and Sapporo, Japan six months from now.
That's an 879 mile flight so it's 7500 points one-way in economy. And there's no airport taxes for this city pair.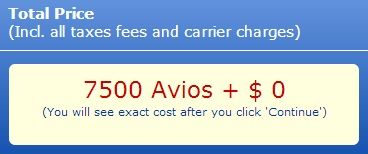 Thus a price quote of zero:

Here on the payment page I have to enter my credit card details (and in particular, security code for the card I have on file with them)… in order to authorize a charge of $0.00.
They cannot bill me $0, though, so the system returns an error.
The trick that Head for Points notes, though, is that you can actually add a donation during the payment process. Just choose a dollar.
The transaction should then go through!
---