One Mile at a Time writes that he no longer bothers with Twitter for customer service.
He makes good points that twitter may not get the experienced agents and priority it used to, that there are too many people trying to get service that way, and that mass metrics like response times have been imposed.
And sometimes the exchanges are just strange, like when I made a joke about not getting my upgrade on Southwest Airlines a little over a week ago they kept asking me to DM what the problem is. Southwest seems to have a strategy of just getting anyone tweeting negatively to stop doing so publicly. Bring eveything to DM.
All of this is true, but none of it makes Twitter useless for customer service. And it ignores how amazing Twitter is for trolling customer service teams.
Like @FakeUnitedJeff reaching out to American for help during a United IT meltdown.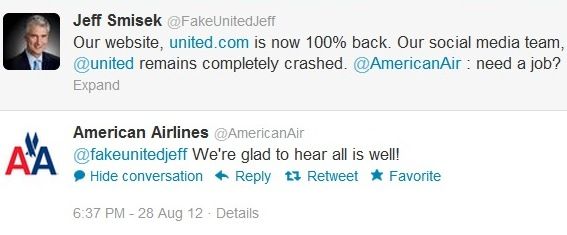 Or @FakeUnitedJeff reaching out to American and United for jobs now that he's entered into a non-prosecution agreement with the Department of Justice.
Or customers tweeting the wrong customer service account.
That's all fun and games until someone gets hurt. But twitter can solve real problems that are tough to solve any other way.
Last year I was running late enroute to New York JFK, I could only check in at the airport because I was upgraded using a Business ExtrAA certificate, and I had American swap upgrade instruments and get my ticket re-issued as a way of not missing the check-in deadline for my flight.
Earlier this year I couldn't find a competent telephone agent at Etihad who could add my Known Traveler Number to an American AAdvantage reservation, now that Etihad has joined PreCheck. @EtihadHelp got it added for me.
This past week, with Delta's operation melting down for days and telephone hold times over 10 hours for elites I helped friend who had flights cancelled by Delta two days in a row to get their ticket reissued and get a baggage claim processed.
Besides, sometimes it's better and easier to get things done in writing. Sometimes — like when you're on a plane — you can't handle things over the phone, but they're still time-sensitive for instance dealing with your onward connection. For those sorts of things Twitter can be invaluable.