United just announced several improvements to their premium transcon flights this morning. Traditionally New York – San Francisco and New York – Los Angeles were lucrative enough markets that airlines competed to offer a much higher quality product than on other routes.
Unlike most domestic markets, the thinking goes, there are customers (especially corporate customers) willing to pay more for these longer flights between major centers of industry.
These markets where airlines are competing on more than price in premium cabins have expanded somewhat. For instance Delta once claimed they were going to offer New York JFK – Seattle as a premium market. That didn't work out, but they do offer flat beds on Washington National – Los Angeles. And JetBlue flies their Mint product — perhaps the best domestic business class offering — on a variety of routes beyond the traditional transcon market.
United is retiring the name "p.s." for their premium transcons. They adopted the name in the fall of 2004 with the shift from Boeing 767s to Boeing 757s for these flights. (The end of the name was rumored.) They're bringing Boston into the premium transcon umbrella. They're adding amenities to business class on these flights, and to economy plus as well.

United Premium Transcon Business Class, Credit: United Airlines
New Business Class Amenities for Premium Transcon Flights
Business class on premium transcons get Saks bedding, a specialty cocktail (Moscow Mule), better desserts "inspired by Polaris" United's international business class service, pre arrival snacks and a pre-arrival hot towel.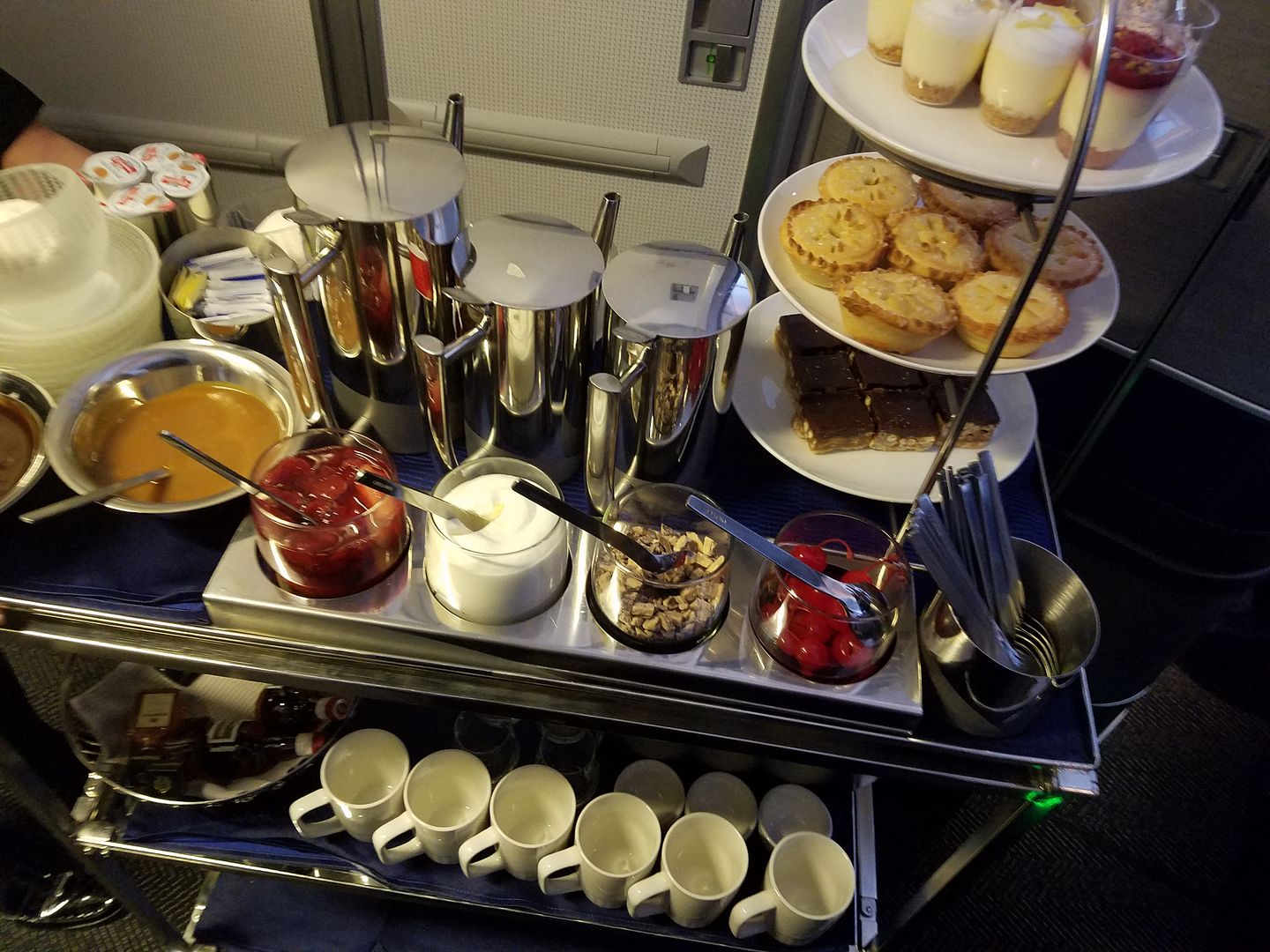 United Polaris International Business Class Desserts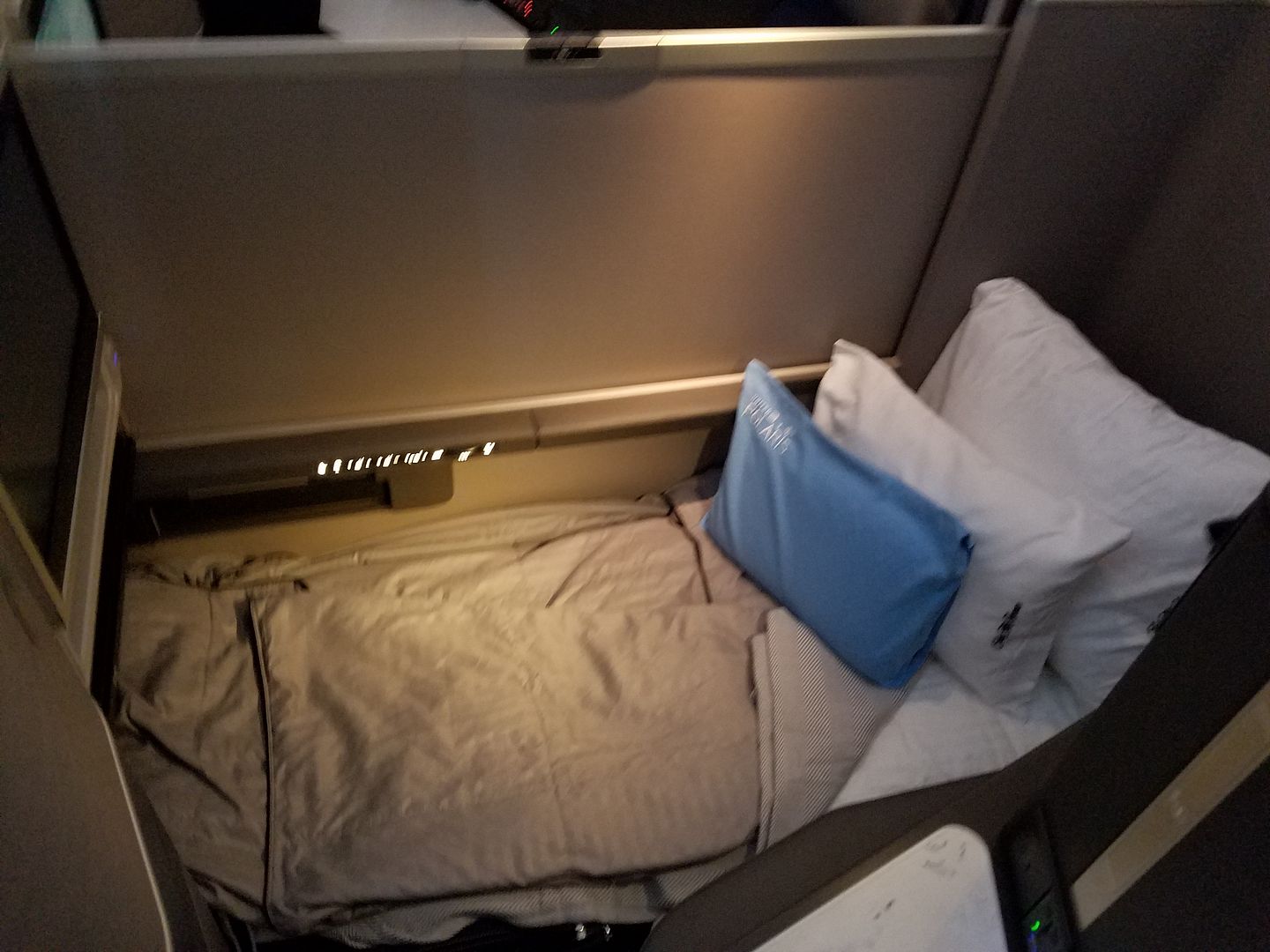 United Polaris Saks Fifth Avenue Bedding
Free Meals and Alcoholic Beverages for Economy Plus on Premium Transcons
Where American and Delta are offering complimentary meals in economy on premium transcons, United will offer hot meals and alcoholic beverages but only for economy plus.
Beginning on flights in July, this will feature industry-leading meal service, including a complimentary hot fresh entrée, dessert and fruit, a pre-arrival snack and alcoholic beverages. Sample menu selections include savory roasted chicken with a smoked barbecue sauce and butternut squash tortellini with sage cream sauce. Dessert options will include New York's favorite sweet treat, cheesecake, as well as a chocolate brownie and fresh seasonal fruit.
Delta offers a choice of meals in economy on a dozen cross country routes, not only premium ones but even Orlando to Seattle, a leisure route where they compete against Alaska. Delta offers meals throughout all of economy on Boston – San Francisco, which United won't be doing.
American only offers meals throughout economy on New York JFK – Los Angeles and San Francisco and doesn't compete directly on Boston – San Francisco. They fly Boston – Los Angeles, but United isn't upgrading that route.
Perhaps we'll see more from United here, as United Vice President of Marketing Mark Krolik says "we want to provide a satisfying and unparalleled meal in our Economy cabin. This enhancement to Economy Plus is our first step toward a premium Economy offering for our customers."
Premium Transcon Service for Boston – San Francisco
Boston gets premium transcon service to San Francisco but not to Los Angeles. I've covered Boston's impending lie flat business class service since February while United's PR reps kept issuing non-denial denials. And United has occasionally scheduled lie flat seats out of Boston for two and a half years.