United Airlines has been behind the curve bringing back meals. Alaska Airlines has done a phenomenal job. JetBlue has a smaller portion of its domestic flights with meal service (there's "Mint" on only so many routes) but has brought it back. I've even been nicely surprised by the domestic first class meal quality on American Airlines for those flights with hot meals as well as the breakfast lox platter.
Delta has its failings, for instance readers report they're serving coach meals in premium economy and they've made permanent service cuts pretending it's about the environment (any time Delta promotes their eco-consciousness, ask them about their oil refinery).
United, though, is finally bringing back more meal service. They were early to offering it on a limited number of flights (1500 miles and up). Now they'll offer,
meal trays in domestic first class on all flights that are longer than 800 miles, replacing the packaged sandwich it has been serving during the pandemic.

For mainline flights, the plated meals will include hot entrée choices, while cold plates will be on offer for United First customers on regional flights.
Notably American Airlines meal service only begins at 900 miles.
As I've previously written, coursed meals return to United's international business class by June 1 with table linens and separate salad, entrée and dessert served separately one at a time.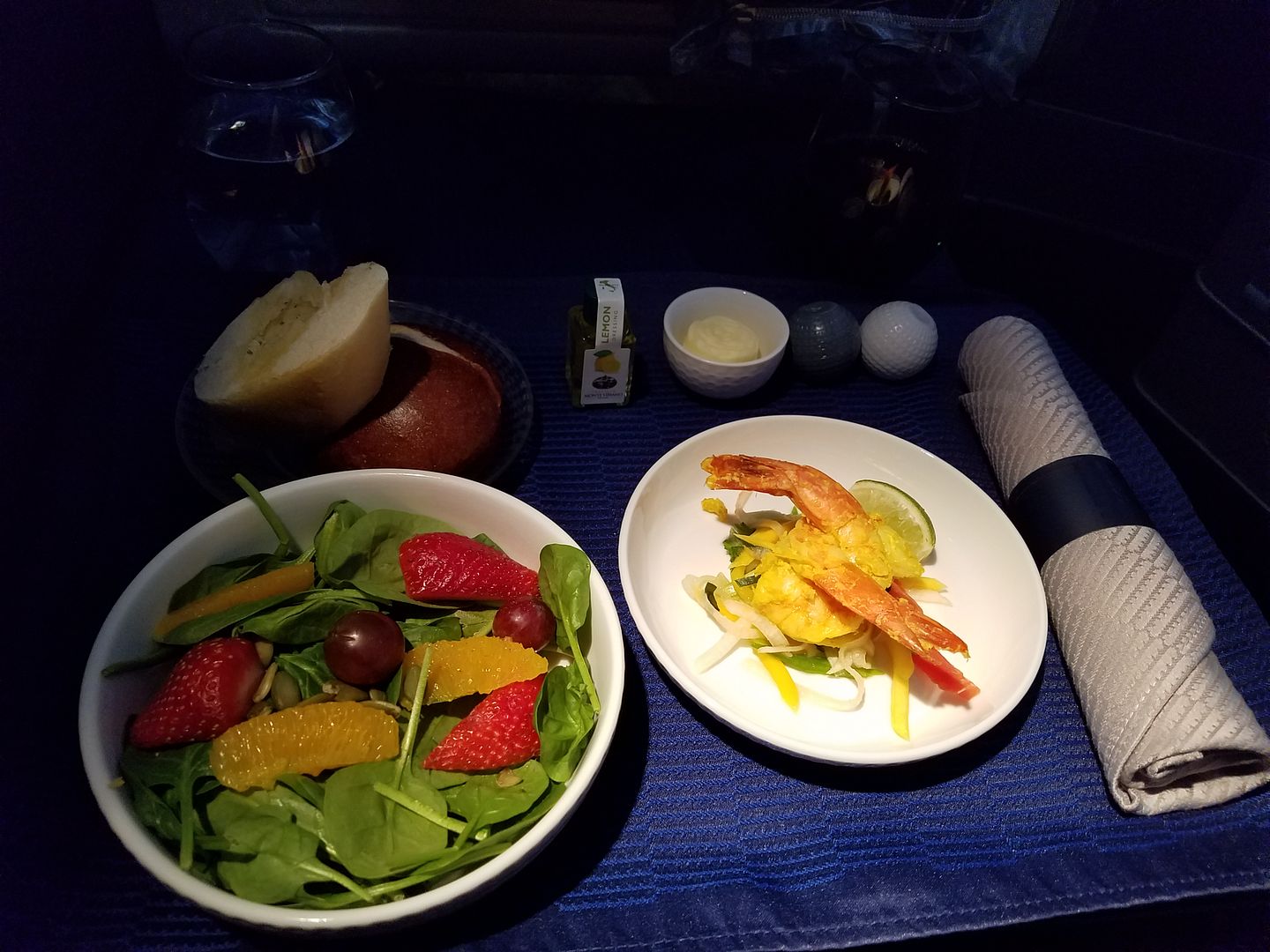 Polaris Salad and Appetizer
June 1 is also the date that spirits return to international premium economy and economy (there was already beer and wine, and premium economy had spirits before it was taken away last month).
Nature is healing. Food matters. Customers may not have time to eat before a flight, or buy food on connections. The point of first class isn't just "the Big Front Seat" unless you're flying Spirit Airlines. It's buying a less stressful and more effortless experience. Earning a revenue premium for the product means delivering things that make travel better for passengers, and time and again customers have stated that inflight meals matter.