A year and a half ago United announced non-stop Singapore service which commenced in June of last year. It was a clear shot across the bow of its Star Alliance partner Singapore Airlines (they haven't been especially close in years) which offered only one-stop service to Singapore.
Singapore Airlines launched non-stop San Francisco – Singapore service in October using an Airbus A350, pushing it towards the high end of its range but offering a far better inflight product than United on the route.
Now United has announced that they will begin non-stop Los Angeles – Singapore service which is an even longer flight beginning October 27 and utilizing a Boeing 787-9 aircraft.
Here's the schedule:

Los Angeles – Singapore, 8:55pm – 6:50am+2, United flight UA37
Singapore – Los Angeles, 11:00am – 10:15am, United flight UA38
The Singapore – Los Angeles non-stop will be scheduled to arrive same day as it departs, it will be one of the Asia -> West Coast U.S. flights that "time travels" arriving even earlier than it takes off.
Until very recently Los Angeles – Singapore would have been the world's longest flight, however at 8770 miles it is slightly shorter than Dubai – Auckland (Emirates, 8824 miles) and Doha – Auckland (Qatar, 9032 miles).
The westbound flight to Singapore will clock in at 17 hours 55 minutes versus 'just' 15 hours 15 minutes eastbound.

United's Existing B/E Aerospace Diamond Business Class Seats As Shown on a Boeing 757, Similar to Their Existing 787 Business Class

United's New Polaris Business Class, as Seen on a Boeing 777-300ER
Fortunately United's 787-9 cabin is premium heavy with 48 business class seats compared to 30 for American's 787-9. However until they receive a retrofit these are six-across (2-2-2) business class seats where you climb over a neighbor or a neighbor climbs over you to use the lavatory unless you're seated in the middle section. That's far from a preferred configuration on one of the world's longest flights, and that's in business class. United Economy for nearly 18 hours is almost unfathomable.
And you won't even be stuck with United for non-stop Los Angeles – Singapore for long, because Singapore Airlines plans to fly both Los Angeles and New York – Singapore once it receives its new Airbus A350ULR ("ultra long range") aircraft next year.
Singapore's A350-ULRs will reportedly have business and premium economy seating only, no coach which is striking since Singapore's economy seat is far more comfortable than United's and features a foot bar and drink holder.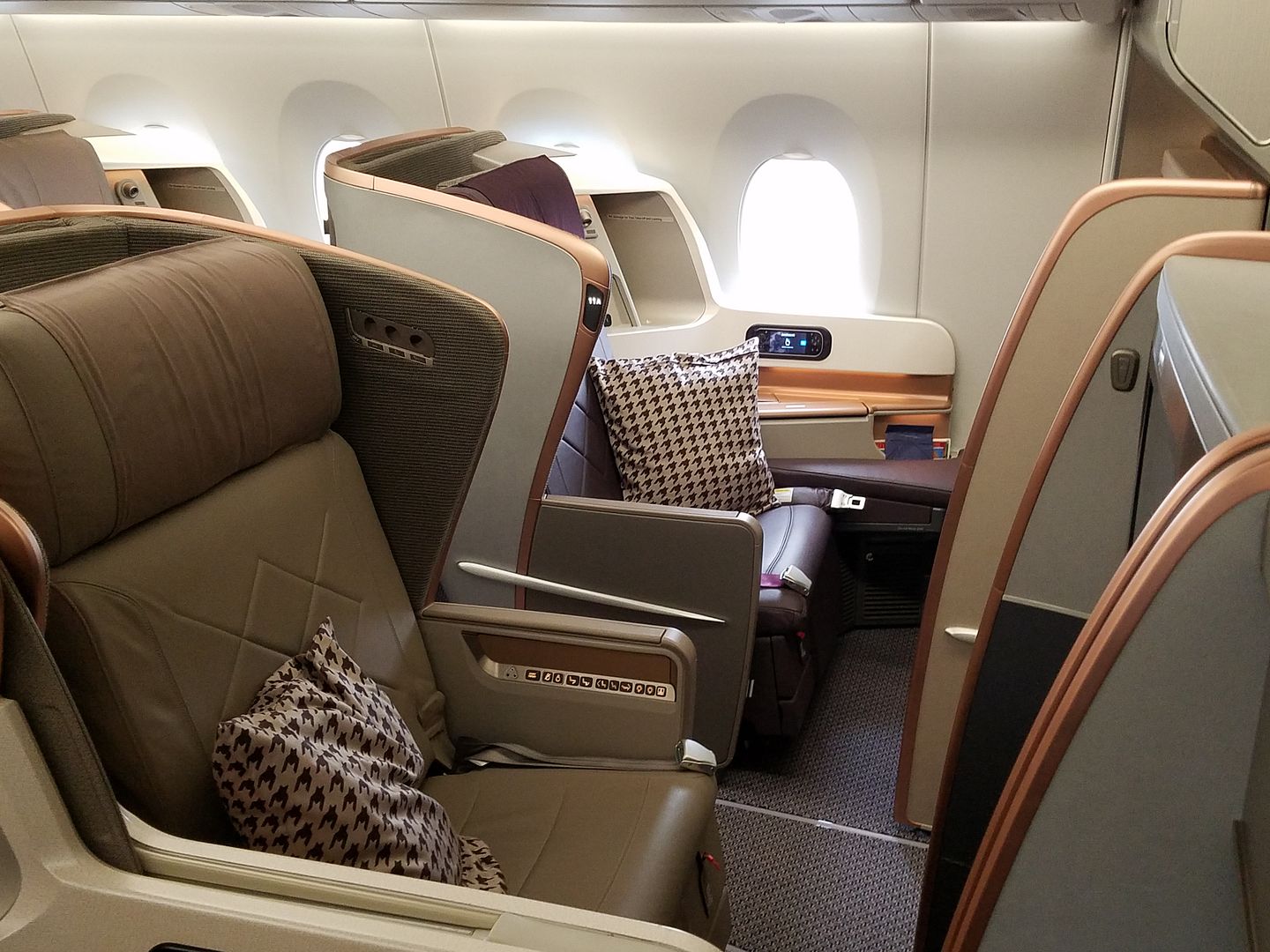 Singapore Airlines Airbus A350 Business Class
United's press release claims "The flight between LAX and SIN will set the new distance record for any airline operating a flight to or from the United States, at 8,700 miles." However that's not true. Singapore Airlines used to operate Newark – Singapore non-stop which clocks in at 9534 miles.