United already massively increased the number of points required for awards, especially premium cabin awards and especially on partner airlines, back in February.
But the usefulness of miles is a function of:

The cost of an award (award chart pricing)

Availability

Routing rules (what available flights can you take advantage of to get where you're going)
And United appears to be in the midst of a major stealth devaluation without any notice in the form of significantly restricting its routing rules.
United's Routing Rules Had Been the Most Generous
United, prior to its merger with Continental, had offered some of the most restrictive awards among major airlines.
They engaged in 'Starnet blocking' (known internally on the Continental side as 'throttling' where they pretended that award seats being offered to them by their partners weren't really available. Agents blamed the partner airlines when it was really United preventing members from booking available seats. This significantly limited the value of United miles.
They also imposed limits on the number of miles you could fly. Every city pair (origin-destination) has a published 'maximum permitted mileage' and United used to require you stay within that when putting together a trip. With the merger they relaxed routing rules and allowed exceeding this mileage by 15%.
United used to require that if you crossed the Atlantic on an Asia award that pricing would be based on the higher Europe-Asia award, and that you had to cross the same ocean in both directions. The Continental merger eliminated this.
And then when the merger was completed the maximum permitted mileage rule went away entirely, at least initially — Continental and then United awards were based on whatever the computer would price, and agents rarely questioned the computer. There were few logical or consistent routing rules, the published rules weren't actually enforced. Sometimes things you should have been able to do weren't allowed (the computer wouldn't price, and getting an agent to override the computer has always been tough with Continental). But most of the time customers benefited.
United-Continental had perhaps the most generous routing rules in the industry, a reasonable award chart too, you could fly pretty much however you wanted. And with the amazing availability of the Star Alliance, that made United's miles exceptionally valuable for international travel.
Now United is Getting VERY Restrictive
Via Matthew United appears to have added new routing rule restrictions to several of their international awards.
Travel between the US and North Asia (eg Seoul, Beijing) cannot be via South Asia (eg Hong Kong, Bangkok, Singapore)

Travel between the US and North Asia cannot be via Europe, so no New York – Frankfurt – Seoul for instance any longer, or New York – Istanbul – Seoul.

Travel between the US and North Asia cannot be via US Pacific territories, so you cannot connect in Guam enroute to North Asia (despite the United-Continental focus city there).
It gets worse.
US to South Asia cannot go via Europe.
US to Africa cannot go via Asia or South America.
At least according to the new published fare rules that are not yet being consistently enforced.
I searched for Washington Dulles – Bangkok and found the first two suggestions were via Europe, and the system was allowing me book the first choice.
The United website is the better choice for getting awards the new rules won't permit right now, though there are apparently reports of the website erroring out on some of these (unknown yet whether that's because they violate these new rules, or just because the United website errors out sometimes).
When you select an itinerary you can pull up routing rules for the award.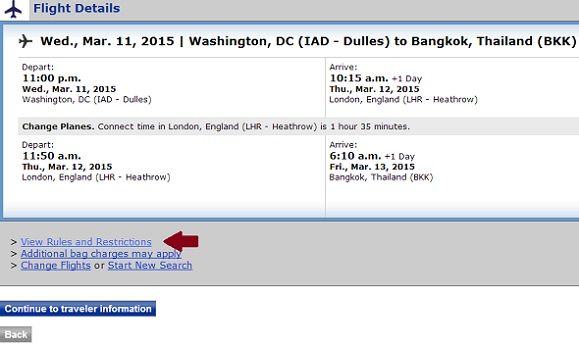 US – South Asia contains these restrictions:
From First to Among the Worst
United apparently decided that its awards were too generous and costing them too much money. They increased the price of awards but apparently that didn't go far enough.
So they refuse to spend money on awards that clearly make sense.

US-South Asia from the East Coast isn't flying more miles when you go over the Atlantic than the Pacific, it's basically the same distance.

From the East Coast of the US it can be fewer miles to fly to Africa via South America than via Europe.
Distance-based programs rarely have routing rules like this, it's region-based programs that do. Aeroplan, for instance, lets you route any way you want more or less as long as you don't exceed the published maximum miles for the city pair by more than 5%.
US Airways, whose computers don't appear capable of imposing routing restrictions, has always been among the most generous although presumably that will go away when they merge fully with American. American significantly restricts the regions you can connect in when booking an award already.
Delta's rules are a bit more opaque, though I've had success booking US-Asia via the Atlantic while others report differently.
Combining the massive award price increase with new stricter routing rules means United is getting competitive with Aeroplan for most quickly devalued program.
This Limits the Usefulness of Partner Awards Most
United's own flights are much cheaper than partners when flying premium cabins under the new award chart.
Partner flights cost more. And it's generally partners that are going to fly via the Pacific or South America to Africa or via Europe to Asia (since United doesn't fly Asia-Africa, South America-Africa, or Europe-Asia).
If you've been willing to pay premium pricing in United's new award chart for an award like US-South Asia via Europe, such as Washington Dulles – London – Bangkok on United and then Thai in first class, you're now going to have to pay two awards if they start consistently applying this rule.
That's what this means — taking advantage of reasonable routings using Star Alliance partners doesn't just mean using a more expensive Star Alliance award chart, it means paying for two awards!
---