Traditionally US frequent flyer programs offered to let members book any seat on any flight for twice the miles. That way if there wasn't any "saver" award inventory, it would still be possible to use your miles.
Now it wasn't always precisely twice the miles. Sometimes it was less than double!
Up until October 2006 United Airlines Mileage Plus offered awards from North America to Australia in business class at 90,000 miles roundtrip at the saver level — or 150,000 miles for what they called "standard" or rule-buster style awards where you could have any empty seat instead of constraining yourself to award space.
At the time that award struck me as one of the best in the world. Delta and Northwest at the time both charged 150,000 miles for their capacity controlled awards to Australia in business class. But United would give you any seat at that price.
The 'double miles' value proposition has already been broken, with airlines generally charging more than double for greater award availability especially in premium cabins internationally and also not offering 'last seat availability' at that price to all members.
United does both of those things, with last seat availability offered only to elite members and co-brand credit card holders.
Only American AAdvantage still offers any seat on any aircraft to any member for double the usual miles. (Asterisk: their new route to Seoul requires more miles.)
While most of the attention in United's award chart devaluation that goes into effect February 1 has focused on the increased cost of saver awards, and especially the increased cost of booking awards on United's partners, it shouldn't go unnoticed that they've also increased the cost of 'standard' awards that offer extra availability on United's flights.
The percentage increases aren't as great as with partner awards, but the absolute mileage cost increases are still huge in many cases.
I've put together side-by-side comparisons between the current and new 'standard' award charts and you'll see some big increases, and some very expensive awards. Clearly gone are the days of "double miles awards" at United!
The following are roundtrip costs at the standard award level, though of course if you find saver awards in one direction you could book that one way and book at the higher standard level only in the other direction.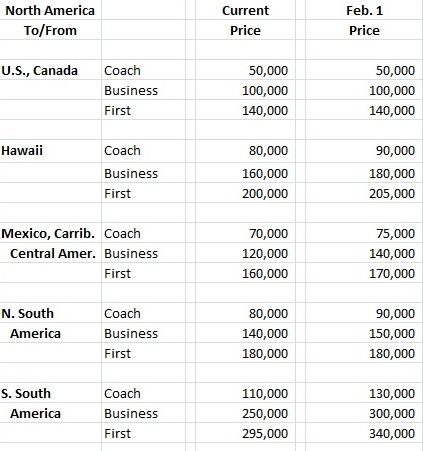 The very notion of 400,000 miles for a single award seat is shocking to the frequent flyer conscience. Even Delta hasn't (quite) hit the 400,000 mile level in their published award chart at the 'high' level. And United doesn't even give all of its members last seat availability at that price. For shame.
---