Starting Monday, April 1 United will be conducting a test for one month for late night departures from Washington Dulles. Transatlantic flights departing after 10 p.m. will see a modified meal service in business class that shortens the service to allow for longer sleep. Flights like Washington Dulles – London Heathrow, Frankfurt, and Dublin are scheduled for between just 7 and 8 hours gate-to-gate.
Appetizers and salad will be served alongside the entrée, rather than being coursed, with dessert to follow separately. In addition to reduce noise during the dessert service desserts will be plated in the galley and delivered to customers rather than using the dessert cart. There's no change to the food being offered, either in terms of choices or quantity, and no changes to the desserts either (although I'd guess that dessert consumption will go down without the desserts right in front of customers tempting them).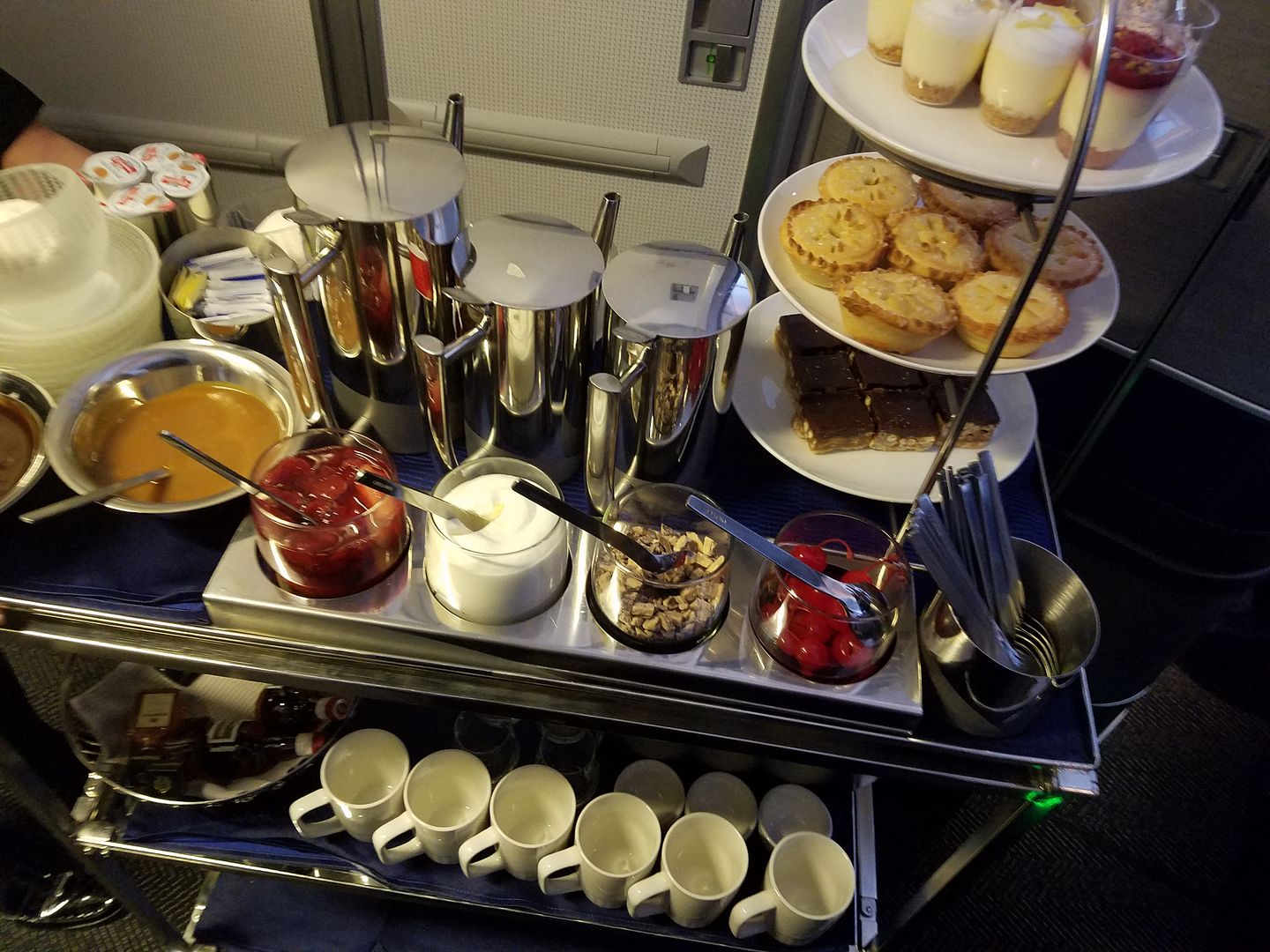 I actually think this would be a good move if United's Polaris lounge at Washington Dulles were open. For short transatlantic flights leaving late — where flight time may be similar to a flight to the West Coast — many passengers really do just want to go to sleep. I know I do.
Several airlines, most notably British Airways, have long offered 'pre-flight dining' for exactly this reason. Have your dinner in the lounge, go right to sleep once on board. And to facilitate sleep you want the overall service to be completed as quickly as possible so there's less clanging, and the lights can go out.
Unfortunately there's no Polaris lounge at Washington Dulles yet, though United says one will open later this year. I asked the airline why they're not testing this at Newark, where customers can easily have their meal in the lounge before departure – guessing it was that Newark flights are higher yielding so a test could be higher risk – and was told there's "a lot going on in Newark" and that "Dulles was selected because..we hear from customers on late night flights in various hubs, and heard quite a bit from customers at Dulles" wanting to go right to sleep.

Newark Polaris Lounge Dining Room
The airline said they'd be sending an email to customers letting them know to expect this change for April. There's no timeline yet on when they'll make a decision about whether to keep this change going forward, whether they'll roll it out to other hubs beyond the East Coast, or whether it makes sense for flights leaving earlier than 10 p.m. United says that if they receive negative feedback on the test than it won't expand.
No doubt this will make service flow easier on these flights now that there's one fewer flight attendant working in business class and entrées are being delivered to the aircraft pre-plated.