I follow (and often copy my United commentary to) @FakeUnitedJeff, a parody of United CEO Jeff Smisek.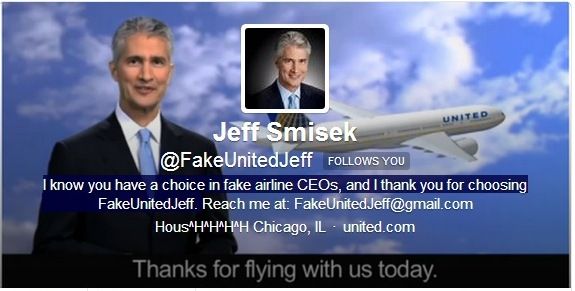 I had not been familiar with @UnitedAirlanes though.
That account has really taken off since it's gotten exposure from BuzzFeed.
And it's actually pretty funny (sometimes).
People tweet at United via a misspelling (the correct United twitter account is @United — those social media geniuses created a new twitter account with no followers when they merged with Continental instead of changing the name on one account or the other).
This account is clearly a parody, in the vein of Untied.com, United Airlanes.
And my favorite:
(HT: rwoman on Milepoint)
(Update: I wrote this post last night and scheduled it for this morning. I see that Hack My Trip has now written on this as well.)
---
You can join the 30,000+ people who see these deals and analysis every day — sign up to receive posts by email (just one e-mail per day) or subscribe to the RSS feed. It's free. Don't miss out!