With all of the furor over United's massive award chart changes, I thought it would be useful to put together some context and compare United's new February 1-onward award charts against the offerings of their two major competitors in the U.S., American and Delta. (I exclude US Airways because it's a smaller carrier and still may merge with American.)
I've put travel between North America and South America, Europe, Africa, Asia, Australia and the Pacific side-by-side to have a look at United's new award charts (for both United flights and flights on United's partners) against the award charts of American AAdvantage and of Delta Skymiles as it applies to travel June 1 onward.
Each airline has a slightly different definition of which countries are in which 'zones' but this is a pretty fair comparison of like-awards I think. Note that I exclude off-peak award discounts, which American offers at certain times of the year.
Here's the comparison of roundtrip awards between North America and South America, Europe, Middle East, and Africa: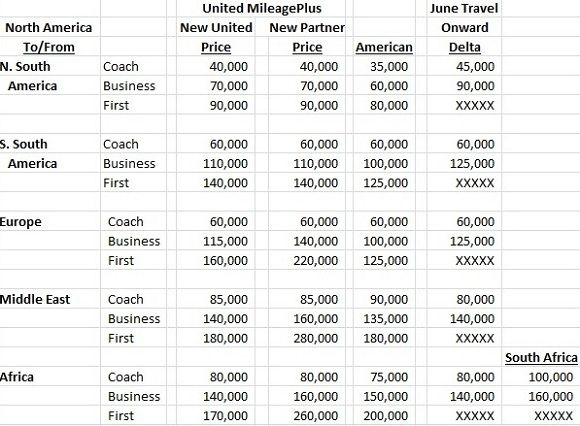 Here's the comparison of roundtrip awards between North America and Asia, Australia, and the Pacific.
United's Changes Look American AAdvantage Look Really Good
American has gone the longest without making major changes to their award chart. That's largely, I think, because their last round of increases made many of their awards much more expensive than their competitors, so other airlines have gone through rounds of increases playing catch-up.
But with these latest changes, American has a real competitive advantage. And it's precisely how well American's award chart compares to the new United charts that makes AAdvantage members nervous. Great deals rarely last long.
American is, in almost all cases, cheaper than United for premium cabin awards and certainly cheaper for premium cabin awards on partner airlines. There are a few exceptions — such as United being 5000 miles cheaper for coach to Africa, India, and the Pacific and United being cheaper for business and first class to Africa on its own flights (nut not on United's Star Alliance partner flights).
But check out these incredible comparisons:

American's first class award to Europe is 125,000 miles versus 220,000 miles to fly United's partners (American's major partner with first class, British Airways, of course incurs fuel surcharges

American's first class award to Southeast Asia (e.g. Cathay Pacific) is 135,000 miles versus 260,000 miles to fly United's partners (e.g. ANA, Thai, Asiana).

It's not just first class, consider business class to North Asia using American miles is 100,000 (e.g. Japan Airlines) while it's 140,000 miles on United or 160,000 on United's partners.
United's New Award Chart Actually Compares Favorably to Delta Skymiles Awards
Even after the major changes that United is pushing through February 1, they still offer a better value proposition I think than Delta Skymiles. There's a reason that program got the nickname 'Skypesos'.
Delta doesn't allow one-way awards, while United and American both do.
Delta doesn't allow first class awards. So whereas United's worst devaluations are for international first class partner awards, the price using Delta Skymiles is even higher (in some sense, infinite).
MileagePlus awards on United flights (or on United flights plus a partner in a lower class of service) are highly competitive with Delta's new award chart; either the same price or actually lower, and somewhat higher only to the Indian subcontinent. MileagePlus, of course, gets much better availability than Delta Skymiles does, and you pay extra for that availability booking an award on United's partners.
And of course MileagePlus awards are easier to book, given the really good functionality offered by the United website access to awards on nearly all partners) which Delta doesn't come close to replicating.
Conclusion: United Still Offers Good Value Versus Delta, But American Flyers Should Be Nervous
United has better partners, better availability, and better routing rules for prices that are competitive with Delta's. Skypesos don't look better than MileagePlus miles, even if United has very much gone down Delta's path with these changes.
But American AAdvantage members now appear to have it really good in comparison. And that should make them nervous. It's been quite some time since big award chart changes at AAdvantage. The best thing that American members might have going for them is the flux they're in with the US Airways merger and a desire as they prepare to exit bankruptcy not to immediately alienate customers.
In the short-term there's no question that AAdvantage is king amongst North American frequent flyer programs now. But that's not a position that should give AAdvantage members comfort. On the contrary it suggests a certain degree of nervousness about the future is appropriate.
---