Oscar Munoz took the stage at Gotham Hall in New York this morning to talk about their new push at United. It as as much about the culture of the airline as it was about the new product — the "culture of caring" and "new spirit of United" that he acknowledges has been "missing far too long."
He gave thanks to everyone in the audience but also to United's "86,000 colleagues" who seem as much the audience in everything Munoz does as the media assembled. More than anything he's trying to instill pride in the airline's workforce and hoping that will translate into better customer interaction that bring customers back.
Introducing the product, Munoz says he "challenged the team to be defiantly innovative." And while I have no doubt this is true, United also emphasized the long research process they went through — they started the new seat process three years ago, and it was locked a year ago, when Jeff Smisek was still the airline's CEO (although Henry Harteveldt says that Smisek agreed 'kicking and screaming').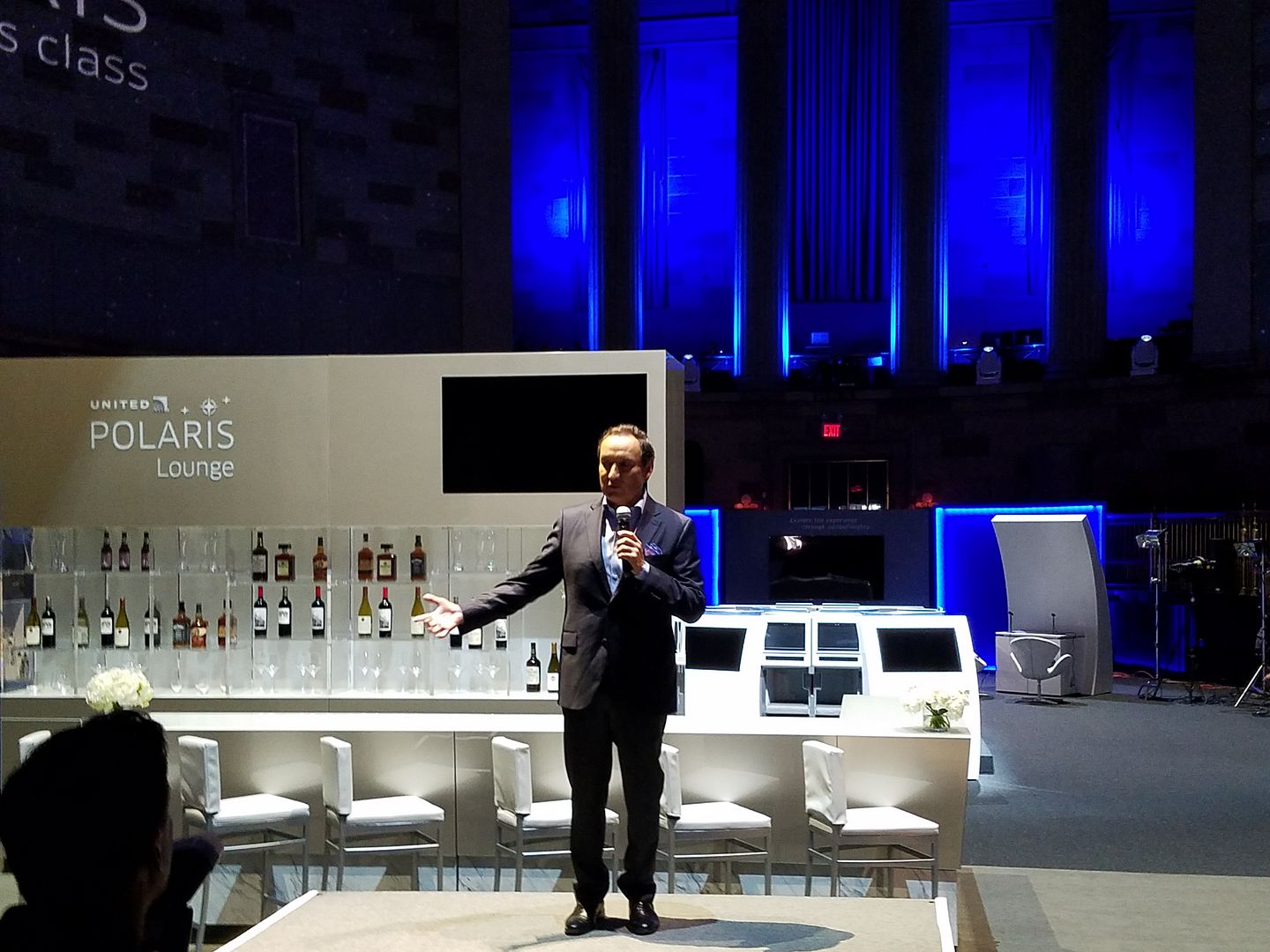 Munoz acknowledged that international business class customers view sleep as more important than anything else, which isn't new, but was surprised that it was "almost 2.5x times as important as anything else." Munoz said that, "Sleep is the new black."
So the center of their design is the new Zodiac seat (coming from Zodiac UK, with a dedicated product line that United says is on-time for a seat that's been certified).
The seat will be fully flat with direct aisle access. That puts it a cut above British Airways and Lufthansa, but plays catch up to Delta and American.
New Business Seat Rollout
They call the new product Polaris. United will offer all aisle access fully flat seating with a 6'6″ bed.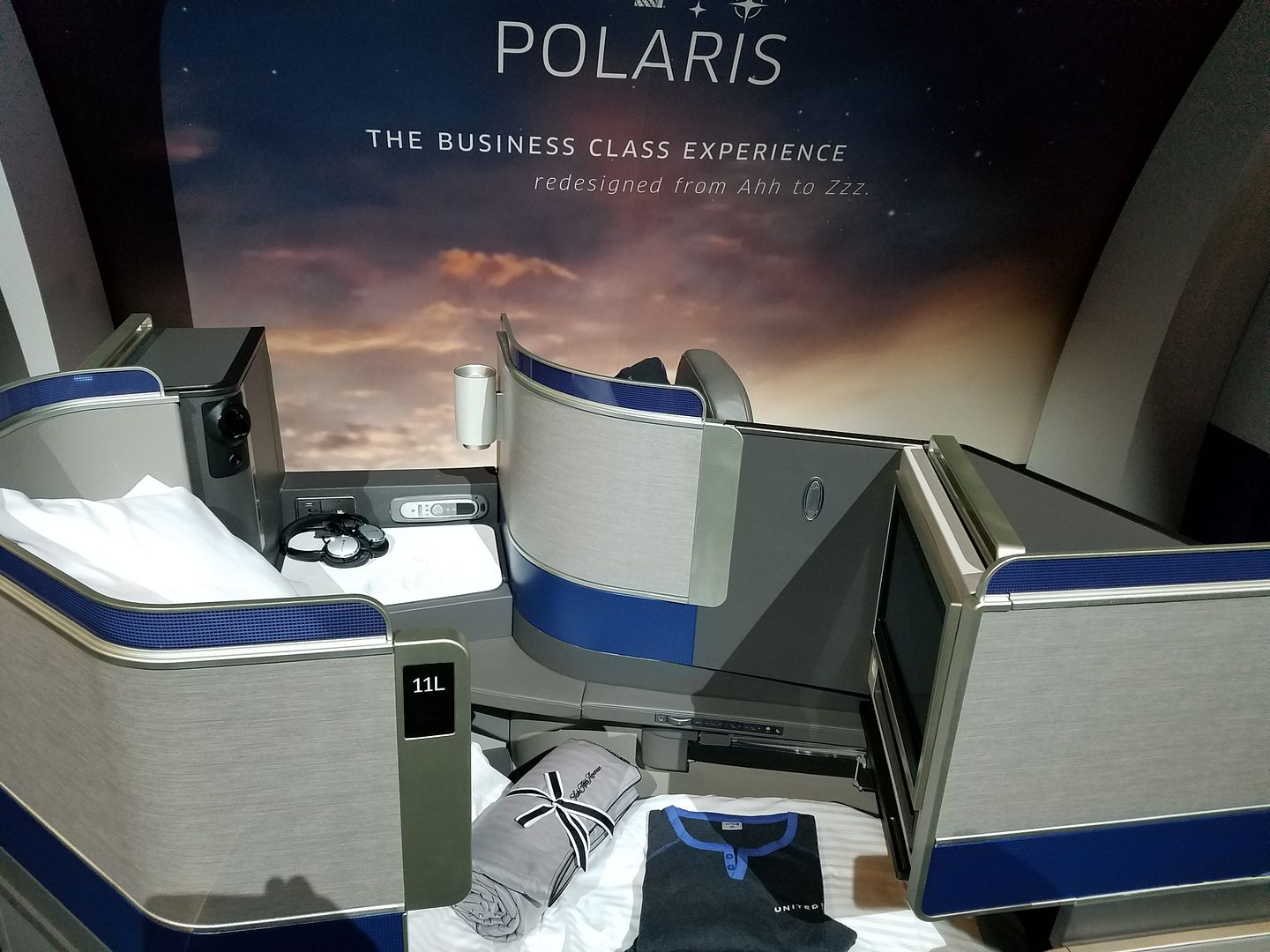 Crafted as individual, forward-facing, suite-like pods, each customer's personal suite will feature a "Do Not Disturb" sign, mood lighting, one-touch lumbar support, several storage areas, multiple surfaces for simultaneous working and dining, a 16-inch high-definition entertainment screen and, for seats in the center of the cabin, electronic privacy dividers.
United's Boeing 777-300ER will be the first plane with the new seats, and it will be delivered later this year and go into revenue service early in 2017. There will be 60 business class seats in a denser layout than American. It's less space, but efficient use of space, per seat. But more seats also means a greater chance of upgrades and awards. So, tradeoffs.
The seat allows stowage under the ottoman for taxi, takeoff, and landing. There's limited additional at-seat storage.
The tray moves into several positions, which is nice.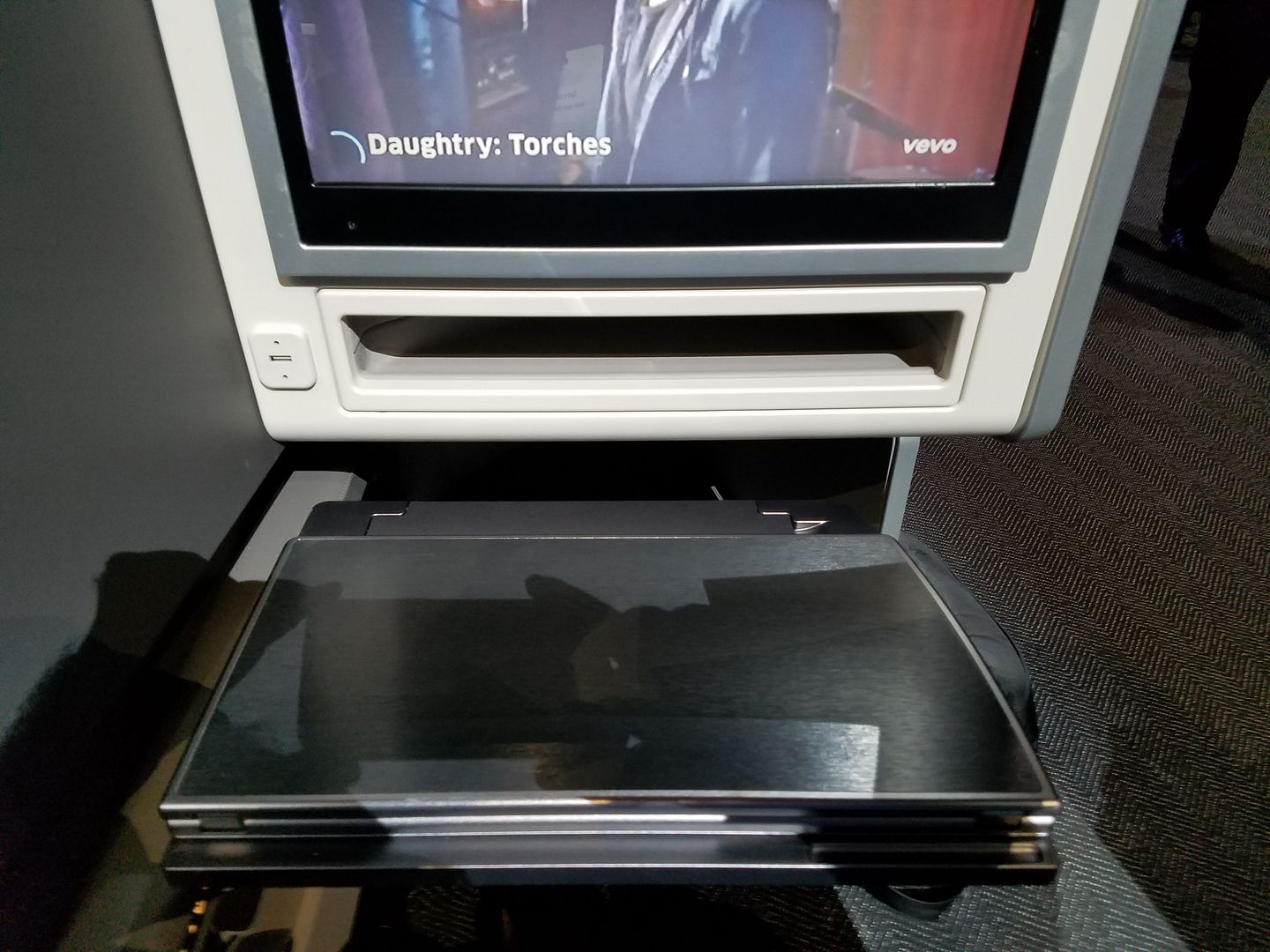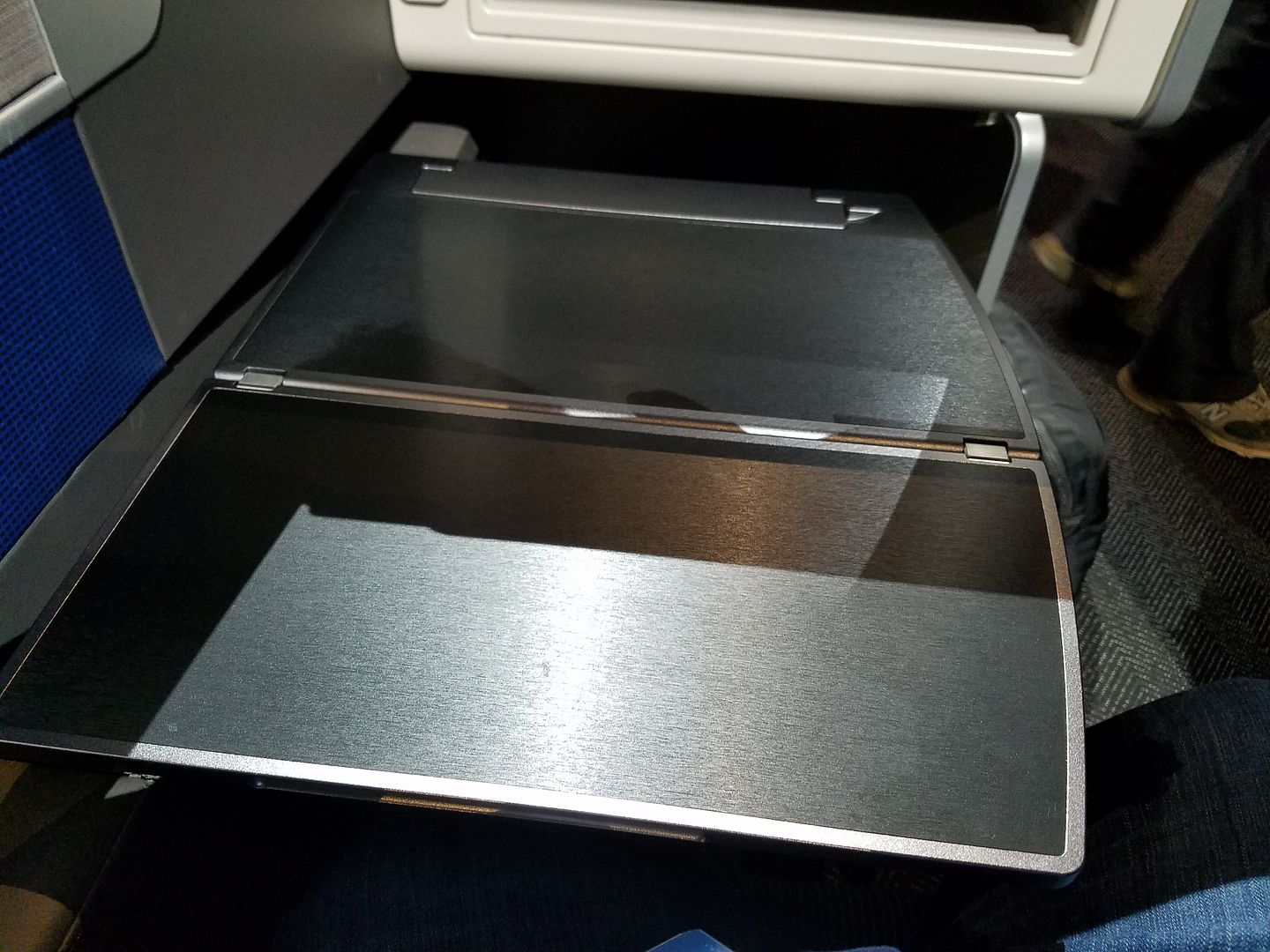 They'll be retrofitting existing aircraft but united says that "most of the fleet" won't have the new product until 2021.
The United Polaris business class seat will first take flight in December on Boeing 777-300ER aircraft and subsequently on Boeing 787-10 and Airbus A350-1000 aircraft, as well as on Boeing 767-300 and 777-200 retrofits.
United's New Business Class Soft Product
They're introducing a soft product as well to go along with the new seat.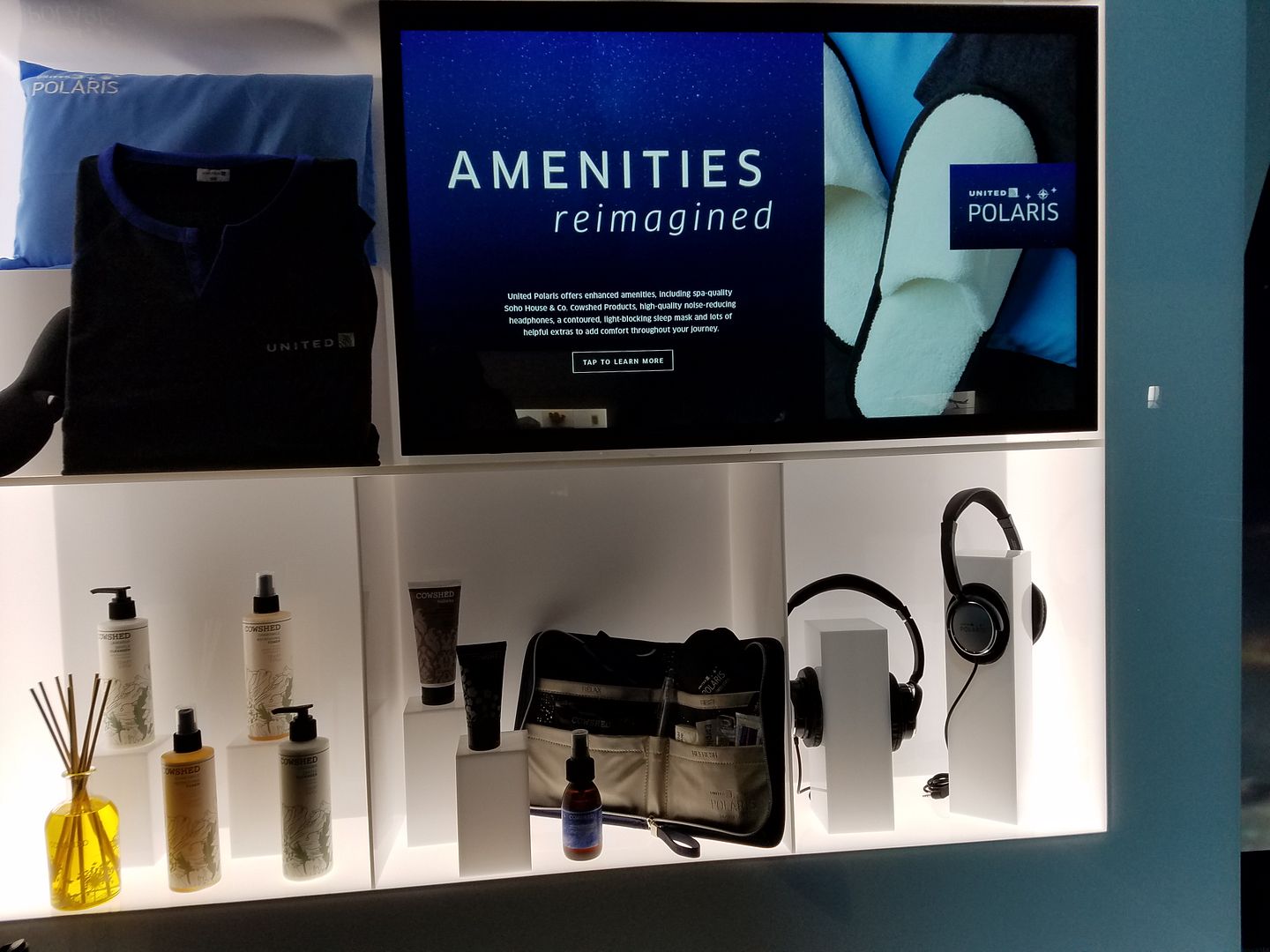 Flights over 12 hours will be provisioned with pajamas.
[T]he new bedding collection will feature plush duvets, lightweight day-blankets and a large and small pillow for each United Polaris customer. In addition, mattress cushions will be available upon request.

Slippers will be available on all flights, and customized United Polaris pajamas will be available by request on flights longer than 12 hours. Flyers will also be able to request a gel-cooled pillow. New amenity kits will feature ergonomically designed eye shades, calming lavender pillow mist and additional products from Soho House & Co.'s Cowshed Spa.
They'll offer bedding from Saks Fifth Avenue (gosh, I remembered when their bedding was from Westin..) inclusive of 2 pillows, a day blanket, and duvet. There will also be an optional mattress pad and cooling gel pillow, available on request.
They expect not everyone will want these so won't provision them at the seat, and while they intend for there to be enough for any passenger who wishes once the product is flying I'd ask for these as early as possible in the flight.
The soft product launches December 1.
New International Business Class Lounges
United is also introducing new Polaris lounges. There will be 9 lounges, complete by end of 2017. Existing Global First lounges such as at Washington Dulles and San Francisco will be converted, so these aren't all new builds. O'Hare opens first.
The first new United Polaris lounge will open at Chicago O'Hare International Airport on Dec. 1, 2016. Lounges in eight other locations – Los Angeles, San Francisco, Houston, New York/Newark, Washington Dulles, Tokyo Narita, Hong Kong and London Heathrow – will follow in 2017.
These fill feature preflight dining from a menu, brought to you anywhere in the club as well as a buffet. These are not Star Alliance Gold lounges and United Club members won't have access (although partner airline business and first class customers will).
United Economy Gets a Downgrade With 10-Across Seating
Continuing the industry trend to do more to compete for high revenue passengers, while cramming more passengers into economy, the new Boeing 777-300ER will be 10-across in economy (as American does now, along with many international carriers like Emirates and Air France).
How Does It Compare?
Asked for the unique selling proposition of their product, compared to United and Delta which already equip substantial portions of their fleet with lie flat all aisle access business class, a United representative mentioned the 'privacy divider that goes up or down' for the center seats, a dig at American's Boeing 777-200 and Boeing 787 seats where the divider is generally stuck in the up or down position. They also mentioned gate to gate entertainment.
Ultimately we'll see how the service elements work in the air. The new lounges with preflight dining should allow for a shorter dinner service, which customers want on short Eastbound transatlantics from United's Newark and Washington Dulles hubs.
The seat is a huge improvement for United though I wouldn't contend it's better than Delta or American. It's better than British Airways.
Ultimately this should be good enough so that passengers don't book away from United's business product. It will win them some premium business. But it's simply going to take too long for the average customer to know that whenever they fly United internationally this is what they'll get.