Wednesday, April 15

8:40 pm Hong Kong, Hong Kong (HKG) to Ho Chi Minh City, Vietnam (SGN)
United Flight 869 First Class Seats:04F, 04E
Duration: 2h 30m Boeing 747-400 935 miles traveled

After checking out of the hotel we grabbed a cab down in front of the W. The hotel staff member assisting us on our way was a little bit concerned that we were heading off to the airport 'only' 2.5 hours before our flight, but I wasn't in the slightest. There was a bit of traffic heading in the opposite direction but the roads were all clear for our drive.
We pulled up to the airport and headed inside, strangely there wasn't anybody in either the business or first class checkin lines ahead of us. I say strangely because even though I knew the load for our flight was going to be exceptionally low, there's a Singapore flight leaving around the same time.
Bags tagged to Vietnam, off through the government formalities, and onto the train to head out towards the far gates where United is housed. Instead of heading up to the Red Carpet Club, and admittedly it's the nicest RCC in the system, we headed in to the Thai Airways lounge. We were immediately welcomed upon presentation of our boarding passes and escorted to a pair of seats on the first class side, while the attendant kept our boarding passes for a moment in order to photocopy them.
The business and first class sides of the lounge are separated by a pseudo wall, the first class side a little bit more nicely furnished, much smaller, and fewer people. The first class side has table service, and we were offered a menu and drinks as soon as we were seated.
Here's the small-ish first class side of the lounge
The lounge shares a buffet area with business class, but also has menu service. Here's the menu:
And the buffet area:
I made myself a plate from the buffet:
Okay, two plates.
The bathroom and showers are also shared between business and first.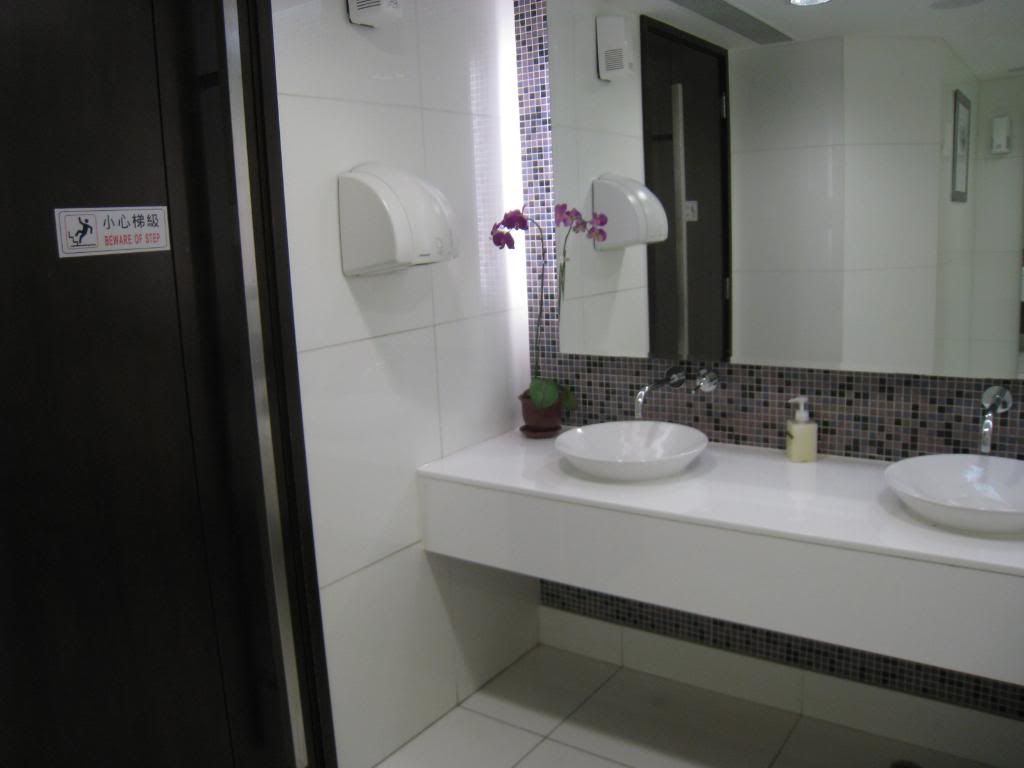 We caught up on e-mail and then it was time to head downstairs to our departure gate. Even though we were flying UA, the lounge attendant came to let us know when our flight was beginning to board. Not 30 seconds later we could hear the airport announcement for it.
I had grabbed a bottle of water in the lounge, but it was confiscated from me at the plane-side check for liquids. Hmmph.
I didn't care, it was a short flight, I did want the bottle of water because after all even though I was flying in first class it was going to be United first class – one never knows what kind of service to expect!
Still, it was my first time flying United's new first class. Obscene, huh? I simply haven't had the opportunity, and any time I thought I might I always winded up with an aircraft swap. At least the 767 fleet is finally completed (though I admit, for a frequent coach-to-business upgrader like me I'd take the old seats since they came paired with a whole bunch more seats and a better shot at upgrades).
My bottom-line impression is that the seats aren't all that much better than the old first class suites, except that they are newer (the old seats were certainly threadbare, but they were comfortable and I always slept well in them) and of course come with a much larger video screen and video on demand instead of tapes. The new seats had a bit of an intangible 'cheap' feel to them (maybe just too much plastic?), and though they did have storage space it seemed like there was a bit less than with the old suites.
The seat is perfectly comfortable for lounging, andit's nice to sit in UA F with the seats not worn so thin. With the armrests up in bed mode the seat is way too narrow, claustrophobic. But the armrests are your only (minimal as it is) privacy, so I'd be reticent to put them down with a full cabin. The seats are really a generation old, the current world standard of F seating offering some measure of separation between you and other passengers in the cabin. This one is just really quite open, in some ways like the Thai Airways first class seat.
Not sure how common this is, but for my seat the compartment which stows the tray table is already showing wear, not quite closing properly. And I still don't understand the shoulder restraint that pairs with the seatbelt. The seat controls are too far away, just a tad beyond easy reach, and there just aren't enough controls. The video controller is even farther away.
Here's the first class cabin
And the main event, the seat itself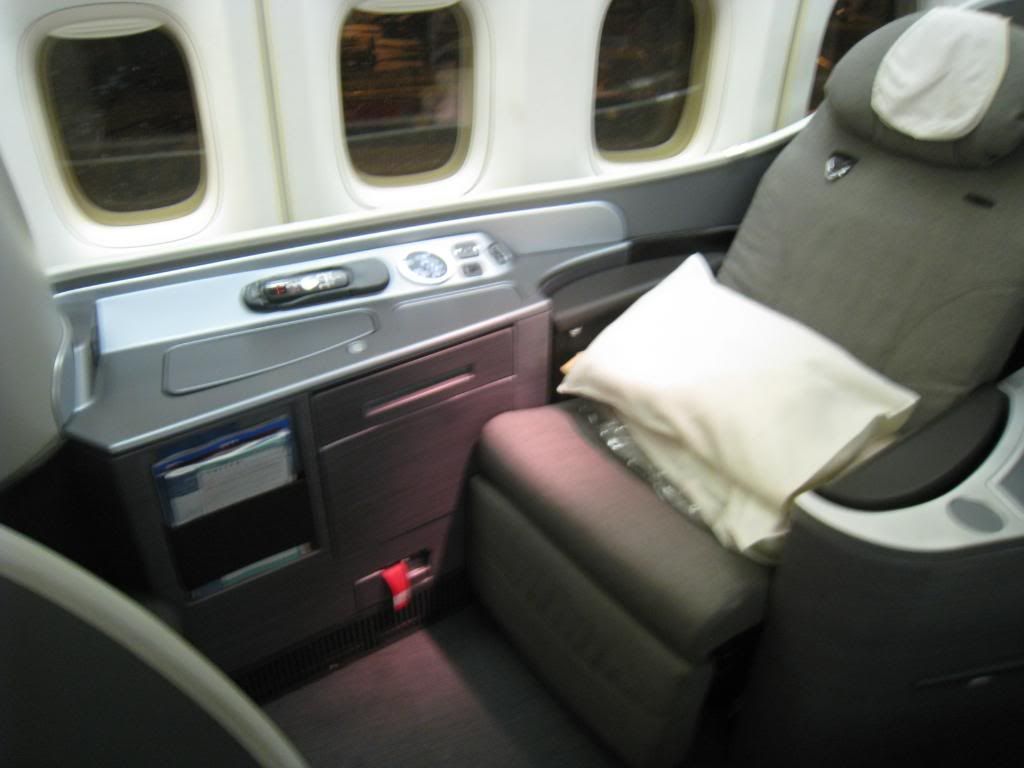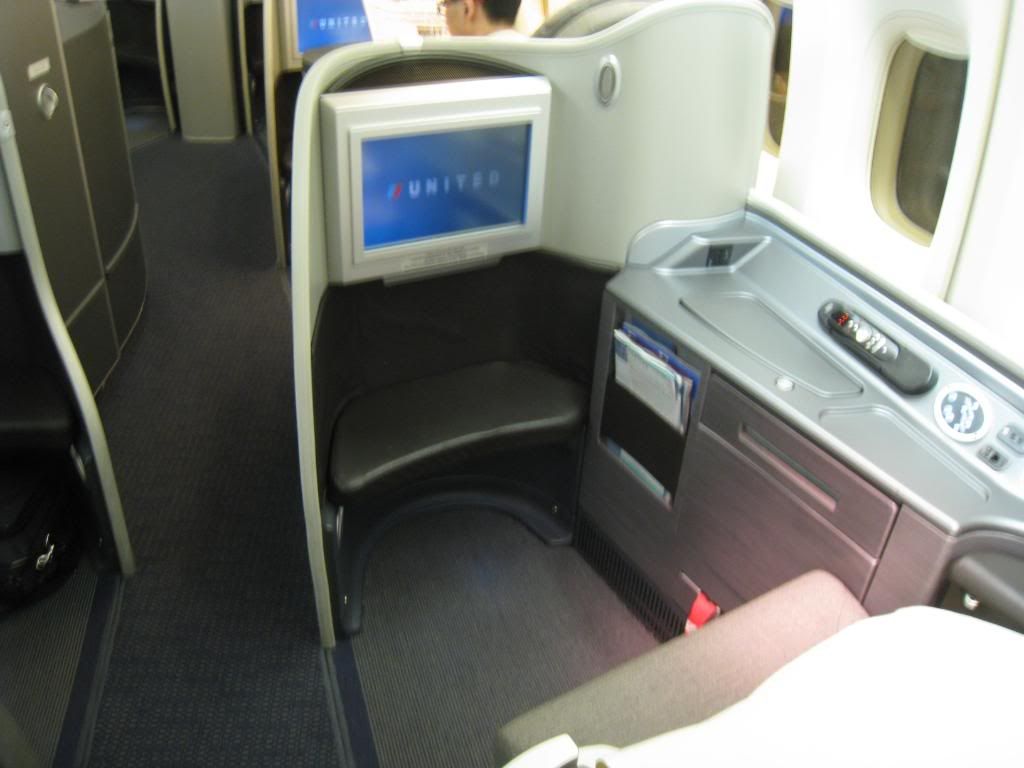 Our route from Hong Kong down to Ho Chi Minh City.
We had been offered predeparture water or orange juice. Ok, ANA doesn't do predeparture beverages and that's the law. But in first class, when it's legal to offer more, it would be nice if they would. This felt so 'business class'.
Shortly after takeoff we were offered beverage of choice and a dinner selection. Now, granted this was a flight scheduled at 2.5 hours but there was no menu. Rather the flight attendant affered "A turkey cheese wrap or lamb."
Umm, lamb? Like, how is it prepared? "Oh, it's Indian." Well, I know I don't want the turkey cheese wrap as my first class dinner, so I'll try the lamb. My wife did the same, and I believe so did the other 3 passengers (2 of whom were non-rev) in the cabin.
It was actually rather tasty, not terrible in the least, but note that the entire meal was served on a single tray. Not that fond of the dessert, though.
After dinner I got up to use the restroom. I went inside it turned out that the toilet was clogged. I told the flight attendant who replied, "Oh, I know." Hmm. I guess the look I gave him spoke volumes, as he put an out of order sign on that lav shortly thereafter.
The other first class bathroom was visited by one of the non-revs who left a rather distinct sign of his presence that lingered long after his visit. That wasn't the flight attendant's fault of course. But it rendered both first class lavatories virtually unusable. And it was certainly a contrast with ANA, where the toilet paper ends were folded over by the flight attendants after each passenger used the facilities… just one of the little signs indications that the bathroom receives 'attention' as it frankly needs to on a long journey.
Ah, United.
Flight attendants collected the noise canceling headsets about 30 minutes prior to landing, so I wasn't able to finish the episode of Entourage I had started. It was late, I wasn't much up to doing anything on the computer or reading, and so I pretty much just zoned out to the flight map for the descent.
Upon deplaning we were the first ones out the jetway, and there wasn't a single person manning the immigration booths. As soon as we were seen walking in that direction, though, the whole immigration team scurried into position. We walked up, my visa was given great scrutiny, and we were let into baggage claim. After getting our bags and walking out into the arrivals hall we immediately spotted the sign with my name on it being held by a representative of the Sheraton, who assisted us outside with our bags and called for the hotel Mercedes.