Virgin Australia has more non-stop award availability, especially in premium cabins, between the US and Australia than anyone else. By far.
They have flights from Los Angeles to Brisbane, Melbourne, and Sydney. I've managed to get four business class awards on the Brisbane flight over Christmas.
They're a Delta frequent flyer partner, and though Delta charges a pricey 160,000 miles roundtrip for business class between the US and Australia (fortunately, they no longer add fuel surcharges in addition to miles), this is more or less the best Australia redemption out there. The only alternatives, much of the time and certainly during peak season, involve flying via Asia — often double the travel time.
And that's really the only extent to which I've paid attention to them. (You can use Virgin America miles on Virgin Australia, of course, but you'll pay fuel surcharges.)
I've almost never given their Velocity frequent flyer program a second look, except as a means for free Hilton Diamond status and Delta lounge access when they were offering status matches.
Except that now that they've become a Starwood Preferred Guest transfer partner (HT: YFare1A on Twitter) they're miles are more easily obtained and they're worth a second look.
In order to register for the Virgin Australia Velocity frequent flyer program, you have to list an address in one of the following countries. Some will find this limiting, others won't.
Virgin Australia's Frequent Flyer Partners
Virgin Australia partners with the other Virgin carriers, of course:

Virgin Atlantic

Virgin Samoa

Virgin America
They have an investment from Etihad, so they partner with:

And then they have additional partners:

Air New Zealand

Delta Air Lines

Singapore Airlines

SilkAir (Singapore's regional subsidiary that is not a member of Star Alliance)

Hawaiian Airlines
Virgin Australia's Award Pricing
Virgin Australia offers one-way awards and pricing is distance-based. They offer awards for economy, premium economy, business class and first class (on Etihad only). Longer flights are more expensive, and business class is generally about double the cost of coach (premium cabins are pricey with this airline, while coach can be relatively cheap). And they add fuel surcharges in addition to taxes onto the cost of awards.
They have 3 different award charts.
Singapore Airlines routes other than between Singapore and Adelaide, Brisbane, and Perth is the most — and is exorbitantly — expensive.

The chart for Singapore Airlines (other services), Air New Zealand (domestic and long haul), SilkAir, airberlin, and Hawaiian Airlines — that is just crazy expensive.

And the chart for the Virgin Group carriers, Etihad, Delta, and Air New Zealand flights between New Zealand and Australia that's where we can find the most reasonable pricing
We'll focus on this last one, the award chart that has the lowest mileage cost.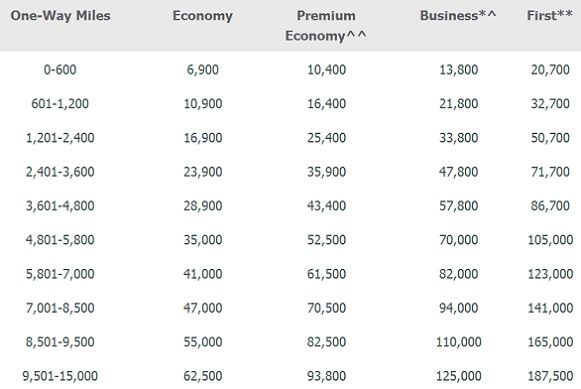 Opportunities for Cheap Short-Haul Redemption
Virgin America coach flights under 600 mils are just 6900 points. For example, San Francisco – Los Angeles, Las Vegas, San Diego, Portland; Los Angeles – Las Vegas and San Jose. US domestic flights don't have fuel surcharges.
Similar short Delta routes out of their hubs will have similar pricing.
In some ways, this is an opportunity to book one-way domestic awards on Delta for cheap pricing the way we can use British Airways Avios to book one-way domestic awards on American or Alaska. The difference here, of course, is Delta's availability tends to be less good.
Many of those flights, though, can be quite pricey on Delta — like the Delta Shuttle between Washington National and New York LaGuardia. That's 6900 points one-way, when Delta charges 25,000 miles roundtrip (and doesn't offer one-way awards).
UK domestic flights on Virgin's Little Red are another opportunity, only London – Aberdeen is long enough to exceed the 372 mile limit for a 6900 point redemption. So London – Manchester and Edinburgh are 6900 points one-way.
Virgin Australia considers US domestic first class to be business class. They consider Virgin Atlantic Upper Class to be business class. In the Virgin Australia Velocity program, only Etihad offers first class.
It's Even Cheaper Transferring Starpoints
If you want to transfer points into Virgin Australia from Starwood, remember that moving Starpoints into 20,000 miles gets a 5000 mile bonus. So 5520 Starpoints (provided you're doing your transfers in 20,000 point blocks, no more than 60,000 Starpoints per day) is equivalent to 6900 Virgin Australia points.
Bottom-line: Where the Value Is
US Airways should be joining oneworld on March 31, and that should give me US Airways Shuttle flight redemptions for just 4500 British Airways Avios each way (although availability for this is quite limited). Otherwise I'd be looking very carefully, as a DC-based flyer, at Virgin Australia redemptions on Delta for my DC-New York flights.
Delta hub captives who make very short hops should certainly consider this, as well as some Virgin America folks on the West Coast.
Unfortunately, with premium cabin awards that are a multiple of coach, the high end of the chartgets expensive very quickly.
Update 10:10pm: I originally wrote the post discussing the award chart in miles, but changed it to kilometers prior to publishing. The chart is, indeed, pricing distances based on miles flown and not kilometers. That has been corrected and I've added a note about account address limitations.
---