The Alitalia Millemiglia program is offering up to 50% bonus miles for flights taken through the end of 2012.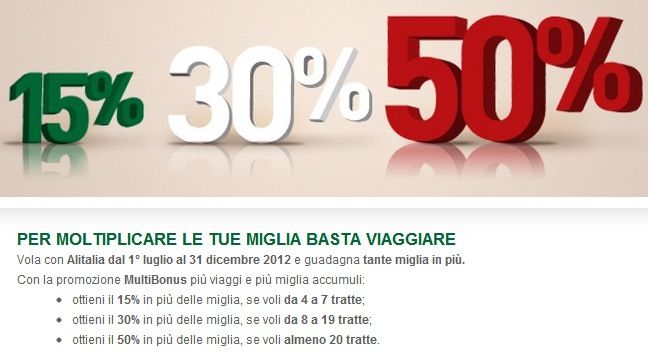 Receive a 15% bonus on your 4th through 7th Alitalia segment credited to the Millemiglia program, a 30% bonus on segments 8 through 19, and a 50% bonus on your 20th segment and beyond.
I haven't found the offer listed in English, and oddly enough the Google translate of the Italian page suggested that the bonus was on Air France segments. Perhaps Google remembers when Air France was trying to buy Alitalia?
I'm not a big fan of accruing points with Alitalia without specific, near-term uses. One of the 'quirks' of the program, I'm told to comport with Italian law (though I do not know if this is a law that Alitalia has pushed for, or what the alignment of interests here is), is that the entire MilleMiglia program ends every few years, and then a new program (that's strangely identical to the previous one!) comes in its place.
In other words, even active accounts have all their miles zeroed out. Last time the program 'ended' in December 2007, members were given an opportunity to re-earn the miles they had already accumulated through flights on Alitalia.
According to the current member guide (.pdf) the current program runs only through December 31, 2012.
MilleMiglia Program or "Program" means the reward program, lasting from 1 January 2008 to 31 December 2010 and extended by 31st December 2012 and promoted by Alitalia – Linee Aeree Italiane S.p.A. now admitted to the extraordinary administration proceeding ("Former Alitalia") aimed at attracting frequent flyer Clients
Alitalia MilleMiglia is an American Express transfer partner, they run some occasional generous promotions, flying Alitalia may make sense to credit miles to the MilleMiglia program (rather than, say, Delta) for some and then top off miles from other sources. But do note that they add fuel surcharges to awards, something that Delta mostly does on itineraries originating from Europe and doesn't do on most itineraries (other than, for instance, V Australia and some Asian partners) originating in North America.
The offer's terms and conditions don't seem to be bringing up any details, so I haven't verified whether any ticket booking classes are excluded from the bonuses.