I receive compensation for many links on this blog. You don't have to use these links, but I am grateful to you if you do. American Express, Citibank, Chase, and other banks are advertising partners of this site. I do not write about all credit cards that are available — instead focusing on miles, points, and cash back (and currencies that can be converted into the same).
Some US Airways MasterCard cardholders signed up for an offer that included not just a signup bonus, but also an annual renewal bonus.
I have a card from awhile back that had a $0 fee the first year, 40,000 bonus miles after first purchase, and this 10,000 mile annual bonus. That bonus makes it worth it to me to keep paying the annual fee. That, and I like the fact that I'll have a card that can no longer be issued once the American and US Airways frequent flyer programs combine.
New cards have a 50,000 mile signup bonus. They do not have this annual bonus. Unquestionably, to me, the card is worth getting for the bonus points. And with rumors of an announcement of when the American and US Airways miles programs will be combined swirling, the card won't be around long.
When the programs do get combined, miles from your US Airways account and your American account will get merged over to American. So miles from both places will be used towards a single award. That makes this signup bonus, that there's only a short while left to get (ever), all the more valuable.
The big news out about the card today is that those of us who get an additional 10,000 miles per year will keep doing so into the future. There was speculation that this benefit might go away once new applications for the card closed when US Airways Dividend Miles shut down, and the card became an American co-brand credit card issued by Barclaycard. (Yes, it's weird that American will have legacy cards issued by Bank of America and by Barclaycard that take no new applications, with only Citibank issuing new American Airlines cards.)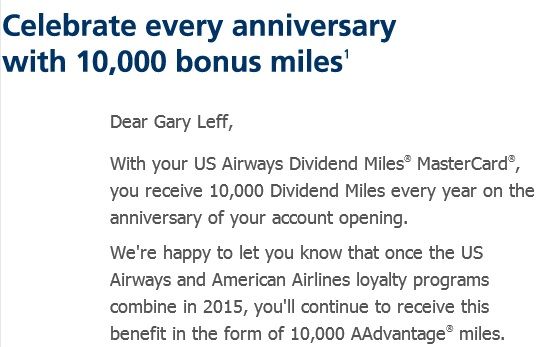 That's good news, and means I will keep this card rather than just seeing mine as having been a good signup bonus play.
US Airways Premier World MasterCard
Update: Commenter Michael Crook shares a link for the card that also includes the 10,000 mile anniversary bonus! I didn't think that was still out there. Thanks, Michael!
Editorial note: any opinions, analyses, reviews or recommendations expressed in this article are those of the author's alone, and have not been reviewed, approved or otherwise endorsed by any card issuer. Comments made in response to this post are not provided or commissioned nor have they been reviewed, approved, or otherwise endorsed by any bank. It is not the responsibility of any advertiser to ensure that questions are answered, either.
---