Heels First Travel has the scoop on the US Airways triple elite qualifying miles offer.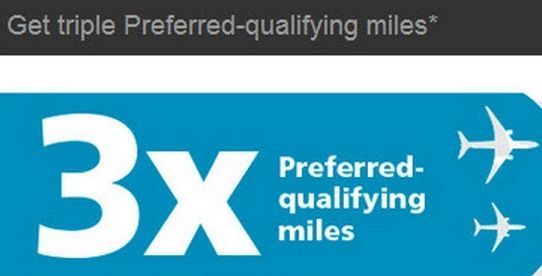 Airlines offer general, non-targeted elite qualifying bonuses generally when travel is down and their models predict they'll have fewer elites. It's a way to re-engage their most frequent customers.
In a new world where Delta and United have adopted minimum revenue requirements for status starting next year, I fully expect programs to run the same sorts of predictive models. And especially if fares drop in the future I wouldn't be surprised to see it become somewhat common to have double elite qualifying dollars offers.
There are three kinds of targeted elite qualifying mileage offers, more or less:

Incentivize travel on a new, underperforming, or newly competitive route. If a discount carrier starts throwing flights at an airline's bread and butter routes, they throw their loyalty program at the competitor.

Identify customers you think could fly more and then incentivize them with status.

Find customers who seem to have fallen away or aren't traveling with you and give them a way to stay engaged.
This one looks like the last type, the post's author is a Platinum who only has 13,000 status miles so far this year on US Airways.
The offer is travel between September 26 and January 4, regardless of when tickets were purchased. If I were going for US Airways status I'd probably take the opportunity to fly non-stop for the first four days of the New Year. Full terms and conditions in the original blog post, and if you're US Airways elite lagging behind in requalification check your email.
---
You can join the 30,000+ people who see these deals and analysis every day — sign up to receive posts by email (just one e-mail per day) or subscribe to the RSS feed. It's free. Don't miss out!