Back in January I explained how to use hidden city and throwaway ticketing to save big money on airfare.
Airlines often price tickets from one city to another through a hub cheaper than flights that terminate at the hub.
Flying United New York to Milwaukee through Chicago is often much cheaper than just flying New York to Chicago.
But if you get off the plane in Chicago and don't board your connection to Milwaukee, you've potentially saved yourself a lot of money. This is called hidden city ticketing.
Most people think they've purchased two flights, New York to Chicago and Chicago to Milwaukee. They only take one, but the airlines still got paid for both.
The airlines don't like it. And instead of seeing themselves as selling you a ticket from New York to Chicago to Milwaukee with you having purchased both flights, they see themselves as selling a ticket from New York to Milwaukee — and you're using that fare to improperly fly New York to Chicago instead.
No great secrets being let out of the bag here by the way, this was written up by Nate Silver in the New York Times.
And it certainly isn't illegal to buy a ticket and not fly all of the segments (although Silver recommends not actually lying about what you're doing if caught since that could technically introduce a fraud element).
As I explained in January,
The practice violates the contract of carriage of most airlines (not Southwest, and up until a few years ago tossing the return portion of a trip and flying only one way wasn't a violation of United's but that's been updated). And a travel agent who consistently sells tickets where final segments are unflown can get a debit memo and owe money, which they need to pay in order to continue selling tickets on the airline (and indeed not to jeopardize their access to the computer reservation system itself). But that's a contractual and ongoing business issue between airline, reservation system, and agent..

The most that can happen to a passenger is likely that they could theoretically be banned from an airline. Most people don't care because they aren't loyal to an airline to begin with. The customer more likely could see consequences to their mileage account. This is something that could happen through repeated and frequent use of the technique, including your mileage number in the reservation. If you consistently buy one-way tickets through Chicago to Milwaukee and get off in Chicago (Milwaukee is often a much cheaper market), and give your United Mileage Plus number each time you do it, United might have a problem with you. United might send you a warning letter. They might threaten your miles. They could even close your account.

On the other hand, they'll have a more difficult time penalizing your miles if you credit to partner airline programs. It will even be harder, though not impossible, to track. I don't advise doing this every week. But I've never personally known anyone that's done it only a few times a year per airline to have problems.
If you're not breaking the law, and the airline can't reasonably 'go after you' for doing this especially for doing it infrequently, what are the real risks involved?
Do this only as the last segment of a reservation. Only throw away the final leg of a roundtrip. Or book two one-ways if you want to do a throwaway in each direction. Because when you miss a flight, the airline is likely to cancel the rest of your itinerary.
Don't check luggage. Most airlines used to let you 'short check' baggage, or check it to an intermediate stop and not your final destination. This isn't usually allowed any longer. United certainly stopped permitting the practice a couple of years ago. If you check bags, your bags will go to the final city on your ticket, you will not. So this only works with carryons (except for international flights arriving in the U.S. and a few other countries where you have to pick up your bags on arrival and walk them through customs and then drop them back off. If you're checked to a domestic destination other than the one you arrive at in the U.S., you usually just won't drop your bags back off.)

Don't let yourself gate check luggage. For the same reason you don't want to check a bag, you don't want to board the plane and find no overhead space and a flight attendant telling you they'll check your bag to your final destination. That's not okay, since you aren't going to your final destination. So these tickets work best if you have status or an upgrade, or at least can board in the middle of the pack and not be the last to board. But if you are last to board, there's no overhead space, and they won't let you hunt and peck for space, then you need an excuse why you either need to get the carryon on the plane or you need them only to check it to your intermediate destination. In the former case, tell them you're connecting on a separate ticket to a carrier they've never heard of. In the latter, just tell them your final destination is where the aircraft is landing. And they're more likely to check it to your planned arrival city rather than your reservation's final destination.

There's still a risk of irregular operations. If your flight cancels, the airline might offer to send you to your 'final destination' via some other connecting city. That obviously won't work for you. I'd suggest saying that the connecting city is important, you're meeting folks in the airline's club lounge there. Add some color, maybe you're having an affair there (and only need a 45 minute connection in one fo the conference rooms?). Agents are usually pretty accommodating during irregular operations and will give you an itinerary that works for you if anything is available that suits you. But you'll need to be proactive about the rebooking.
So how do you go about finding the savings with this technique?
I search one-way using ITA Software Matrix, although novice users may prefer Hipmunk.
I specifying my real starting city, and then I let the system find fares to a variety of cities that I know to be generally cheap, and might connect through the city I actually want to go to. And I may tell the website to search for other airports within 300 miles of the one I've specified too, why not?
And I'll even limit the search by specifying my connecting point as the city I want to go to.
Cheap cities on the East Coast might be Providence, Atlanta (as a connection, not on Delta), Orlando, Jacksonville (Florida), Charlotte, Raleigh, New York (various airports). In the Midwest Milwaukee is a good one. On the West Coast one often finds good fares to Tucson, Las Vegas, and Orange County.
The cities you'll try depend on whet's in the same general region of the country as where you're actually going (and sometimes connecting through the Northeast to Florida works great, actually).
So here's a real world example. Flying DC to Phoenix almost three months from now non-stop on US Airways without a Saturday night stay is pricing at $1574!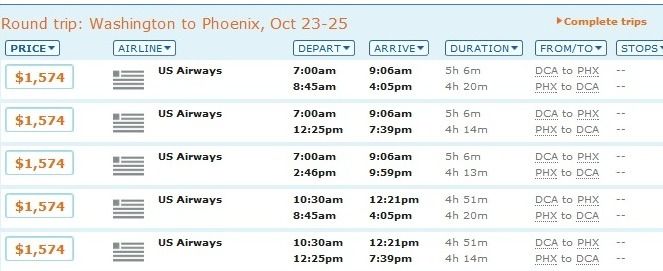 But searching for DC through Phoenix to Long Beach, Orange County, Tucson, Oakland, San Jose, and Las Vegas I stumble upon the DC-Phoenix flight I want (combined with a Tucson flight I don't) for $159.
And searching for Phoenix through DC to Charlotte, Raleigh, Orlando, Jacksonville, Atlanta, Providence, Boston, and New York LaGuardia I stumble upon the Phoenix – DC non-stop flight that I want (combined with a connecting flight to Providence or New York LaGuardia that I don't) for $186.
We see that the $1574 itinerary can be purchased for $345.
My favorite version of this, sadly, doesn't exist anymore. United used to have bus service from San Jose to San Francisco. Back then a cross country flight in and out of San Francisco without a Saturday stay was usually over $2000. But that same cross country flight through San Francisco to and from San Jose was about $600. The bus segment required a paper ticket, you yanked out the San Jose bus segments and checked in in San Francisco with no worries. (You would grab your bags from the bus and re-check in anyway, so you could have checked bags with this strategy even.) What's more, you'd even earn the miles for the bus segment…
Throwaway ticketing is most commonly buying a roundtrip ticket instead of a one-way and 'throwing away' the return. It's very rarely the case in the U.S. anymore that a roundtrip is cheaper than a one-way. but it's still quite common in Europe — where one-ways will only price as full fare, with the major airlines you'll often find it advantageous to book a roundtrip instead. Here the caveats about checked luggage don't apply..
I'll be interested to hear from folks that have done this and had success. And I'm always open to criticism from anyone who feels like these techniques aren't things folks should do, or aren't things I should share. What are your thoughts and experiences?