I recently needed to fly home from San Francisco and decided to book non-stop to Austin on Virgin America. For an extra $154 over the cheapest economy ticket I booked Virgin America's first class – largely because I hadn't flown it, had heard good things, and wanted to see it for myself.
Virgin America shares the same terminal as American in San Francisco. I was on a morning departure so didn't have the opportunity to buy Virgin Atlantic lounge access. Instead after clearing PreCheck security I used the American club.
The gate area is standard for the terminal, with a few Virgin America flourishes like stylish red chairs augmenting standard black.
And of course even the gate area is playful, with the flight monitor declaring "Good Morning Beautiful :)"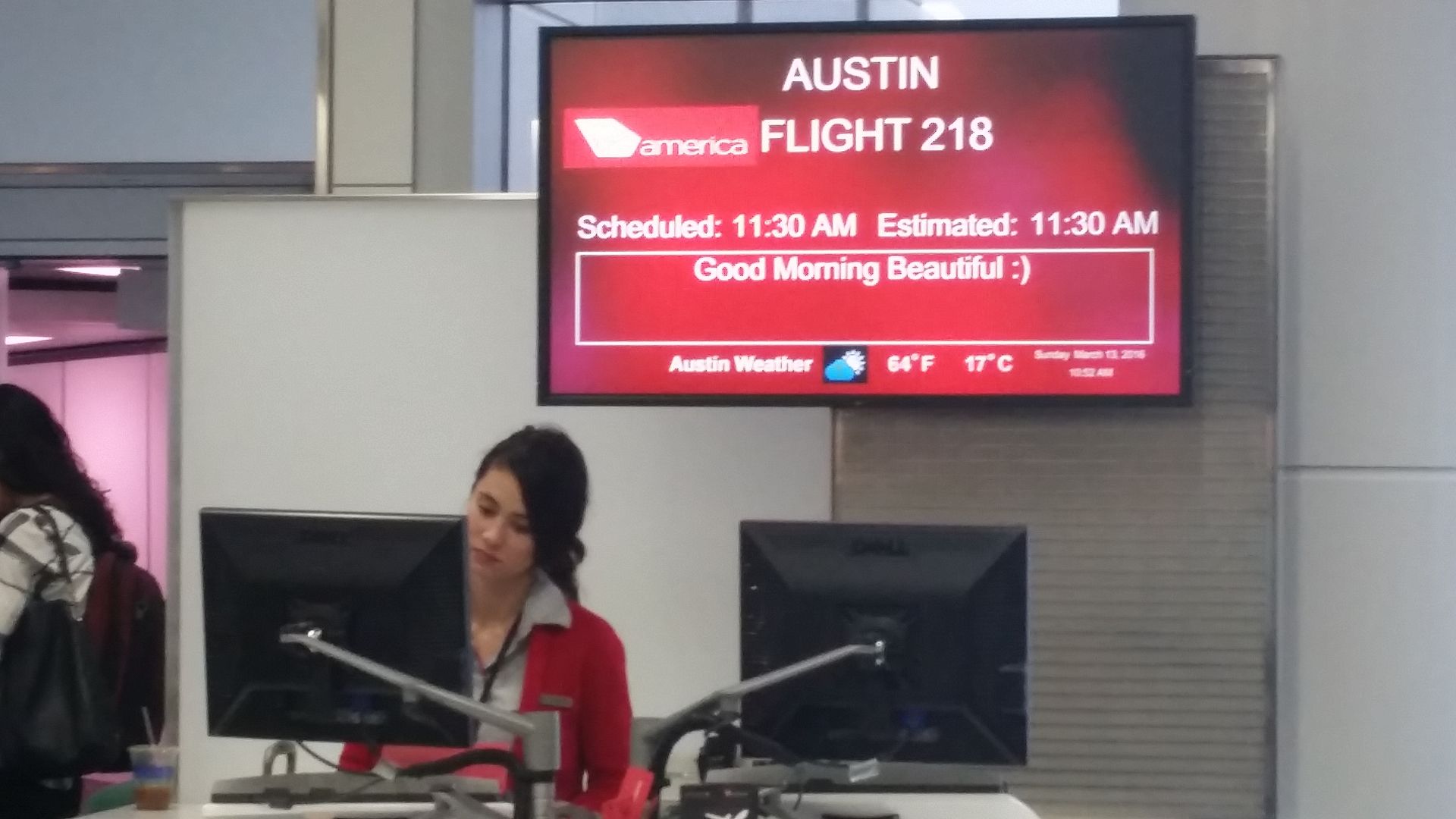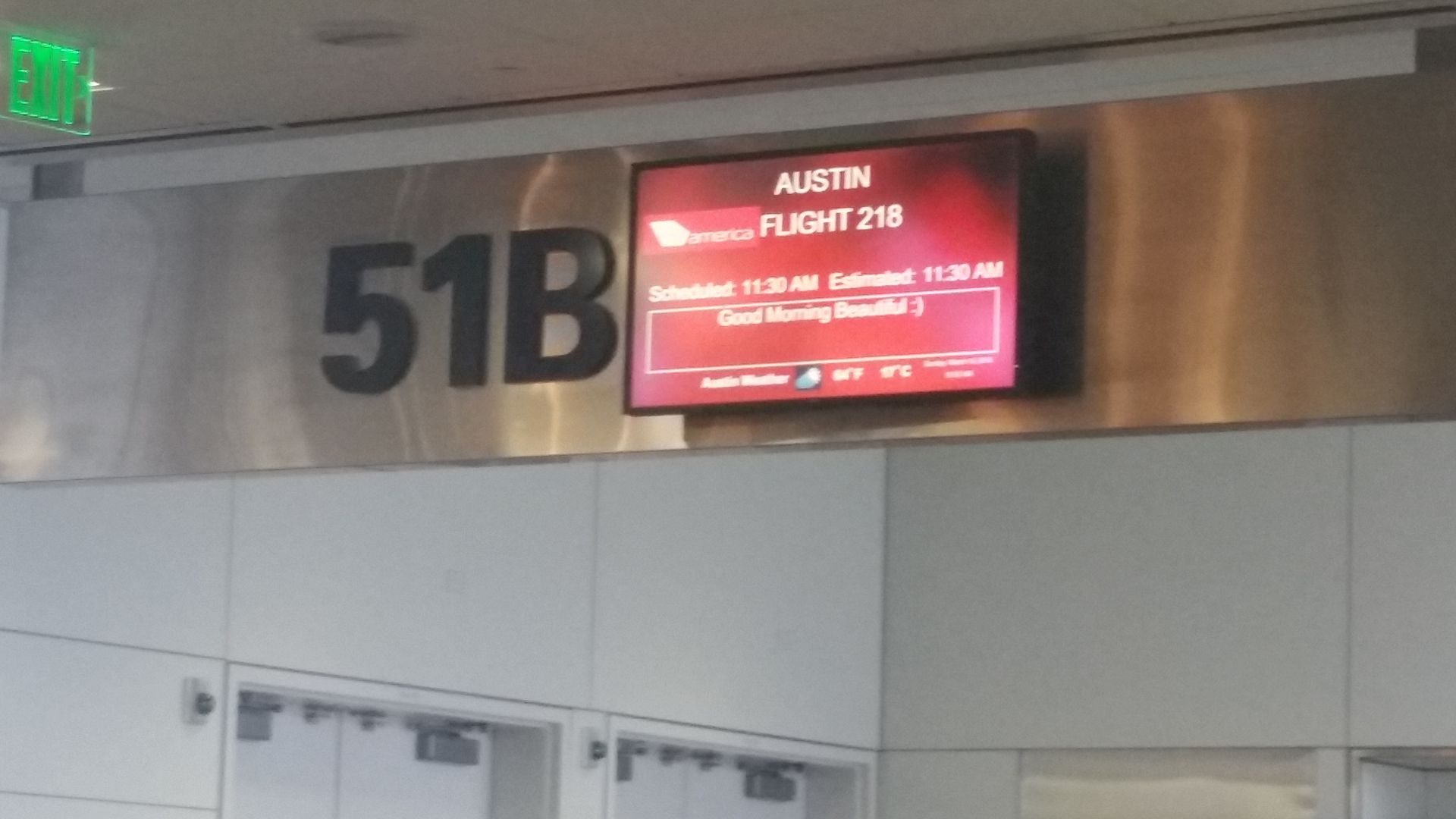 The jetway gets a bit of mood lighting.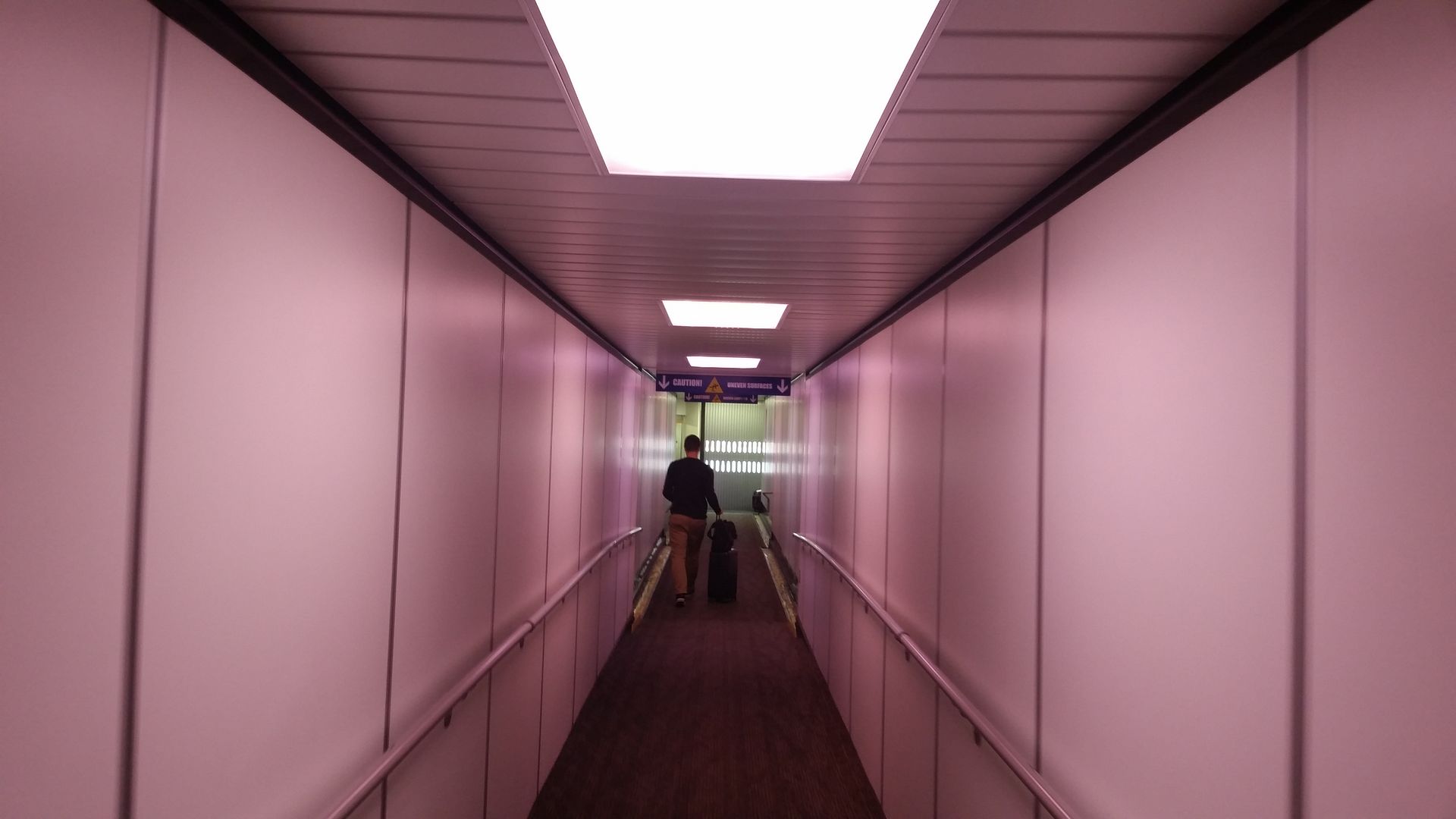 Inside there's see through colored glass separating the cabins.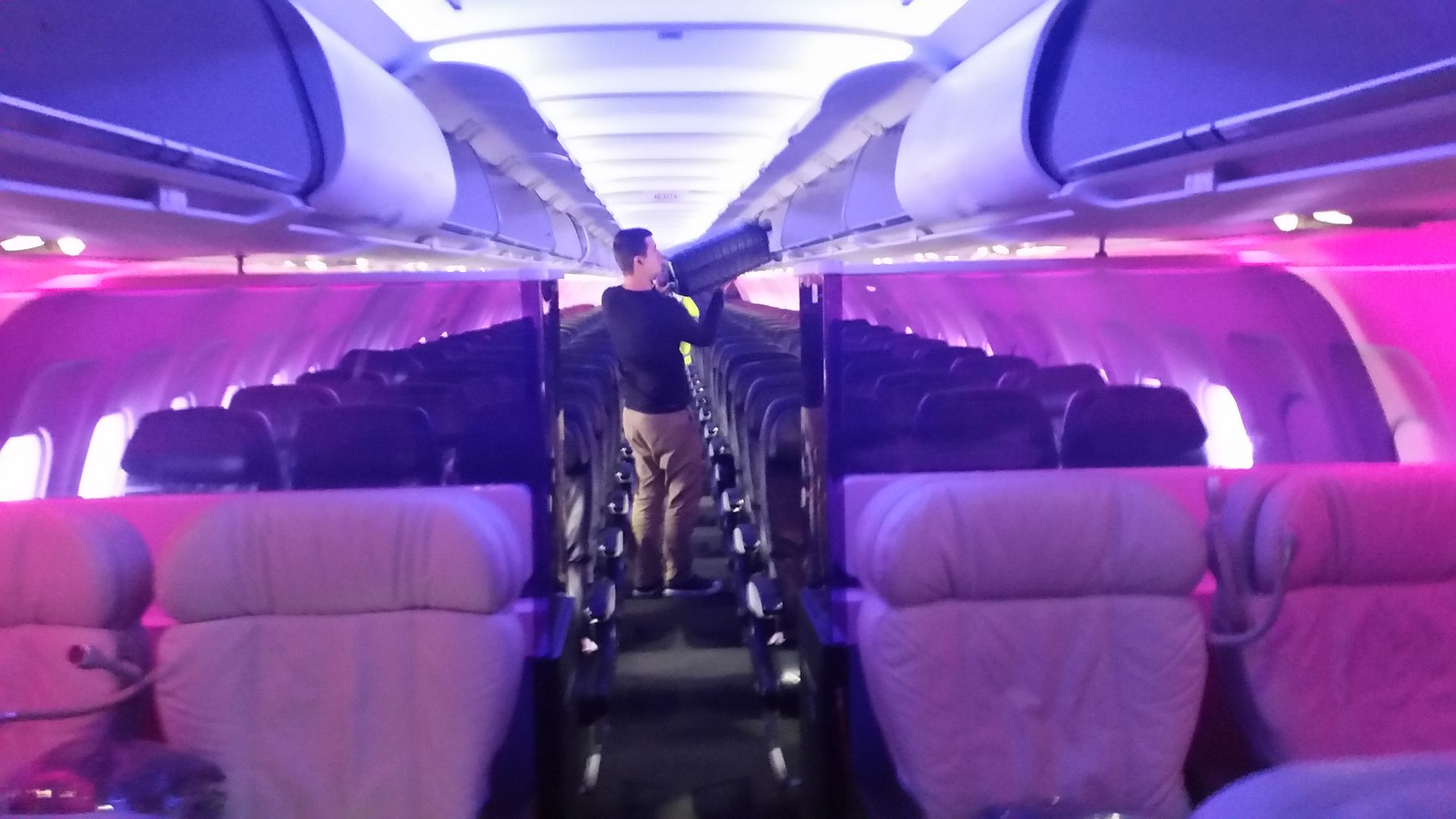 The first thing you notice about first class is that there's standard width leather first class seats but:
Tons of additional legroom

Legrests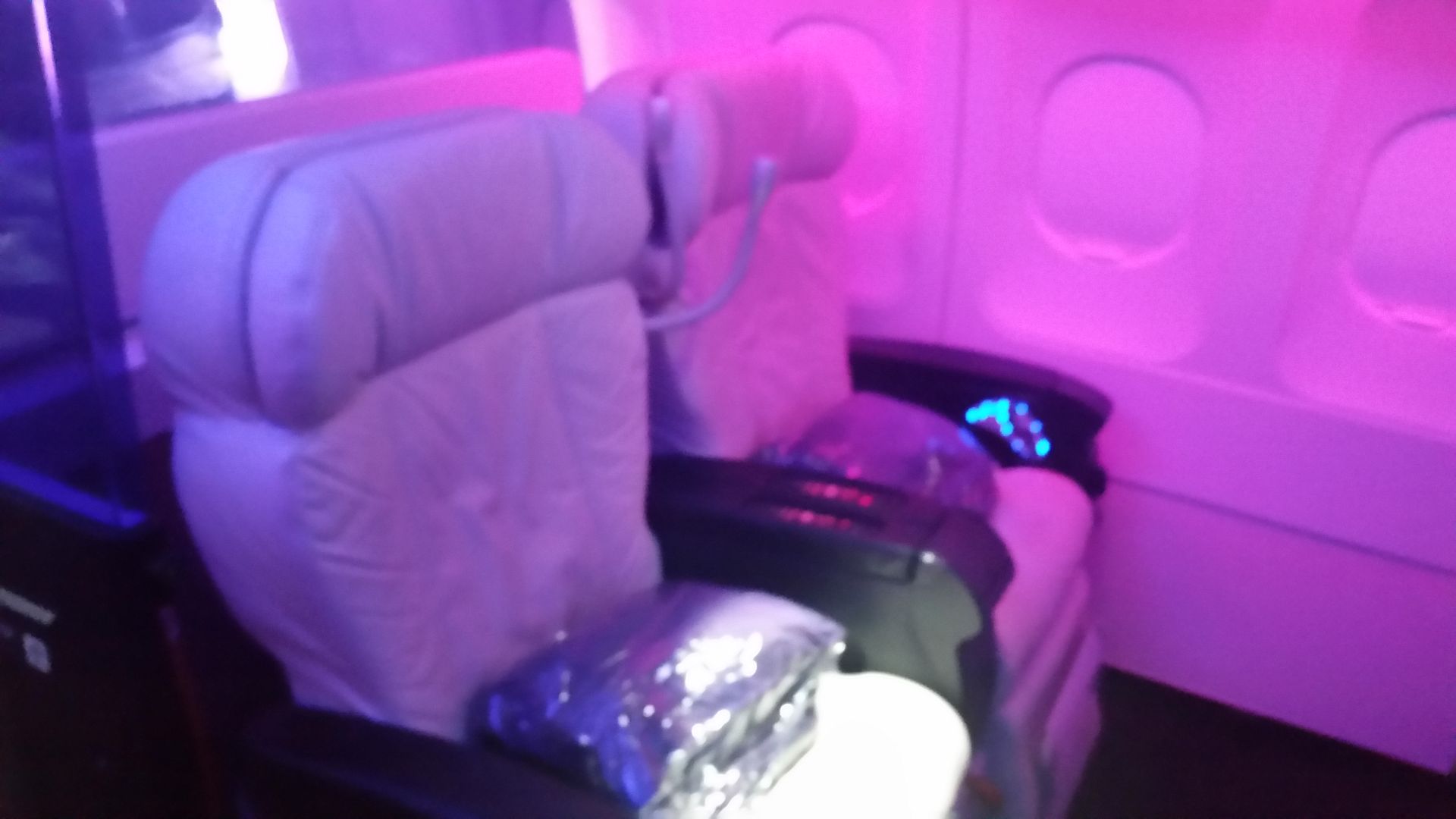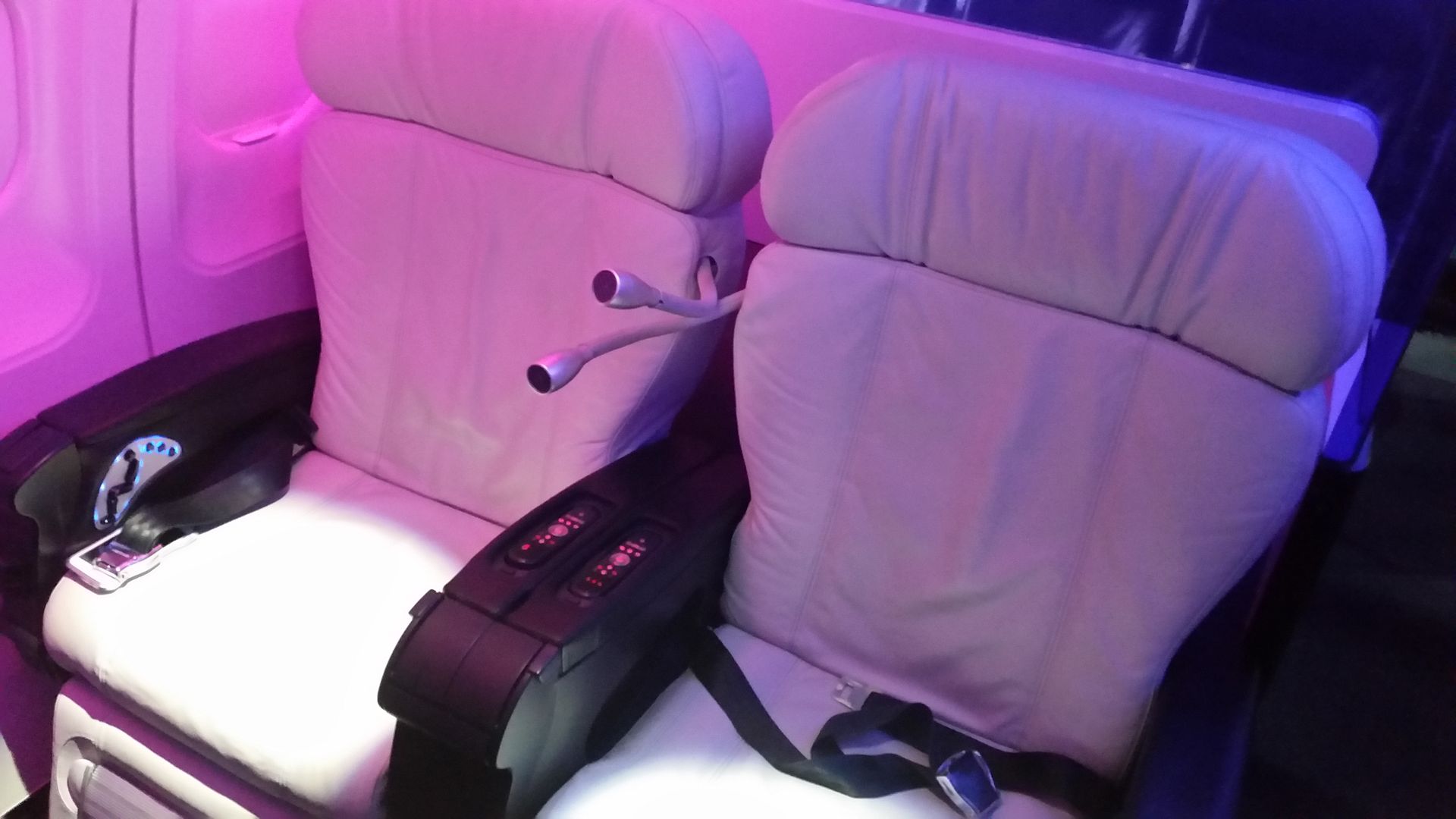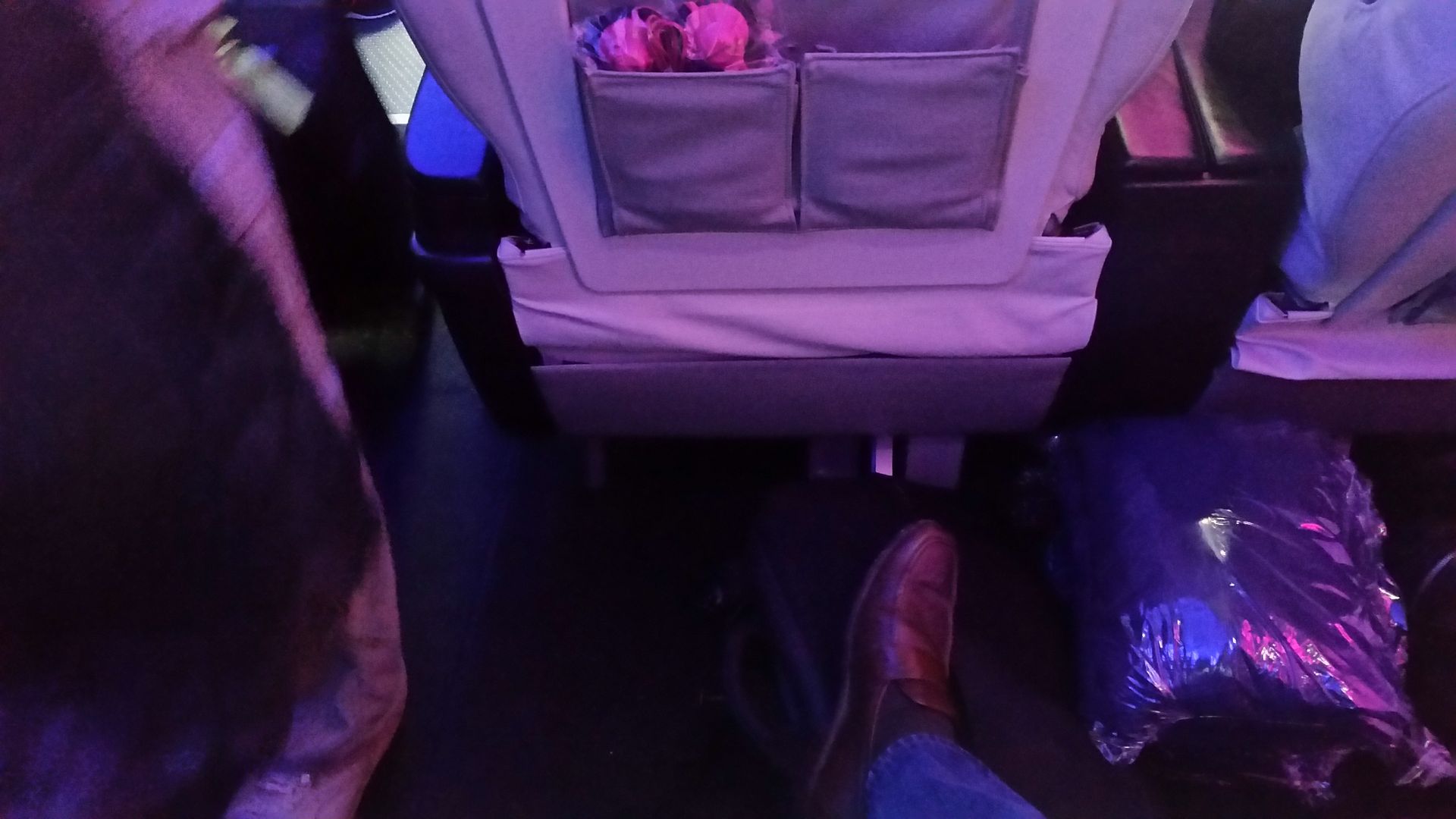 The seats also have personal television sets. And there was a shrink wrapped pillow and blanket set as well as colored headphones at the seat.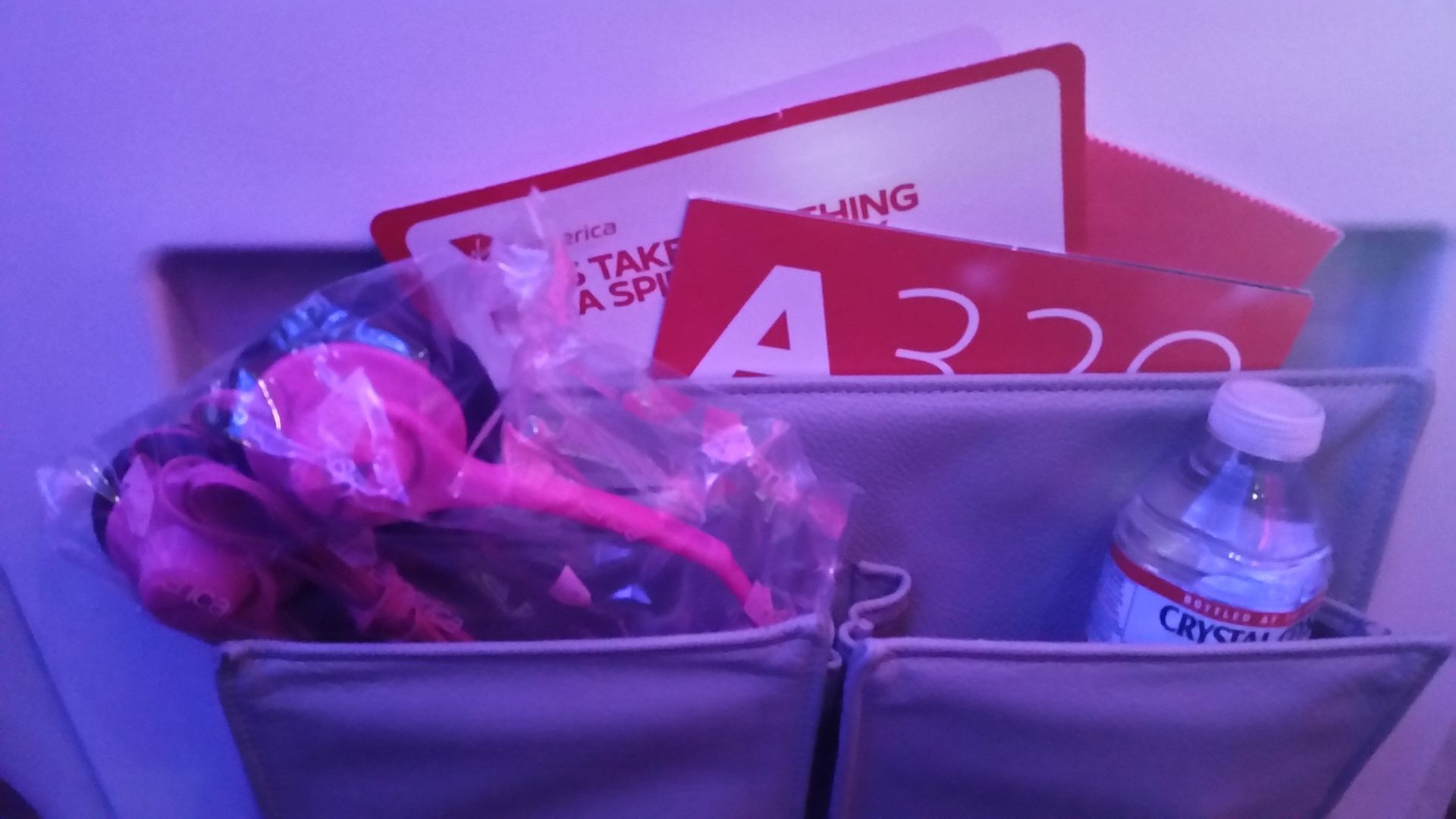 The flight attendant charged with tending to first class handed out bottled water and eye masks and took predeparture drink orders.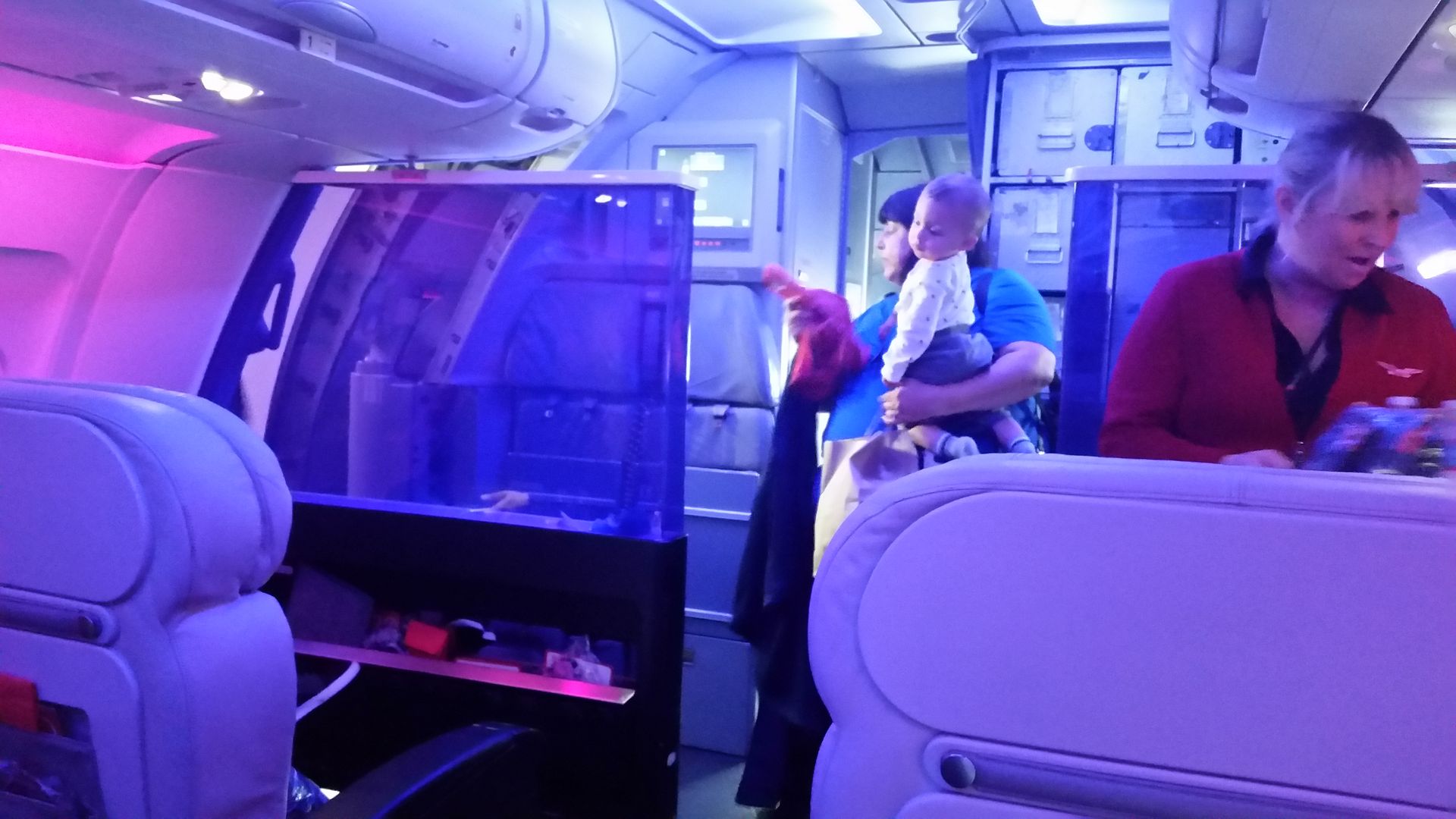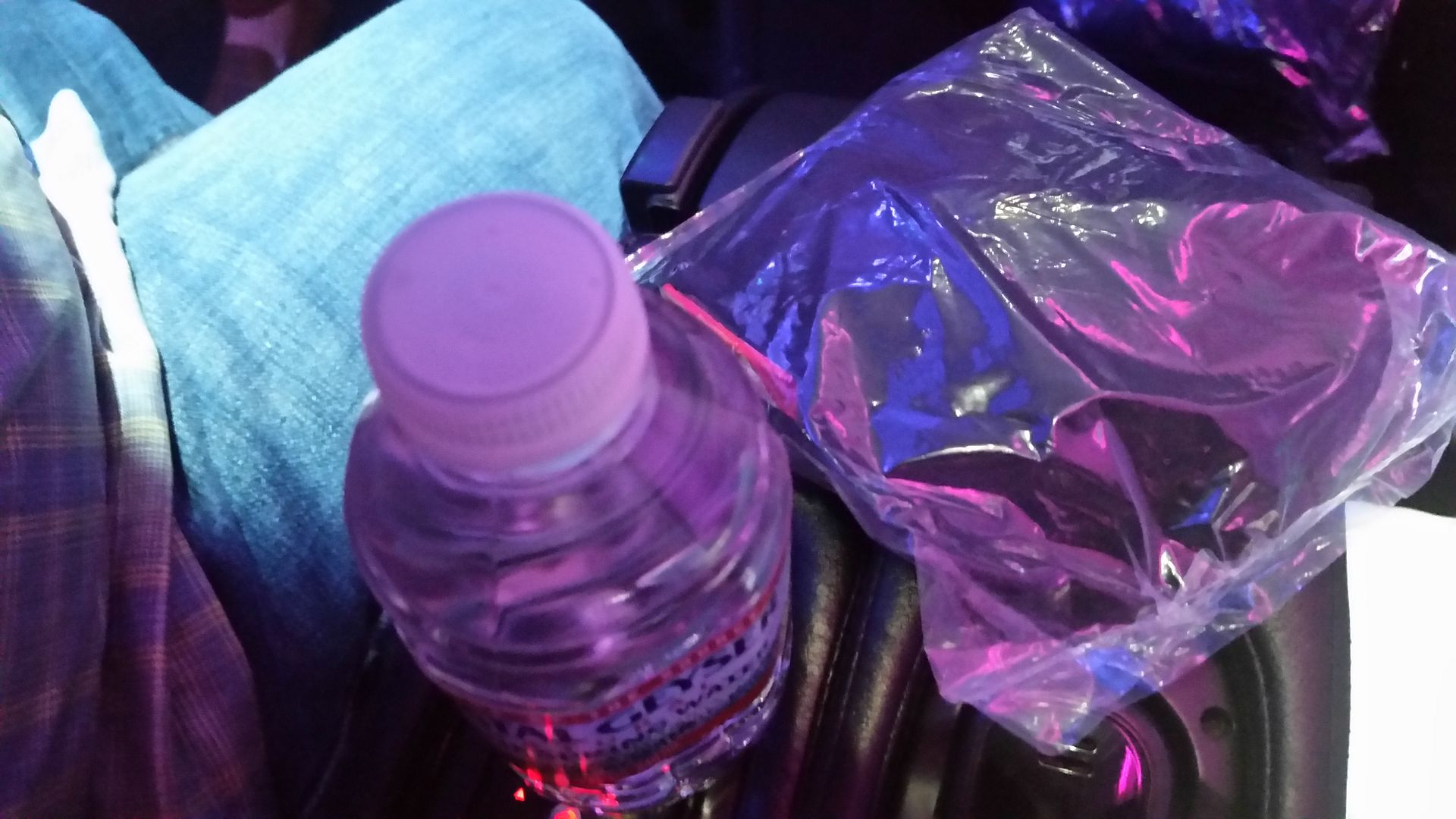 Once we were in the air menus were distributed (click to enlarge):
Orders were taken and I was told it would take 20 – 25 minutes for my risotto. We were also offered snacks from economy if we preferred to augment the first class menu.
The meal was served as 3 separate courses.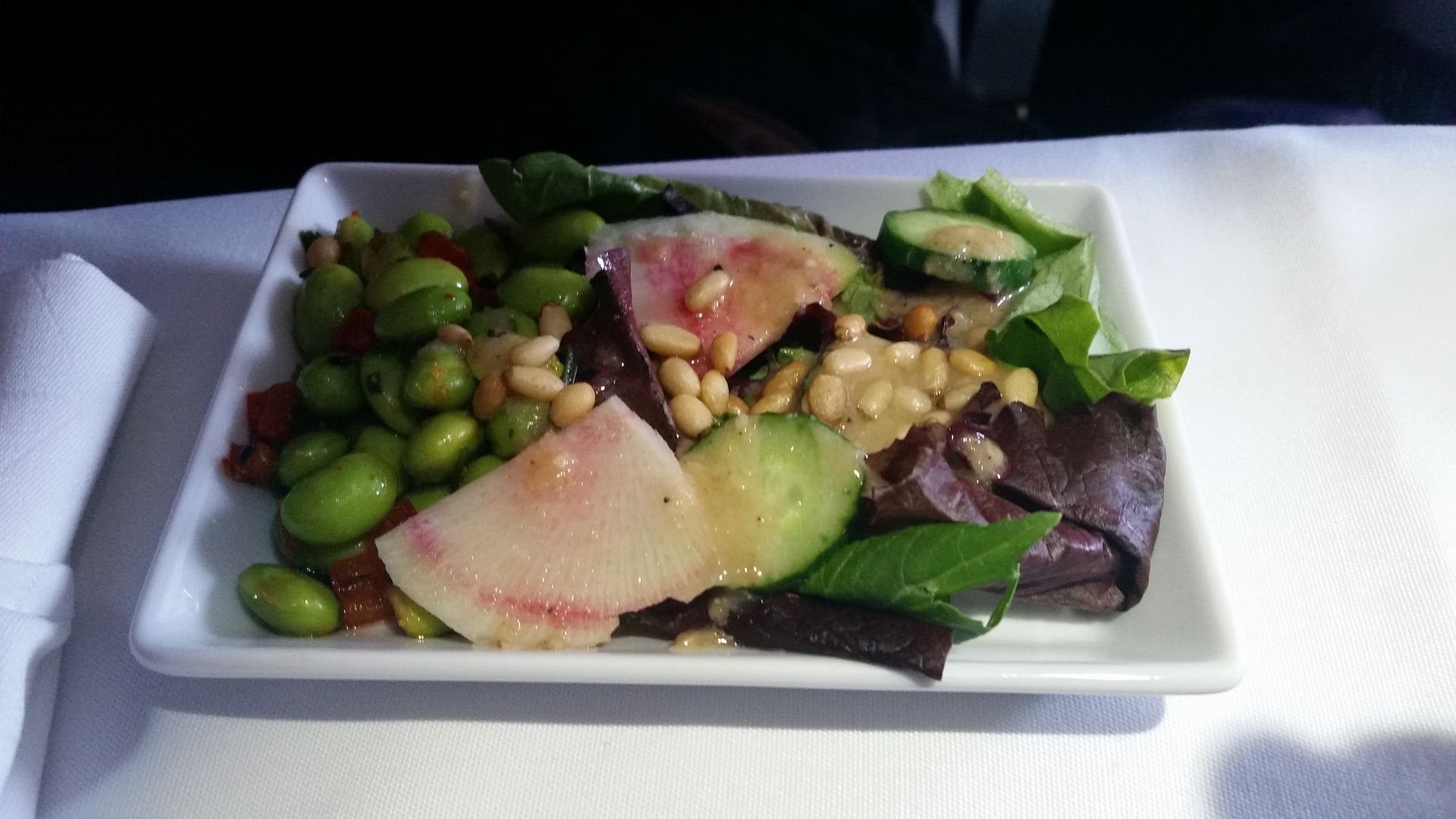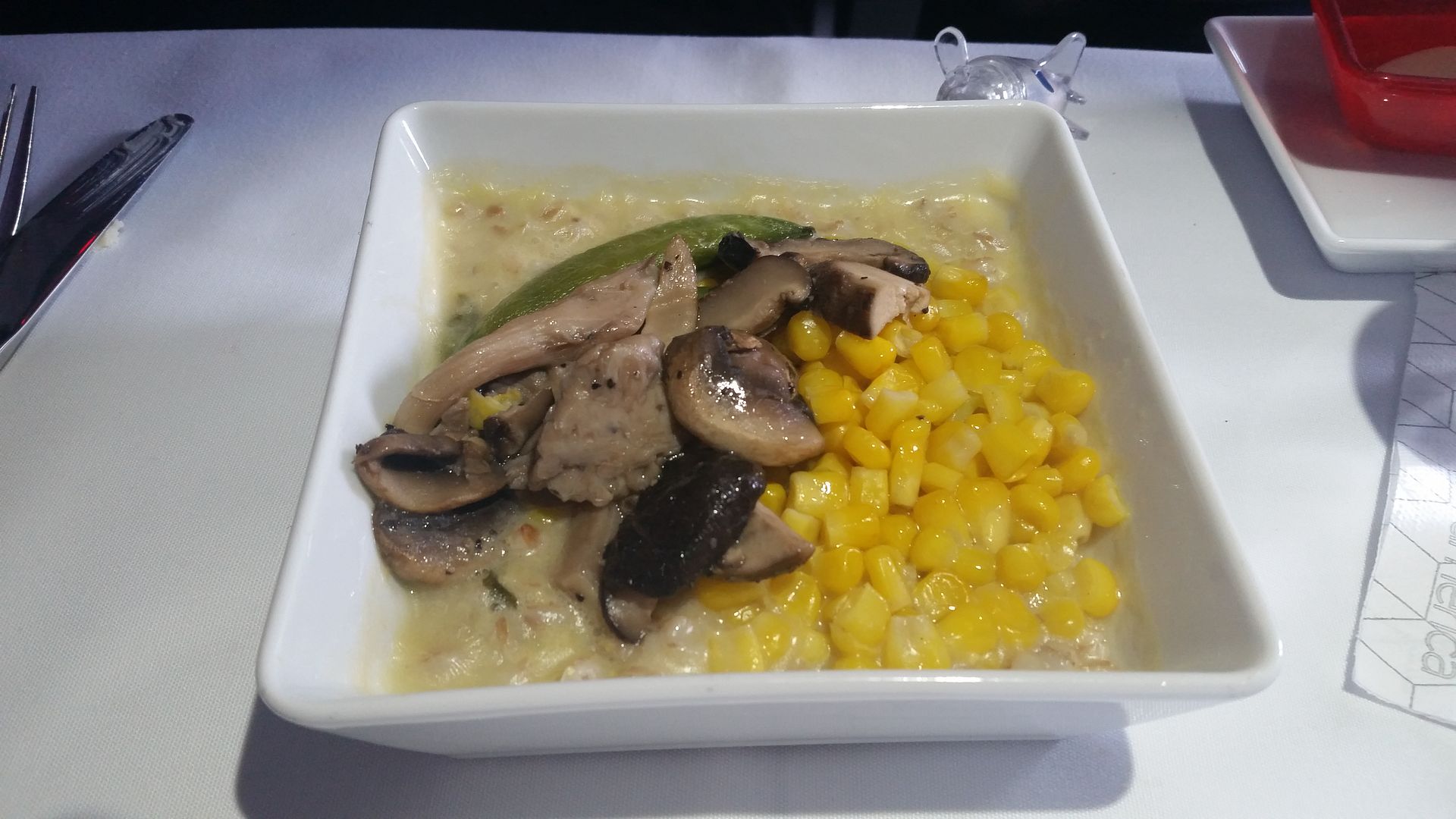 The food was good, definitely better than what I'm used to in domestic first. And I appreciated the tray being cleared and then dessert served separately, I could take my laptop back out and work faster that way. Gogo internet on the flight worked great, fast and with no delays, an upgraded system makes all the difference.
Midway through the flight the flight attendant did a pass with a snack basket. I took the Dean & Deluca caramel popcorn.
The only thing disappointing is that there were no real Virgin flourishes with the lavatory. Although even that's not exactly true since they were piping in music.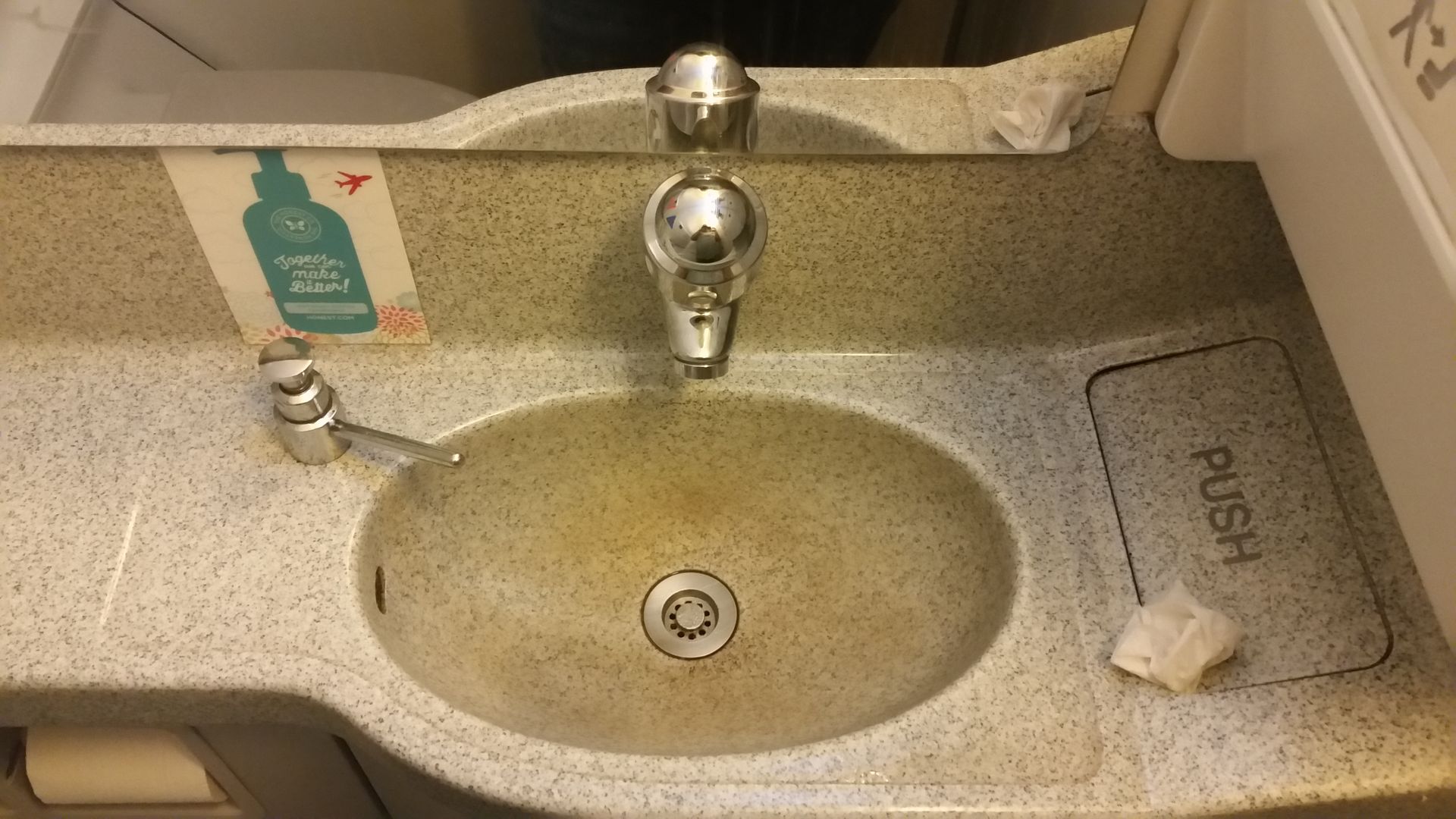 Ultimately Virgin America's frequent flyer program isn't great (though you can credit flights to Singapore Airlines Krisflyer), the elite program isn't great (no complimentary first class upgrades), and the route network is limited.
But the inflight product was very good I thought — a single data point to be sure, but the flight attendant working first class was friendly and accommodating, the seats were better than standard domestic first, and the meal service was a cut above also.
Virgin America's product isn't competitive on all routes (it lags competitors on in the premium transcon market). But if I lived in San Francisco there'd be a good enough chance that their network matched my needs. In which case I'd give a long hard look at making them my primary domestic carrier.
In the meantime living in Austin I won't fly them much. They've even killed their Dallas flight. I'll just wish other domestic carriers put as much into their premium product.