Best use of Virgin Atlantic miles:
Virgin Atlantic may have one of the worst frequent flyer programs in the world, at least compared to major world airlines as opposed to regional players (I mean, I'd take Virgin's miles over Frontier's for instance).
Their award chart is expensive (many flights take a whole lot of miles compared to what other airlines charge for the same itinerary).

They add fuel surcharges onto award tickets, so you play a lot of miles and cash

They have partner airline awards, but many of those are roundtrip one (no one ways) and you can't mix and match partner airlines on a single itinerary.
Virgin Atlantic's miles aren't even the best for redeeming travel on… Virgin Atlantic. Delta will let you redeem for travel on Virgin, and if you begin your journey in the US rather then Europe you won't pay fuel surcharges. What's more, depending on your ultimate destination the award might even cost fewer miles as Virgin Atlantic's award chart prices travel separately from the US to London and then from London to beyond destinations outside the UK.
That said, Virgin Atlantic miles are easy for folks in North America to get. They are an American Express Membership Rewards and Chase Ultimate Rewards transfer partner. You earn 1000 miles per Avis car rental, even cheap one day rentals. And their Bank of America co-brand credit card often has a good signup bonus (I've gotten it more than once).
Plus Virgin Atlantic miles expire after 3 years of inactivity, which is generous compared to the 18 month policies of United and American.
And, as it turns out, there are actually some things you can do to get good value of them.
I'm not saying I'd go out of my way to choose to accumulate Virgin Atlantic miles. But if you find yourself with a few hundred thousand of them like I have, you care about finding ways to use them – especially since their miles are no longer as attractive for just dumping into Hilton HHonors.
Virgin America Short-Haul is a Great Option
The award chart for travel on Virgin America is a good one, especially for coach short haul roundtrips and especially considering that US domestic flights do not have fuel surcharges.
LA – San Francisco is 10,000 miles roundtrip in coach; 20,000 miles roundtrip in first.
Several other routes are just 12,500 or 15,000 miles roundtrip in coach.
Combine these with a transfer bonus from American Express Membership Rewards and you can have some downright cheap travel.
Air China First Class, London – Beijing Roundtrip, is just 75,000 miles.
You can only fly London – Beijing roundtrip with Air China. That means you can't get flights beyond Beijing, and you can't fly other routes (like Houston, Los Angeles, and San Francisco – Beijing where award availability is excellent). And there are fuel surcharges on the award – assume about $400 in fuel surcharges, plus the UK air passenger duty (luxury tax) and taxes for about $700 all-in cash cost. But it's still dirt cheap mileage for a first class roundtrip.
Hawaiian Airlines US Mainland – Hawaii Without Fuel Surcharges
Hawaiian Airlines doesn't add fuel surcharges to the price of paid tickets, so there are no fuel surcharges on award tickets. Mainland – Hawaii is 40,000 miles roundtrip in coach and 80,000 miles roundtrip in first. This isn't a major advantage compared to other frequent flyer programs, but it's a spot where Virgin Atlantic is competitive with major programs.
Japanese Domestic Travel is Just 15,000 Miles Roundtrip
Premium cabin travel isn't offered. And I'm not sure why there's an award 'chart' since the price is the same regardless of distance. But you can fly roundtrip intra-Japan for 15,000 miles.
ANA International Premium Cabin Awards Are Competitive
Virgin Atlantic has a distance-based chart for flying on its partner All Nippon. Again, they add fuel surcharges. And you can't mix and match partners — if you fly ANA you're going to fly only ANA. Still, their mileage costs are substantially lower than what United will be charging effective February 1 for like itineraries.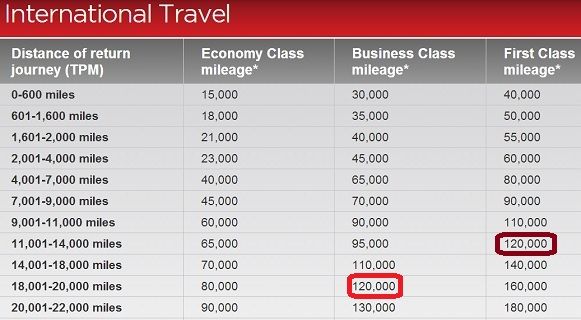 120,000 miles will buy you business class New York JFK – Tokyo – Bangkok and return, or it will buy you Chicago – Tokyo roundtrip in first class.
South Africa Airways Roundtrips Within Africa And Many Other Destinations
Travel within South Africa and between South Africa and Beira, Blantyre, Bulawayo, Gaborone, Harare, Lilongwe, Livingstone, Lusaka, Maputo, Maseru, Matsapa, Ndola, Victoria Falls, Walvis Bay and Winhoek is just 30,000 miles roundtrip in business class. An open jaw is permitted at your destination (you have to return to your city of origin).
Business class roundtrip between South Africa and Dakar, Dar es Salaam, Entebbe, Kinshasa, Lagos, Luanda, Mauritius, Nairobi, Accra, Kinshasa, Pointe Nior, Cotonou, Brazzaville, Entebbe and Douala is 50,000 miles roundtrip. So is Dakar – New York roundtrip.
Business class roundtrip between South Africa and Europe, India, Sao Paolo, or Perth is 110,000 miles roundtrip.
Air New Zealand – Trans-tasman, LA-London, Asia and Pacific Islands
Business class between Australia and New Zealand and between New Zealand and the Pacific Islands is just 30,000 miles roundtrip in business class. Los Angeles – London is 75,000 miles roundtrip in business class, but this is a very tough get. New Zealand – Asia flights, especially Shanghai, can be much easier and are non-crazy at 80,000 roundtrip in business considering that's 12 hours of flying each way.
The price for Australia or New Zealand to the US is quite reasonable at 125,000 miles roundtrip in business class (plus fuel surcharges), but I haven't circled that one because you won't find availability.
Australia Domestic Flights on Virgin Australia
Virgin Atlantic partners with Virgin Australia. Their awards for flights between the US and Australia are quite pricey, 188,000 miles roundtrip plus fuel surcharges. Availability is good, but when Delta charges fewer miles (160,000) and without surcharges you know your awards are costly.
What's can be a good value is redeeming Virgin Atlantic miles without meaningful fuel surcharges for Australian domestic routes. Fuel surcharges for a Sydney – Melbourne are ~ US$6. What's more, Virgin Atlantic allows one-way redemptions on Virgin Australia so you can piece together all of your flying while Down Under this way. For instance:
Sydney – Canberra is 8000 miles one-way in coach

Sydney – Adelaide is 15,000 miles one-way in coach

Sydney or Melbourne to Perth, Cairns, or Darwin is 20,000 miles one-way in coach.
---