Skift ran an interview with Etihad Aviation Group CEO James Hogan and there are several interesting points.
He says loads on their US flights are "acceptable" but "there's pressure on yield" (prices are too low). Since they look to fly to gateways and leverage the networks of their partner airlines, he doesn't see much more US expansion "Maybe one more city. That's it" and since their current US partner is American and they already fly to New York JFK, Dallas, Los Angeles, Chicago (and non-American hubs Washington Dulles and San Francisco) my guess would be that leaves Miami for Latin America connectivity.
Philadelphia would duplicate connections out of New York and Chicago, Phoenix isn't a strong international market for the Mideast and India, and Charlotte offers good connectivity but little originating traffic as well.
While Etihad has an onboard chef for first class, that person is really a crew member with kitchen experience — and that helps hold down food costs because they're also experienced at getting the most out of ingredients with less waste.
Hogan also offers this assessment of their premium The Residence product on their Airbus A380s which fly from Abu Dhabo to New York, London, Mumbai, Sydney and Melbourne:
Abu Dhabi-London is running around 40 percent sale. It goes down to Sydney, and it comes to New York, and this is incremental space that could have been a shower. No one can get it for free, but you can use points. We have a good take up. We get government officials using it. We get people celebrating anniversaries. For some people, it's on their bucket list.
The Residence displaces just a single first class seat, and the additional space comes from real estate that would either be an underutilized lounge or another bathroom.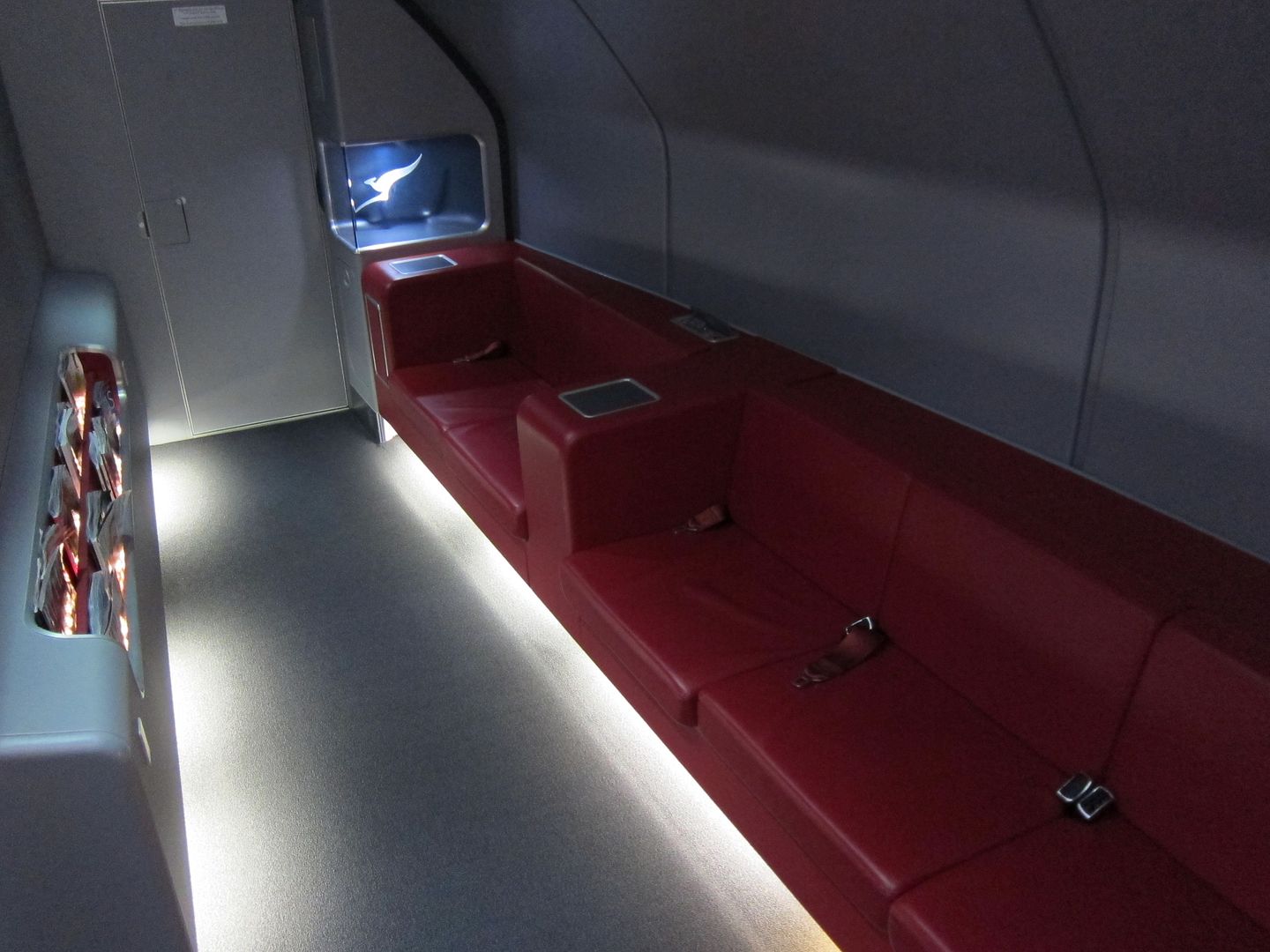 Qantas A380 Lounge Area
I'm surprised they're selling the seat 40% of the time on London flights, I've been onboard New York JFK when it's been occupied, but on the whole actually selling the seat isn't a huge revenue driver. The way to think about it is the 10th first class seat, most likely to go unoccupied (that you can occasionally sell at a premium) but where they find that "[t]he halo effect is considerable" — exactly the language I've been using to describe the top-end premium cabin offerings from the Gulf carriers.
Offering something as over-the-top as the Residence, but also regular first class suites and bars and showers as they and competitors do, helps create a brand imagine such that consumers believe their offerings are better even though in business class at least the hard product isn't superior to what American and Delta offer (and eventually United).
For those who would buy the Residence there's a seating area that accommodates two passengers. There's a private bathroom with shower. And there's a separate bedroom.