I love international first class. Living on the East Coast, for trips to Europe, business class is 'good enough' but often the mileage premium when redeeming an award ticket isn't very much between business and first class. Miles provide me with an opportunity to travel in a manner that I could never otherwise afford to pay for, and they've allowed the travel itself to become part of the experience and not just a 'way to get there'.
I've certainly become spoiled over the years since I started redeeming for international first class awards, such that on longer trips I really don't want to fly 'just' business class. I've accumulated enough miles, know about about the partner airlines, that most of the time when I'm flying more than 10 hours I do not need to. Sure, my next transatlantic trip is going to be in Air France business, not even one of the better business class offerings. But the flight isn't that long and it's convenient.
On the other hand over the past six years I've flown first class on Qantas, Singapore, ANA, Thai, Lufthansa, United, Cathay Pacific, British Airways, Asiana, and Air Tahiti Nui to name just a few. For anything crossing the Pacific that's the goal, and crossing the Atlantic I consider one of the better first class offerings to be worthwhile for the extra miles.
Take United's awards to Asia, it's 120,000 miles roundtrip for business class or 140,000 miles roundtrip for first class. That's just an extra 10,000 miles each way for a bigger and more comfortable seat, better food, service, and amenities, and an overall more spacious and uncrowded flight experience. On the ground, service may also be substantially better, such as having an hour-long Thai massage in the Bangkok airport or being driven across the tarmac to the plane in a Mercedes or Porsche from Lufthansa's first class terminal in Frankfurt (or from their first class lounge in Munich if taking a flight which departs from a non-gate position).
The problem is that in many cases it's gotten much harder to secure first class awards than it was in the past, in part because fewer airlines offer a true first class product and those that do have fewer seats in their cabin (as business classes have gotten better and companies have been less willing to pay for the upgraded amenities of first) and partly because airlines have gone to great lengths to 'protect' their cabin for revenue sale rather than offering seats as awards.
I've been an advocate of American Airlines miles for obtaining first class award seats, not that I'm a huge fan of flying American's first class (exceptionally available from Miami to South America) but because there's excellent availability on the whole flying their partners British Airways (albeit with fuel surcharges), Cathay Pacific, and Etihad.
It's gotten much harder of late using miles in Star Alliance programs, with the exception to miles in Singapore Airlines KrisFlyer since Singapore offers more award space to their own members than they do to members of partner frequent flyer programs.
If you are using United and US Airways miles, it's downright tough to get first class awards anymore. Unless you know where to look.
Give up flying first class transatlantic.
Lufthansa used to offer amazing first class availability but no longer does. Outside of seats for their own members, and especially for their own elites, it's very rare to see a first class award seat more than two weeks in advance.
The United website will sometimes show availability, but almost always it's a mirage — phantom availability, an IT error — and the tickets won't be able to be issued.
If you can wait until the last minute to make travel plans, or can change your flights close-in to departure, then Lufthansa's availability is still good. But that's not how most folks book travel.
Swiss also no longer offers first class awards to partner airlines, and often doesn't even offer the awards within a couple days of travel either.
US Airways generally can't book Lufthansa first class award seats even when they are being offered to partner airlines by Lufthansa, at least on transatlantic routes. And when Swiss makes award seats available (rarely!) US Airways seems to see one fewer seat than is actually being offered. I used to consider that a major drawback of US Airways miles, but since neither product is commonly available it's not a huge differentiator with United. (Other things are — like one-way awards and the ability to make changes at lower cost, but then US Airways has its pluses like agents who don't know geography and will allow routings they probably shouldn't and sometimes for lower miles than ought to be required.)
With the disappearance of Lufthansa and Swiss first class space, and since airlines like Austrian, Scandinavian, Brussels, LOT Polish and US Airways don't have first class cabins — that leaves United as the only Star Alliance airline consistently offering first class awards. But I don't really want to spend extra for United first class, it's a solid business class product but hardly 'special'.
All Nippon First Class Can Still Be Booked
Back when ANA had 12 first class seats in their 777s, the old 'SuperStyle' first class flat recliners, getting a couple of first class award seats was doable most of the year. But those seats were pretty much gone by mid-2006. Once they started flying 'New First Class' availability dried up, both because they believed it was a better product (it was) and also because the 777 had only 8 seats, so a full one-third fewer on each aircraft. Award inventory opened up in early 2008 and was made available only in the Winter months predominantly January through March, and most easily on the Chicago followed by Washington Dulles routes.
This past year has been tougher. And as ANA has rolled out their 'First Square' even newer first class product, inventory except at the very last minute has been rare indeed.
However, the airline has added a second daily New York JFK flight. And that second flight (NH1009/1010, on top of NH9/10) has pretty good award space, at least for one passenger in first class. The flight operates a mix of New First (on the 777) and First Square (on the 77W) through mid-February. But beginning February 20 it appears to be operated daily by aircraft with the newest First Square first class product.
I'd say on average most of my award booking clients are coming to me six months or so out from travel, which also happens to be a good time to book awards overall.
So I had a look, with the help of Award Nexus (a great pay website for doing lots of award searches across many days at once), at award space for one person in first class on ANA's non-stop JFK-Tokyo flights in April. And here's what I found for April 1 – 29.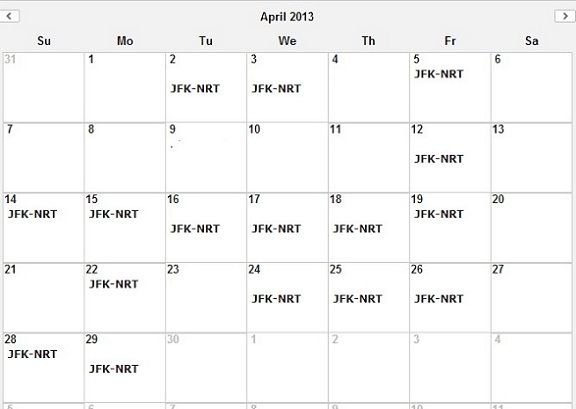 Asiana Brings Their New First Class Cabin to Chicago – to the Delight of Award Seekers Everywhere
Another outstanding product, though I haven't had the opportunity to sample it yet, is Asiana's new first class. I flew their old lie-flat recliner seats back in 2007, and then only their 'new' first after that — but they've just introduced an even better offering.
For a long time first class was gone from the Chicago – Seoul route, leaving only New York JFK (hard to get seats) and Los Angeles (leaving too early to connect from the East Coast same-day) as options. But first class is back for the Chicago flight, and availability is excellent. Here is April 1-29 again, this time for two passengers.
The Los Angeles flights are no slouch either. And since the 12:20am flight from LA to Seoul is now operated with an aircraft that has a first class cabin, it can be more easily used for trips starting from the East Coast as well.(Update: there were a couple of days that were showing phantom availability in first class on that flight, but the charge below is showing availability only for the afternoon flight.)
Air China Isn't Singapore or ANA — But it's Better Than United!
United of course flies several routes to Asia with a first class cabin, but as I say I don't really consider the product to be aspirational. Whenever I mention Air China I get puzzled looks. But their new first class looks really quite nice and the airline has taken great strides towards offering a true first class inflight experience. Would I take Singapore or Asiana or ANA before taking Air China to most destinations (other than wanting a non-stop to Beijing)? Absolutely Would I take Air China over United, and be glad for it? Unquestionably.
While it can be tough to get award space on their JFK – Beijing flight, awards from their West Coast gateways are an easier proposition. Searching for 2 first class awards from San Francisco to Beijing yields the following options in April:
Finding two seats out of Los Angeles isn't so easy. But if it's only 1 person traveling, it's an amazing sight to behold: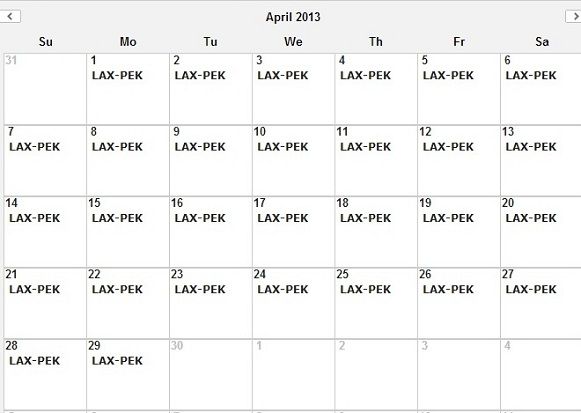 Yes, that is every day in the range I searched where a first class award seat is offered. Every. Day.
So it is still possible to get first class awards using United, US Airways, and other Star Alliance miles. You just need to know where to look. And of course this post is only looking at long haul routes departing from the US. There are options from Europe to Asia and intra-Asia as well.
Now, fair question: Do you find it worth spending the extra miles for first class?