There are some folks out there who warn readers off of 'zombie applications' — suggesting you shouldn't use links that are ostensibly expired or don't have landing pages describing an offer. Those folks are wrong.
Some folks promote links that provide them with referral credits even when those links aren't for the best available offers. For instance, there's been an American Airlines credit card link offering 30,000 points as a signup bonus. A few folks want you to use that link, when there have been several 50,000 point offers out there. The 50,000 point offers haven't had a 'landing page' showing the offer, they just go to an application. That makes people nervous, but the links have simply continued to deliver the bonuses. I'll explain why in a moment.
I give folks the benefit of the doubt that they simply don't understand how these links work and that leads them to give bad advice. Although sometimes it's hard to do that when there are even better offers that have been broadly promoted on television, taking the American Airlines case Cit had huge TV buys promoting citi.com/travel as offering a 40,000 point signup bonus. So it's hard to argue that the 'alternative' to a 50,000 'zombie application link' is a 30,000 point bonus which offers referral credit rather than a very public 40,000 point bonus.
I've just updated the 50,000 point offer for the American Airlines card on my Best Credit Card Offers page and on my Top 10 Deals page because the old one I had listed stopped working. By which I mean that the application was no longer available, not that the application stopped delivering results. But there's still a 50,000 point Visa and small business Visa offer available.
Similar to these Citibank offers for big American Airlines signup bonuses, which don't describe the offer you'll be getting, there are also offers that are being marketed to a specific set of customers. Their offer pages say who they want to reach. Such as the best available US Airways Mastercard offer of 40,000 points after first purchase.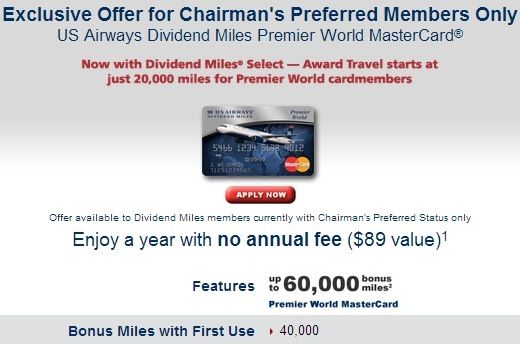 The offer says it is exclusively for US Airways Chairmans Preferred members, folks who fly 100,000 miles a year on the airline. Except that it's not. I'm not a US Airways elite member at all and yet I've successfully gotten this offer. More than once.
The thing to understand is that if you apply for a given offer, and your application is approved, you will get that offer. Even if a credit card company didn't intend to offer it to you in the first place. And even if they had intended to withdraw the offer prior to your application.
Credit cards are heavily regulated. Just look at all of the disclosures. Regardless of the bank issuing the card, the format is the same and the language very similar. If you apply for an offer that says 'no annual fee the first year' you are not going to be charged an annual fee.
Sure, it's always possible that there will be an IT glitch of some sort with your application, such things don't happen often but they do happen. So having screen shots is always best, with any non-standard offer. And with the Citibank applications that don't detail the bonus you're applying for, that's a challenge. So there's a small risk, but still a risk that you won't get the offer you think you are supposed to receive as a result of an accident or glitch. But here your best bet is playing the odds, relying on the experiences of others. Banks do not intend to deny you offers that you sign up for when applying for a credit card. Making an offer to induce you to get a credit card which they then do not come through on opens all sorts of regulatory cans of worms.
In my experiences glitches rarely happen, and almost never with Citibank or Chase, but occasionally with American Express. Fortunately American Express doesn't tend to have these 'zombie applications' which don't detail the offer you're getting, and which don't allow screen shots. (And they're also proactive about trying to fulfill offers properly — I once received a card where my bonus didn't post in a timely fashion, I messaged them and they verified I should have received the points which were then posted manually. And then I received a letter a couple of months later about a glitch that caused them not to post my signup bonus — which they then promptly did… again.)
Applications sans offer pages is almost exclusively the province of Citibank, and it reflects the limitations of their IT systems. In fact, the very reason that the applications remain live even after their supposed expiration dates is because they feel they are obligated to honor the offers. Citi hasn't been able to wipe offers completely when they want them to expire, they have a cumbersome process to fully remove offers. And if they continue to exist at all, then they need to ensure that the offers are honored.
There has been an effort at Citibank to improve their IT and develop systems which allow them to better manage their offers, including removing offers in a timelier fashion. Going forward I expect to see limited time offers that wind up actually being limited time. And when that happens, the 'zombie applications' will go away, you won't be able to submit applications with them anymore. But as long as those applications remain live, applying for them will generates the offer attached to them.