United has a ~$1700 fare valid through the end of schedule between Boston and Seoul that allows travel across the Pacific in their 3-cabin United Global First product.
The fare also appears to be available from Hartford, Connecticut and Burlington, Vermont. Perhaps there are other cities, please share if you find them.
This deal is no longer available. Read on to see what you missed!
It is cancellable and refundable, and should allow a Tokyo stopover as well. Plus routing via Chicago or Washington Dulles should be possible. More complex routings and a stopover will marginally bump the price.
This is a fantastic discounted fare that I would not expect to last.
Here's a sample itinerary: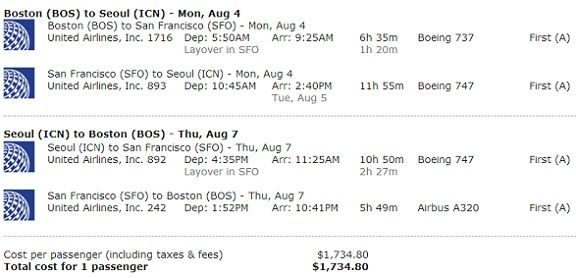 Availability is wide open.
Key rules:

The fare applies to first and business class service.

Travel is permitted Monday through Thursday for the transpacific segment. You cannot fly across the Pacific on Friday/Saturday/Sunday and get this fare.

The transpacific flight has to be on United. If you fly between Japan and South Korea as part of the itinerary, that travel but be on either United or Asiana (no ANA flights). Asiana flight segments incur a $400 surcharge.

14 day advance purchase required

2 stopovers are permitted (1 each direction) for $100 each

5 transfers permitted in each direction – 2 in the US and 3 in Asia

There's no minimum stay or seasonality.

There are no change or cancel fees. These tickets are refundable.
This fare earns 250% of flown miles in redeemable miles, and 150% flown miles towards elite qualification (of course United's revenue-based qualification rules also apply).

A 100,000 mile elite flyer on United would easily earn over 50,000 redeemable miles for this trip (given their 100% mileage-earning bonus) — nearly covering the cost of the ticket in value.
While I expect that this deal will be honored, and indeed covered by DOT rules which currently should require it to be, I still would wait a few days after booking to make additional (and especially non-refundable) plans.
And I say that even though at times the accommodation that has been made when an airline has chosen to renege on a special sale has been to allow only those booked for immediate travel to actually do so. My advice is to book this — tickets ae refundable — and wait for things to sort themselves out.
(HT: Flyertalk 'Good Deal Premium Fares' thread)
---