Singapore Airlines offers an almost mythic first class product. The service is great. The seats are top notch. The Krisflyer inflight entertainment system is grand. The food is good, the alcohol very high end, and the amenities copious
Mostly though the awards are perceived to be very hard to get. That's because they almost never make long haul premium cabin award space available to their partners like United and US Airways. US Airways added a footnote to their award chart to say these seats are not an option.
Back in July Singapore Airlines awards were made available to partners as a result of a systems glitch. This wasn't awards at a discount. The error was that the awards existed for partners at all. And there was a feeding frenzy.
But the truth is that Singapore Airlines first class awards are available nearly every day of the week. You just need to know where to look for them.
That's because Singapore Airlines makes a great deal more premium cabin award space available to their own frequent flyers than they do to partner airlines. And Singapore Airlines Krisflyer miles are actually quite commonly available to U.S. customers.
Where Singapore Offers First Class Award Seats
Let's take a look at the flights Singapore offers to and from the U.S., and which ones are available for first class redemptions (for the purposes of this post I am only interested in two first class awards on the same flight).
Singapore Airlines US destinations are San Francisco, Los Angeles, New York JFK, Newark and Houston
Newark service is on an Airbus A340-500 which is all business class — although my understanding is that they plan to get rid of these aircraft from the fleet. I haven't paid close enough attention to their plans for Newark service (hub of their Star Alliance partner United) once that happens. They are currently selling seats on these flights through the end of 2013, but since it's business class service it's beyond the scope of this post.
From Los Angeles they offer non-stop service on the same all-business class flight aircraft as from Newark (which they're slated to shed themselves of) and also a one-stop via Tokyo on an Airbus A380. They seem to only make one seat at a time available in their A380 suites, so getting two first class award seats from Los Angeles is a challenge.
From New York JFK they have one-stop service aboard an A380 via Frankfurt. Again, with Singapore seemingly releasing only one first class suite award when they do release any, it's not all that useful a flight for people traveling together to use.
Fortunately that leaves service from two airports:
From Houston they offer one-stop service via Moscow five days a week. First class award space is reasonably good.
From San Francisco they offer one-stop service to Singapore — two flights, one stopping in Seoul and the other in Hong Kong. It's the Seoul flight that I want to focus on because awards are available. Very available. Most of the time.
As of this writing, In the month of February there are 2 first class award seats on the San Francisco – Singapore via Seoul flight available a whopping 82% of the time using Krisflyer miles.
Available: February 1, 2, 3, 4, 6, 7, 8, 9, 10, 11, 12, 13, 18, 19, 20, 21, 22, 23, 24, 25, 26, 27, 28

Not Available: February 5, 14, 15, 16, 17
I find that both directions — San Francisco to Singapore and Singapore to San Francisco both via Seoul — are roughly equally available.
And it's not just close-in, as in next month where there's availability. This is across the entire schedule. After taking a look at February, I also scoured availability for September. Where two first class award seats are available every single day of the month, 100%, on the San Francisco – Seoul – Singapore flight SQ15.
Available: September 1, 2, 3, 4, 5, 6, 7, 8, 9, 10, 11, 12, 13, 14, 15, 16, 17, 18, 19, 20, 21, 22, 23, 24, 25, 26, 27, 28, 29, 30

Not Available: None. It's literally available every day in September.
SQ1/2 (the flights which stop in Hong Kong) do have some availability. During the winter that Hong Kong flight, which does offer better connecting times in Singapore, is operated by an Airbus A380 which means you won't find two award seats on it. And even at other times of the year, when it's operated by the Boeing 777, there's availability to be sure just not nearly as frequently.
It's the Seoul flight — SQ 15 and 16 — that's the secret weapon.
Let's take a look at the flight times a little bit closer, though.
SQ15: San Francisco – Singapore, 2:20pm – 12:50am+2
The Seoul flight is probably less popular and easier to get because of the flight times. Part of the year it isn't as easy to connect from some East Coast cities (when it's a 12:50pm departure), and the flight arrives in Singapore rather late for many though not all connections. It's going to be carrying mostly San Francisco – Singapore traffic rather than connecting traffic. Although if you are willing to spend some time in Singapore before traveling onward — something I highly recommend — then the flight can work well for you.
While Singapore flight 1 that stops in Hong Kong may offer more convenient connections beyond Singapore, some people disfavor it because the 1am departure means Singapore offers only 'supper' service rather than a full dinner. That means no caviar service and no satay. So while you can still have your choice of Dom Perignon or Krug for champagne, in some ways you may not get the 'full' Singapore Airlines first class experience. And in that way the Seoul flight may actually be superior to some.
SQ16: Singapore – San Francisco, 9:25am – 12:45pm
Like the outbound version of this flight, it seems perfect for folks who are Singapore passengers. You really do need to start your journey in Singapore in order to take this flight rather than connecting from another Asian destination.
And it gets into San Francisco just too late to really work for many folks on the East Coast who want to connect home same-day without a redeye, although some flights will still work for this purpose.
But because there are two Singapore flights from San Francisco that's a whole lot of seats — more first class seats than Singapore will sell. And the flight that's really geared towards originating and destination traffic in Singapore tends to be more lightly booked up front. So award seats are almost always there for the taking.
How to Get Singapore Airlines Miles
Singapore Airlines Krisflyer is a transfer partner of both American Express Membership Rewards and Starwood Preferred Guest.
American Express transfers seem to take between 12 and 48 hours to hit Krisflyer accounts. They aren't 'live' and instant like they are with British Airways, Delta, Aeroplan, and Air France KLM Flying Blue. But they're faster than they were a few years ago, when they could take 72 hours to transfer. Transfers are 1:1.
Starwood transfers seem to take between 2 days and a week to hit Krisflyer accounts. While Starwood points are incredibly valuable and flexible given the sheer number of airlines they partner with, the waits tend to be much longer than via Membership Rewards. Transfers are 1:1, plus of course there's a bonus of 5000 Krisflyer miles when transferring 20,000 Starpoints.
Neither program tends to offer transfer bonuses with Singapore's Krisflyer program. In fact, at one point Starwood points were only 2:1 transfers (meaning 10,000 Starpoints would yield only 5000 Krisflyer miles). Thank goodness that change was reversed!
I usually don't like finding award seats, making a transfer and having to wait. Because award seats may well be gone by the time the points show up. And Singapore Airlines doesn't just offer to hold the seats for you, either.
But there are two things working in our favor here. Really these seats can only be taken either by paying passengers or by other Singapore Airlines Krisflyer members. So it seems to rarely be the case that the award space just disappears over the course of a few days, at least if we're more than a few weeks out from travel. And second there is just so much darned availability that if you're even a little bit flexible and a given seat disappears, if you can shift your travel by a day you'll probably still be fine.
Where to Search for Space an Book
These award seats are only available to Singapore Airlines Krisflyer members, and the only places to book them are on the Singapore Airlines website and over the phone.
The only place to search for availability is on their website, or using the (subscription-based) KVS Tool which accesses the same, only more efficiently.
Here's the Singapore Airlines award chart (.pdf)
What I'm most interested in is the cost of an award between Zone 2 (Malaysia, Indonesia, and Brunei) and Zone 13 (West Coast of the U.S.). Note that awards between the West Coast of the US and Singapore, Thailand, Philippines, Vietnam, Myanmar, and Cambodia are the same price.

It's 107,500 miles each way, per person. But wait! Singapore Airlines offers a 15% discount if you book your award online. So instead of 215,000 miles roundtrip (ouch), it's 187,500 miles roundtrip as long as you do your booking on the website.
And if the points came over from Starwood, it's 152,500 Starpoints (since you get transfer bonuses built into that program).
Still not cheap, but it's Singapore Airlines first class.
The Singapore website does not include partners in their award search. Which means you will be able to book only Singapore flights. If you have to get to San Francisco, and want to take advantage of the 15% discount, you'll have to buy your domestic positioning flights.
On the other hand, though, Singapore offers one-way awards. So if you didn't have the miles to do a roundtrip, you could still fly Singapore Airlines first class one-way. And intermediate destinations are cheaper — San Francisco – Seoul is 87,500 each way on the award chart, minus 15% online discount, so just 74,375 miles.
Singapore allows you to make one stopover on a roundtrip award, so you could book a ticket to say Bali and have a Singapore stopover or you could have a Seoul stopover in one direction.
Will This Cost Me Anything in Addition to Miles?
You can expect to pay $732 in taxes and fees for San Francisco – Singapore roundtrip in first class on SQ15 and 16. Of that, $646 are fuel surcharges.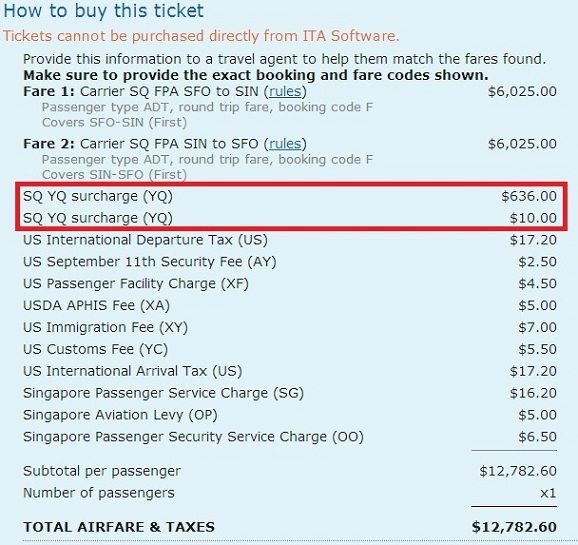 Not Cheap Awards — But Worth It For Many
Singapore adds fuel surcharges onto award tickets like most Asian and European programs do (when a paid ticket would include fuel surcharges as well).
That's a clear disadvantage relative to United and US Airways.
And their award chart isn't cheap, it does take a bunch of miles for long haul first class under their program.
But the availability is excellent for Singapore Krisflyer members, and if you value a top notch first class experience this is one way to get it — whether it's for a very special trip or just because…