Airlines devalue their miles. Your points will never be worth more in the future than they are today.
You should earn miles, and then redeem them, ideally within the same 'period' or under the same award chart. That way you don't get hurt by increasing award charts.
Earn miles, redeem them, and then earn some more is a much better strategy for most people than saving up miles now for some future point in your life when you'll take advantage of them.
That said, I don't worry too much about devaluations although I do not like them. And the 'game' or hobby is far from over.
You just need to diversity. If all of your points were with United, and you like partner airline awards, then you are not a happy mileage earner.
But if you have points in a variety of programs you can hedge your bets. Start off earning enough points to redeem for the award you want, but once you have that move onto another program and generate enough miles in that program as well.
Ideally accrue miles in programs that transfer to a variety of airline mileage schemes as a further hedge — American Express Membership Rewards, Chase Ultimate Rewards, and Starwood Starpoints are the most transferrable.
Here are the programs you should be paying attention to, which offer outsized value. There are many of them, some you wouldn't expect, and that allows for a bright future in miles and points. No matter what United or Delta or US Airways does you have plenty of places to go for good value.
Here's what you may not have realized about the world of miles and points.
American AAdvantage
There's a lot of worry about devaluation — because there are going to be changes coming as they integrate with US Airways, and because other US frequent flyer programs have changed so much and there's a tendency towards mean reversion, the best values usually aren't sustainable.
I certainly feel like my healthy 7 figure balance is more miles than I'm comfortable with, but I also do think that their miles are right now providing outstanding value.
They're the miles I've been redeeming the most — for first class awards on Etihad and Cathay Pacific especially.
Asia awards are an exceptional value at 110,000 miles roundtrip for business class and 135,000 miles roundtrip in first. Award availability on American flights, other than first class to Asia, isn't great. But award availability on partners like Cathay, Etihad, Iberia, and LAN can be pretty good.
And fuel surcharges are meaningful only on British Airways. It was a sad day when they introduced the ability to redeem for flights from the US to London and back, before that you could redeem from elsewhere in North America, and also beyond London even to Africa, without paying fuel surcharges at all.
There's a fantastic offer currently for 100,000 miles with a Citi co-brand credit card, and you can transfer in Starwood Starpoints.
ANA Mileage Club
ANA is a Japanese airline and Star Alliance member. Like most Asian frequent flyer programs they do add fuel surcharges onto award tickets whenever paid travel would include the same. That's a strike against.
But they have excellent online booking, and a distance-based award chart that provides real value (for instance, business class New York – London is just 63,000 miles roundtrip).
There aren't any one-way awards but they do allow 4 destinations on one award with up to 12 flight segments permitted.
Here's their distance-based partner award chart:
Since Newark-London and return is less than 7000 flown miles, it's 63,000 points to redeem for business class.

And while we lament the loss of the US Airways 90,000 mile business class award to North Asia, it's worth noting that paying fuel surcharges you can do business class to Hong Kong from certain West Coast cities for 90,000 miles (by staying under 14,000 total flown miles)!
American Express Membership Rewards and Starwood Starpoints transfer to ANA.
Japan Airlines Mileage Bank
Here's the distance-based partner award chart (click to enlarge):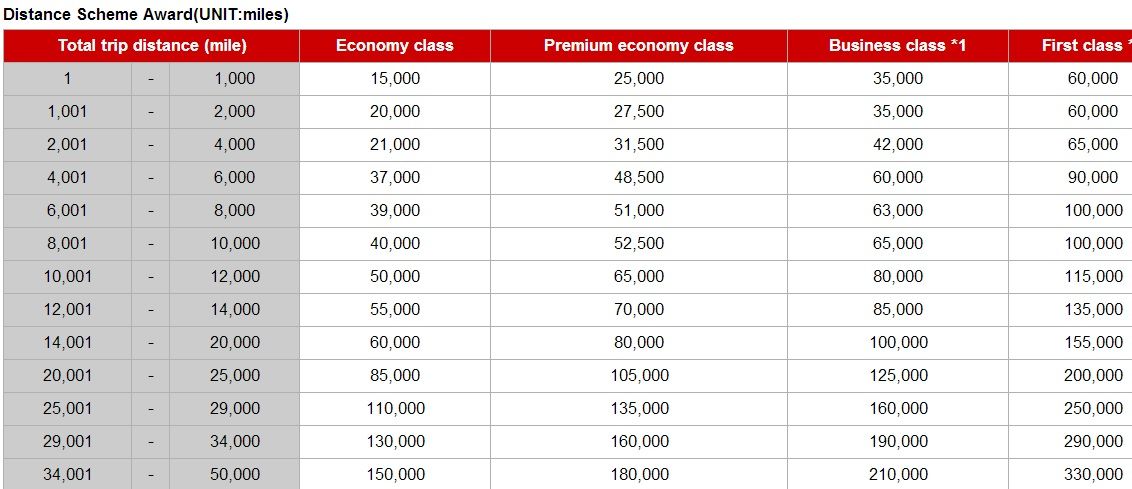 Note that for 155,000 points you can fly up to 20,000 miles in first class. That would you get Emirates first class, New York JFK – Dubai – Bangkok and return.
JAL has also recently started offering one-way redemptions, one of the few airlines with distance-based charts that does so — although if you're flying roundtrip you'll generally save miles booking roundtrip (but also run the calculation).
It's not easy for US-based members to accrue JAL miles, but you can transfer in Starwood Starpoints.
Singapore Airlines Krisflyer
Singapore adds fuel surcharges to awards. Their website is frustrating — you can only book Singapore's own flights online, and will have difficulty booking awards in mixed classes of service that way.
But they do offer a 15% discount for online bookings. And there's really one primary use of their miles — that's that Singapore offers much much much better award availability on their own flights for their own members.
Sure it's still tough to get 2 first class award seats on their A380 from US destinations to and from Asia. But it's not impossible. And suites class between other cities are easier. First (on their 777s) and business class awards are easier still.
If you want to fly Singapore Airlines, which really has one of the world's best first class products, the way to do it is with Singapore's own miles. And availability is outstanding.
American Express Membership Rewards and Starwood Starpoints transfer to Singapore.
Korean Air SkyPass
Korean Air has a fantastic program because of their one-way awards on Korean metal, and the best first class award availability between the US and Asia of any airline (plus plenty of intra-Asia routes that offer a first class cabin as well). I've used them for 2 first class awards back from Malaysia the Sunday after Thanksgiving.
There are some negatives — fuel surcharges, and the requirement that you can redeem for family members only out of your own account, and they want proof of the relationship as part of the redemption process.
Korean Air First Class Between the US and Hong Kong One-way. You can fly between the US and Hong Kong (or to the North of Hong Kong) in first class via Seoul, south of Hong Kong is 15,000 points more expensive. Here's my Korean Air experience.
Hawaii for 30,000 points roundtrip in coach or 60,000 in first class on either Alaska Airlines or Hawaiian Airlines.
There are no fuel surcharges to Hawaii. (Note that non-stop flights from the West Coast to Hawaii can be had even cheaper by transferring Chase points to British Airways.)
80,000 points roundtrip to Europe in business class.
Consider that Delta charges 125,000 miles for travel June 1 onward on the same Skyteam airlines, and United's partner award price is 140,000 miles roundtrip.
50,000 miles roundtrip in coach or 110,000 in business class between the US and Southern South America
There are no fuel surcharges to South America.
The best way to get Korean Air points is to transfer them in from Chase Ultimate Rewards.
Alaska Airlines Mileage Plan
Alaska miles are one of the most valuable points currencies right now.
The value of their points jumped substantially when they began allowing one-way awards on partners. (Previously to book an award on a partner you had to find availability both directions on the same airline.
In addition to offering one-way awards, they allow a stopover on those one-ways.
This means you can mix and match airlines in each directions and have a total of two stopovers in addition to your destination on a roundtrip.
Alaska made big progress with their online bookings and has most of their partner airlines now bookable on their website.
The only downside to these changes is that you used to be able to book partner awards as soon as the partner opened their schedule, even if it was farther out than the 331 days prior to travel when Alaska opens their own schedule. This is no longer permitted. (It's also really not necessary for all except Qantas between the US and Australia.)
And there are awards like Cathay Pacific first class for 70,000 miles each way (fly, say, Seattle – San Francisco on Alaska and then San Francisco – Hong Kong [stopover] – Johannesburg for just 70,000 miles and Emirates first class on their Airbus A380 (with the showers!) — where it might be worth buying the points from scratch.
Starwood Starpoints transfer to Alaska, and the airline frequently runs 30% – 40% bonuses on purchased miles. I credit some ancillary activity like Pointshound or Rocketmiles to Alaska.
British Airways Executive Club
If you live in an American Airlines, US Airways, or Alaska Airlines hub it's a really good idea to have a stash of British Airways points at your disposal.
I really despised the revamp of the British Airways program in November 2011. It went from incredibly useful for premium cabin international awards, with generous stopover rules, to really being useful for non-stop short distance flights only.
But that's still very useful, just in a totally different way.
I like my miles primarily for premium cabin international awards – Asia especially (first class) but also Europe (business).
I've been using British Airways Avios for domestic flights quite a bit recently, and since that differs from how I usually use points that seemed worth sharing. This isn't especially complicated or novel but it's a change in my behavior, probably just stemming from two things: the US Airways-American merger making this much more useful for me, and the particular non-work travel I've needed to do.
In March I flew to Chicago for a Hyatt-Milepoint event. Tickets were running ~ $650 roundtrip. I could have saved money with throwaway ticketing but I booked a roundtrip ticket with 9000 BA points instead.
Last week I booked another Chicago trip for 9000 miles when prices were coming up the same. And I also booked a US Airways Shuttle trip, DC – New York, for 9000 miles roundtrip.
British Airways adds fuel surcharges but those don't apply on US domestic tickets.
There are some short-distance routes that are simply expensive… where it's marginal at best to use miles from US programs (25,000 miles) but when it's just 9000 miles roundtrip (4500 miles each way) you're saving ~ 7 cents per miles domestically which is pretty unheard of otherwise.
You can transfer Chase Ultimate Rewards, American Express Membership Rewards (sometimes with a transfer bonus), and Starwood Starpoints to BA.
Avianca LifeMiles
When Avianca joined Star Alliance I declared LifeMiles the most generous in the alliance. Since United's devaluation, that's likely true.
The program has no fuel surcharges, offers one-way awards which are priced reasonably, and as with this offer they sell miles cheap. They also offer 'cash and points' which means that as long as you have 40% of the miles needed for an award you can buy the rest at the time of redemption for just over 1.5 cents apiece.
That said, their call centers are frustrating (although if you can wait a day for a response they're much better over email) and they don't permit "mixed cabin" redemption — so if you are redeeming a transatlantic business class award, all segments need to be in business class (including domestic US flights, and intra-Europe flights). And back in May they tweaked some award prices without notice and increased the cash cost of cash and points awards to its current pricing as well. So it's far from a perfect program!
Honorable Mention:
I like these two programs a little bit less but they're certainly strategically useful.
Asiana Mileage Club
This used to be one of my very favorite programs when the Bank of America co-brand credit card earned 2 Asiana points per dollar spent on all purchases. Now that it's no longer available at that earning rate my estimation of the program changes.
They have a distance-based award chart for Star Alliance partner redemptions and the longest distance travels get quite expensive. They add fuel surcharges as well. But they're easier to book through than their counterpart Korean Airlines, and they allow 5 destinations on a single award (two stopovers in each direction in addition to destination on a roundtrip award).
Staying under 10,000 miles though costs just 80,000 miles in business class. Flying from the US East Coast to Europe can easily accomplish that, and you can bounce around hitting 5 European destinations for those miles.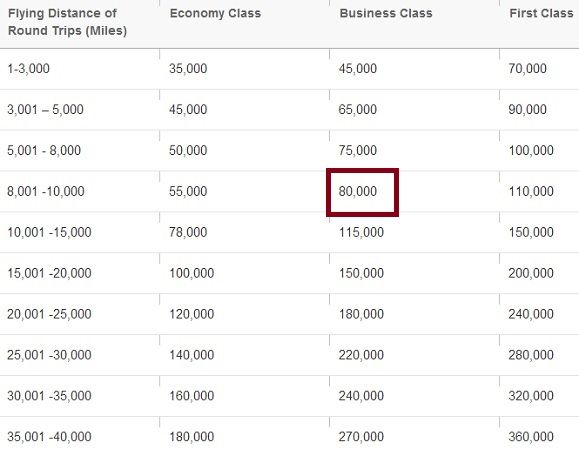 Starwood Starpoints transfer to Asiana.
Aeroplan
Last year >I called Aeroplan the most devalued program in North America.
First there was the gutting of their award chart on July 15, 2011. For instance, my favorite award — first class to most of Asia — went from 120,000 miles to 175,000 miles (a 46% increase in one shot). Australia awards went from 75,000 to 80,000 in coach; 100,000 to 135,000 in business (35% increase), and 140,000 to 185,000 in first (32% increase).
Then the cost of redeeming awards went up hundreds of dollars through the imposition of fuel surcharges on many of their partners effective November 2011.
And then they increased award prices again. Remember that first class Asia award that two years ago cost 120,000 miles? It now costs 210,000 miles. First class to Australia? 220,000.
They also now require hundreds of dollars per passenger in cash for upgrades.
That said there are still uses for this program. While Aeroplan adds fuel surcharges onto some partners, you do not pay fuel surcharges for bookings on Air China, Brussels Airlines, EgyptAir, Ethiopian, EVA, SAS, Singapore, Swiss, Turkish, and United, and fuel surcharges are modest (about half what you'd pay on Lufthansa) for LOT.
And awards between the US and Western Europe (Poland counts, for LOT's outstanding award availability) cost just 45,000 miles each way or 90,000 miles roundtrip.
You're also permitted two stopovers in addition to your destination, or a stopover and an open jaw.
American Express Membership Rewards and Starwood Starpoints transfer to Aeroplan, and Amex transfers are instantaneous.
So many places to go
For Star Alliance, in addition to United you can look to Avianca, ANA, Asiana, and Singapore.
For oneworld look to British Airways (short-distance) and JAL Mileage Bank (long distance).
Then there are non-alliance programs like Alaska that give you access to awards across a variety of programs, like Emirates and Cathay.
This gives us a bright future… places like Korean changes can't be made without notice, and much notice is given. Even if one program changes, they don't all change at the same time and won't all change for some time. That makes it eminently doable to earn, burn, and earn again.
Accumulating miles is easier than it used to be, redemption prices are also higher, that's the direction that programs go. International programs can be used strategically to make the most of this cycle.
---