Mighty Travels points out two very lucrative offers at the Singapore Airlines mileage-earning online shopping mall. (Singapore just launched this rewards portal.)
In fact, they're so good that I cannot promise they will be honored, though if the likelihood is inversely related to the value of the offer then the second one might post more easily.
17,077 Miles for a LifeLock Basic Subscription
That's the offer, and it's super generous.

A basic subscription is $9.95 a month and the first 30 days should be free. In theory you should get the miles with only a single $10 cost but it may stretch out into another month. I have zero interest in LifeLock otherwise.
23,077 Miles for New Customers Purchasing a Premium Domain Name from Network Solutions
A very good offer, but at a higher cost.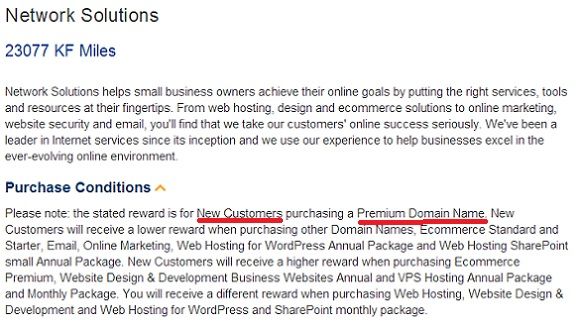 Find a premium domain (make sure you go through the Singapore portal first!) for $159 and you're buying points at 7/10ths of a cent apiece based on this offer.
Why You Should Care About Singapore Airlines Miles
I recommend Singapore Airlines Krisflyer for many disaffected United flyers who aren't going for elite status and who will see their mileage-earning suffer now that United is moving to revenue-based earning for flights next year. They offer 100% mileage earning on United fares, though their miles do expire after three years.
Here are some of the great uses of Singapore Airlines miles. US domestic awards (excluding Hawaii) are 40,000 points roundtrip in first class. Domestic Hawaii awards are 35,000 points roundtrip in economy.
Will The Miles Actually Post?
Most of the time when fantastic mileage deals are offered through online shopping portals I have gotten the miles, though I do sometimes need to keep track of what is due to me and prompt for them.
There have certainly been fantastic mileage deals that a portal decided not to honor, such as the easycgi deal through the US Airways mall and the Verizon deal through the AAdvantage portal. Although in both cases members were offered something for their troubles, I covered what Cartera gave in the Verizon case.
For more on how online mileage and rebate shopping portals work, I interviewed the President and CEO of Cartera Commerce earlier in the year.
My own bet is that at least the LifeLock offer doesn't go easily, so decide whether or not you want the hassle of participating. Personally I find these rides as much fun as hassle myself.. No guarantees and thanks again to Mighty Travels for spotting.
---