9:10 pm Ho Chi Minh City, Vietnam (SGN) to Bangkok, Thailand (BKK)
Lufthansa Flight 773 First Class Seats 83H, 83K
Duration: 1h 30m Boeing 747-400 461 miles traveled Since we had a late flight, I asked about 6pm checkout but was told that would incur a half-night's charge. But they extended 5pm checkout complimentarily, and offered that we could enjoy the evening h'or douerves in the lounge rather than leaving for the airport straight away, but we we decided we've rather be off.
We caught a cab to the airport and despite significant traffic (it took better than an hour) the cost was ~ US$8.
We entered the terminal just as Lufthansa was about to open its counters, all of the staff were huddled in a meeting while passengers began to queue. It was rather silly to be at the airport three hours prior to departure for a one hour flight, but we figured we'd just catch up on email and such in the lounge.
Check-in was quick, though slightly delayed while a couple of agents dealt with a woman who somehow managed to pre-upgrade her family but wasn't happy that her mileage account was hit for the privilege. She wanted everyone downgraded and their original seats returned to them, but that wasn't possible. Don't know the eventual resolution, but apparently they were put back in business class as I didn't see them on the upper deck for the flight.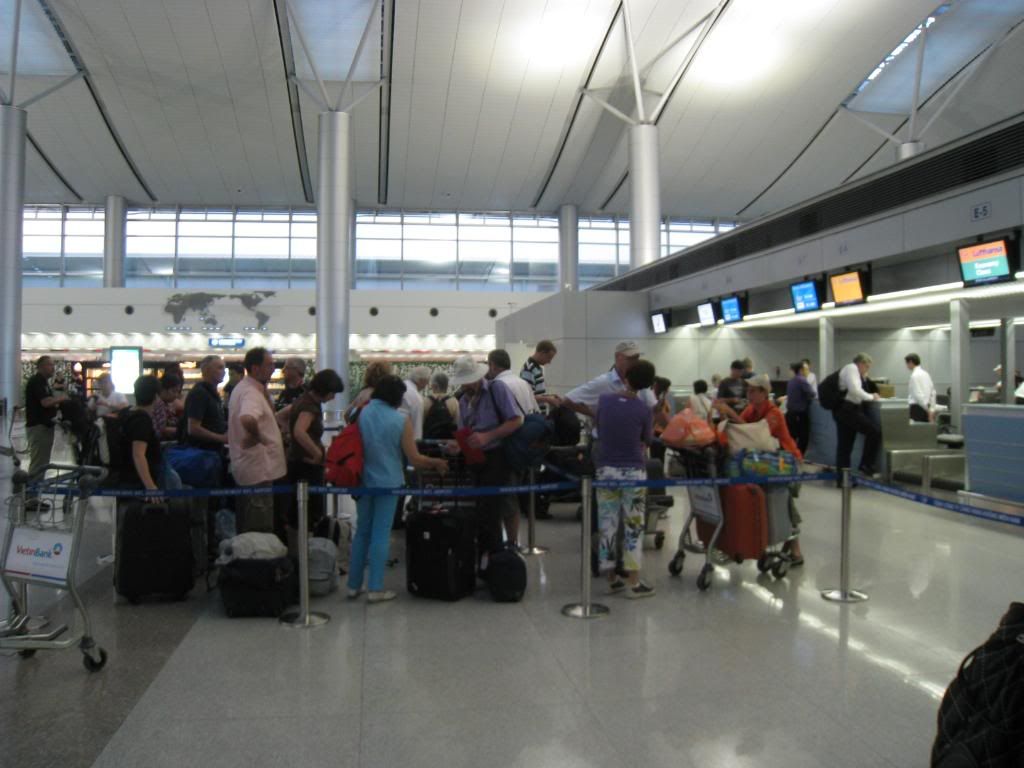 We were given a lounge pass for the Rose lounge, there are several presumably similar lounges named Orchid, Apricot, and Daisy, perhaps others. Rose was the farthest or second farthest from the Lufthansa gate, which seemed rather odd. It's near gate 9, and Lufthansa was using 20.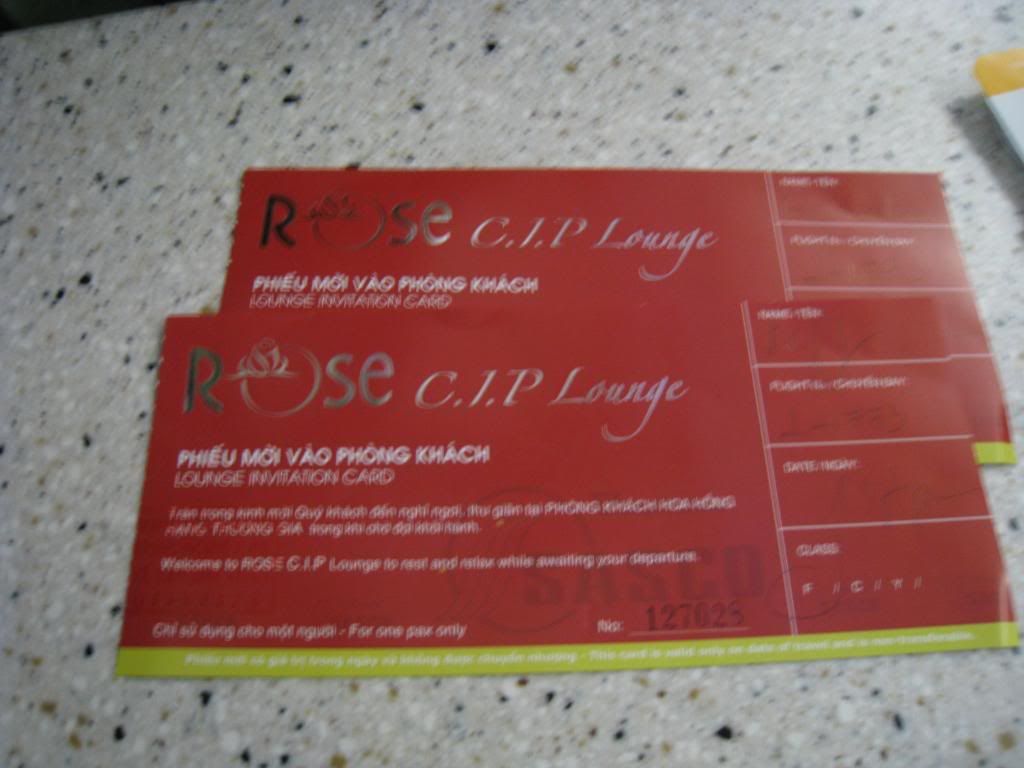 And upon seeing the lounge, they certainly weren't doing us a favor. Though apparently the lounges were redone it looked entirely dated with drab green décor…. Very little open seating, this place was busy! We had to do two laps around the rather large lounge to find two seats together. Tood options included fruit and a fix-it yourself noodle bar, with several folks using the microwave to heat their soup further.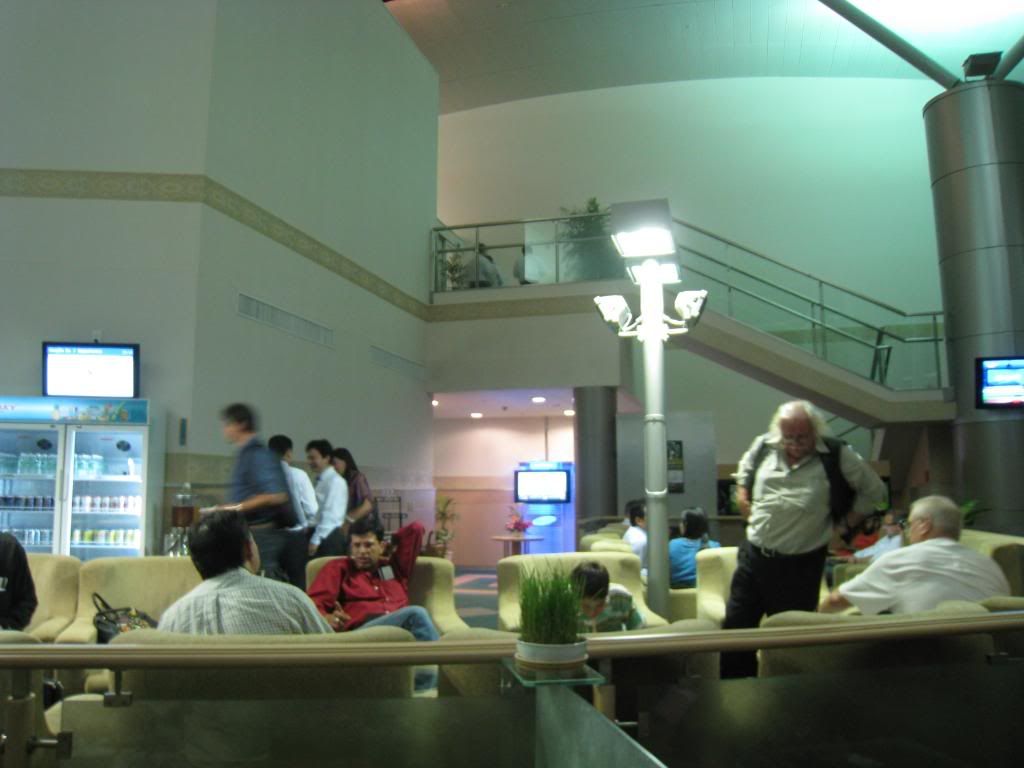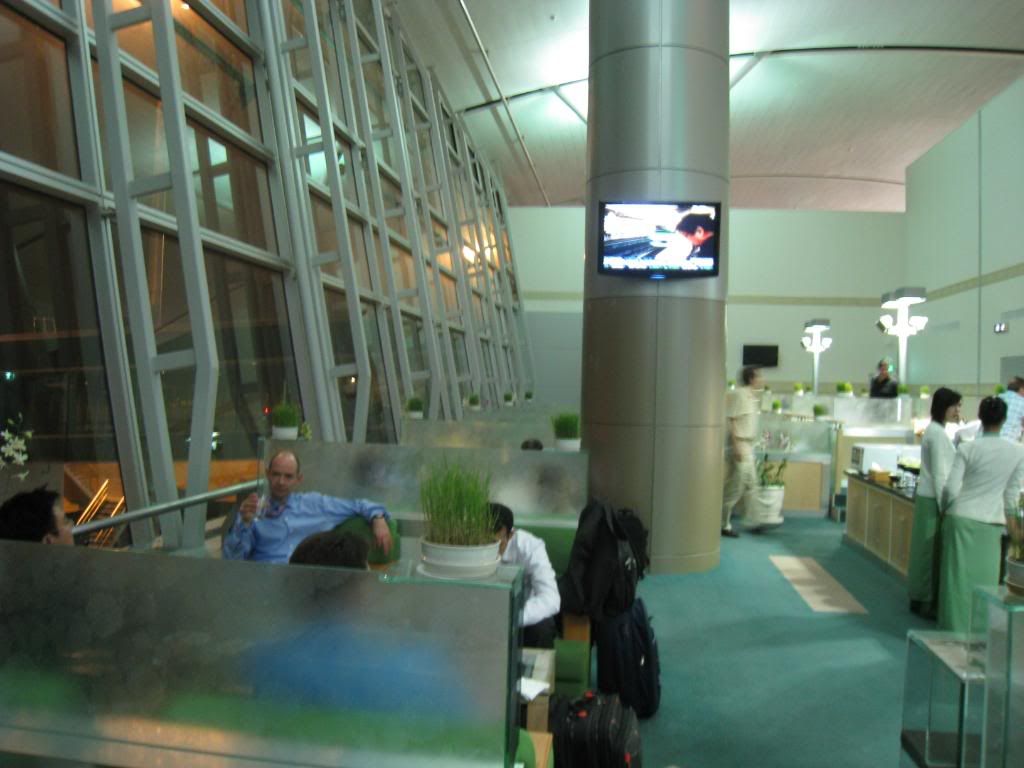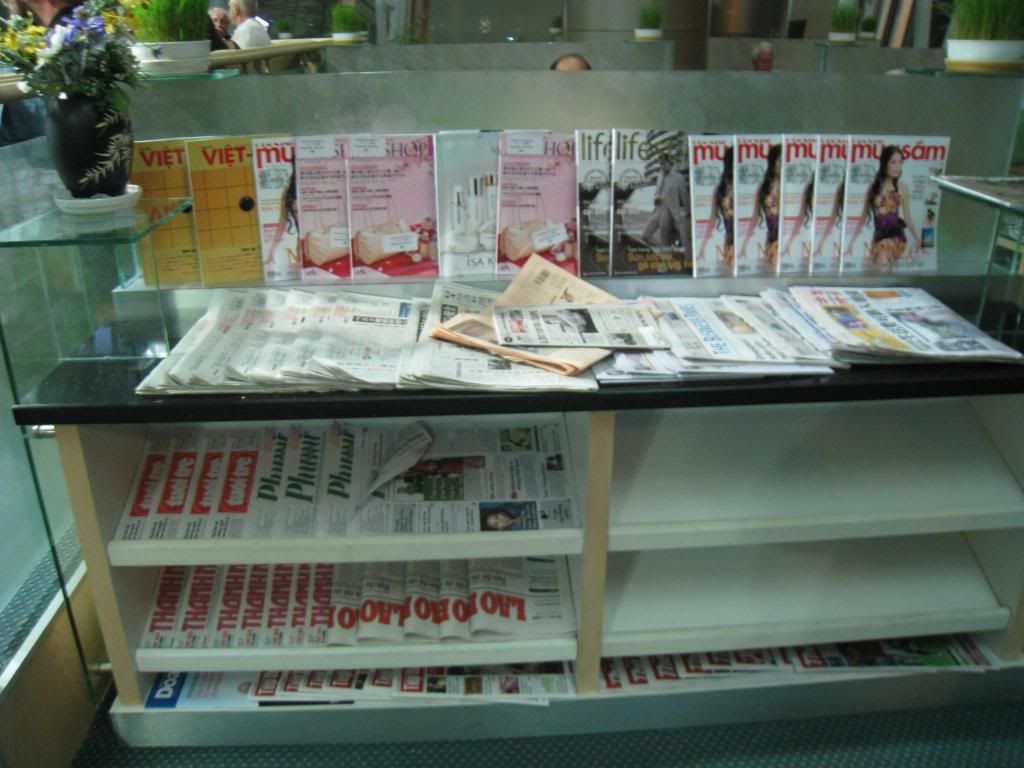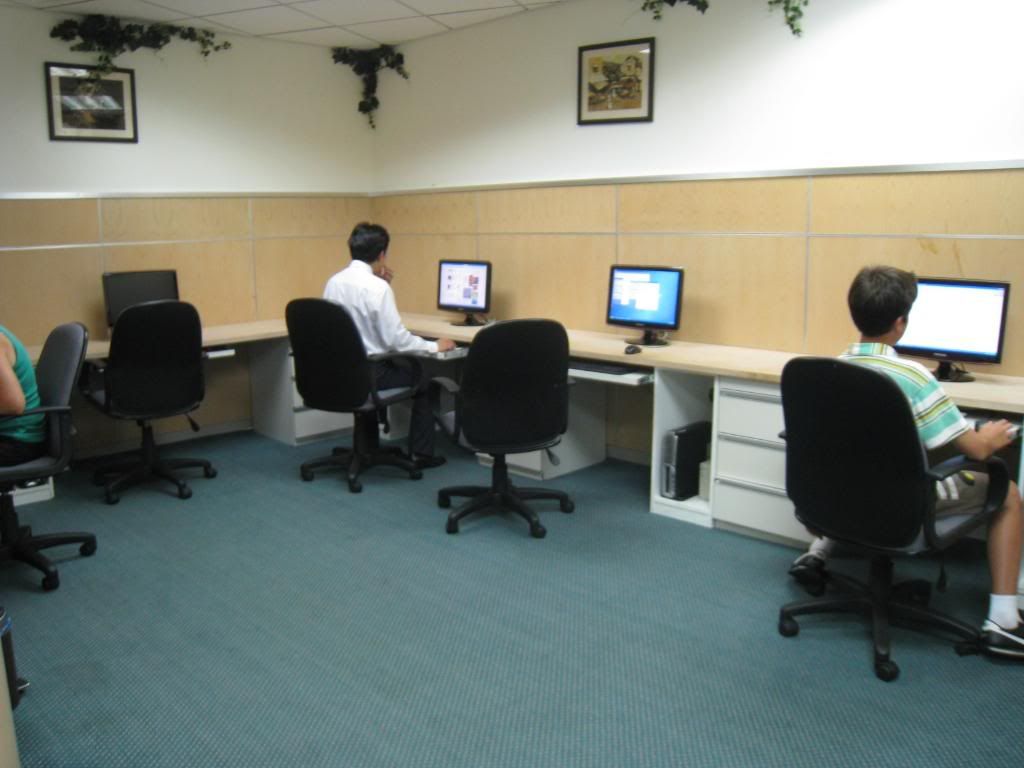 There was wireless, at least, and I logged onto Flyertalk for a bit before making the long walk down towards the gate. Along the way I did pass the café and spa options that SanDiego1K has written SQ offers its premium passengers, this would have been a vast improvement over the Rose lounge experience.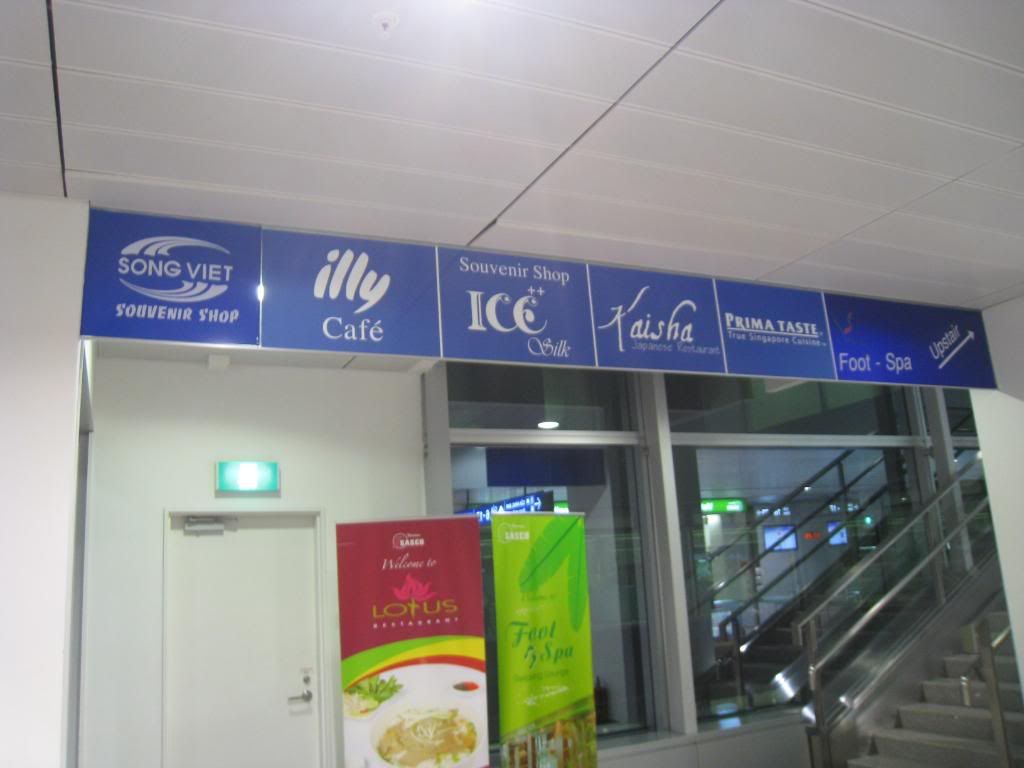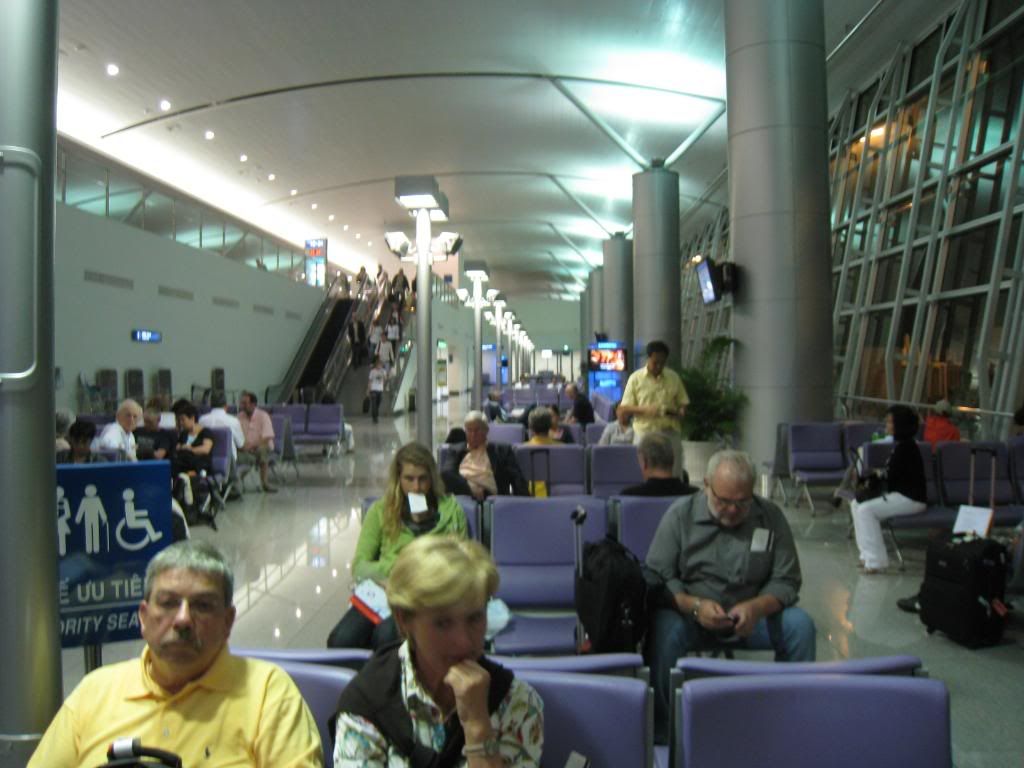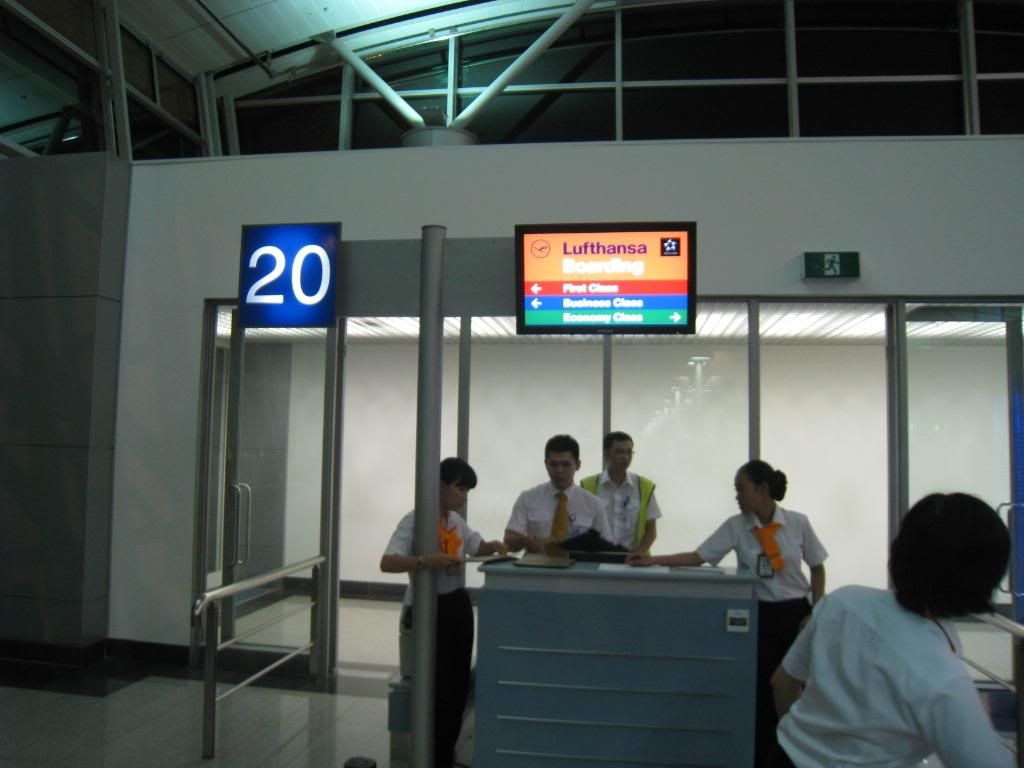 After such a disappointing UA F flight HKG-SGN, I was truly impressed by Lufthansa for their one-hour onboard service.
On boarding, amenity kits and slippers were passed out. I read a report from several years back that no amenity kits were provided on this short flight, which certainly wouldn't have surprised me. However perhaps because of the light load or perhaps because the flight attendant didn't realize initially that we would be with them only for the first short segment, we got the usual Lufthansa long-haul first treatment.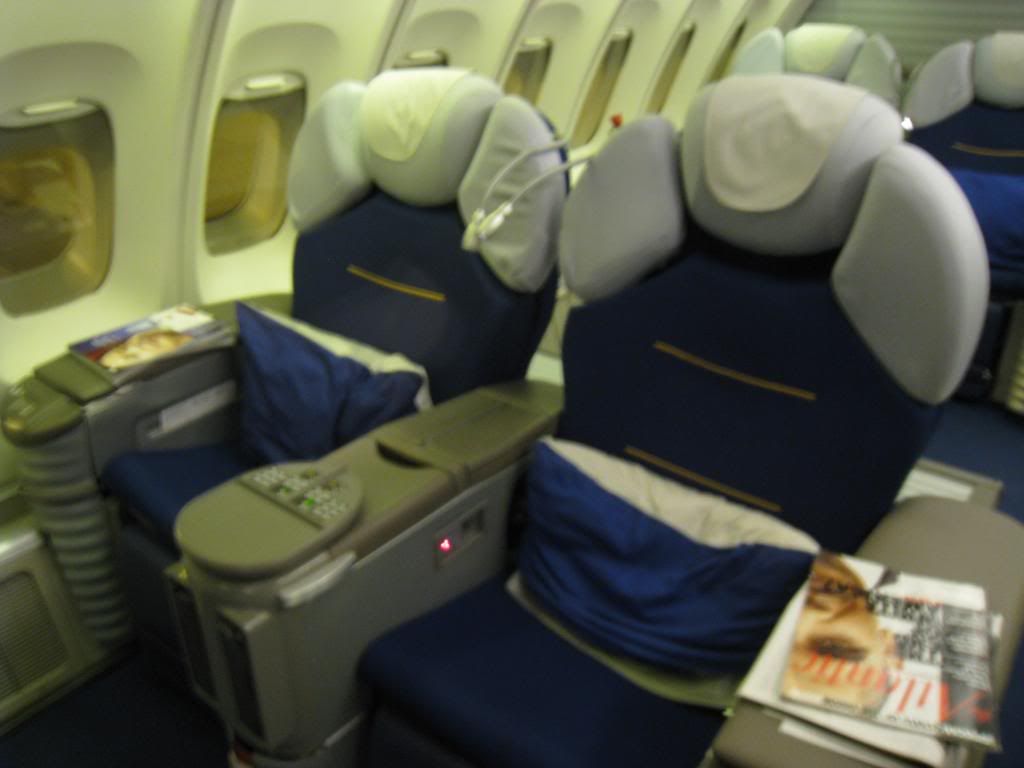 Menus were handed out as well, a nice contrast to United. The wine and spirits menu was the exact same as long-haul, but given the short duration of the flight the food menu was quite limited – cold items and no choices, but served as separate courses none the less.
Quote:
Dinner
Cold Specialties
Smoked Red Snapper with Green Ba Mee Noodles Salad, grilled Paneer Cheese with black Sesame, Pesto Sauce and Sun Dried Tomato
Mediterranean Vegetable Salad with Balsamic Sauce
Dessert
Fresh Fruit
Sure hit the spot, an actual three course meal in an hour. It was rather late and I was tired, so I ordered a cappuccino. Not only was it perfectly made, I was offered and accepted a refill.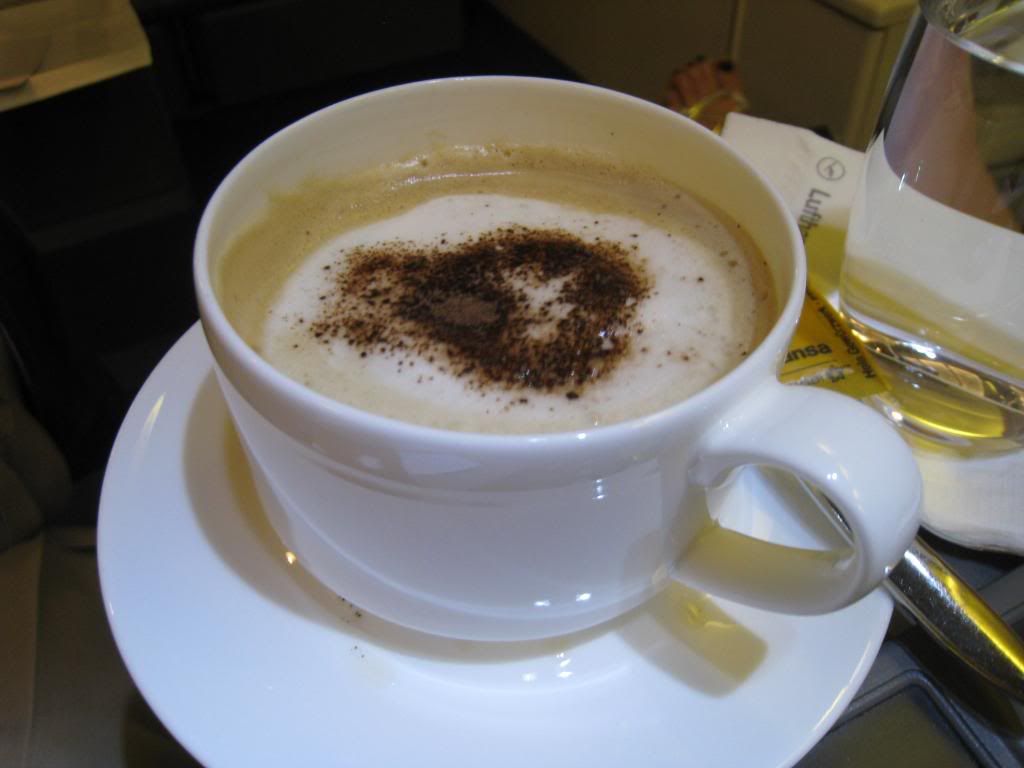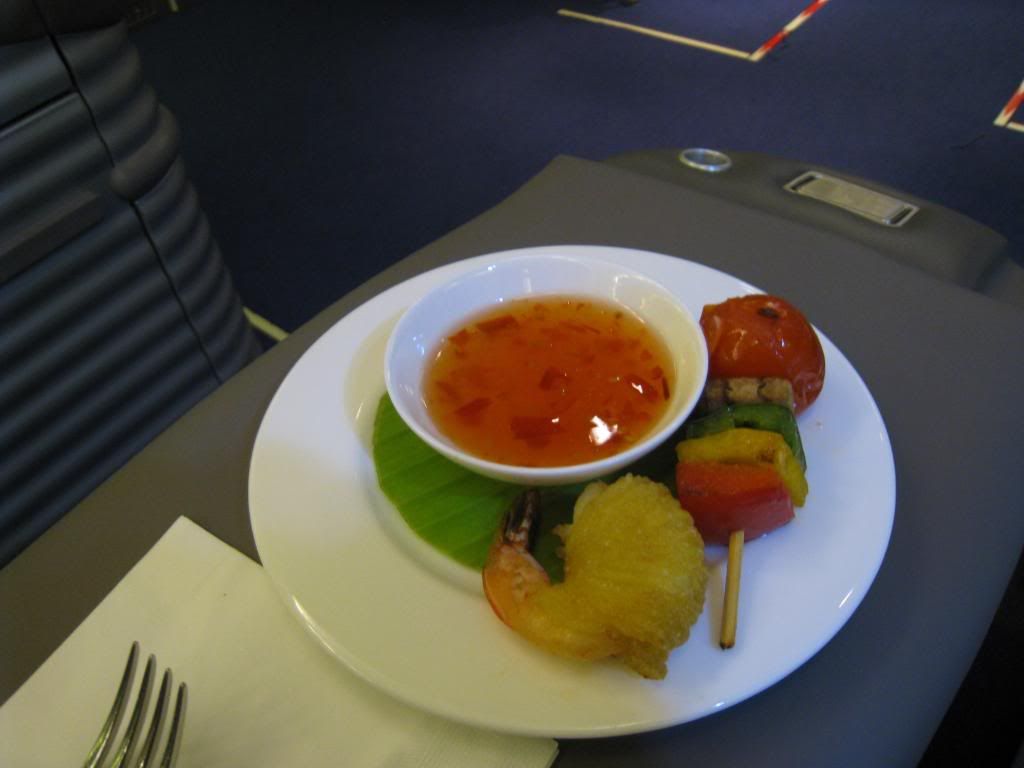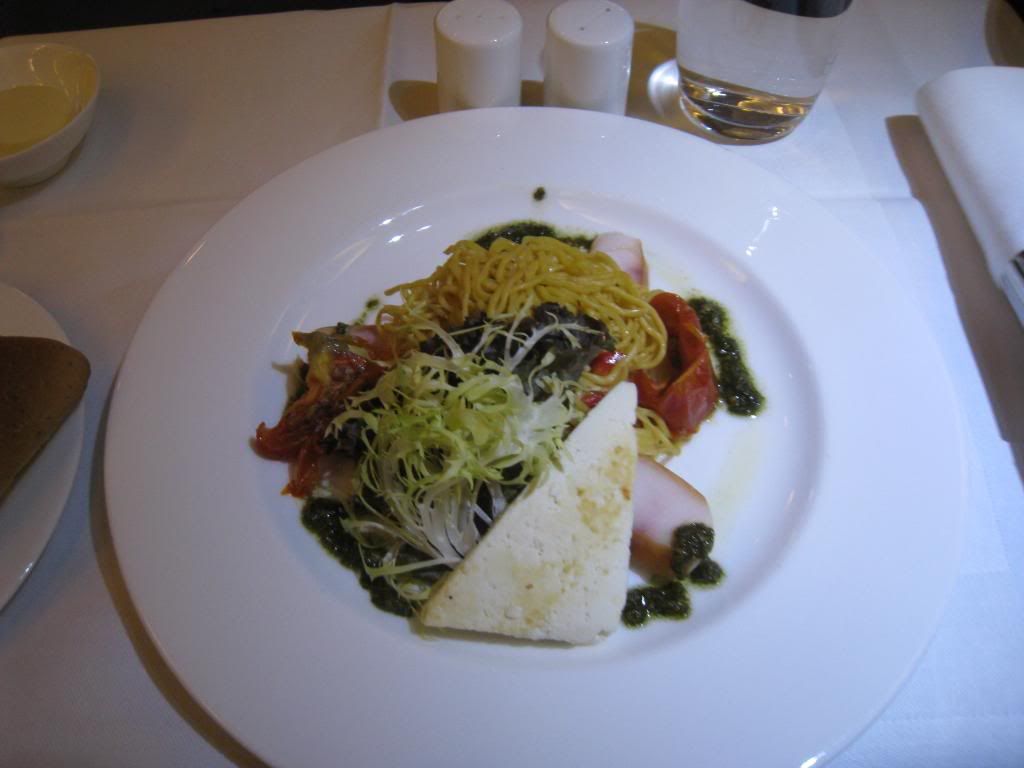 The flight attendant did forget to distribute arrival cards, so as we were descending I asked about it and he fetched it for us. No fast track immigration passes were distributed, I don't know whether they offer these only on Bangkok arrival from Franfurt or whether it was an oversight. It didn't much matter, I had arranged my own fast track escort (though lines were short anyway, this wouldn't have been necessary, I would have liked to pick up passes for later use however).
We arrived in Bangkok on time, about a quarter to 11. Didn't look like too many folks deplaning in BKK, mostly connecting passengers staying on board for the continuation to Frankfurt.
Since we weren't arriving in Thai Airways first, and since it wasn't clear to me that we'd be getting fast track passes, I decided to try out one of the VIP escort services at Suvarnabhumi. In particular, I booked a meet-and-greet as well as round-trip car transfer with Image Limo. The car service was 1200 baht each way (this was billed as a 'special' rate but seemed in line with what I've paid for a car service on arrival in the past, though quite reasonable for something pre-booked). The meet-and-greet was impossibly expensive for a relatively unnecessary service in most cases at 3000 baht for two people (it's less expensive for just one) but I was curious to see how it would work as I've only gotten escorts in the past from Thai.
A well-dressed Thai man was at the entrance to the jetway with a sign with my name on it when we arrived. He walked us through the terminal (no buggy
) to an special passport control area with no line that was walled off from the regular lines, I didn't notice it as diplomatic passport control per se but may well have been. He clearly knew the officer on duty and nothing had to be said or paperwork handed over to justify our eligibility for the line.
Right on through passport control, our bags were already on the belt. I pointed to them, our escort put them on a luggage cart and walked us out to a waiting car (he rang them from inside baggage claim). The car was a Nissan Teana, they had the obligatory cold cloths and waters and mints, the day's papers, etc. in the car, and we were off onto the expressway to head down to the Royal Orchid Sheraton. The driver did get himself a bit turned around once he exited the expressway, but the back streets at night can be confusing.