I receive compensation for content and many links on this blog. Citibank is an advertising partner of this site, as is American Express, Chase, Barclays and Capital One. Any opinions expressed in this post are my own, and have not been reviewed, approved, or endorsed by my advertising partners. I do not write about all credit cards that are available -- instead focusing on miles, points, and cash back (and currencies that can be converted into the same). Terms apply to the offers and benefits listed on this page.
---
AAdvantage used to be head and shoulders the best frequent flyer program in the United States. Upgrade and award space used to be the best, too. A lot has changed since US Airways management took over American. They have a different philosophy of which routes to fly, and the economy experience has been getting worse.
I don't value an airline's inflight entertainment, and wouldn't mind their getting rid of seat back video, if it didn't also come along with reducing legroom in first class and elbow room in the lavatories. The airline's CEO even though they could get away with not adding seat power to the legacy US Airways fleet which I often refer to as a 'basket of deplorables'.
But American is investing in the domestic fleet, adding seat power and bigger overhead bins and high speed internet even as they're cramming in more seats. AAdvantage has been devalued, but so have most of their competitor frequent flyer programs. Delta was even ahead of American is 'densifying' their fleet (more seats in the same amount of space).
I fly American more than any other domestic airlines though not more than half of my travels these days. When I used to need to go somewhere I'd head over to AA.com and find flights, I don't start there anymore. I used to pay a premium to stick with American, and would even add a connection in Dallas rather than taking a non-stop on a competitor. I don't generally do that anymore, so in that way all of the changes at American over the last four years have probably been good for me.
Nonetheless there are a lot of things that the airline really has going for itself. There are fantastic assets and improvements that shouldn't be overlooked, and should even be celebrated.
Business Class Seats
American's business class seats are better than United's and Delta's. That's going to change as Delta retrofits their fleet with new Delta One Suites — modified Thompson Vantage XL seats with doors. But in the meantime American's direct aisle access fully flat seats are better than the flat seats Delta offers. The current standard B/E Aerospace Super Diamond seat is far superior.

American Airlines Boeing 787-9 Business Class
And United, while the Polaris seat is fine the real innovation in that seat is the ability to offer direct aisle access without taking up more room than United's more antiquated seats. It's a brilliant business play, one that makes the seat no longer a reason to actively avoid United, but it's not as comfortable or spacious as American's Super Diamond seat. And of course United has only retrofitted 5 of their existing aircraft with new Polaris seats in the 21 months since the seat was announced. They haven't retrofitted a single Boeing 777-200.

United Polaris Business Class
Flagship Lounges
United and American offer elevated lounges for international premium cabin customers. While Delta's SkyClubs are marginally better than United Clubs and American's Admirals Clubs, Flagship lounges and United's Polaris lounge in Chicago are better than SkyClubs.
American has managed to open Flagship lounges at New York JFK, Chicago O'Hare, Miami, and Los Angeles. And once American's renovation of their Dallas Fort-Worth A club completes next month they'll move on to building out the DFW Flagship lounge — all the while United has so far opened just a single Polaris lounge.

American Airlines Flagship Lounge Los Angeles
To be sure, I'd rather the Polaris lounge in Chicago a notch above Flagship lounges. However American's Flagship lounges are open to many more guests — not just international business class passengers, but also mid-tier elites flying internationally in coach and oneworld partner mid-tier elites (and American's own ConciergeKey members) flying domestically as well.
What's more American's Flagship Dining experiences in the New York, Miami, and Los Angeles lounges for first class passengers only are better still — in my opinion the best lounge experience in the United States besting even the Qantas first class lounge at LAX.

American Airlines Flagship Dining New York JFK
The Most Accessible Lounges
Delta charges more than United or American for lounge access. Their premium credit card that bundles lounge access doesn't even allow free guests and neither does the Platinum Card by American Express.
We might have said that the most accessible lounges are United's, since the United MileagePlus® Explorer Card comes with two lounges passes each year on cardmember anniversary (and those passes have been widely available inexpensively on eBay) however new passes are now electronic and not nearly as transferable as they were.

American Airlines Admirals Club New York JFK

Made to Order Guacamole in the Currently-Closed Dallas Fort-Worth A Club
Remarkably though the premium AAdvantage co-brand card which has a $450 annual fee and bundles Admiral's Club membership not only includes guest access but offers no annual fee authorized user cards and authorized users can show their card for Admirals Club access, including guests.
You can get as many as 10 authorized user cards for no annual fee, and each can bring up to 2 guests into an Admirals Club. That's access for 33 people in total 'for the price of one'.
Advance Notice of Changes to AAdvantage and Award Charts
Ever since eliminating distance-based oneworld awards and moving to a multi-tiered award pricing system for AAnytime awards overnight in April 2014, American has consistently recognized the need to give members advance notice of changes to the program.
The need to give advance notice of changes was even noted to investors by then-airline President Scott Kirby and in their recent discussion of AAdvantage changes with employees they reiterated that changes to the program would be shared in advance.
I may not like the changes to the program rolled out over the past several years — more expensive award tickets, elite benefits that require a cash co-pay (buying up from the cheapest Basic Economy fares) even for ConciergeKey members that you'd think the airline would want to treat well every time they step into the airport.
However they still maintain award charts, they price awards based on those charts, and they tell customers in advance when they're making changes to the program. Applauding that may seem like 'the soft bigotry of low expectations' but it's something that not all of their competitors do, and after the Supreme Court's decision in Northwest v. Ginsberg there's not much we can do about it when a loyalty program doesn't behave in an honorable or trustworthy manner towards its members.
First Class Awards
First class awards are more expensive than they used to be, but not expensive as United's are. Both United and American first class awards are cheaper than Delta's, whose price is infinite. You cannot redeem SkyMiles for international first class at any price.
I value my AAdvantage miles for first class redemptions. The awards I've booked the most over the last five years have been on Etihad. To be sure American has been a bad partner to Etihad, eliminating codesharing which caused Etihad to cancel their Dallas Fort-Worth flight (which used to be fantastic for award space). But American miles for Etihad First Apartment redemptions have been one of my favorite things in the frequent flyer universe (and here's the hack to get the seats).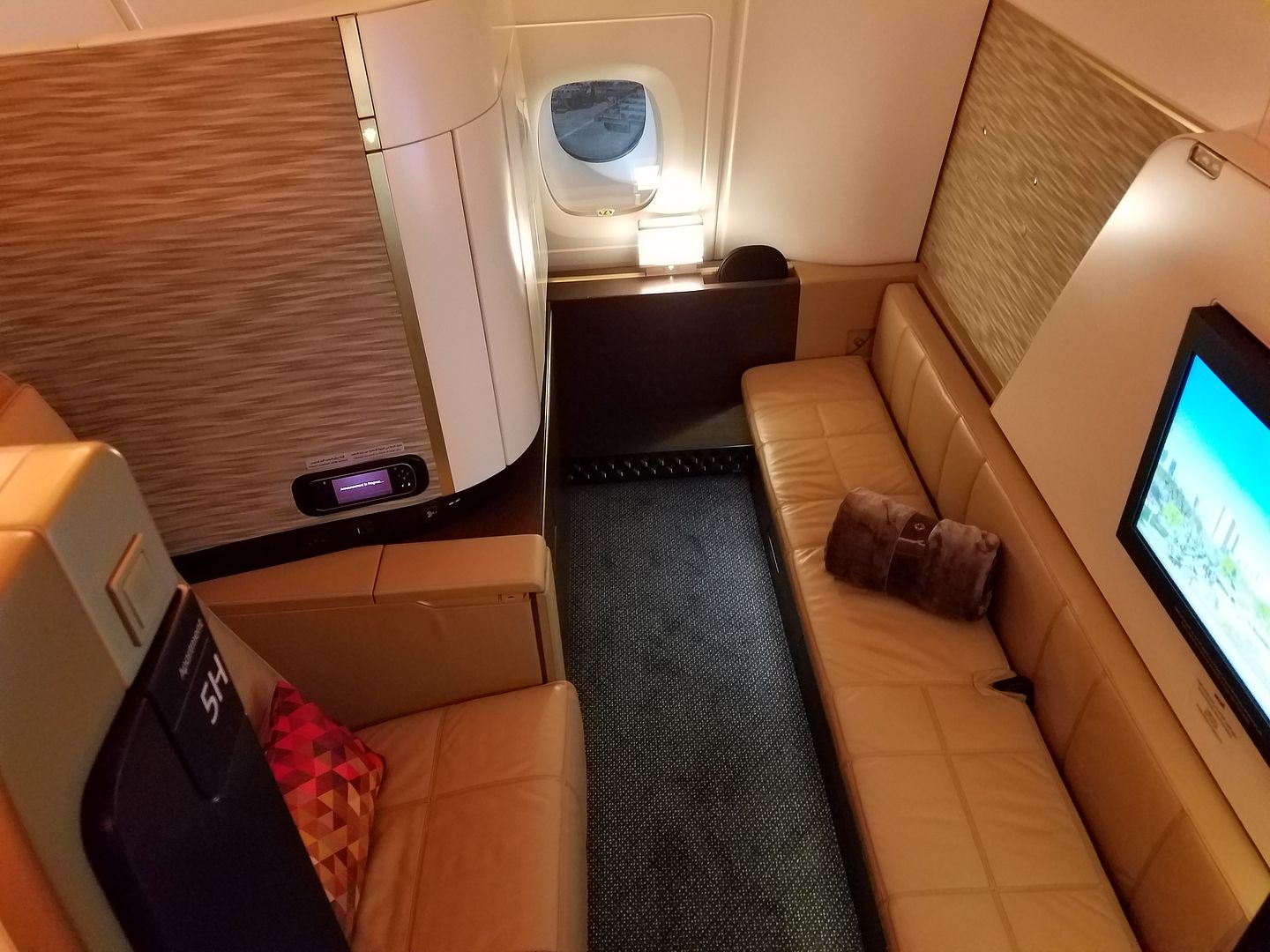 Etihad First Apartment
The award I've claimed next most often over time is Cathay Pacific first class. Cathay has just 6 first class seats per flight and doesn't often make two awards available in advance at the same time anymore (although sometimes they do). They have more access to Cathay space than Alaska Airlines does.

Cathay Pacific First Class
Japan Airlines first class is a phenomenal product and offers good availability, which turns into great availability within a couple of weeks of travel.
To be sure finding more than one first class award on Malaysia Airlines isn't really an option most of the time, and British Airways first class isn't first class, but at least if they're going to whack members for fuel surcharges on BA redemptions you can fly first class rather than their laggard business.

British Airways First Class
High speed internet
American isn't just upgrading their domestic fleet to offer high speed satellite internet, they expect that project to complete for their current fleet by a little over a year from now.
What's more monthly gogo internet subscriptions will be valid for satellite internet — on both gogo and ViaSat-equipped planes.

Speed Test Onboard Gogo's 737 'Jimmy Ray'
Business ExtrAA double dipping
Southwest Airlines launched the "Southwest Sweethearts Club" in 1972, awarding secretaries with credits towards travel for each flight they booked for their boss (15 one way flights earned them a free one way ticket, and 120 one ways for their boss entered them into a raffle for a free vacation). In 1980 the program was renamed "Southwest Secretary Club."
Awarding the travel decision-maker and not just the traveler is an important element of marketing, and United, Delta, and American all offer a small business program that earns points for the company on top of the miles earned by the traveler. United's PerksPlus and Delta's SkyBonus are similar to American's Business ExtrAA program however I've always found American's program more accessible.
For instance United has minimum revenue requirements to stay in the program, Delta instituted minimum requirements in 2016, while I haven't seen any great culling of members from Business ExtrAA. I've also been a part of a federal criminal trial involving SkyBonus and have heard from another person being prosecuted in a similar case. So on that basis alone I prefer the Business ExtrAA program.
I redeem Business ExtrAA points to gift gold status to friends, and a similar number of points allows gifting Admiral's Club memberships. I've always kept a stack of one segment domestic upgrade awards, great for upgrading premium transcon flights from business to first class and still useful (even with less confirmable domestic upgrade space these days) for routes on which I don't want to change a complimentary upgrade. They're not valid on the lowest fare codes, but my tickets often do qualify, and I'll set up an ExpertFlyer alert for confirmable C inventory and then ring up meeting services to process the upgrade.
More upgrades than Delta
Delta was selling 57% of first class seats for some amount of cash in 2015. They set a goal to be hitting 70% this year. That doesn't leave many seats for upgrades. And in fact they've even started calling extra legroom seats an upgrade conditioning their elites that that's all they should be able to expect.
Delta does offer cocktails (and snacks on longer flights) and dedicated overhead bins for their extra legroom seats, but American is matching on the cocktail and bin front (but not snacks). Executive Platinum and ConciergeKey members still do get complimentary snacks in coach of course.
However the important differentiator between Delta and American is that while American too monetizes their first class cabin far more than they used to they aren't selling nearly as many domestic first class seats as Delta. So there are plenty more seats left over for upgrade. And unlike United they don't sell those seats at check-in to non-status members by pointing out how many elites are waiting for the seat.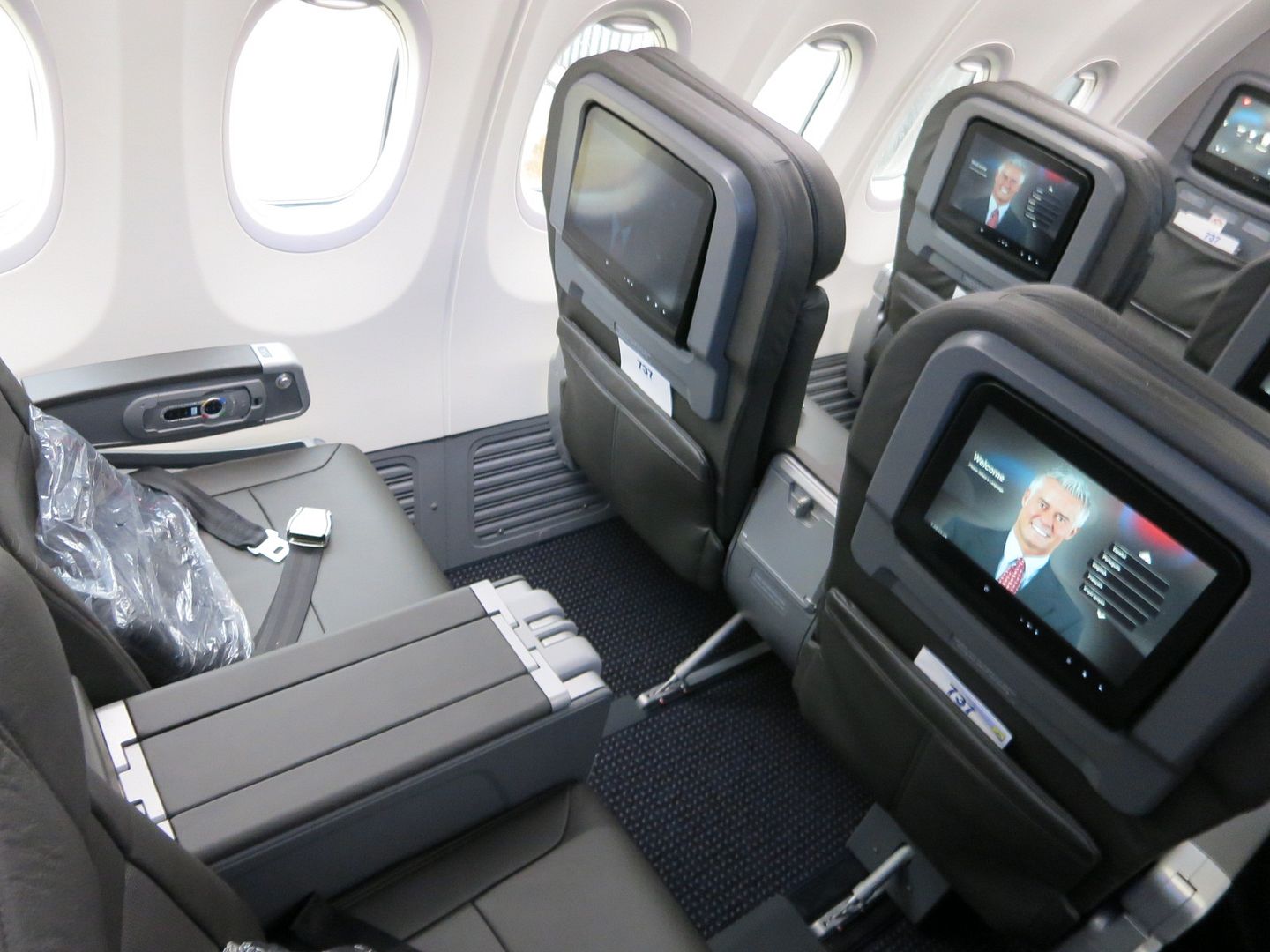 American Airlines Boeing 737-800 First Class
To be sure the introduction of a 75,000 mile elite tier and re-ordering upgrade priority to base it on spend within the previous 12 months puts the airline's lifetime Platinum elites at the back of the line for upgrades. That was a real slap at 2 million milers. The million mile program needs to be addressed. But there are more seats for upgrade on American than on Delta, and American reserves those unsold seats for elites to a greater extent than United.
The Best Transcon Product — With Complimentary Upgrades
American's business class is competitive with United's and Delta's. However American is the only airline offering a three-cabin first class product on its premium transcon flights between New York JFK and Los Angeles and San Francisco.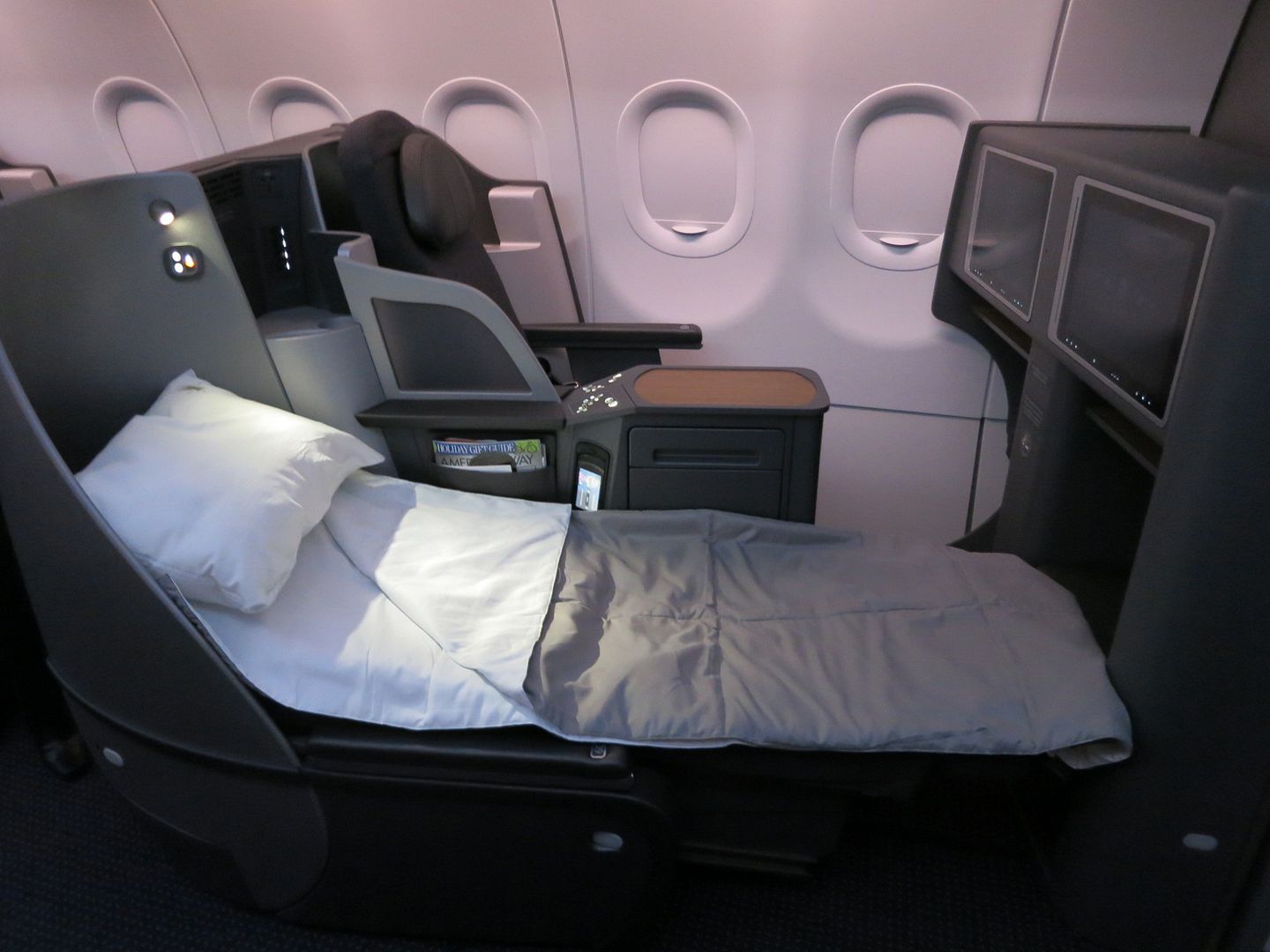 The first class A321T seat is essentially the same as the international business class seat on American's Boeing 777-300ERs, arranged in a 1-1 configuration meaning each is both a window and an aisle seat. And American's first class ground experience in both Los Angeles and New York JFK includes access to Flagship First Dining.
To be sure American doesn't offer the product on as many routes as their competitors do but one thing that's a real advantage on the two routes they do is that domestic upgrades are available from economy to business class for elites (and therefore complimentary for Platinum Pro, Executive Platinum, and ConciergeKey members) and available via upgrade instrument from business class to first class (including Business ExtrAA upgrade certs).
What These 9 Things Have in Common
American Airlines shines when they strive to deliver a premium product and offer value to their customers. They have the capability to be a great airline, the problem is that they aren't always consistent in deciding to be one. Employees are confused by a stripped down standard domestic inflight product, they're under pressure to get flights out exactly on-time and sacrifice customer service, and basic economy fares undermine the message that staff are supposed to be treating customers well with every interaction.
If American would focus on their premium investments, on their loyalty AAdvantage members, and strive to offer a consistent experience (and not merely fleet) delivering value with each interaction they could earn – and would be worth – a revenue premium.
---
CitiBusiness® / AAdvantage® Platinum Select® Mastercard®
Earn 65,000 AAdvantage miles.