Took the US Airways Shuttle up to LaGuardia, and I had to lug a whole bunch of stuff along – actually wound up checking a bag. Now here's the rub. With the new baggage fees, US Airways actually makes it difficult to credit miles to their program. My Dividend Miles number was in the reservation, and they couldn't waive the baggage fees simply by my showing my Star Alliance Gold card. The agent insisted the elite number has to be in the reservation. "Ok, but I just thought I'd save US Airways the money buying miles from another program… I gave them another frequent flyer program, they waived the baggage fee, and then I changed the frequent flyer number back at the customer service counter by the gate (there was no time to visit the lounge – I wanted a Five Guys burger instead).
On the way back I flew Delta, and a Saturday afternoon flight combined with my Northwest Platinum status made the upgrade on the regional jet now serving the route easy. I face a clear tradeoff with the DCA flights out of LaGuardia, though – I can fly US Airways in coach on a mainline jet and use their lounge prior to departure, or I can fly first class on Delta on a regional jet, and the Delta lounge is in a different terminal. On the whole US Airways is probably the better option, though seating in the Marine Air Terminal is perfectly comfortable.
But a simple DC – New York roundtrip isn't so much worth writing about – although I did get to see my first squatte in first in class in all of my years of travel. With open seating on Delta, and first class only half full, it's not surprising. But I caught him long before the flight attendant did. He walked on with coach, looked around somewhat nervously, and plopped himself down in row 1 which was completely empty. The flight attendant took his jacket, he settled in, and then she came back around checking boarding passes to make sure everyone belonged at the front of the aircraft. She ejected him to the back and he stomped off muttering something about how "they should really tell you that those seats weren't for him.
I was especially pleased to check out Le Parker Meridien in Manhattan, where I had never stayed before because it didn't participate in the Starwood Preferred Guest program until this past December. It entered the program at Category 6. With the annual February hotel recategorizations, it was dropped to Category 5.
That meant two things: I could use my Platinum free weekend night gift there, and that I could expect to receive benefits – they've developed a reputation for always giving Platinums junior suites.
I tend to stay at fairly mid-level New York hotels, and given my usual standards I'm fairly disappointed. The Grand Hyatt used to be an outstanding deal, first years ago when it could be had on Priceline for $75 and later when it was available via Hyatt Gift Certificates (which I'd purchase after making my reservation, and which are cancelable/changeable) for $165 including tax – when the hotel was asking $469+tax a night or more. And I've stayed at the Sheraton New York, the Embassy Suites in Battery Park, the Waldorf Astoria, the Intercontinental Barclay (which consistently provides suite upgrades to Royal Ambassadors, and which of course means free drinks from the minibar), the W New York, and countless others in those same general classes of hotels.
The Grand Hyatt is a bit of a nightmare, the a busy lobby, indifferent club lounge staff, and thin walls. The W rooms are so tiny and platinum upgrades so scarce there's a reason why that is the least favored W – not just in New York, but the world. The Waldorf lobby is a tourist zoo, the hotel was once grand but now is an upscale Hilton. The Barclay is a bit more subdued, though not really my style.
I have to say that the Parker Meridien is much nicer. It's not a great hotel by world standards, but it's outstanding by New York standards. The staff seem to think it's nicer than it is, and there were certainly some misses, but it's worth returning to.
At check-in I was given a junior suite (no view) and was told that since it was my first stay at the property I was welcome to a drink from the minibar. Late checkout was obtained without any difficulty. So status does mean something here, albeit with no club lounge.
The hotel is somewhat stylish, though the furnishings in the room felt a little cheap, dorm room-esque in a way. And the bed wasn't particularly comfortable.
Hallway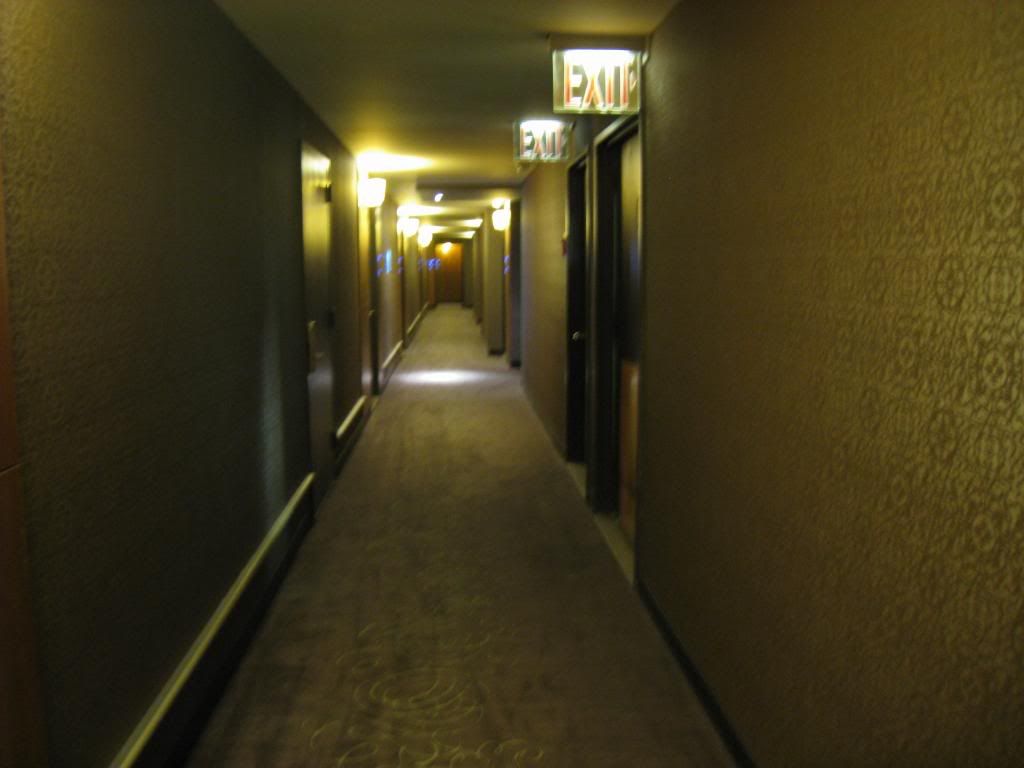 Desk area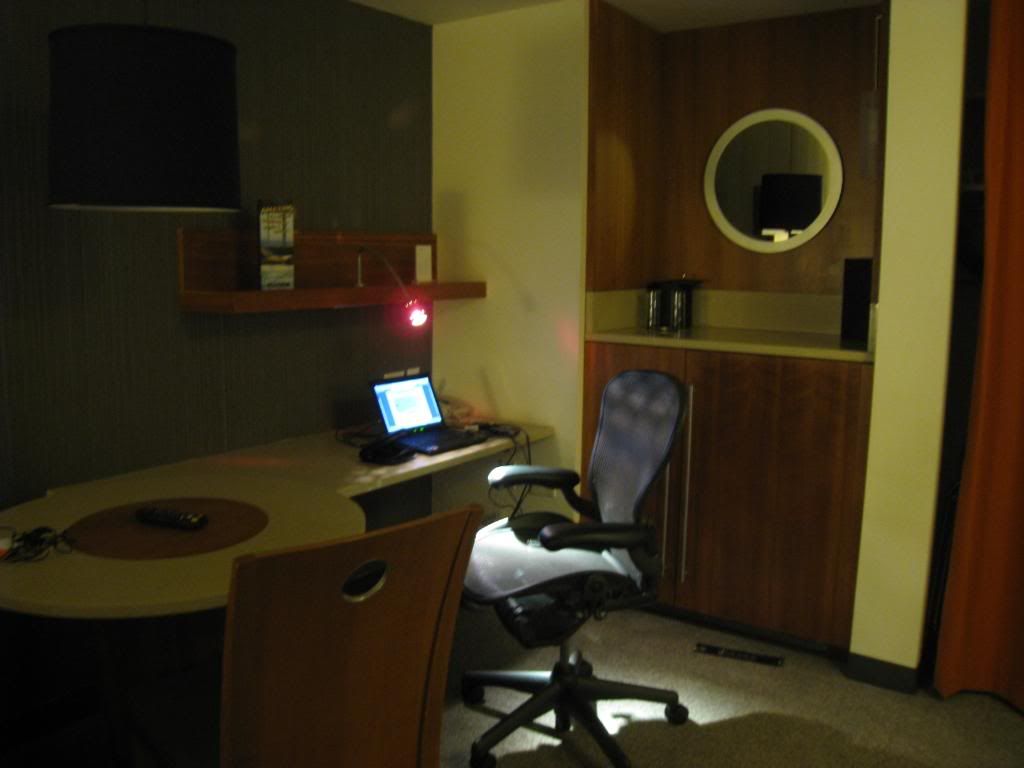 Bathroom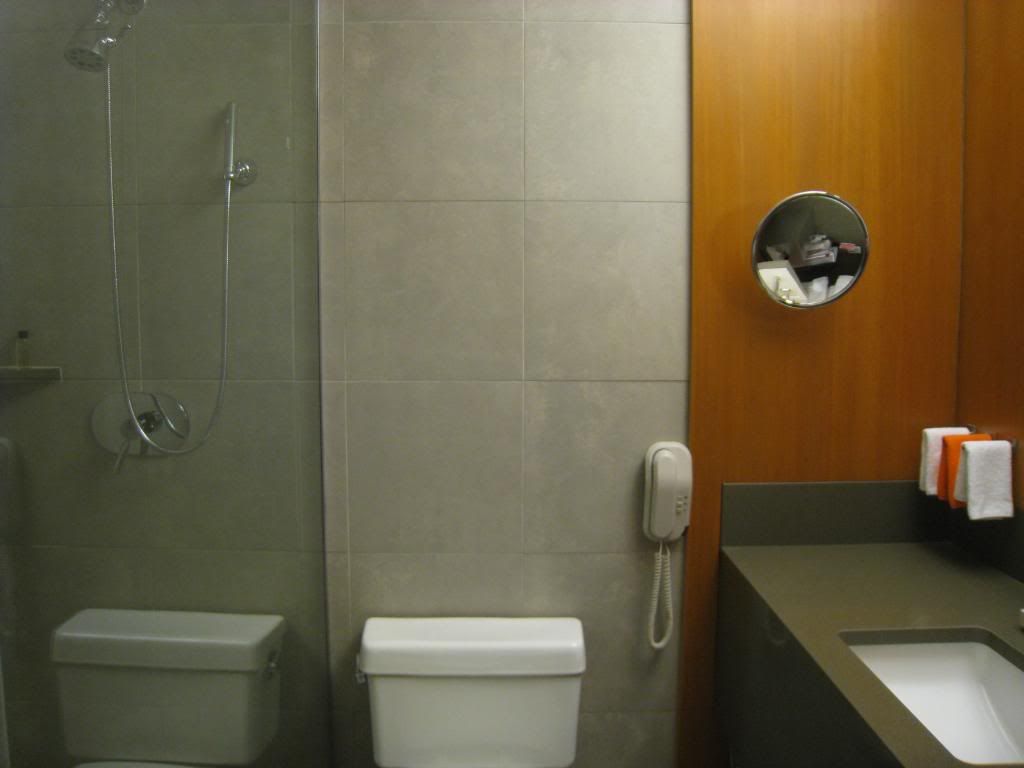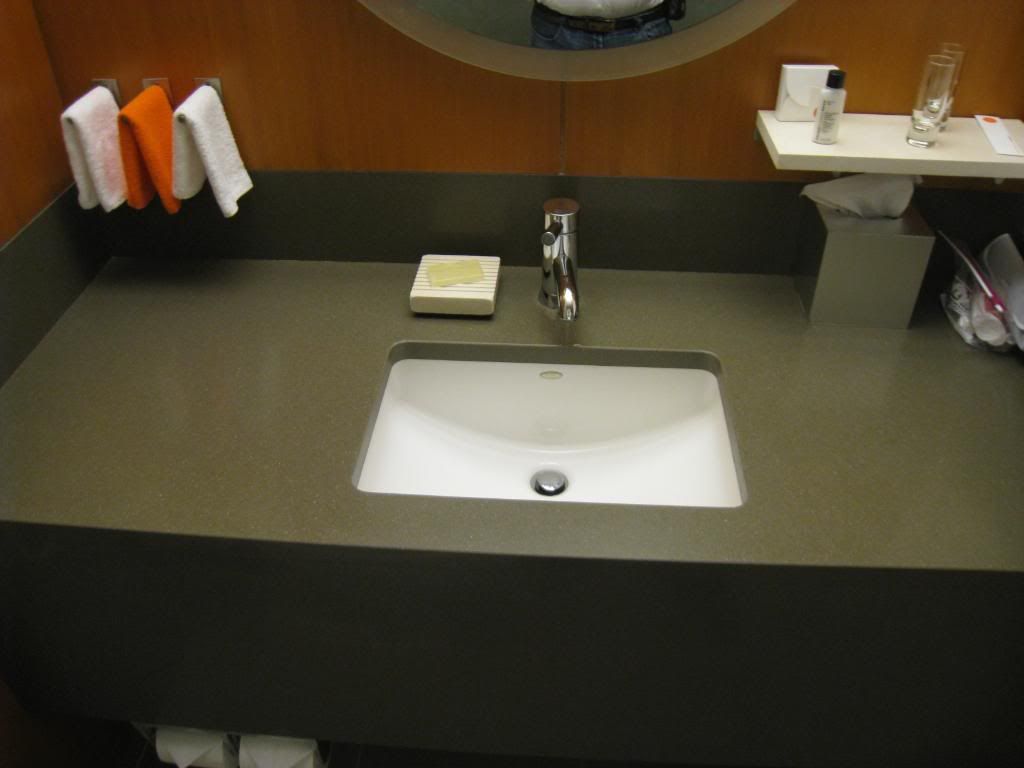 Living room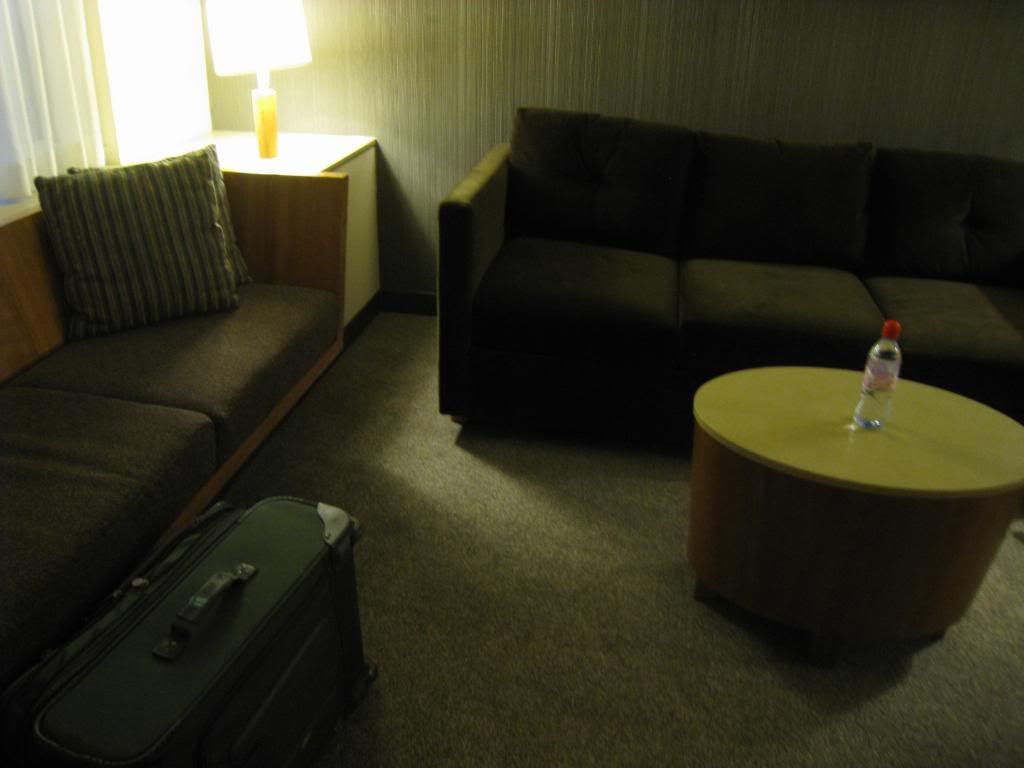 Swiveling TV

Bed

These junior suites feature one TV for both the living room and bedroom, and they swivel around on a pole so you can use the same TV in either room.
Water pressure was good in the bathroom, the water tended towards the extra hot side, and you needed to use a good bit of pressure in the bathroom sink in order to get the water to clear the basin.
There was no data jack for the wired internet (and no wireless). You can contact the concierge for a data jack, I have no idea whether they lend it to you or sell it to you, as I carry my own along with a pocket router. I was overcharged for internet though and that had to be sorted out at checkout – it was clearly impossible for me to have used three days' of internet (each buys 24 hours' service) on a stay of less than 48 hours.
The hotel is famous for breakfast at Norma's, which I didn't drop into on this visit, and also for Burger Joint. It's a simple burger restaurant, inexpensive and with lines wrapping outside into the hotel lobby.
They get $7 for a hamburger, $7.50 for a cheeseburger, and have a limited number of toppings (no bacon) which are included. Fries, milkshakes, sodas round out the menu.
The lines are slow, and the staff can be rude.
The one trick here is to call down and place your order, instead of waiting in line. I called the concierge desk, who connected me to Burger Joint. When they answered, instead of talking to me straight away, I heard the guy on the other end of the line say, "I don't know what happened to that F'ing order! And then he took mine, brusquely. Ah, back in New York!
Then it's downstairs to pick up the burgers, you just walk past the entire line and to the front, get the attention of the cashier and pay for your order and they hand you your takeout bag. Seating here is tough to get most times, if you do want a table make sure someone is scouting them out and watching for people to leave while another member of the party handles the order and payment. But heading back upstairs to the suite suited me better, I'm often just not a huge fan of crowds.
Burger Joint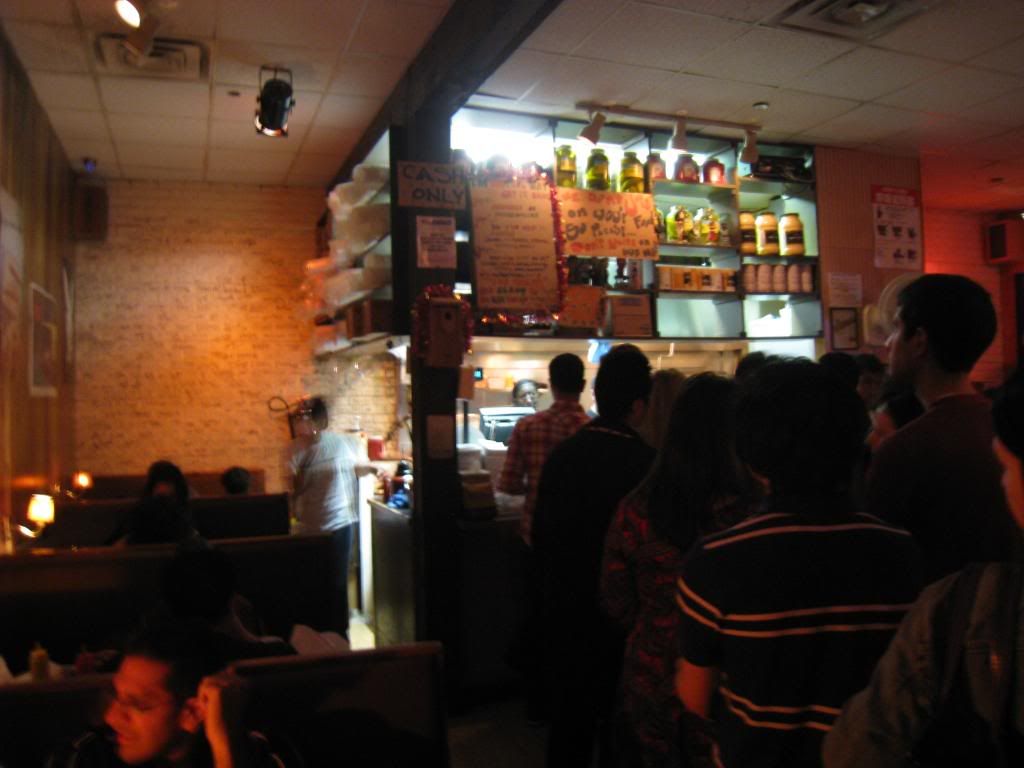 I stopped at the concierge desk on my way down to pick up the burgers, The woman behind the desk was arguing with a guest, apparently he had questions about some Broadway shows and she didn't have the latest guide. He thought it was preposterous that her information was out of date, and she was apoplectic – she was all alone, how could she possibly go get him a new guide?
He was frustrated, complaining that he should get better help for his room rate (most people fail to attenuate their expectations properly for cities like New York, calculating that a $300 room night must buy excellent service). The concierge finally got rid of him, and then slouched forward on the desk rolling her eyes as she looked towards me for sympathy. However the situation developed she handled it extremely unprofessionally, and it was quite the scene in the lobby.
During my stay I had the pleasure of lunch with Wendy Perrin of the Perrin Post and Conde Nast Traveler magazine, she treated in the Frank Gehry-designed Conde Nast cafeteria. (Thanks, Wendy!) And I also made it down to Katz's Delicatessan on the Lower East Side.
Katz offers an expensive sandwich – nearly $15 for a pastrami or corned beef. They're hardly conveniently located for nearly anything I'd find myself doing. They're touristy, having been the site of the Harry Met Sally deli scene. And it can be difficult to get a table at peak times.
Their knishes are only okay, and their cole slaw is above average rather than truly great. But they're still my favorite for the most delicious pastrami, so I make the pilgrimage.