Debating Whether or Not to Share This
I struggled with whether to post this or not. Since US Airways joined oneworld a month ago there's been a big opportunity. But I also suspected that once I posted it, the opportunity would disappear quickly.
There's always a balance. I want as many people as possible to benefit from a deal, but I also don't want to overexpose something either. If I think something is sustainable I will post it. If I think that an opportunity will end from my shedding a light on it I won't. I don't always get the balance right, but I do my best.
This deal was posted on a handful of minor blog sites, and I didn't take the bait. But this morning I saw The Points Guy cover it. And I know that American's PR shop, at least, has in the past monitored what's posted there. So this now falls into the bucket, for me, of very short-term opportunities that folks should know about before it's gone.
Fuel Surcharges Really Kill the Value of British Airways Awards
Fuel surcharges are more or less bogus fees in the context of award tickets, and can really add up fast.
United (and Avianca's LifeMiles) does not add them to any award tickets. Delta adds them only to a few partners like China Southern and Air Tahiti Nui (they also add an international origin surcharge to European-originating award itineraries). American adds them to British Airways award tickets and in a very modest way to Iberia tickets.
In fact every British Airways partner adds them to award tickets for travel on British Airways. At least.. they're supposed to.
(Update: A reader reminds by email that LAN doesn't add fuel surcharges to BA awards, but their long haul charts are expensive in their own way.)
In some sense it can be very well 'worth it' for premium cabin awards to pay a fuel surhcarge. You get a first class ticket for less than the price of coach, it can be akin to buying deep discounted coach that doesn't earn miles and getting a triple upgrade for your points.
Just How Much Money Are We Talking About?
Fuel surcharges on British Airways can be astronomical. San Francisco – London roundtrip in first class costs $904 in fuel surcharges alone.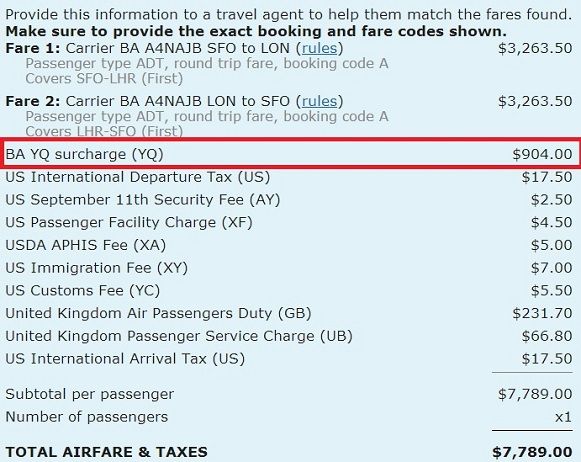 New York – London roundtrip is only just slightly lower.
New York – London – Johannesburg and return on British Airways in first class runs $1430. That's fuel surcharges, plus airport and immigration taxes, and is in addition to the miles you're spending for a so-called 'free' ticket.
A Short Window to Save
Here's the opportunity: US Airways is supposed to be adding fuel surcharges to British Airways awards. But they haven't been since they joined oneworld a month ago.
Using British Airways to Maximize US Airways Award Tickets
British Airways isn't the best first class product in the world, or in oneworld, but it's the best option for first class using US Airways miles to get across the Atlantic. And it's an option for getting to Africa.
What's more, now that US Airways has raised the roundtrip price of business class from North America to North Asia (e.g. Hong Kong) from 90,000 to 110,000… that just means a first class award is a relatively better value at just 5000 extra points each way.
Unlike American which does not permit travel from the US to Asia via Europe, US Airways has no such routing restrictions. You can fly from the US to Hong Kong via London for 120,000 miles roundtrip in first class.
You can have a stopover in London (which would trigger the UK's premium cabin departure taxes) or elsewhere in Europe. Continue on in Cathay Pacific's first class to Hong Kong.
You could even return in Japan Airlines first class.
Normally an Atlantic crossing in first class through oneworld is very expensive — you can't find American award space often, and British Airways space is so costly (Delta members can't redeem for first class awards via program rules, and United members are mostly limited to flying first class on United across the Pond, so it's hardly a relative disadvantage).
Finding Availability
British Airways awards aren't nearly as easy to get as they used to be, especially from the West Coast, but BA flies to more US cities than any other European airline. East Coast gateways are easier to find space — especially Philadelphia and New York JFK but also occasionally Atlanta and even Chicago. And US Airways and American first class domestic award space is reasonably good for reaching your international gateway.
Making Changes to an Award
Book your award, lock it in, but do not assume you will be able to change it later (even for a change fee) while retaining current pricing.
If US Airways re-issues the ticket they should recalculate the taxes owed. And if they've changed their pricing to add fuel surcharges at that point, you can expect to have those collected at the time your ticket is changed.
---