I noted yesterday that American is launching a second daily Los Angeles – London flight. That gives American two flights, and their joint venture partner British Airways two flights. (BA used to operate three flights, but reduced frequency when they up-gauged to an Airbus A380 from LAX.)
Often when flights are loaded into a system there are anomalies with frequent flyer award space. And sometimes they're just lightly sold so award space is more available than you'd otherwise expect. (On the other hand, sometimes with a new route an airline isn't sure what its sales patterns will be, they don't have historical data, so they can be extra tight-fisted.)
Per One Mile at a Time, when between March 28 when the new flight comes onto the schedule and May 31 the first class cabin on Los Angeles – London is completely open for awards — every day.
Here's American's award calendar for 6 passengers in first class in April and May 2015:
Same story for the reverse, London Heathrow – Los Angeles: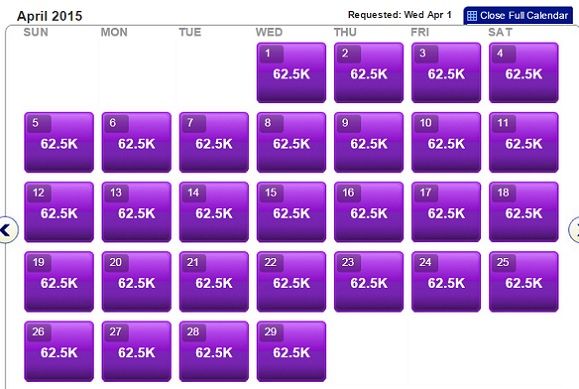 The flight is operated by a Boeing 777-300ER, which means it is American's new first class and not the old Flagship Suite.
There's both a first class Flagship Lounge at Heathrow, and an Arrivals lounge which I much like. And of course you can also connect beyond Heathrow especially using American's partner British Airways.
I don't see any business class availability on thee flights, but the incremental mileage cost of first class is just 12,500 miles each way. This is a great value, worth jumping on, especially as West Coast – Europe premium cabin awards can be really tough to get.
Lucky also notes that the new American flights that start in May from New York JFK to Birmingham and Edinburgh do not have business class award space loaded but economy is wide open on both.
This definitely won't last so if these award flights can possibly help you, you'll want to jump now!
---