Alaska Airlines announced that they'll be eliminating the Virgin America brand sometime in 2019. Along with that they've made several product change announcements.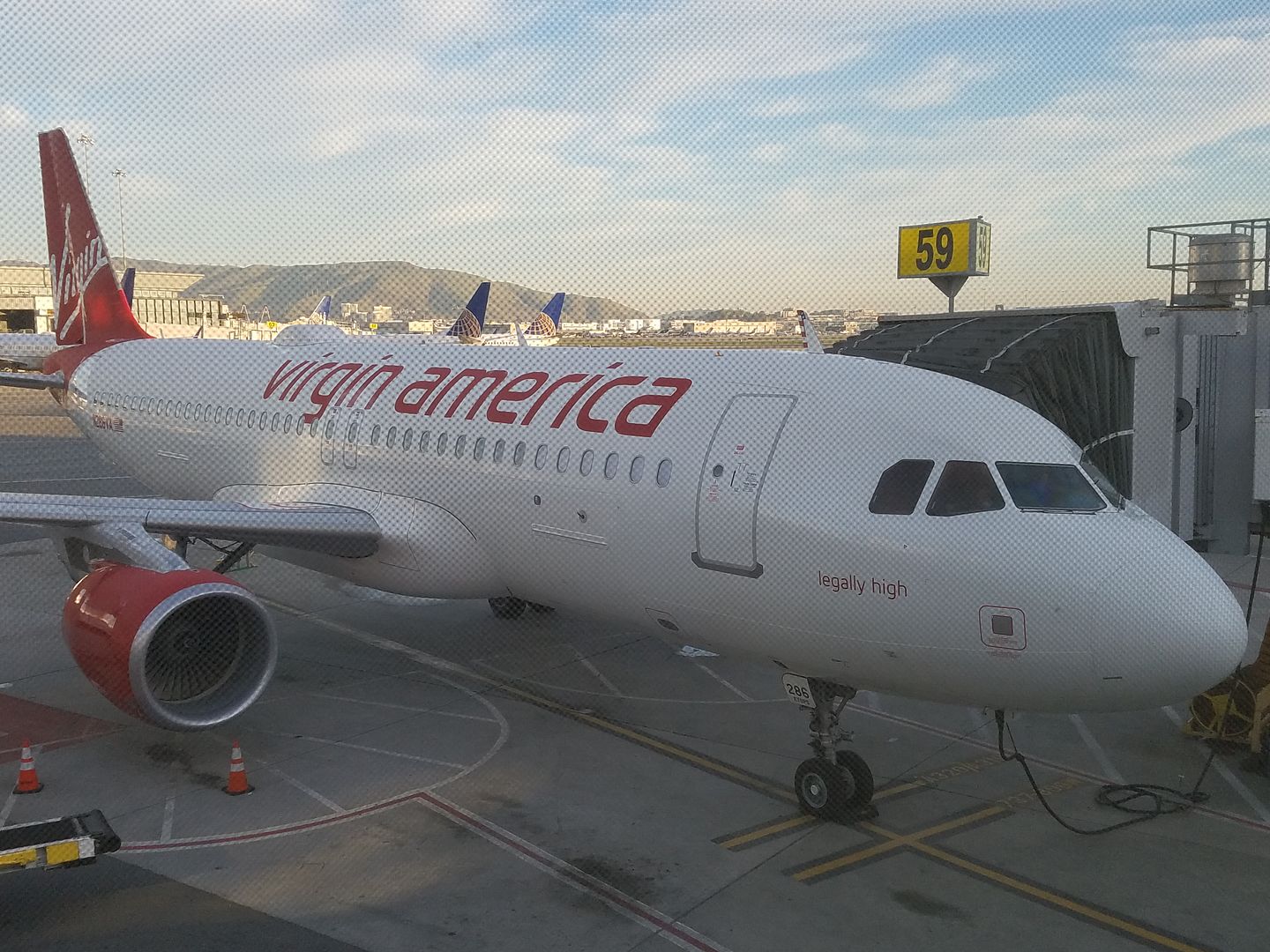 Even when Alaska said they might keep the Virgin brand it was obvious they wouldn't, because there's no way they were going to keep paying Richard Branson 0.7% of revenue off the top, and even if they negotiated the licensing fee down a consistent Alaska Airlines brand is part of the bet on making the acquisition work — selling former Virgin America customers in California on the Bank of America co-brand credit card.
What's saddest to me is that ending the Virgin America brand means replacing Virgin America first class with Alaska Airlines first class. Virgin had the best short haul first class seats in the country, big recliners with foot rests.
They weren't competitive in the transcon market where other airlines offer fully flat seats
No one else offered anything close on shorter routes, so Alaska loses little by removing the product and adding seats.
While the better product didn't make business sense, since it didn't earn enough of a revenue premium, the loss of passenger experience is worth lamenting.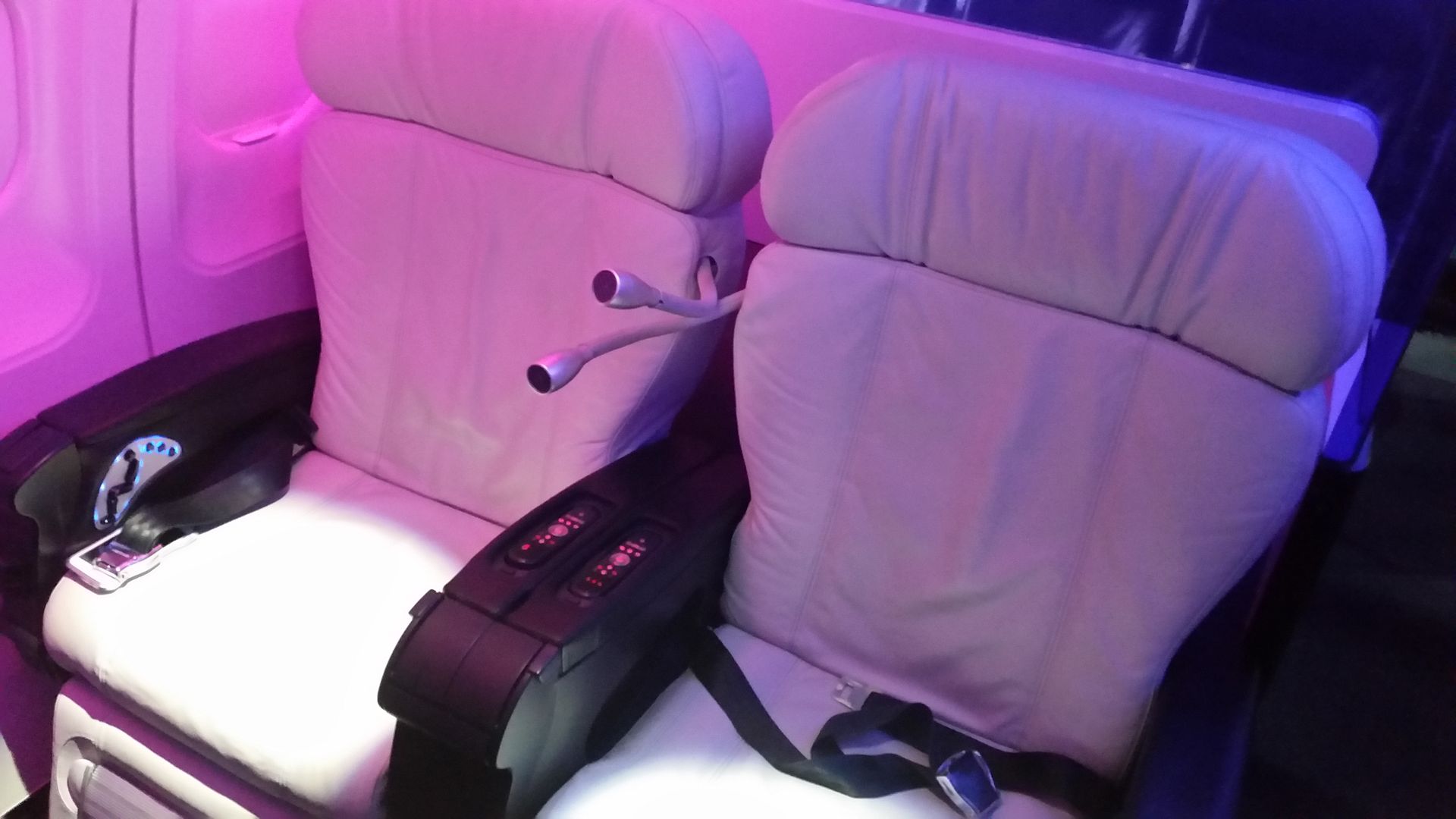 At the same time, Alaska recognizes that to win over Virgin customers and win its West Coast markets, they need to invest in their product. And they've made several announcements about how they'll do that.
Music, mood lighting, and new seats.

Music from fresh new artists will be featured on planes, in airport lobbies and at gates. In 2018, we'll debut an entirely redesigned cabin with new seats and amenities, and we've already started to retrofit select Boeing aircraft with expressive blue mood lighting. Modern, stylish uniforms by fashion designer Luly Yang will roll out in mid-2019 for flight attendants, customer service agents, pilots, mechanics and ground crew.


Credit: Alaska Airlines

Satellite Internet

[B]eginning in fall 2018 will be retrofitting all Boeing passenger jets with high-speed satellite Wi-Fi (fast enough to watch movies or TV shows via your favorite streaming service!), with the remainder of the Airbus fleet to follow. Both fleets are planned to be fully satellite-equipped by the end of 2019.

Free Movies and Chat on Virgin Planes Coming in August

Starting now, free entertainment on guests' own devices will be a permanent feature on our Boeing fleet and the same free library of movies and TV shows will expand to Airbus aircraft via Red entertainment system in August 2017. Guests on Airbus aircraft will continue to enjoy access to early release movies for purchase.

…In August 2017, we'll introduce Free Chat [Facebook Messenger, WhatsApp and iMessage] to Airbus-operated flights.

Extra Legroom Coach Seats and More Mediocre First Class Seats on Virgin Planes

Beginning in the fourth quarter of 2018, the airline will add 18 new Premium Class seats to Airbus aircraft, as well as adding first class seats (going from eight seats to 12) customized for enhanced comfort: 41 inches of pitch, improved seatback storage pockets, cup holders, footrests and personal power outlets throughout the cabin.

Complimentary Upgrades on Virgin Planes in Late 2018

For the uninitiated, Virgin America status offered cheap buy ups to first close to departure — but no complimentary upgrades. Of course when you bought up you got a better product.

Mileage Plan MVP Golds and above are upgraded to First Class or Premium Class 75 percent of the time (based on average historic system wide rates of upgrade) on Alaska Airlines flights. Complimentary upgrades on Airbus flights will debut for the first time ever in late 2018 – a brand-new perk for Virgin America elites.


Credit: Alaska Airlines

Pre-order Meals are Coming to Both Cabins

By June 2017, Alaska First Class passengers will be able to pre-select meals before they fly, and by early 2018, Alaska's Main Cabin passengers will be able to pre-pay for their meals before they fly. Food pre-ordering will be extended to Airbus flights sometime in the future

New Lounges Coming to San Francisco and New York JFK Alaska club members of course can access the American Airlines club in San Francisco, and American and legacy Virgin currently share a terminal at the airport.
Single Frequent Flyer Program in 2018 Alaska Airlines Mileage Plan will become the loyalty program for both airlines in 2018, and they continue to emphasize earning one mile per mile flown setting Mileage Plan apart in the U.S. industry.
Mark Calvey points out there's no announcement yet on whether Virgin America's on-demand food service will survive integration of the two airlines.
So is Alaska's leadership putting the tough decision on hold, hoping that on-demand food service dies a quiet death? Asked what the odds are that on-demand food service will eventually find its way on the new Alaska Airlines — 100 percent, 80 percent or 50-50 — Harrison said, "I can tell you that it's more likely than not."

Harrison and his team see an opportunity to improve the service. …"It's not easy serving the child in row six who orders peanuts six times during the flight, making it harder for flight attendants to serve other guests," Harrison said. Plus, it means flight attendants spend a lot of their time running up and down aisles, making on-demand food service virtually a nonstarter at legacy carriers.
Eliminating Virgin America's superior domestic first class product is sad but predictable. A plan for fast wifi is great, and crucial for key Virgin markets. Virgin was long strong in upgrading their air-to-ground offering, because uptake on their flights is much higher than average especially on routes like San Francisco – Boston and San Francisco – Austin.
Music and free chat though? I suppose those will matter to some.