Lots of folks reached out yesterday to let me know that Etihad awards are now bookable again with American AAdvantage miles.
For instance I was pointed to this Traveling Better thread and @matthewsar tweeted me:
Over the past month American has had technical problems booking Etihad award space and some folks even saw black helicopters about the end of American-Etihad partnership which I contended made no sense (at least that the technical glitch wouldn't have been indicative of that, although I have no inside information about the two airlines' happiness with the relationship).
Some folks may consider this minor news. I see it as a big deal. Although American's award routing rules can be restrictive especially through the Middle East (with the exception of some Qatar routings), Etihad offers some of the most generous award space in the world.
American is the only US frequent flyer partner they have, and AAdvantage awards on Etihad aren't bookable online. That means there's little competition for the space.
They're fantastic for travel to the Middle East, to India, and to nearby places like the Maldives.
Etihad's North American gateways are New York JFK, Washington Dulles, Toronto, Chicago, Dallas, and Los Angeles. (Chicago and Toronto flights do not offer first class.)
I've flown Etihad first class:

I confirmed that Etihad's flights are again bookable by AAdvantage, I had no problem and did not receive any skepticism or pushback from the agent.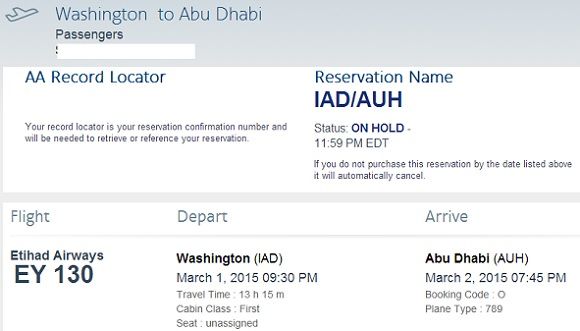 Don't go trying to mess with my reservation, I've cancelled it prior to posting.
Now to book that fourth trip to the Maldives…
---