I receive compensation for content and many links on this blog. Citibank is an advertising partner of this site, as is American Express, Chase, Barclays and Capital One. Any opinions expressed in this post are my own, and have not been reviewed, approved, or endorsed by my advertising partners. I do not write about all credit cards that are available -- instead focusing on miles, points, and cash back (and currencies that can be converted into the same). Terms apply to the offers and benefits listed on this page.
---
Three years ago I wrote a post on getting the most value out of Virgin Atlantic miles. It's surprising one of the more popular and enduring posts I've written. I had simply dashed it off one morning, prompted by a reader, while staying at the Hyatt Regency in Danang.
My contention was that Virgin Atlantic's miles were among the least valuable currencies, but that there are actually some incredible sweet spots that most people don't consider.
And you should because Chase, American Express, and Citibank all offer transfers to Virgin Atlantic. And some of the best award redemptions are sitting right under your nose with points you already have from your Chase Sapphire Preferred Card (or should have!).
Even though Virgin Atlantic Flying Club raised redemption prices for Virgin Atlantic travel and no longer partners with Virgin America the great value persists even to this day.
Partner award redemptions are roundtrip

The award charts are now hidden off the website (shares of 49% owner Delta)

These must be booked by phone, not online, and it usually seems like call center agents have never booked a partner award before

But the best ones seem to still be available
I will grant you that getting a Virgin Atlantic agent to find and book otherwise available Air China first class award space (London – Beijing in first class just 75,000 miles roundtrip) is nearly impossible.
Let me share with you my favorite Virgin Atlantic Flying Club redemption: ANA premium cabin awards.
In general they seem to have access to the same space that Star Alliance partners have, so search for space on the Aeroplan or United websites then call.
The prices are super cheap.
Although Virgin Atlantic does pass on fuel surcharges that would be included in a paid fare, ANA awards to Japan (and North Asia generally) are super cheap.
Here's the award chart I shared three years ago: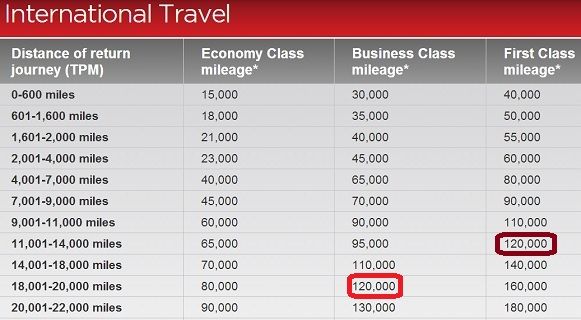 For the awards I've booked it still seems to be intact although they could change at any time and it's always a good idea to check that Virgin Atlantic sees availability of the flights you want and what they want to price it at before transferring points.
You will fly only ANA, you cannot combine travel with other airlines, so you need to start and end in a city that ANA serves like New York JFK, Washington Dulles, Chicago, Houston, Los Angeles, San Jose, San Francisco, or Seattle. 120,000 miles will buy you Chicago – Tokyo roundtrip in first class.
And those fuel surcharges — between New York and Tokyo? Roundtrip just $4:
ANA first class used to be tough to find, but especially during the fall and winter months and out of Chicago and Houston I find it reasonably easy to get.
United charges 220,000 miles roundtrip between the US and Japan. Virgin Atlantic charges half that from the West Coast, just over half from the East Coast and middle of the country.
That's a great use of points from your Chase Sapphire Preferred Card, Chase Ink Business Preferred.
---
CitiBusiness® / AAdvantage® Platinum Select® Mastercard®
Earn 65,000 AAdvantage miles.