At last Thursday's American Airlines employee Q&A with management, someone asked American's CEO Doug Parker how to talk to people who prefer Southwest over American 'for their flexibility'. And Parker did a fantastic job explaining how American thinks about its business, and its pricing strategies.
This employee asked, "Whenever I run into anybody finds out I work for American, here it comes. And I hear this from virtually all of them. 'I take Southwest over you guys every time because of the flexibility there'."
Doug Parker said "well you've got to find some new friends, first of all."
They wound up both mistakenly talking about Southwest not having any change fees and allowing customers to just get on an earlier flight which is something that — if you aren't an elite with Southwest — you aren't going to be able to just do. You're going to have to change your ticket, there's no change fee, but you do pay the difference in fare. If the new ticket is more expensive you'll pay to fly earlier.
Parker's message, though, is that Southwest's "product's different than ours, much much different. As a result we end up with a product that works for us, and if we have that kind of flexibility we won't have the same product."
He said it's difficult to explain why their business is different than Southwest's, "It's probably easier to say 'go fly the cattle car'." But then he goes on to distinguish what he thinks is different about Southwest Airlines and American.
They fly point-to-point network, people aren't connecting. They do that with really high utilization so their costs are lower than ours. But they can't take you everywhere in the world like we do. And they don't have a lot of business customers on their airplanes, so they pretty much sell the whole airplane at pretty much the same price point, they don't have huge differences in prices. Our product doesn't work that way because we serve such a diverse group of customers, leisure plus business, and because we serve so many points around the world that matter to both international destinations, first class service, but it's not just first class people that are willing to pay more.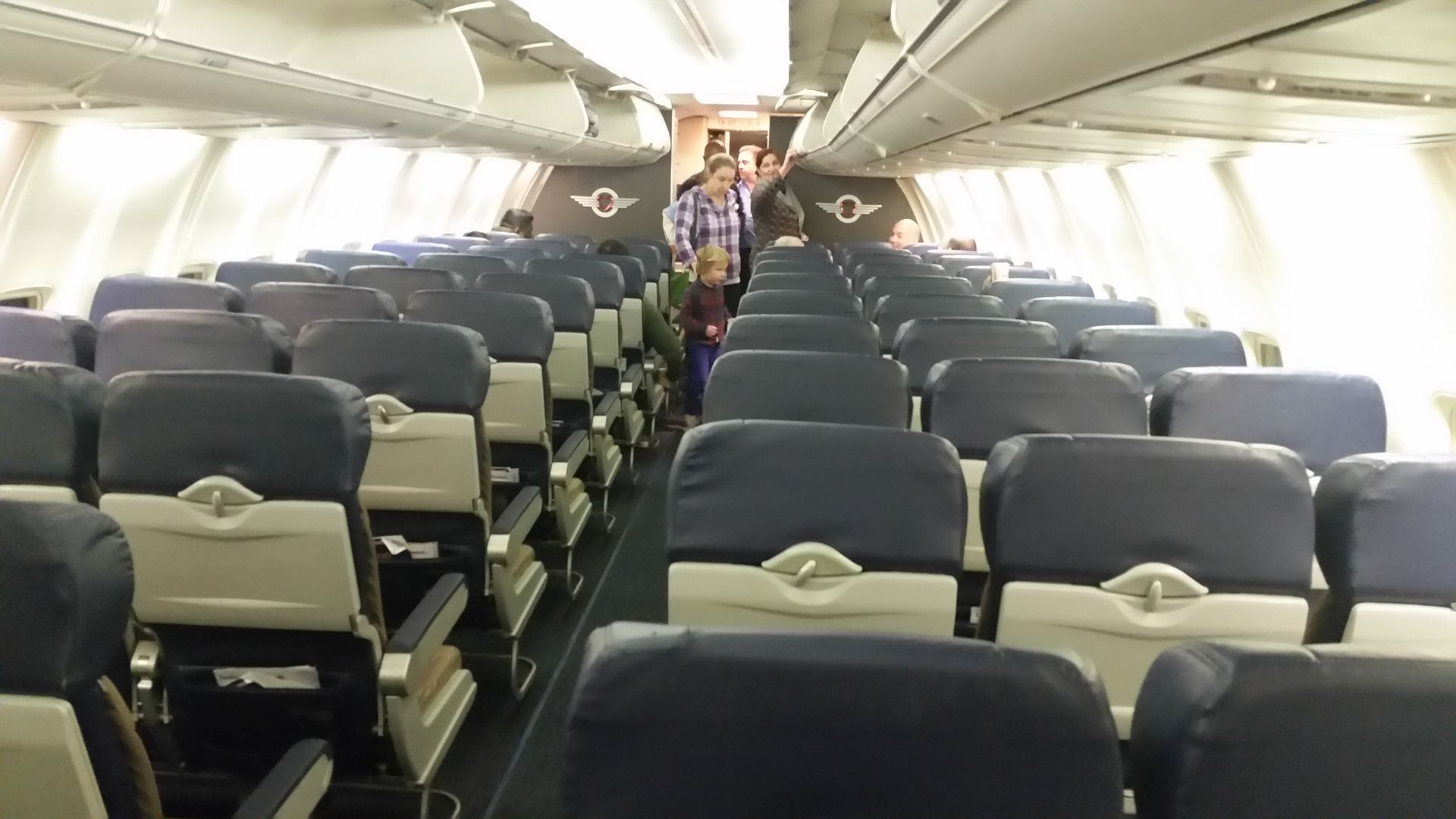 Already Parker isn't really giving customers a reason to choose his airline, and its restrictions, over Southwest's.
Southwest has ample business customers in Dallas, in Houston, in Chicago, in California. In Texas markets at peak travel times you have plenty of passengers in suits (not so much in California).
And Southwest carries more passengers domestically than American does, they aren't some small outfit that doesn't scale. In fact Southwest's market cap is nearly 50% larger than American's.
Parker then goes on to explain how their pricing models are different,
We've set up a model as have Delta and United to differentiate between those who can pay more who are business who are willing to pay for flexibility and those who aren't willing to pay as much and they need to be less flexible. So we have something called a fully non-refundable fare that you purchase on us that's going to match another airline for the most part, primarily price-based… you're making a contract with us that you're not going to refund it.

That allows us to know that seat's full, we don't have to worry about trying to hold it for a business customer that's gonna pay more. We don't have to worry about, you've agreed to that. We could just say that's it, you've agreed to that it's totally non-refundable just like if you want to go to a Ranger's game and you buy a ticket on Saturday and say 'nah I don't want to go on Saturday I want to go Sunday.' The Rangers are going to say "fine, here's a Sunday ticket but we aren't going to give you any credit for your Saturday ticket.'

We don't do that, we say 'ok you don't want to do what you said you were going to do instead we'll sell you another cheap ticket on Sunday but you've got to pay this change fee.'

So that sounds really like that's a change fee but what really happened is we gave you something better than telling you 'forget it you bought a non-refundable ticket'.
Of course that's decidedly not what American does with their lowest-price ('basic economy') tickets those are non-changeable, period.
However as a purely descriptive matter it's true that American tries to charge customers more that they think will pay it. But from the customer perspective he still isn't doing anything to explain why it's a better value to pay it to American versus booking with Southwest.
Parker continues,
These non-refundable tickets are a really important part of our model, because the other end of that is the refundable ticket, the fully refundable ticket, bought almost entirely by business customers because they don't have the flexibility to book far enough in advance, to say it's non-refundable. They pay more. And because we have that model we're able to provide lower fares to those who aren't willing to pay more… to have that subsidized basically by business customers who pay more.

So that's our model, I know it's really complicated… at the end of the day that's the model that works that allows us to be able to provide the level of service we do, that both has low fares and has world class services and flies to places that Southwest will never fly to and has a level of service they'll never have and that's the model that works for us. We're going to keep that model in place.

And yeah we understand that for some people it seems not right… the real unfortunate piece here is everything I said to you makes total sense to somebody, 'ok I get it, I actually did buy a non-refundable ticket you're right' until they show up on Southwest and they don't care.

…Good for them, they figured out a model for them that works, it's so much different than ours we can't sell our tickets that way. What we would choose to do instead, if we were forced to, if there was some legislation around this that says you guys shouldn't be able to charge a change fee that costs more than it takes to change the ticket, which can't be very much, if that happened what you'd see American do anyway is just not refund tickets anymore.

We would just have to say ok fine if we can only charge $5 for the change fee that means business customers could start buying non-refundable fares and just swap them around any time they want as their plans change at $5 a ticket, we're just going to say no one can refund their tickets anymore. That model can't work for us.

Really long answer to your question, 'don't fly the cattle car' that works too.
Parker does a good job explaining the basic rationale of legacy airline pricing. But he contends it makes sense for customers because of world class service, that flying Southwest is flying a cattle car and flying American isn't.
Southwest doesn't offer premium cabin seating. But most American Airlines customers are in coach. Where's the superior value proposition for most of American's customers? He can't say it's in seat back entertainment, since they're getting rid of that. Most customers aren't flying internationally, so the fact that American flies international routes doesn't make them a better value for flights from Dallas to Chicago.
there's nothing about flying to London and Sao Paulo that requires less flexible fares for Dallas – Los Angeles.
and for a customer there's little reason not to just fly American (or United or Delta) to London and Southwest to Chicago or Los Angeles. (At one time the reason might have been "AAdvantage" but unless you're a ConciergeKey member that's no longer clearly the case.)
If Parker wants to answer this question with "we're better, we're worth it, so accept our terms" and have customers prefer his airline enough to do that then he needs to offer a product that is actually better for the majority of those customers.