American Airlines club lounge wine is all new this month, a new wine program with complimentary and paid premium glasses of wine in its Admirals Clubs and updated selections in its business class Flagship lounges and first class Flagship Dining rooms inside of those lounges.
The airline sent me a bottle of each of their new complimentary Admirals Club wines. I opened both both bottles and tasted them and found them to be better than I expected. The wines were both sweeter than I'd like, and not terribly complex, but both were easy to drink.
I wouldn't order either in a restaurant, or serve them at home for a small gathering. I once had to pick up wine at the last minute to supply a work reception 18 years ago to celebrate a colleague's Nobel Prize. This was a broad community event with several hundred people attending. I went for a Spanish Tempranillo for about $4 a bottle and Castle Rock Chardonnay that cost me $7. Both were perfectly good representations of their grape and region.
I'd have been equally happy serving the new American Airlines white labeled bottles, clearly designed for broad-based consumption.
I should disclose that I have a preference for big and complex French Bordeaux blends and Burgundies, for California and Australia wines generally, and am somewhat averse to acidic and to overly tannic wines. That influences my take on what works well in a lounge and in-flight.
American's lead master sommelier skews his choices towards Italy. He also knows far more about wine than I do, but is constrained by American's budget and by the airline's customer base. They need to please — or at least not offend the palates of — a wide, democratic array of customers.
American Airlines Club Lounge Wine: New Free Admirals Club Choices
American's master sommelier Bobby Stuckey used to run the wine program at the French Laundry in Napa. His own Scarpetta wines offer Italian value bottles and his restaurants are Italian-themed. He and American's other master sommelier have come up with a proprietary southern Italian red and wine for American's Admirals Clubs dubbed Veloce 'Rosso' for the red and 'Bianco' for the white.
American describes the red as having "notes of tart cherry, sage, Mediterranean herbs and black fruits" and their white as having "notes of citrus, orange blossom, apple and pear." I found grapefruit to be most pronounced. The airline goes on to explain that both "are made from grapes in charming Southern Italy." These are Italian wines but should I be reassured that the wines are both made from grapes?
About four years ago I sat next to a passenger on a Dallas Fort-Worth – Austin flight who had brought her complimentary wine from the Admirals Club on board in a 'to go' cup. She wound up in an altercation with the flight attendant who insisted she give it up prior to takeoff, and she could have a new glass of wine once we were in the air. It ended up with a passenger inflight disturbance report.
I have to remind myself at times that much of the wine that's being served is being served to this passenger, or Cort McCown's character Quint in 1987's Can't Buy Me Love trying to impress a girl with his wine knowledge.
Quint: I've learned to appreciate the finer things in life. I even travel with my own wine. You never know the quality you may encounter at a soiree.

Fran: [smells the wine and coughs] Very classy.

Quint: [takes a swig out of the wine bottle] Mm-hmm. I'm into class. It's my new thing.

American Airlines has a perfectly nice mass consumption wine in Veloce. I'm not really a wine snob, but I'm unlikely to ever order it. Of course I don't drink the bottles of Canvas wine I receive sometimes checking into Hyatt hotels, either.
I may not always want to pay for better wine, but if I'm going to drink then I want my wine to complement a meal or be an interesting enough bottle to stand on its own. Otherwise I'll likely just drink something else.
For those looking for a glass of wine that don't see the beverage world the same way that I do, the new American Airlines Veloce wines offered free inside of Admirals Clubs are likely to do the trick. For the two bottles in my house, my wife is cooking with them.
American Airlines Club Lounge Wine: Admirals Club Paid Choices
Delta has some nice wines for sale in their lounges, and paying with miles actually represents decent value (2 cents per mile compared to Delta's own published pricing).
Take for instance Delta's Austin club where you can order a bottle of Dom Perignon, enjoy it sitting outside plane spotting, and drop 10,000 miles. You can enjoy a bottle of Cakebread chardonnay on a warm summer afternoon for 4000 miles. They offer a Jordan cab, an Erath Pinot.

Bar at the Delta Sky Club, Austin
American Airlines club lounge wine options aren't as extensive for upcharge. There aren't any wines by the bottle. Here are their paid options for wines by the glass:
WHITE
Le Monde Sauvignon Blanc, Friuli-Venezia Giulia, Italy $11
Bright straw hue, vibrant citrus, white floral nose

Feudi San Gregorio Falanghina, Campania, Italy $14
Perfumed aromas with ripe citrus and orchard fruit, balanced with a clean finish

Failla Chardonnay, Sonoma Coast, California $14
Ripe green apple, blanched almonds, tart lemon curd

RED
Ponzi Vineyards Pinot Noir, Willamette Valley, Oregon $14
Strawberry and cherry, tea leaves, light baking spice

E. Guigal Syrah, Crozes Hermitage, Rhône Valley, France $14
Cranberry and rhubarb, smoked meat, black pepper, violets

Mitolo 'the Jester' Cabernet Sauvignon, McLaren Vale, Australia $14
Opulent red and black fruit, poignant tannins, long balanced finish

SPARKLING & ROSE
Gaston Chiquet Cuvee Tradition Brut MV, Champagne, France $15
Seamless effervescence, brioche and dried fruit, tart citrus

Red Car Rose, California $13
Ruby red grapefruit, lychee, strawberry, tangerine
The McLaren Vale cab is a nice $16 – $18 bottle, way overpriced at $14 a glass. The Gaston Chiquet Tradition champagne is a nice value when you can pick it up for under $40 a bottle. Ponzi makes a nice value medium-bodied Oregon Pinot, retailing for mid-$20s a bottle and worth it at that price. The Failla Chardonnay is a clean medium-bodied archetypal California chard that's usually considered a value at the $30 price point.
In other words, these are reasonable enough American Airlines club lounge wine choices but overpriced for what you're getting. On the one hand you expect to pay a premium in the airport. On the other hand they're being offered as an upcharge in a club that customers pay to access and that offers a free option (so the club is saving the cost of the free glass each time you pay for a glass).
Flagship Business Class Lounge Wines
There are a core set of American Airlines club lounge wine choices offered across their Flagship lounges, and then a local selection for each. Every Flagship lounge has one unique Old World Red, Old World White, New World Red and New World White.
The core Flagship Lounge offering is:

Champagne: Bessarat

Rose: Lorenza

Chardonnay: Talley

Cabernet Sauvignon Miner Family
In general you'll find $30 wines (retail) in Flagship lounges, though they're investing in a bit more expensive of a bottle for their champagne.
Then Dallas Fort-Worth adds 2017 Giacosa Roero Arneis from Piedmont (Old World White), 2017 Keever Sauvignon Blanc from Napa (New World White), 2016 Vall Llach Embruix Priorat (Old World Red), 2015 Rhys Anderson Valley Pnior Noir (New World Red). The Rhys Pinot is recommendable.
Los Angeles adds 2017 Zarate Albarino Val do Salnes Rias Baixas (Old World White), 2017 Casino Mine Ranch Vermentino (New World White), 2016 Tenuta Terre Nere Etna Rosso (Old World Red), 2017 Zuccardi Concreto Malbec from Mendoza (New World Red). Even Bobby Stuckey's New World white is an Italian-style wine. He just can't help it. I'm surprised by the $21 Old World Red, which isn't even a better bottle than its price. On the other hand I'm pretty impressed by the Malbec they chose.
Miami adds 2017 Txomin Etxaniz Hondarrabi Zuri (Old World White), 2016 Venica Sauvignon Blanc (New World White), 2015 Matrot Maranges Vielles Vignes (Old World Red), 2016 Pax Syrah "The Hermit" (New World Red). The Syrah is a more expensive bottle than the others.
New York JFK 2017 Raul Pérez "Atalier" Albariño Rias Baixas (Old World White), 2016 Neil Ellis Sauvignon Blanc, Groenekloof (New World White), 2016 Jean-Marc Millot Cote de Nuits-Villages (Old World Red), 2016 Hourglass Red Blend HG III (New World Red) The Raul Pérez "Atalier" is a surprisingly thoughtful selection for a $25 bottle, the Burgundy some nice fruit but not a ton of structure, however the Hourglass Red Blend is a legit $45 bottle and most will consider it the best of the lot.
Chicago 2017 Sigalas Assyrtiko, Santorini (Old World White), 2017 Massican Sauvignon Blanc
(New World White), Lopez de Heredia Cubillo Crianza Rioja (Old World Red), 2014 Shea Wine Cellars Pinor Noir Estate (New World Red). The Sigalas will be better than you expect for Greek white, but I feel like they're trying too hard with this pick since they should be able to do better in the $30 retail price range. On the other hand the California sauvignon blanc is a nice pick. The Oregon Pinot is the most expensive bottle, but I'm not personally a fan. Let it open up for a bit.
Interestingly there's no plan for a Flagship lounge in Charlotte, and not nearly enough club lounge space for the volume of flights. American's Dallas hub is up over 900 flights a day, and has 5 clubs. Charlotte is headed towards 700 flights a day and has two. The Charlotte clubs are like refugee camps at peak times and during irregular operations. Business class customers in Admirals Clubs, of course, can access their premium wines.
One nice thing about American's Flagship wine program is that the Flagship lounges are quite busy so they're going to go through a lot of wine. You aren't likely to find bottles sitting for days and going flat (if I'm ordering wine by the glass in a restaurant I'll ask for a fresh bottle). On the other hand you may want to pay attention to whether the bottle is fresh or likely from the day before if you're there shortly after open.
There are some gems worth trying in American's Flagship business class lounge wine program. Some will be unfamiliar to most and so it can be a good idea to quickly Google what's being served or just taste a little of everything — or know in advance.
While Delta doesn't offer a competitor business class lounge product, United does, and in general I'm impressed by United's wine program. For instance when I visited the United Polaris lounge in Houston I much enjoyed being able to sit down to a meal with a glass of The Prisoner.

The Prisoner, United Polaris Lounge Houston
Flagship First Dining Wines
The New York JFK, Miami, Los Angeles, and Dallas Fort-Worth Flagship lounges have a separate Flagship First Dining space and those all have the same signature red, white, and champagne in addition to what's offered inside the business class lounges. (The Chicago Flagship lounge, and Philadelphia lounge which will begin construction later this year, do not offer first class dining.)
Here there are additional wines not available to business class customers in the lounge. These wines are the same across all of the Flagship First Dining facilities.
Champagne: Krug

White: 2015 Hudson Vineyards Estate Chardonnay

Red: 2012 Château Cos d'Estournel, Les Pagodes de Cos
It's hard to believe American Airlines has been serving Krug since this past fall. But then whenever I've visited Flagship First Dining I've thought, "wow, this is American?" It's a nice private experience with a good food and beverage program. If you have access get to the airport early, enjoy eating here and use your on board time for rest.
The chardonnay and the Bordeaux that are exclusive to Flagship First Dining aren't nearly as pricey as Krug, but are respectable in their own right. These are $50+ bottle wines in a bottle shop.
The Hudson Valley chard is a repected Carneros bottle, in typical big California style, not the most subtle of wines from the region but nicely balanced. It's aged in French oak and evinces grapefruit and pineapple.
The Les Pagodes de Cos is the second bottle from Cos d'Estournel, one of the most well-known and respected names from Bordeaux. If it were the top bottle it would price similarly to the Krug. Let this one open up in your glass a bit before drinking.

Flagship First Dining New York JFK
On the Ground is Easier than in the Air
People think of wine as a luxury good. Delta once revealed their wine strategy as avoiding bottles that are priced too inexpensively at retail (lest people think they're low quality, regardless of taste) and that have too unsophisticated a label.
Perhaps the most 'on brand' selection ever was when Spirit Airlines used to serve wine in a can.
On the ground the challenges an airline faces are largely supply chain and cost. They have to be able to acquire bottles at scale and get them to their disparate lounges within a budget.
In the air it becomes much more complex. There are generally more catering cities than club lounge cities, so the supply chain issues are magnified. And the choice issue is far more challenging because taste buds experience wine different in a pressurized cabin at altitude than on the ground.
Singapore Airlines addresses this latter challenge with a pressurized room that allows tasting wines as they'll be experienced in-flight. An experienced sommelier who understands what happens to taste buds at 6000 or 8000 feet can make educated guesses about what wines will work well. But it's very difficult to predict how a certain age of bottle will do, how long it will take to open up, so how actual passengers will experience it during different stages of a flight.
Part of that experience involves not just what wine is served but how it's served. I'm often served red wines too cold, which mitigates their fruit and highlights their acidity. If you are served red cold (a little chill is usually fine and even desirable) wait to drink it or cup the glass in your hands to warm.
Champagne often works well on board. One approach to reds is to select 'fruit bombs' because fruit forward wines are more likely to maintain their character in the air. Many subtle wines, great wines, simply don't hold up inflight.
Anything's Better Than What Airlines Give You Miles to Drink
Vinesse, American Cellars or the 'Insert Airline' Wine Club, in my past experience sends swill that's among the worst wines I've ever tasted, but the deals can be worth it for the miles as long as you don't actually drink the wine.
Back in 2009 there was an offer of 4836 Northwest Worldperks miles for a single $41.94 order. I cancelled after the first shipment and did get the miles.
My History With Airlines Sending Wine
When the then-CEOs of American Airlines and US Airways sat down with the New York Times and made their case for the merger I had 9 quotes in the ensuing piece. At the time I predicted that the merger would delay an eventual move to a revenue-based frequent flyer program, that upgrades would become tougher, and that there would be four elite tiers. Talking about changes to the inflight product that we could expect I told the Times that "US Airways elites are hungry."
While I had some fairly deep contacts at American back then, my only real contacts at US Airways were with managers on the Dividend Miles team. The Times piece, I think, put me on the radar of the US Airways communications shop. I got a letter and a package from their comms Vice President John McDonald with bottles of their new business class wine to underscore the investment they said they were making in on board catering.
I described the $16 a bottle (retail) two year old Central Coast cab they were serving as "completely inoffensive" and noted that the US Airways stock ticket symbol was 'LCC' for a reason.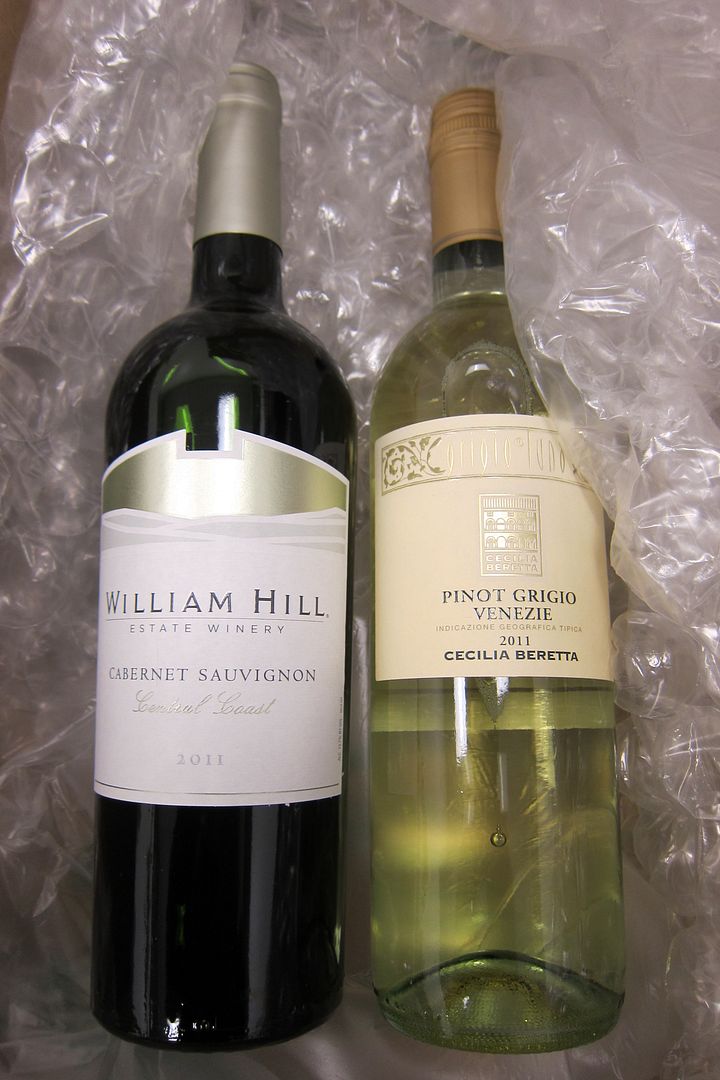 How American's New Wine Program Compares and How It Can Be Improved
The new free American Airlines club lounge wine in the Admirals Club is on par with what US Airways was serving in business class back then but probably more broadly accessible. Perhaps it's the soft bigotry of low expectations but I really don't envision US airlines serving better than that in their clubs without upcharge, indeed I tend to think that the base wine will be worse in the lounge while paid options similar to what they the airline might serve in business class in the air without extra charge.
The new American Airlines Admirals Club proprietary wine exceeds the low bar I've set for it. They're the sort of bottles I'd serve if I needed to offer wine to hundreds of guests on a budget.
Perhaps it's just my own preferences in wine but I like Delta's paid options better than American's. I happen to prefer some of the bottles that United offers in its Polaris lounges over American's in its Flagship lounges (Delta does not offer a comparable product — they really ought to comp international business customers some of their paid selections).
American exceeds other US airlines on the ground with their Flagship First Dining wine choices though. The airline's Senior Vice President for Los Angeles, Suzanne Boda, once told me that Flagship First Dining is an extension of the cabin. So they ought to consider how some of their better choices on the ground might translate in the air and give equal thought and investment to their first class wines on board.