The future of American Airlines premium lounges is in question. Their international business class Flagship lounges have been closed for 9 months, and won't re-open until international business class demand returns.
Inside three of American's Flagship lounges are Flagship First Dining facilities, sit down dining rooms with cooked-to-order menus and private bars for first class passengers. These have been available to 3-cabin first class passengers on American Airlines or British Airways, to Cathay Pacific first class passengers at New York JFK, on a limited basis (twice per year) to ConciergeKey members, and available as a buy up for Executive Platinums flying internationally or on transcons.
But with less international travel, with perhaps less first class demand on New York – Los Angeles and San Francisco, the future of these dining rooms is in doubt. They could be used as additional space for Flagship lounges, or closed entirely to save on staff and food costs.
In an exciting short-term move for current American Airlines travelers, but troubling on a longer-term basis, American is selling their stock of Krug champagne that's normally served in Flagship First Dining.
Krug will cellar for five or six years easily so American doesn't need to do this merely because they won't re-open in 2021, though of course storage space at an airport can come at a premium. Selling off the Krug is suggestive either that it won't be served when these dining rooms re-open, or that the dining rooms won't re-open in their past form.
However,
It's available in nearby Admirals Clubs that are open under current local regulations
And just $65 per half bottle, which is a great price – in a retail bottle shop you can expect to pay $80 (or $150+ for a full bottle)
Your best bet right now is the D30 Admirals Club at Miami. If you're flying through there, the Krug is on display behind the bar. There are other excellent premium wines on sale as well, such as Kistler chardonnay and Groth cabernet. Here's a guide to the American Airlines wine program.
One traditional mark of a premium airline experience is top quality champagne. Traditionally though we've seen more premium champagnes in the air than on the ground. (British Airways is an exception, known for Laurent Perrier Grand Siecle.)
It's quite common for better international airlines to offer Krug onboard. I've enjoyed it on ANA and on Cathay Pacific. I've even sampled it at the business class bar on Qatar. This was not available served to passengers at their seats in business class on the A380, and up in first class it was Taittinger Comtes de Champagne Blanc de Blancs 2006 as well as Billecart-Salmon Rose'. At the same time Qatar eliminated Krug from the first class al Safwa lounge in Doha.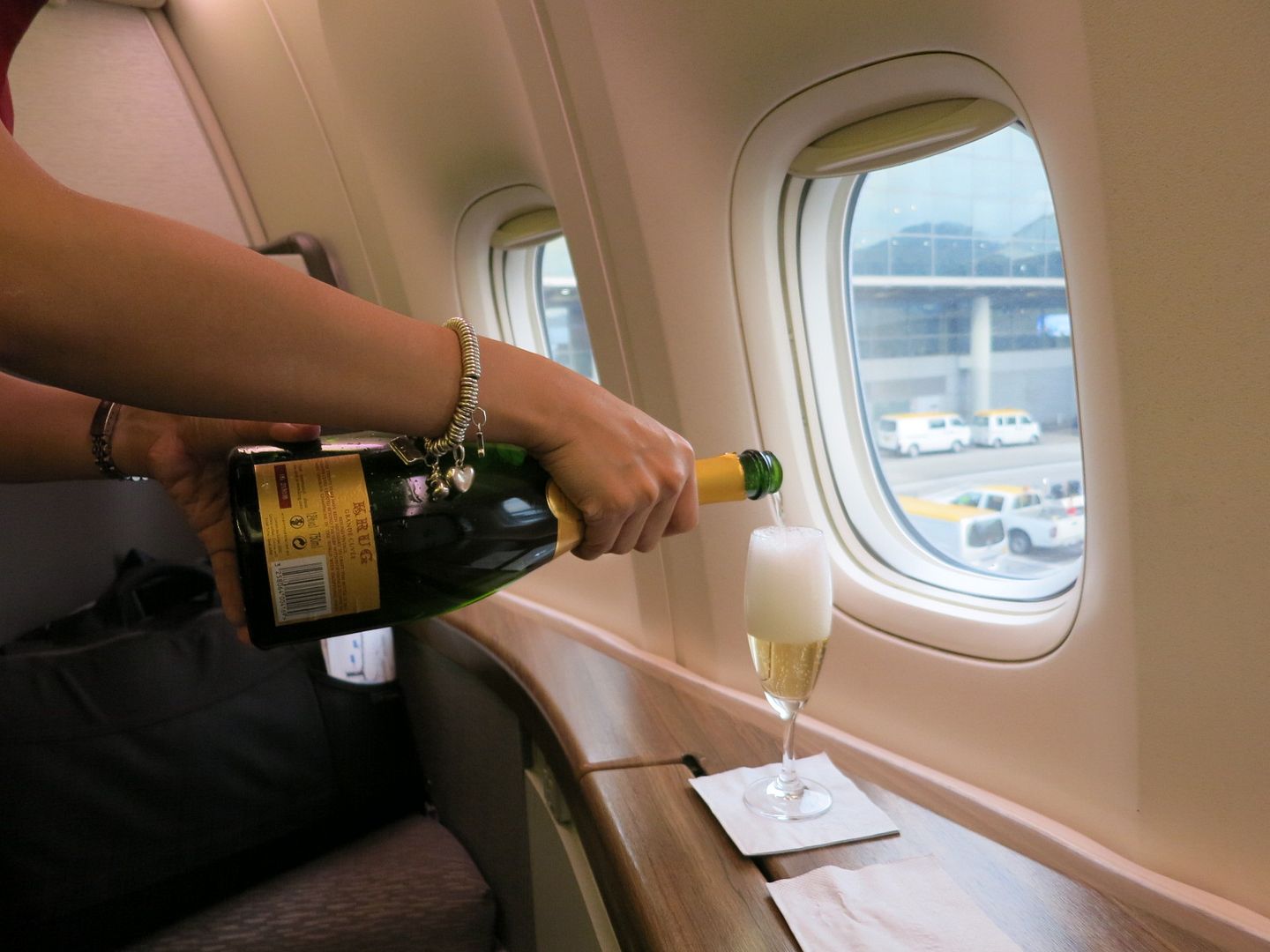 Singapore Airlines actually offers both Krug and Dom Perignon in first class, and on a limited basis even offers special bottles of each. When faced with such a choice (often presented with a bit of a smirk from the flight attendant) my response is usually, "that depends, what year is the Dom?" In general I prefer Krug but some years of Dom Perignon are much better than others (and in my opinion some aren't very good).

Singapore Airlines Krug
Delta Air Lines of course sells Dom Perignon bottles for 10,000 miles in its Sky Clubs. American takes cash only.