American Airlines is rolling out new menus for domestic first class lunches and dinners this week, and will be flying starting Wednesday. New breakfasts follow next year.
As always you can pre-order your meal if you're seated in the first class cabin at least 24 hours prior to departure. That just ensures you have your first choice meal available — it doesn't get you a choice of main courses that differs from what the airline otherwise serves on board.
However pre-order selections are more extensive in two ways. You can order a fruit and cheese plate, more akin to a snack, or you can order a 'special meal' like Asian Vegetarian, Muslim, or Kosher. And I've found many of American's special meals to be quite good.
Here's what's for lunch and dinner starting tomorrow — we can expect these meals, designed by chef Julian Barsotti, to be standard fare for the next year. That should give me plenty of time to try the new lunch cheeseburger.
American Airlines Lunch
American offers a choice of an entree or a salad at lunch. There are (4) salads and (4) entrées, so that customers have a pick of each on the four different meal rotations American runs.
All of the salads come with grilled chicken breast on the side (so that vegetarians can choose to eat the non-chicken).
American Chopped Salad

TexMex Salad

Mezze Trio Plate

Chinese Chicken Salad
And here are the four new entrées:
Spinach Ricotta Raviolini

Chow Mein Noodle Bowl

Cheese Enchiladas

Classic Cheesburger
Each of the entrées is going to be paired with an appetizer that is consistent with vegetarian preferences, in other words vegetarian meal with vegetarian appetizer.
Caponata, Mozzarella and Salami

Blackened Shrimp and Pineapple Salsa

Pesto Vegetables and Feta

Cold Smoked Salmon and Cucumber

Ricotta, Roasted Cherry Tomatoes and Mache

Haricot Vert, Cucumber, Tomato, Sesame Seeds and Dill

Broccoli Salad

Chow Mein Noodle Bowl, credit: American Airlines
American Airlines Dinner
There are 8 entrées, since each of four meal rotations offer a choice of two.
Grilled Chicken Breast with Lemon Artichoke Risotto, Asparagus and Herb Butter

Short Rib with Hatch Chili Mac and Cheese and Haricot Vert

Grilled Chicken with Shitake Mushroom Sauce and Twice Baked Potato

Beef Filet with Cauliflower Mash and Broccolini

Lasagnette Pasta with Mushrooms, Tomatoes and Kale Ragu

Falafel Plate with Orzo and Quinoa

Three Bean Chili with Polenta Cake

Southwest Lasagna

Zucchini Falafel over Baba Ghanoush, toasted orzo/quinoa blend with feta crumbles, credit: American Airlines
And these are accompanied by the following appetizers:

Hot Smoked Salmon and Everything Potato Salad

Old Bay Shrimp with Horseradish Slaw

Prosciutto, Tomato Straccetti, Cherry Tomato and Arugula

Curried Chicken Salad with Endive

Asparagus, Piquillo Pepper, Manchego and Spicy Olives

Burrata with Spicy Olives

Mexican Street Corn Salad

Burrata with Pepperonata and Mache

Short Rib with Chili Mac, Old Bay Shrimp Appetizer, credit: American Airlines
Pre-Order Cheese Plate
American offers some flights more more limited ("Lite Bites") service and those will have similar cheese options to the fruit and cheese plates you can choose in lieu of a full meal.
Some of the cheeses that we selected for the Lite Bites (launched Sep 12, 2018) will also be used on the Pre-Order Fruit & Cheese Entrees they include:
Cracked Black Pepper Cheddar

Krystal Pure Cave Aged Cheddar

Appalachian Tomme

EMMI ROTH Cheese

Monterey Jack

Smoked Gouda
I have to applaud American for introducing an Emmi cheese because — while I bet the people making these decisions have no idea — one of the best frequent flyer deals of all time was earning AAdvantage miles for purchase of Emmi cheeses, in late 2006.
Special Meals
American's special meals are worth ordering. I don't want to flag for the Executive Branch that I'm a possible terrorist, but I order the Muslim meal because it's usually quite flavorful and the desserts are excellent.
For Passover you can't pass up a Kosher meal. It was downright delicious.
If you are booked into first class more than 24 hours out, and you don't fancy what's on offer, you have some pretty good standby options.
But What About the Cheeseburger?
A really great burger starts with quality beef. It should have processed cheese that melts well. And it should be inside of a potato bun, sesame seed if you must.
Don't use ciabatta bread or a kaiser roll. As good as brioche can be, it's not well-matched to a burger. The bun is a delivery vehicle for the burger. It needs to be big enough to contain the burger, but shouldn't be so large that it overwhelms the contents – especially the meat.
Everything you put on the burger needs to fit inside of the bun. You don't want the burger to fall apart when you eat it, and it shouldn't be overstuffed. The goal is a balance of flavors inside, getting a combination of everything with each bite rather than winding up with pieces of meat or pieces of bun leftover at the end.
American Airlines has staked its reputation on the burger and is introducing a burger as a lunch option in first class. There's no way it will be as good as what's offered in Flagship Dining both because:
That's for international first class passengers, and domestic first won't get that level of investment

That's on the ground, not in the air
Still it's really quite possible to do a good burger in the sky. Delta has served Shake Shack on board. United Airlines used to serve McDonald's, and specially fitted galley carts to keep the cold items cold and keep the burgers warm while they were being distributed to passengers in economy.
More recently this is what Untied's cheeseburger has looked like:

United's Cheeseburger
And American has certainly done cheeseburgers in domestic first class before.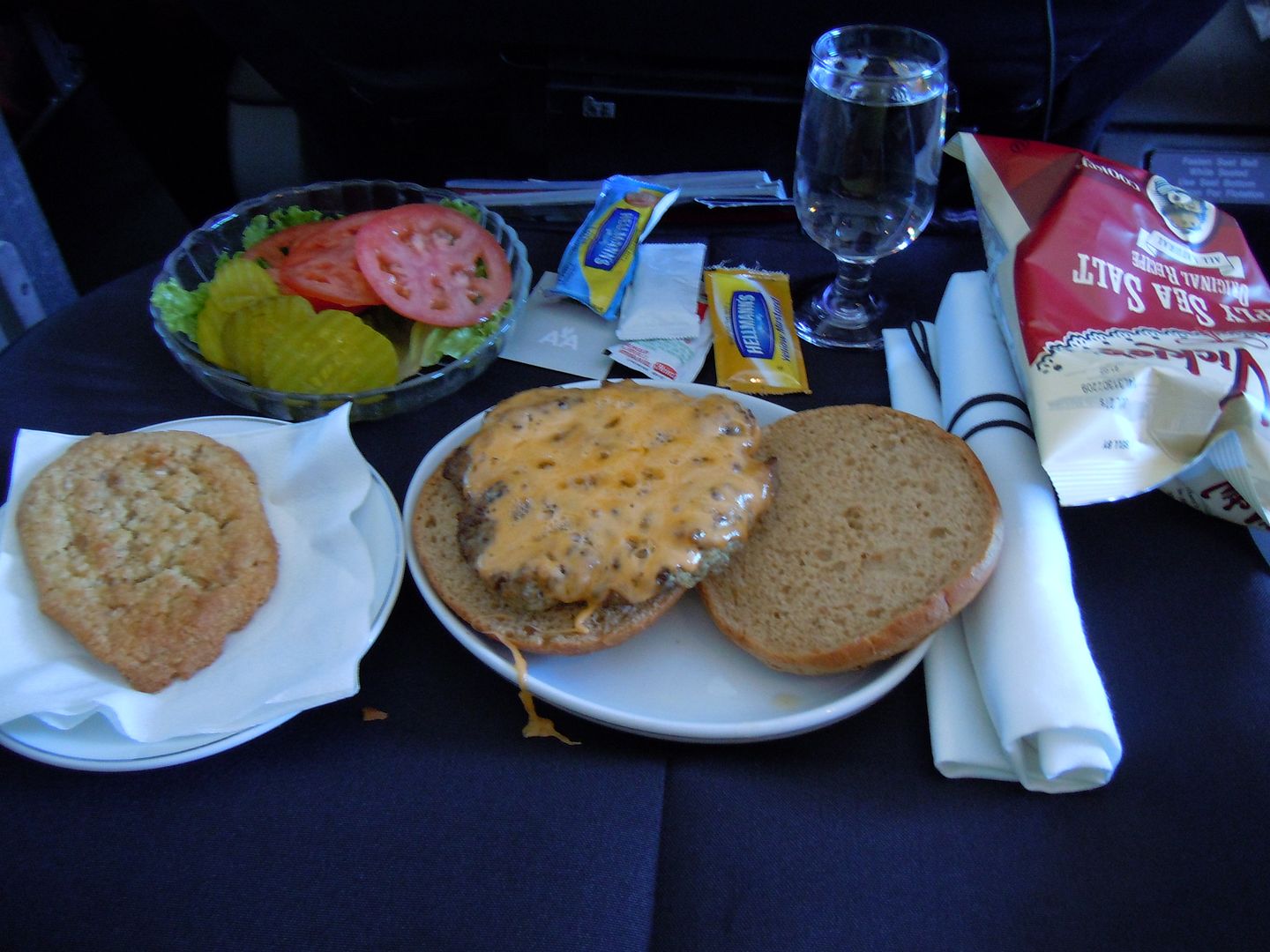 American Airlines Cheeseburger, 2010
I'm looking forward to seeing what they've come up with. I'm strangely fascinated by the idea. If any of you try it — or any of these new items — before I do, let me know what you think.