One traditional mark of a premium airline experience is top quality champagne. Traditionally though we've seen more premium champagnes in the air than on the ground. (British Airways is an exception, known for Laurent Perrier Grand Siecle.)
It's quite common for better international airlines to offer Krug onboard. I've enjoyed it on ANA and on Cathay Pacific. I've even sampled it at the business class bar on Qatar. This was not available served to passengers at their seats in business class on the A380, and up in first class it was Taittinger Comtes de Champagne Blanc de Blancs 2006 as well as Billecart-Salmon Rose'. At the same time Qatar eliminated Krug from the first class al Safwa lounge in Doha.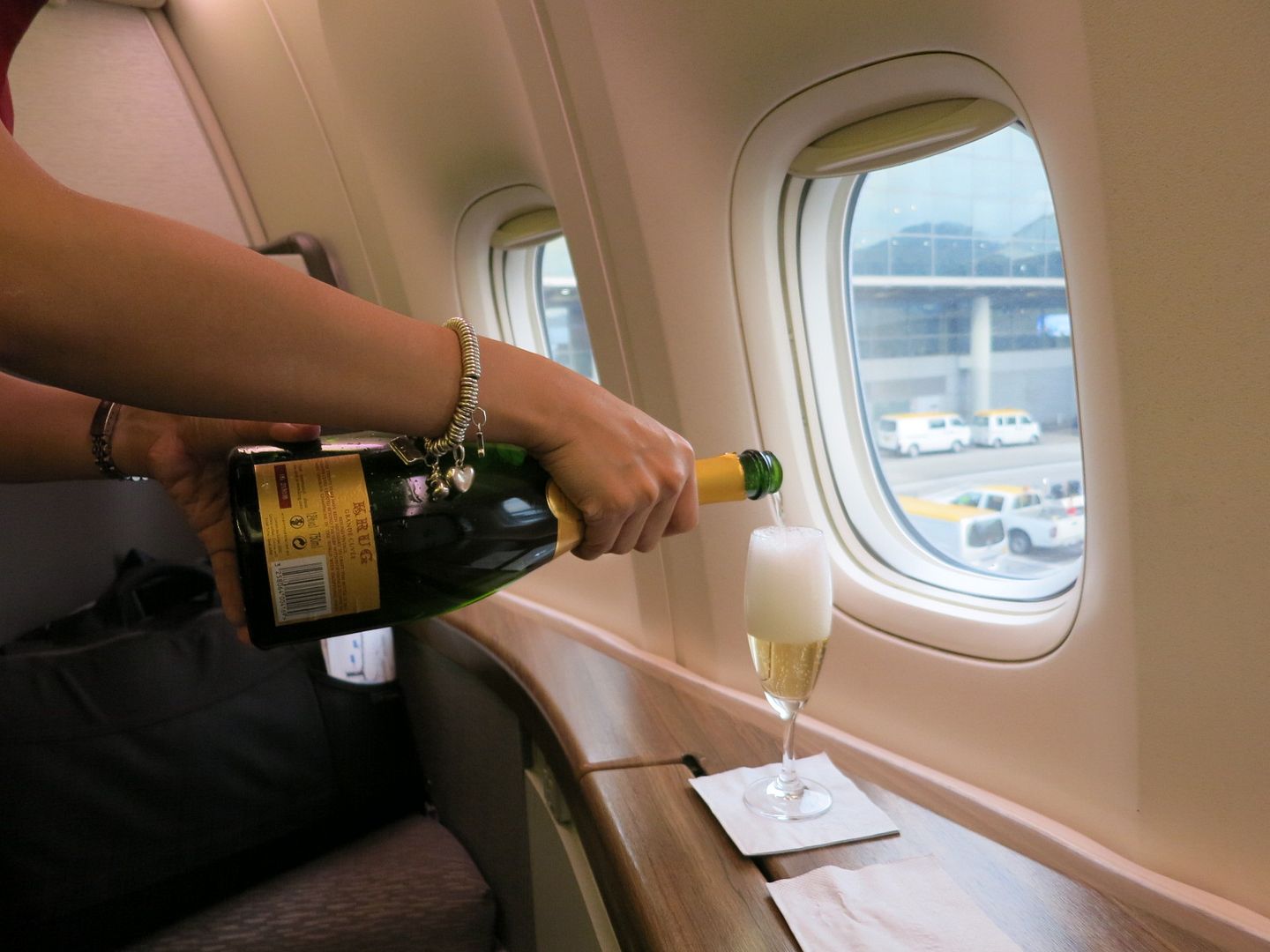 Singapore Airlines actually offers both Krug and Dom Perignon in first class, and on a limited basis even offers special bottles of each. When faced with such a choice (often presented with a bit of a smirk from the flight attendant) my response is usually, "that depends, what year is the Dom?" In general I prefer Krug but some years of Dom Perignon are much better than others (and in my opinion some aren't very good).

Singapore Airlines Krug

Singapore Airlines Dom Perignon
In American's international first class they've offered Gosset Grande Reserve and Laurent Perrier Grand Siecle over time in the air, but their rarified first class dining facilities have offered nice bubbles but not quite as nice. When I visited the New York JFK, Los Angeles, and Miami Flagship dining rooms between June and December of last year all were serving Taittinger (non-vintage last summer at JFK and 2009 in Miami and LAX last fall).
While United Airlines has the country's best business class lounges, American Airlines has 'Flagship First Dining' inside of some of their Flagship lounges and it is restricted to American's own first class passengers — those flying international first as well as first class on their premium transcon flights between New York JFK and both Los Angeles and San Francisco. (The only exception is that Cathay Pacific first class passengers have been able to use Flagship First Dining at New York JFK.)

Flagship First Dining New York JFK
Well American Airlines has introduced Krug champagne to Flagship First Dining. And according to a spokesperson, "it will be in the lounges until at least March. If we receive positive responses, we'll keep it around a bit longer."
Whenever I've visited Flagship First Dining I've thought, "wow, this is American?" It's a nice private experience with a good food and beverage program. If you have access get to the airport early, enjoy eating here and use your on board time for rest.
And if you find yourself visiting American Airlines Flagship Dining at New York JFK, Miami, or Los Angeles please provide positive feedback so they'll consider it worth the investment to keep it around 'a bit longer' and when they do change it out they'll continue to invest in top flight bubbles!
Meanwhile American has rolled out new complimentary and paid premium wines to its Admirals Clubs. Here's that menu. In addition they're "working with Bobby Stuckey on an exclusive label for the complimentary wine choices that we hope to roll out early next year."
I think if I were going to buy a $15 glass of Au Bon Climat Pinor Noir I'd have no problem asking the bartender to ensure it was a freshly opened bottle — since a bottle retails for about $20 in a bottle shop. It is, of course, more expensive to provision most everything in an airport where there may be monopoly suppliers, where everything has to go through security screening at off-hours, and where storage space comes at a premium.
(HT: Gino Troian)