Reader Mark F. emails to let me know I haven't covered a quirk or glitch that causes American AAdvantage to charge too much in fuel surcharges.
Becoming aware of this glitch will save you hundreds of dollars the next time you redeem American AAdvantage miles for flights on their partner British Airways.
Like almost all British Airways partners, American collects fuel surcharges for award tickets when traveling on British Airways (and to a much lesser extent, Iberia, but not transatlantic joint venture partner Finnair).
There was a false rumor last year that American was going to start collecting these junk fees on all partners. Thank goodness that turned out to be false. Because these junk fees total hundreds of dollars of cash outlay when redeeming a supposedly 'free' award ticket.
Oneworld partner LAN does not collect fuel surcharges on BA. And for a time US Airways Dividend Miles wasn't collecting fuel surcharges on BA when they first joined oneworld but has since started to do so.
But American asks you to pay more BA fuel surcharges than necessary. And you can do something about it.
I pulled up a round trip first class New York – London award. Taxes came to a whopping $1194.70. That's $366.70 in actual taxes (London departure taxes, especially when flying a premium cabin, are killer) and $828 in fuel surcharges.
It turns out that $828 is actually the correct fuel surcharge on this paid roundtrip ticket.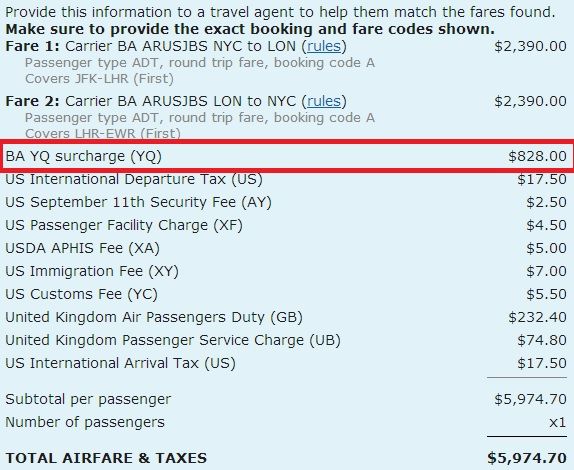 But it also is the case that the fuel surcharge would be lower if you priced out two one-way tickets.
Here's the New York – London segment. Fuel surcharge is $414, or half the price American is charging for a roundtrip.
But here's the London – New York return. The fuel surcharge is 'just' $268.60, or $145.40 less.
All American AAdvantage partner awards are priced as one-ways. You can just book two one-way awards, and save significant taxes.
Here's the one-way New York – London outbound, pricing out with $414 fuel surcharges.
And here's the one-way return, pricing out with $268.60 in fuel surcharges.
Booking one-way awards instead of roundtrip saves you on fuel surcharges.
I've also had luck in the past getting the rates desk to price taxes as one-ways, thus reducing the fuel surcharges I'm required to pay and still booking a roundtrip.
The reason I do this, although I've had mixed success and it takes longer, is because if the person whose miles are being used doesn't have top tier elite status they have to pay a fee to change or cancel their tickets. And if they have two one-way tickets, and need to change or cancel both the outbound and return, they're hit with twice as big a fee as if they had just booked roundtrip.
So the choice is yours, but savings of $145 per roundtrip ticket are big enough that I'd take steps to avoid the higher fuel surcharge either by booking one-ways in markets where this applies or getting the rate desk involved and arguing over the correct fuel surcharge to apply.
Hopefully for those who do use American miles on British Airways, this tip can save you $145 per ticket, which is nearly $600 for a family of four!
Of course, this is all much better than redeeming British Airways points since they add fuel surcharges onto all partners who add them onto paid tickets.
Here's how to minimize fuel surcharges when redeeming British Airways points. (There's actually currently a lawsuit pending over BA's fuel surcharge practices, and if I understand correctly one or two blog readers are even named plaintiffs.) Sadly there is no way to fuel dump an award ticket!
---